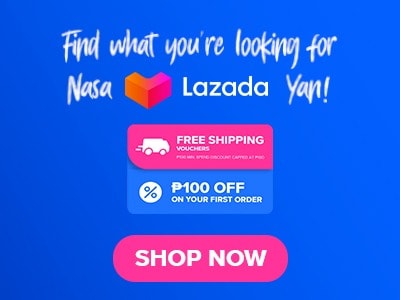 There are a lot of Japanese restaurants that are mushrooming all over the country, each has been offering authentic and delicious items however not every Japanese restaurant serves authentic quality food. Are you searching for the best Japanese restaurant in the market? I have a recommendation so look no further. I just discovered this place yesterday with a friend at BGC and while eating I remember every reader here so now I would like to share what I experienced. Have you heard about Teppan Okochi? The Teppan Okochi menu has a wide selection of authentic Japanese foods that taste like the ones that you will get in Japan, this place showcases the talent of their experienced chefs in serving really delicious Japanese foods. In this article we are going to get to know them and of course how they price their food items. Interested already? If yes lets go!
Below, you'll find the updated list of Teppan Okochi menu prices.
Menu Items
Price (PHP)

Appetizer

Chawan Mushi
380
Taco Wasabi With Hiyayakko
380
Nasu Miso
280
Yamaimo Cheese Yaki
380
Maguro Yamakake
580
Tai Yamakake
580
Today's 7 Kinds Appetizer
380
Ankimo Ponzu
780
Kazunoko
780
Taco Sunomono
420
Treasure Balls
380
Fried Japanese Chikwa With Cheese
280
Edamame
180
Assorted 2 Kinds Of "Asazuke" Cucumber / Cabbage
180
Soramame
180
Akanechan
180
Daichan
280
Negi Chasu
280
Japanese Fishcake "Satsumaage"
380
Beef Straw "Sujiponzu"
380
Japanese Sausage
450
Mentaiko Aburi
780
Mentaiko With Caviar Condiments
980
Ebi Mayo
680
Ebi Chili
580

Salad

Potato Salad
380
Macaroni Salad
380
Special Green Salad
320
Ramen Salad
580
Caesar's Salad
480
Ebi Kani Salad
480
Camembert Cheese Salad
680
Seaweed "Kaiso" Salad
480

Soup

Clam Chowder Soup
380
Arajiru
380
Creamy Mushroom Soup
380
Miso Soup
90
Kenchin Jiru
220
Toniiru
20

Course

Usda Certified Angus Steak Course
2780
Usda Certified Angus And Japanese A5 Wagyu Steak Course
3980
Unagi Eel Course
3780
Wagyu Steak Course
5980

Makimono

Beef Aburi Maki
480
Ebi Tempura Maki
480
Dynamite Maki
480
Dragon Maki
680
Futomaki
480
California Roll
250
Kaisen Futomaki
680

Aburi Sushi

6 Kinds Aburi Sushi
580
Aburi Beef Sushi
580
Matsusaka Wagyu Sushi
1990
Superior Sushi Set
980
Salmon Moriawase
1280
Prime Assorted Sushi Set
1980
Chirashi Set
980
Bara Chirashi
1980
Prime Chirashi Set
1980

Sushi/Sashimi Set

9 Kinds Of Sashimi
990
5 Kinds Of Sashimi
1480

Sashimi A La Carte

Otoro
2980
Chutoro
2480
Tuna
380
Tuna Tataki
580
Hamachi
1280
Hamachi Toro
1780
Uni
420
Snow Crab
2480
Japanese Uni
2480
Ikura
980
Kazunoko
780
Ankimo
780
Shimesaba
480
Tamago
180
Iwashi
250
Katsuo Tataki
480
Tachio
380
Ebi
380
Ika
320
Salmon
550
Salmon Belly
780
Tai
320
Taco
320
Ama Ebi
980
Hokkigai
780
Shimaaji
320
Aji
320
Scallop
780
Jumbo Scallop
1280
Engawa
780
Spicy Salmon
380
Spicy Tuna
380
Sashimi Salad
680

Sushi Ala Carte

Toro
420
Tuna
100
Tuna Soaked In Soy Sauce
100
Toro Kama Sushi
250
Snow Crab
600
Hamachi
220
Hamachi Toro
300
Uni
120
Japanese Uni
800
Ikura
220
Kazunoko
260
Ankimo
160
Shimesaba
120
Tamago
90
Anago
180
Unagi
200
Whole Anago
480
Ika
90
Ebi
140
Oyster
Ask for price
Kohada
120
Shako
190
Salmon
120
Tai
90
Akagai
120
Taco
100
Grilled Unagi
200
Ama Ebi
250
Hokkigai
180
Shimaaii
90
Scallop
160
Jumbo Scallop
Ask for price
Inari Sushi
90
Engawa
160
Aji
90
Negi Toro Maki
650
Tekka Maki
200
Nato Maki
200
Kapa Maki
200
Shake Maki
200
Kampyo Maki
200

Temaki

Ebi Kyuri Mayo
200
Beef Kimchi
200
Lkura Salmon
380
Nato Negi Maguro
200
Anago Kyuri
380
Mentaiko Tamago
200
Japanese Sausage Cheese
200
Spicy Maguro Takuan
200
Negi Toro Uni
480
Uni Ikura
380
Ume Taco Wasabi
200
Salmon Tamago
200
Salmon Mayo Cheese
200
Karaage Lettuce Mayo
200
Kani Kyuri Tobiko
200
Inari Skin / Tuna Mayo
200
Ebi Tempura Tobiko Mayo
200
Salmon Cheese Avocado
200
Yakisoba Ebi
200
Ume / Katsuo Konbu
200

Masu Box Sushi

Salmon Mori
450
Maguro Mori
380
Lkura Salmon
580
Anago
480
Uni Ikura
480
Negitoro
620
Mini Superior Chirashi
420
Mini Prime Chirashi
980
A5 Matsusaka Wagyu
1990
Best Seller Combo
990

Vegetables

Okra
150
Spinach
250
Konjac
150
Local Sweet Potato
150
Local Asparagus
150
Tofu
150
Eggplant
150
White Onion
150
Potato
150
Yasai Itame
480
Assorted Grilled Vegetables
480
Japanese Sweet Potato
680
Japanese Maitake W/ Horenzo Teppan
680
Spicy Konjac
250
Sea Urchin With Spinach
480
Tororo Imo
180
Ankake Tofu Steak
280
Japanese Maitake Tempura
680
Mushroom Fry
480
Assorted Grilled Mushroom
580
Assorted Mushrooms In Foil
580
Shitake Mushroom
180
Enoki Mushroom
180
Eryingii Mushroom
180
Shimeii Mushroom
180

Egg/Omelette

Dashimaki
280
Dashimaki Mentaiko
380
Dashimaki With 4 Kinds Of Mushrooms
480
Umaki
480
Ika Yaki
280
Tonpeiyaki
180
Oyster Omelette
780
Suii Omelette
480

Osaka Style

Special Okonomiyaki
580
Yakiudon
480
Spicy Bara Yaki Udon
550
Omusoba
480
Sobameshi
480
Mochi Cheese Okonomiyaki
580
Modern Yaki
480
Suji Soba
580

Okonomiyaki

Pork
380
Squid
380
Shrimp
420
Pork, Shrimp, And Squid Mix
480

Okonomiyaki/Yakisob

Pork
380
Squid
380
Shrimp
420
Pork, Shrimp, And Squid Mix
480

Seafood Tepan

Oyster Teppan
980
Ika Teppan
380
Large Prawn Teppan
580
Jumbo Prawn Teppan
880
Hotate Steak
780
Asari Butter
380
Salmon Belly With Mushroom In Foil
780
Salmon Teppan
580
Tuna Teppan
580
Gindara Teriyaki
980
Kaisenyaki
480
Scallop Steak With Sea Urchin
980
Lobster
1280
Live King Crab Whole
1620
King Crab Leg
1620
Scallop Sakamushi
780
Oyster Sakamushi
980

Deep Fried

Jumbo Ebi Furai
880
Large Ebi Furai
580
Kaki Furai
780
Aji Furai
380
Salmon Furai
620
Ika Furai
380
Kani Creme Korroke
480
Shiromi Furai
580
9 Kinds Kushikatsu
780
Handmade Potato Korokke
380
Mix Fry
780
Chicken Karaage
380
Chicken Nanban
420
Pork Cutlet "Tonkatsu"
580
Deep Fried Grinded Beef Ball "Menchikatsu"
480
Two Kinds Of Jumbo Croquette
410
Chicken Nanban
480

Tempura

Prawn Tempura
580
Kaisen Kakiage
380
Assorted Tempura With 2pcs. Prawn
780
Uni Tempura
480
Japanese Capelin Fish "Shishamo Tempura"
380
Kisu Tempura
380
Kani Tempura
380

Grilled Fish

Gindara Shioyaki
980
Sabashioyaki
580
Hamachi Teriyaki
1280
Hamachi Shioyaki / Saikyo Yaki
1280
Salmon Shioyaki
580
Shishamo Shioyaki
380
Sanma Shioyaki
600
Hamachi Kama
580

Grilled

7 Kinds Assorted Yakitori
550
Kushiyaki
780
Zuwai Kani "Grilled Snow Crab Leg"
2480
Ika Sugatayaki
780
Asparagus Bacon
280
Hotate Bacon
280
Kamonegi
780
Uzura Bacon
280
Enoki Bacon
280
Atsuage Yaki
280

Teppan Meat

Matsusaka Wagyu Steak
1990
Usda Angus Rib Eye Steak
1480
Beef Mushroom Roll
780
Lamb Steak
980
Beef Tataki
1180
Special Hamburg
780

Specialty Meats

Matsusaka Wagyu Sukiyaki
1990
Matsusaka Wagyu "Shabu-Shabu"
1990
Matsusaka Wagyu "Seiromushi"
1990
Matsusaka Wagyu Ishiyaki Style
5970
Angus Ishiyaki Style
2180
Matsusaka Wagyu Yakiniku Style
1990

Ala Carte Meat

Chicken Teriyaki
380
Buta Kakuni
380
Buta Shogayaki
420
Ontama Gyusara
480
Kurobuta Sausage
380
Sizzling Smoked Bacon
580
Handmade Gyoza
280
Grilled Pork Kimchi
420

Rice Toppings

Dried Curry
480
Special Curry Rice
480
Omelette Rice
480
Ebi Fry Curry
680
Pork Cutlet Curry
680
Spicy Curry W/ Chicken Katsu
680
Katsu Jyu
580
Tenjyu Rice
680
Gyu Jyu
580
Gyu Yakiniku Jyu
580
Oysku Jyu
430
Jumbo Ebi Katsujyu
880

Rice

Tororo Rice
580
Fried Rice
280
Japanese Style Fried "Chahan"
380
Hayashi Rice
480
Omu Hayashi Rice
480
Tenshinhan
480
Uni Yaki Onigiri
480
Unagi Yaki Onigiri
480
2pcs. Assorted Onigiri
380
Yaki Onigiri
380
Tenmusu
480
Tai Chasuke
680

Unagi And Anago

Prime Unajyu "Kiwami"
1580
Delux Unajyu "Tokujyo"
1280
Superior Unajyu "Jyo"
970
Superior Anagojyu
970
Shirayaki
880
Kabayaki
880
Unagi Tempura
480
Uzaku
480

Dessert

Mix Fruit Parfait
360
Chocolate Parfait
360
Matcha Parfait
380
Coffee Jelly
280
Melon Cream Soda
220
Matcha Shiratama
320
Wagashi
360
Fruit Platter
360
Masu Ice Cream
280
Custard Roll
360
Teppan French Toast
280
Teppan French Toast
380
Mango Crepe
280
Chocolate Crepe
280
Matcha Crepe
380
Chocolate Dorayaki
360
Teppan Dorayaki
360
Japanese Sweet Potato
680
About Teppan Okochi
An authentic Japanese restaurant located in Bonifacio Global City or BGC named Teppan Okochi. This place specializes in Japanese dishes and cuisines, particularly of those finest flavors of Osaka with dishes that they prepare on a striking hot iron plate. Their Grand Chef is Akihiro Okochi who is from Mangetsu Osaka, Japan. Quality beef and seafood are what they really specialize in.
The iron plate which is the teppan is where they prepare their dishes and then pair them with Japanese sake and some selected wines from Napa Valley that they carefully choose. Dize Link Philippines Group is what made this restaurant possible and this is their very first restaurant, this place features great dishes such as wagyu beef, okonomiyaki, and Eel. The place also has a great Japanese ambience its like you're really in Japan. They also have a warm and cozy atmosphere upon entering their restaurant.
Teppan Okochi Menu Best Seller
Here are some samples of Teppan Okochi's best-selling products that everyone should try when visiting them.
A5 Wagyu Steak – A5 Wagyu Steak has 3 different types which are wagyu of the day, Omi beef chateau brian, and Omi beef rib eye. Teppan Okochi specializes in A5 wagyu steaks from Japan with some nice marbling. The chef seared the steak side by side on a teppan making sure that the meat was not overcooked. The steak is also cut into small pieces like cubes and then seared again one by one carefully.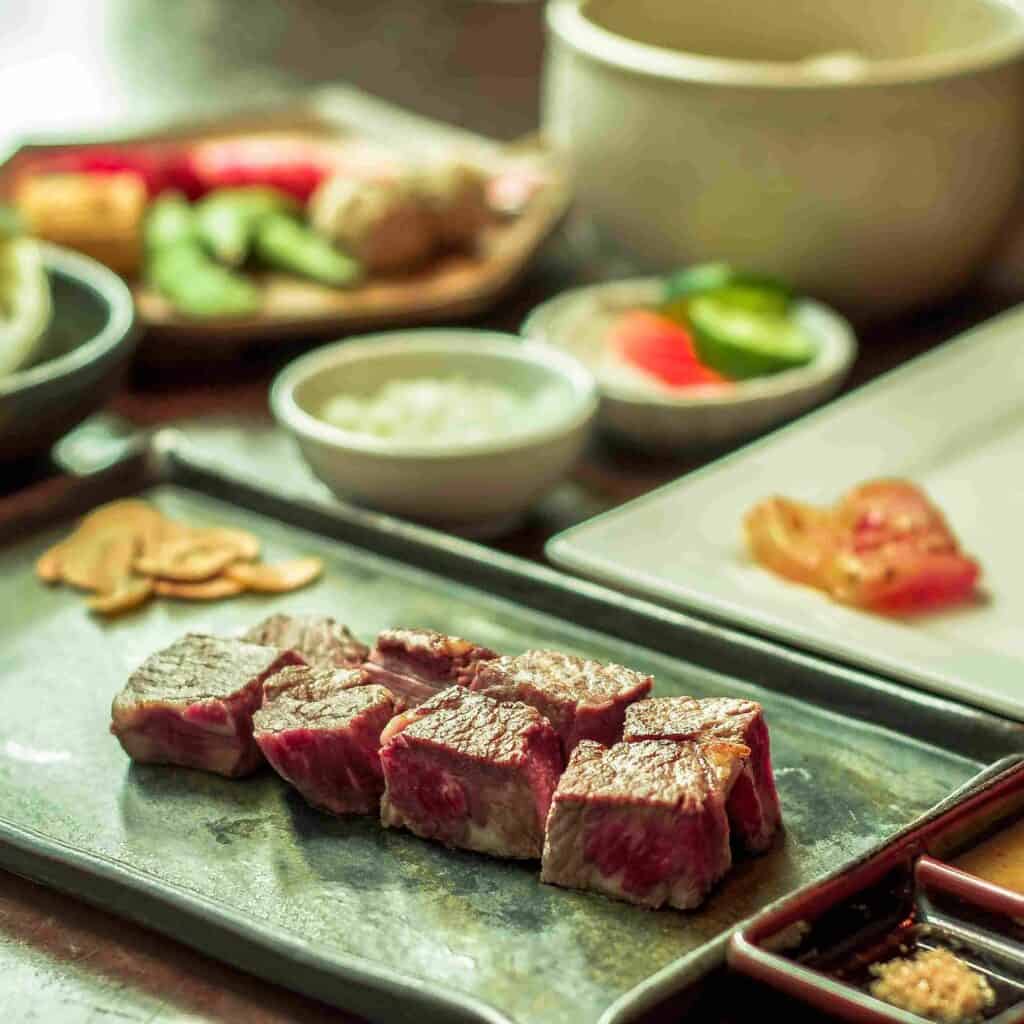 After it is cooked the meat is tender and has a great texture, not too soft but definitely not chewy. The meat is already flavorful by itself no need for any dipping sauce, a little salt to taste is okay. And since I'm always an extra person I ask for a dipping sauce then realize that I was being stupid for putting sauce on a great meat, believe me, this is better without any sauce.
Shafer Merlot – I love this and when it comes to wine I don't care what time it is. This tastes good and smells good as well. From the first pour of this wine, you know exactly that this is a good wine. It has different flavors like dark plums, summer berries, and strawberries plus flowers and fresh herbs.
This wine is great after consuming meats, I like the idea that they are offering wines and spirits in their restaurant. Shafer Merlot is one of the best-selling items on their menu. Can't say this is a must-try since I understand that not everyone is drinking but for those who do and wine lovers this is a must-try.
Original Mangetsu Special Okonomiyaki – Teppan Okochi's version of the original Manggetsu Special Okonomiyaki menu is a great choice if you're looking for a dish that is easy and fun to eat but innovative and new. You will surely enjoy their Original mangetsu special okonomiyaki like a Japanese pizza with overloaded toppings. It was a great experience trying this dish, very flavorful and delicious.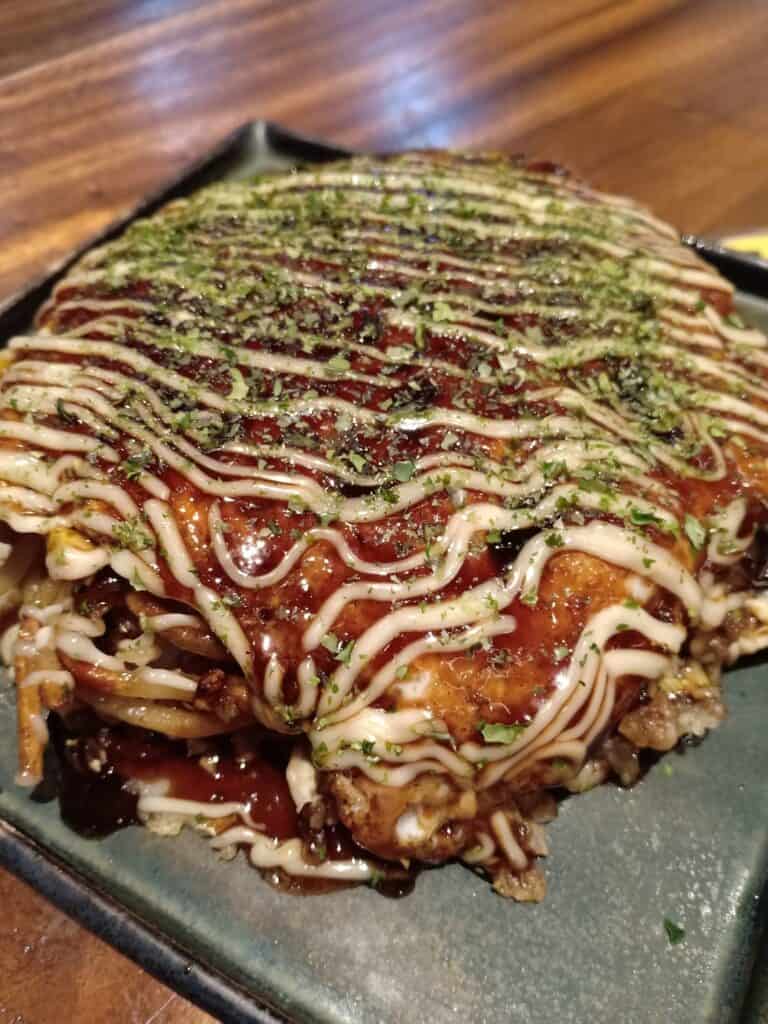 3 Kinds of Assorted Japanese Sweets – Teppan Okochi's 3 kinds of assorted Japanese sweets have mochi desserts with different flavors, they have Matcha Mochi with Black Syrup made of Moscovado Sugar, Kudu Apricot, and Sakura Mochi with edible Sakura Leaf. Items are surprisingly good and not too sweet just right.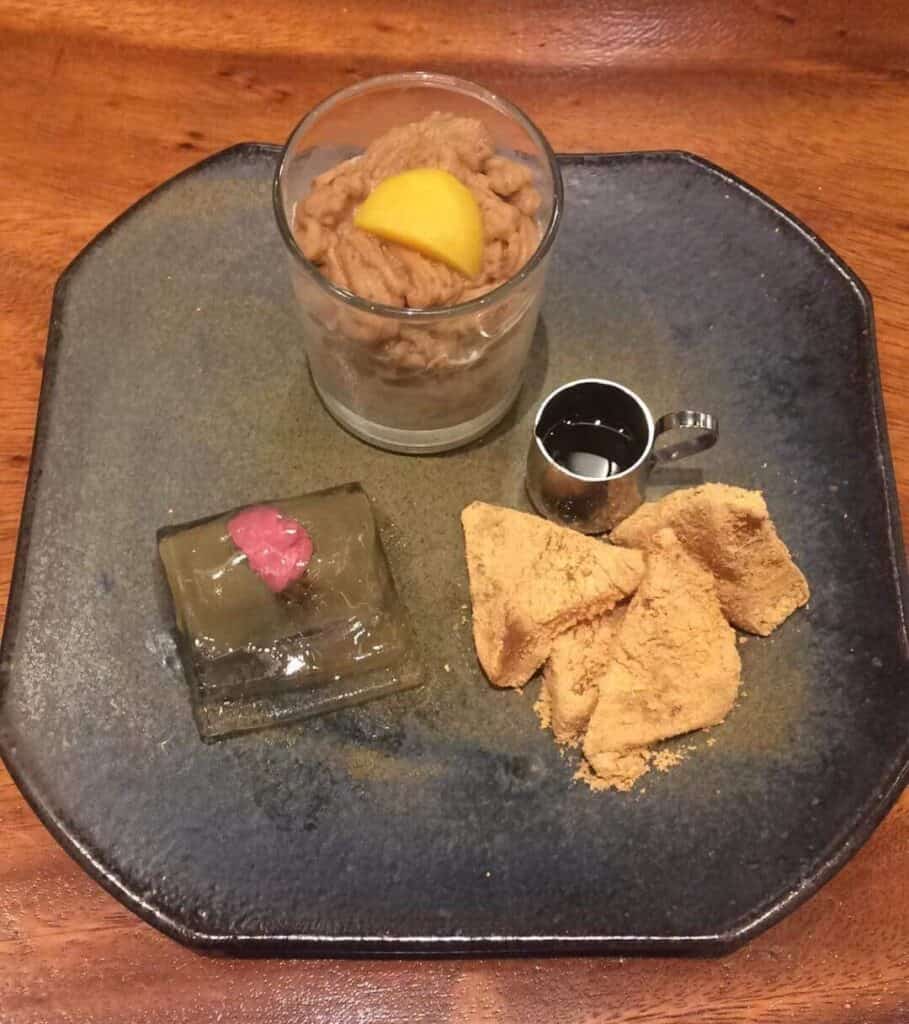 Teppan Meat
Teppan Okochi offers a variety of meat options so if you're a carnivorous person then this is the menu for you. They have Matsusaka Wagyu Steak which is also an A5 rank of meat. They also have USDA Angus Rib Eye Steak which is really good. If you're looking for a flavorful one you may try their Beef Mushroom Roll or if you want something unusual you should try their Lamb Steak. Beef tataki and special hamburg are also found on this menu.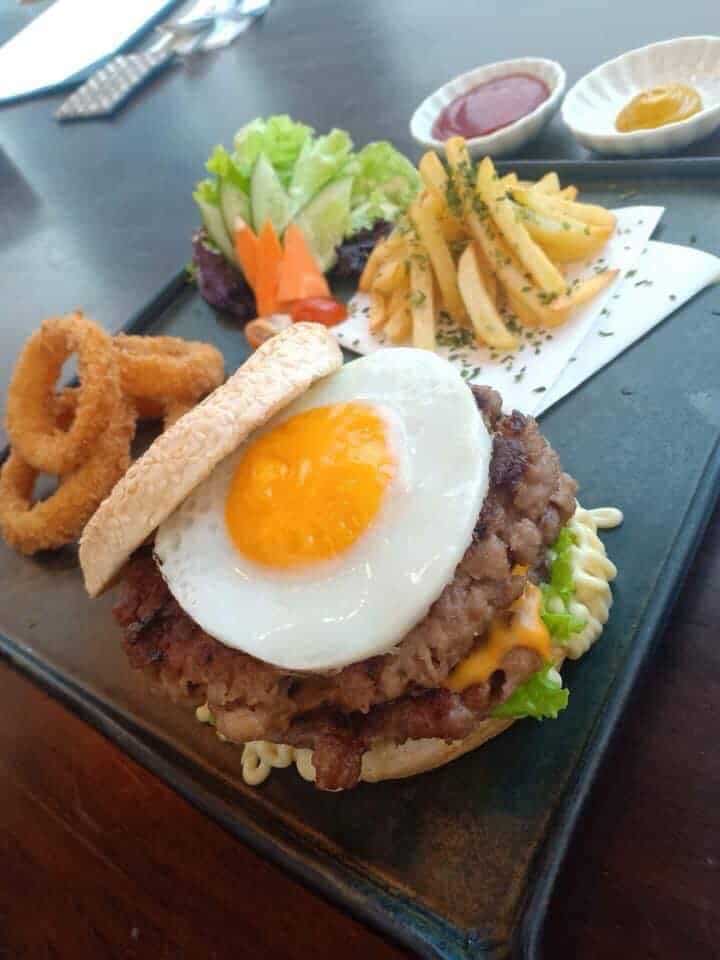 Ramen
If you're a ramen person just like me you'll definitely love their ramen menu. They are offering different kinds of ramen which is good and comforting. Shoyu ramen and spicy miso ramen are first on the list, they also have champong and kaiso ramen. If you're looking for something simple you can try their abura soba and chicken noodle. Chicken paitan and tantanmen are other options and if you want to try a Singaporean-inspired noodle dish you can try their laksa noodles.
Teppan Okochi Menu Delivery
Ordering your favorite Teppan Okochi food items is made easier simply by calling them directly at 0906 248 3942. Otherwise, you can also use delivery service apps such as FoodPanda, LalaFoods, or GrabFoods. Please be mindful that the delivery service is only available in selected areas, usually near the Teppan Okochi branch.
Social Media Pages
Follow Teppan Okochi and dive into an exclusive world of flavors – from live teppanyaki action to insider tips on our chef's specials. Your support fuels the flames of their culinary artistry. Let's embark on a delicious journey together, one griddle flip at a time.
Facebook: https://www.facebook.com/teppanokochi
Instagram: https://www.instagram.com/teppanokochi
Website: https://teppan-okochi-japanese-steakhouse.business.site
Frequently Asked Questions (FAQs)
Where can we find Teppan Okochi?
The Teppan Okochi location is at Unit 7 GF Ore Square Bldg 1634 31st Street Taguig Metro Manila Philippines.
What are the business hours of Teppan Okochi?
Teppan Okochi is open daily from Mondays to Sundays from 11:00 in the morning until 9:00 at night.
What are the payment options accepted at Teppan Okochi?
Teppan Okochi is accepting cash and major credit cards and debit cards for a cashless and hassle-free transaction.
Do we need reservations at Teppan Okochi?
No need for reservations, you can just walk in at Teppan Okochi.
Is there a dress code at Teppan Okochi restaurant?
No, actually you can go to Teppan Okochi wearing simple casual clothing without being questioned by their guards just make sure that you're wearing appropriate clothing.
Conclusion
This Japanese restaurant is a nice place to go and get your Japanese food cravings. The Teppan Okochi menu has a lot of delicious items and options to choose from and try plus this place looks amazing too. One of the most beautiful Japanese restaurants that been to, and though not all of their products are available it is worth the price. Their crews are nice and approachable too, best customer service as well. The ambiance is great it's like you're really in a Japanese restaurant in Japan because of the interiors of the restaurant. Teppan Okochi is a great place to go especially if you're seeking a nice place to go with your friends or family if you're planning to go and eat out. Highly recommended for everyone. Great experience with great food.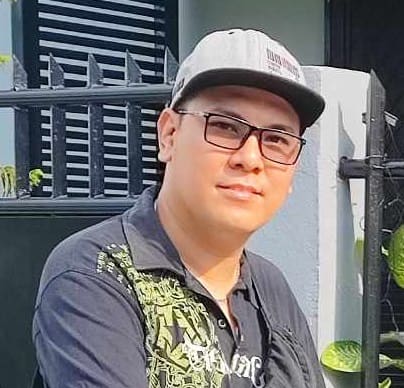 Hi! I'm Nivek Strife, the person who made MenuPH. I'm the one who added most of the popular menus you see on this website, and I really hope you enjoy them! Feel free to check them all out.
Growing up, I was surrounded by lots of tasty foods, like the classic Adobo and the sweet Leche Flan. That love for the many flavors of the Philippines is what got me excited about adding to MenuPH. When I learned how to make websites, I saw the need for a place to show off all the amazing Filipino dishes, and that's how MenuPH started.
MenuPH isn't just a website; it's like a fun journey into food. I've teamed up with famous chefs and found great places all over the Philippines to bring you a bunch of menus that show off the best of Filipino cuisine. Whether you're into the usual dishes or new twists, MenuPH is here to guide you through the rich world of Filipino flavors.
With MenuPH, my aim is to help local businesses, talk about good food choices, and make a group of friends who love food. No matter if you like fancy restaurants or street food, MenuPH has something for you. Come join me on this food adventure as we find great places, taste real flavors, and enjoy the unique food traditions that make the Philippines awesome.