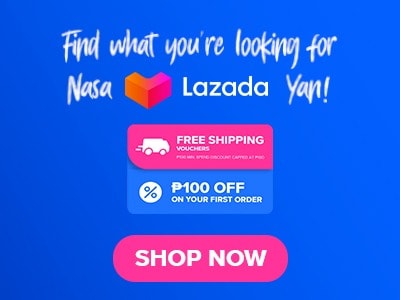 Cafe Meraki has an amazing menu that's full of different tasty dishes. They make sure there's something delicious for everyone who comes to the cafe. The menu is put together thoughtfully to make your eating experience really special. They have yummy breakfasts, yummy lunches, and sweet tdesserts too. Basically, they want everyone who loves food or just wants a good meal to be happy. They do this by using really good ingredients, coming up with unique flavors, and making the food look awesome when they serve it.
Below, you'll find the updated list of Cafe Meraki menu prices.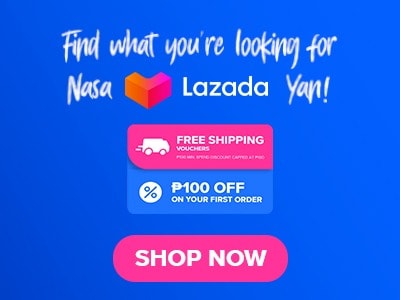 Menu Items
Price (PHP)

Special Promo

Buy 1 Get 1 - Strawberry Milktea
180
Buy 1 Get 1 - Wintermelon Milktea
180
Buy 1 Get 1 - Classic Milktea
180
Buy 1 Get 1 - Taro Milktea
180
Buy 1 Get 1 - Matcha Milktea
180

Milktea

Classic Milktea
75
Wintermelon Milk Tea Large
75
Okinawa Milktea
75
Matcha Milktea
75
Dark Chocolate Milktea
75
Thai Milktea
75
Hazelnut Milktea
75
Strawberry Milktea
75
Oreo Deluxe Milktea
75
Salted Caramel Milktea
75
Matcha Oreo Milktea
75
Taro Milktea
75
Taro Oreo Milktea
75
Cheesecake Milktea
75
Red Velvet Milktea
75

Creamcheese Series

Oreo Creamcheese Milktea
155
Chocnut Creamcheese Milktea
140
Matcha Creamcheese Milktea
140

Meraki Special Drinks

Brown Sugar
155
Iced Coffee
120

Espresso Series

Caramel Macchiato
140
Americano
100
Omeraki Espresso
135
Matcha Latte
125
White Choco Latte
130
Spanish Latte
130
Cappucino
110
Vanilla Affogato
120
Fruitea Series
Green Apple Fruitea
70
Passion Fruitea
70
Jasmine Berry Fruitea
70
Strawberry Fruitea
70
Lychee
70

Butterfly Pea Lemonade Series

Lemonade Pea
110
Lava Lemonade
110
Poison Pea
110
Yakult Pea
110

Meraki Frappe

Meraki Madness Frappe
145
Vanilla Cookies Frappe
130
Matcha Blend Frappe
130
Chocolate Chip Frappe
130
Strawberry Frappe
130
Choco Hazelnut Frappe
140
Creamberry Frappe
129
Java Jive Frappe
140
Mocha Hazelnut Frappe
129
Dark Choffee Frappe
140
Taro Oreo Frappe
135
Rocky Road Frappe
140
Arabi Cream Jelly
135
Milo Fudge Frappe
156
White Choco Frappe
180
Mango Creamcheese Frappe 16oz
180

Munchies

Buffalo Wings
210
Chicken Fingers
95
Fries
85
Rice
25
Prawn Crackers
70
Crispy Chicken Sandwich
125
Meraki Rice Bowls
Cream Of Tartar Chicken Fillet
180
Pork Teriyaki
180
Chicken Teriyaki
180

Burgers

Classic Burger
115
Meraki Burger
145
Cheese Burger
175
Ultimate Burger
235
Beef Teriyaki Burger
160

Meraki Specials

Meraki Popcorn
130
Pesto Genovese Pasta
160
Chicken Alfredo Pasta
160
Beefy Hawaiian Pizza 6
145
Double Cheese Pepperoni Pizza 6''
130
Choco Banana Walnut Muffin
75

Goto Gang Specials

Tapsilog
170
Porksilog
170
Tocilog
170
Chicksilog
190

Add Ons

Cheese Sauce
30
Lettuce
25
Sliced Cheese
25
Rice
25
About Cafe Meraki
Cafe Meraki is a place for those who are looking for a unique and memorable dining experience that combines exceptional flavors with a cozy and inviting ambiance. Located at 2079 Capt. M. Reyes, Makati, 1230 Metro, this cafe offers a diverse menu that caters to a wide range of tastes and preferences becoming a go-to destination for food lovers and coffee lovers alike. The cafe's interior is thoughtfully designed, creating a space that breathes comfort and charm to each guest. Overall, Cafe Meraki is an ideal spot for catching up with friends, enjoying a leisurely brunch, or even getting some work done while sipping on your favorite drink.
Cafe Meraki Menu Best Seller
A wide variety of mouthwatering and delicious food items makes up this menu from Cafe Meraki.
Buffalo Wings – This dish could make for a perfect snack or a side with a fiery kick that enhances the overall dining experience. Each bite from these crispy chicken wings delivers a perfect balance of heat and flavor due to the tangy and spicy Buffalo sauce that coats them.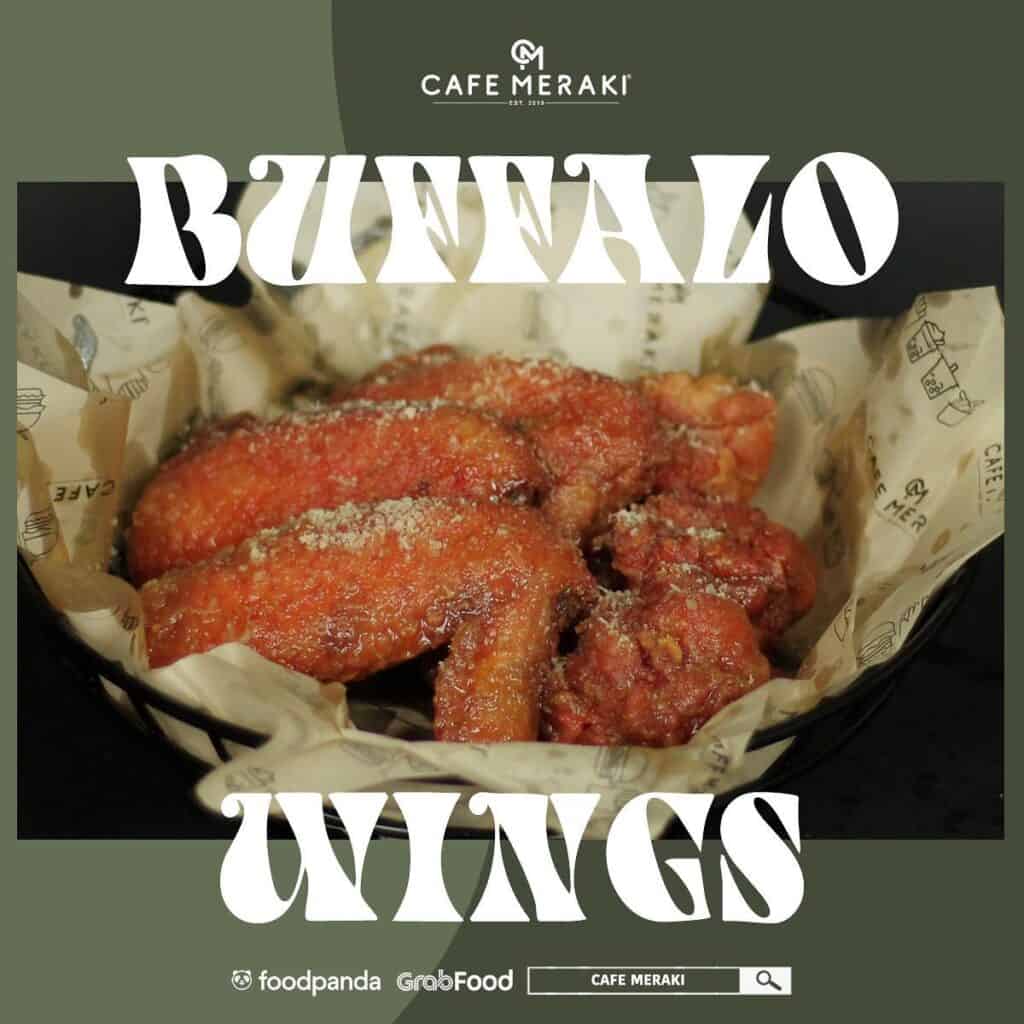 Chicken Teriyaki – This chicken dish showcases the combination of sweet and savory that most Japanese dishes are known for. It is made with tender pieces of chicken glazed with a teriyaki sauce that strikes a perfect balance between umami-rich flavors and the sweetness that this dish has.
Cheese Burger – A juicy and flavorful beef patty is sandwiched between soft burger buns and topped with melted cheese, lettuce, tomatoes, and onions resulting in a mouthwatering burger that will surely anyone's cravings, making this burger a go-to choice for many.
Double Cheese Pepperoni Pizza – This pizza is an excellent dish that features a crispy crust topped with layers of gooey melted cheese and generously scattered with savory pepperoni slices.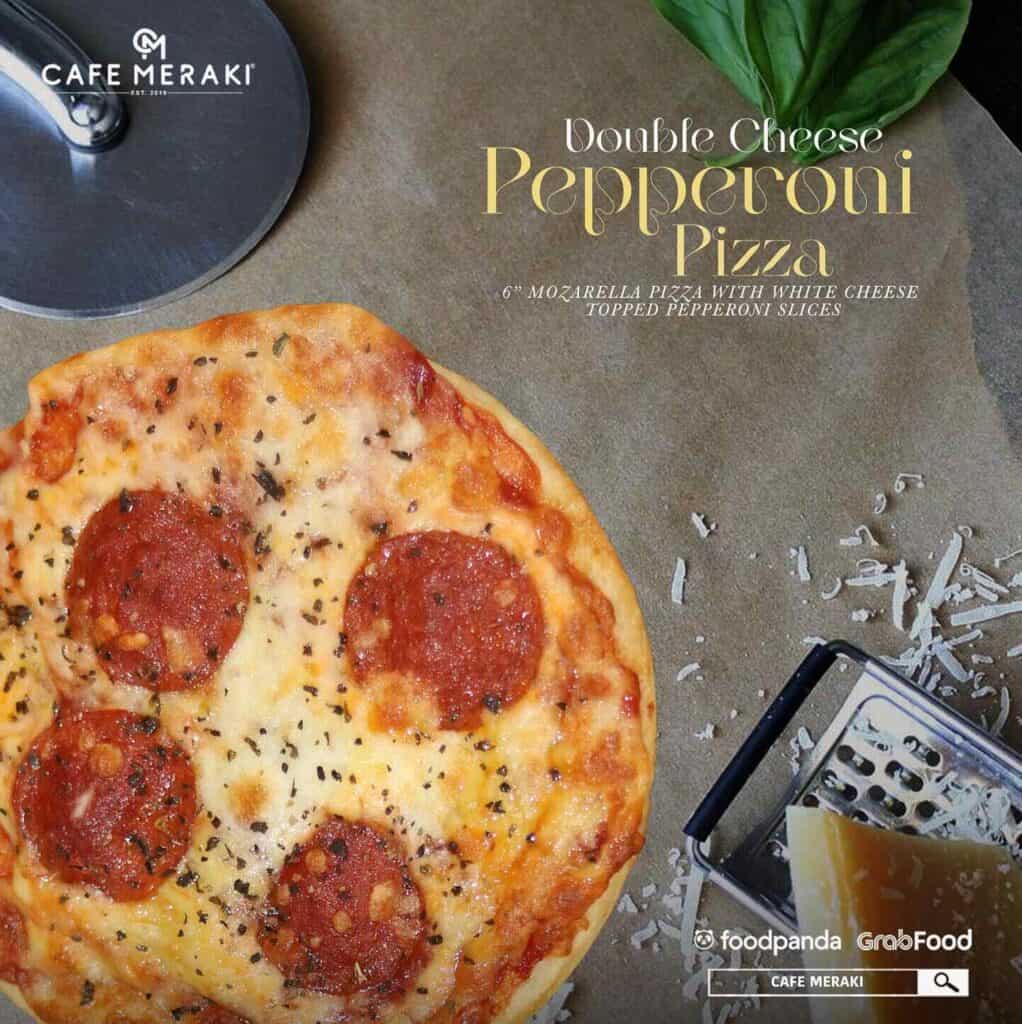 Fries – These golden, crispy fries are the perfect accompaniment to any meal, whether you want to enjoy them on their own or pair them with your favorite burger or sandwich. The balance of crispiness and fluffiness, along with a sprinkle of seasoning, makes these fries an addictive snack that's hard to resist.
Cafe Meraki Menu Milktea
The menu here has a lot of different milk tea drinks that would go really well with the food at Cafe Meraki. It's like a great match for their delicious dishes.
Classic Milktea – This timeless beverage combines the richness of black tea with the creaminess of milk, creating an excellent blend and soothing flavor profile, making it a classic option for those that are looking for a milk tea with a balanced blend of flavors.
Wintermelon Milk Tea Large – The natural sweetness of winter melon is expertly paired with the smoothness of milk tea, resulting in a beverage that's both delightful and satisfying. The larger size ensures that you can enjoy every sip of this beverage, making it a perfect companion for a leisurely afternoon or a quick refreshment.
Okinawa Milktea – This milk tea variety boasts a rich and roasted taste, with hints of caramel and brown sugar that add depth and complexity to each sip. The tea's bold flavor is balanced by the creaminess of milk, creating a unique and captivating blend that sets it apart from traditional milk teas.
Creamcheese Series
The Creamcheese series of Cafe Meraki menu is made up of different flavors of milk tea beverages with cream cheese on top.
Oreo Creamcheese Milktea – The richness of milk tea in this beverage is complemented by the creaminess of cream cheese, creating a velvety and luxurious texture and unique taste. The addition of Oreo cookies adds a playful crunch and a hint of cocoa flavor, making this milk tea an excellent treat for those who enjoy a combination of sweet and savory elements.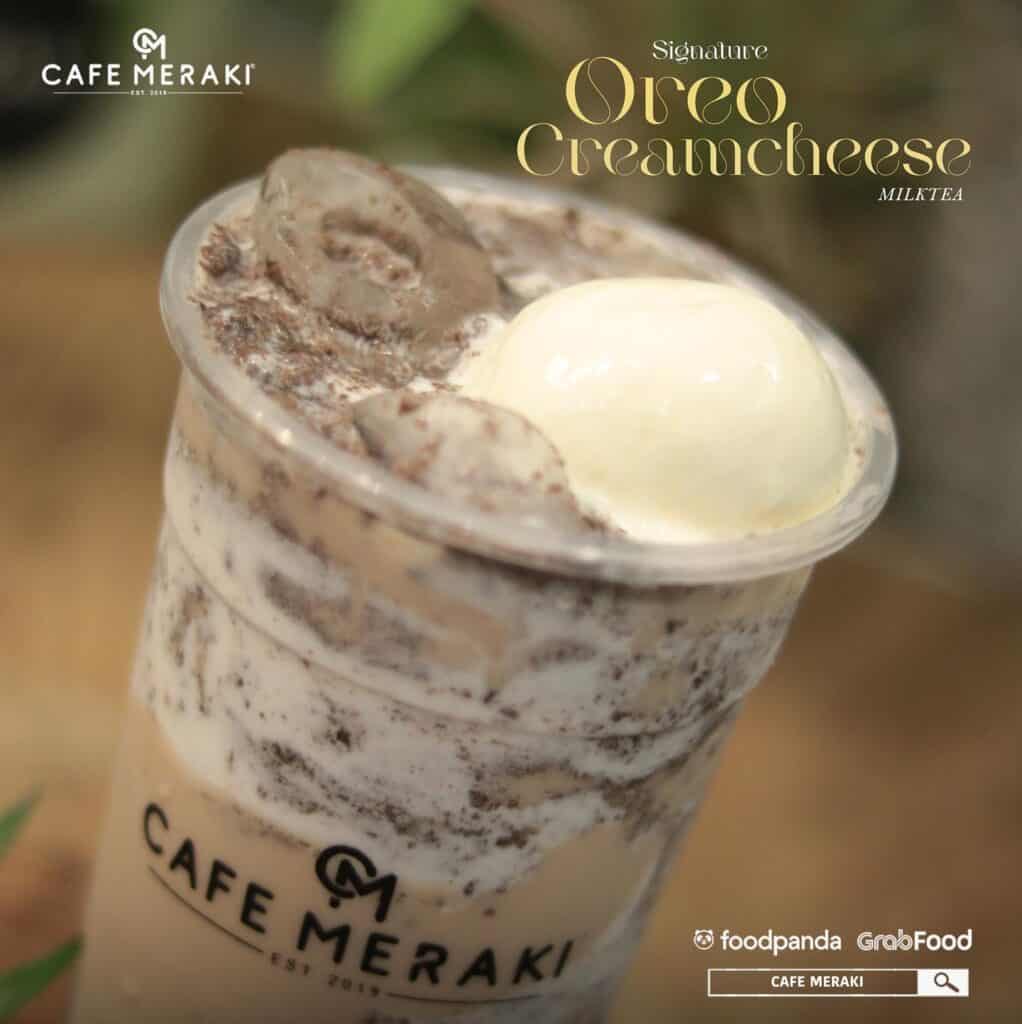 Chocnut Creamcheese Milktea – For a nostalgic Filipino twist, the Chocnut Creamcheese Milktea takes inspiration from the beloved Chocnut chocolate treat. The cream cheese adds a creamy dimension to the milk tea, while the Chocnut flavor adds a touch of familiar and comforting sweetness.
Matcha Creamcheese Milktea – This milk tea is perfect for matcha lovers who appreciate the earthy and vibrant flavors of Japanese green tea. The cream cheese adds a velvety and slightly tangy contrast to the earthiness of matcha, resulting in a well-balanced and satisfying drink.
Espresso Series
The Espresso Series menu of Cafe Meraki serves up a delightful array of coffee-based drinks that capture the richness and enticing aroma of expertly brewed coffee. This menu caters to both those who appreciate the timeless classics and those with a taste for creative coffee variations. Choose from the inviting notes of the Caramel Macchiato, the bold simplicity of the Americano, and the unique Omeraki Espresso, designed to awaken your senses. Experience the matcha-infused bliss of the Matcha Latte, the comforting indulgence of the White Choco Latte, and the exotic allure of the Spanish Latte. For those who adore the perfect balance of foam and espresso, there's the Cappuccino, and lastly, indulge in the rich harmony of flavors in the Vanilla Affogato. This menu promises a journey of diverse coffee experiences, crafted to satisfy all types of coffee enthusiasts.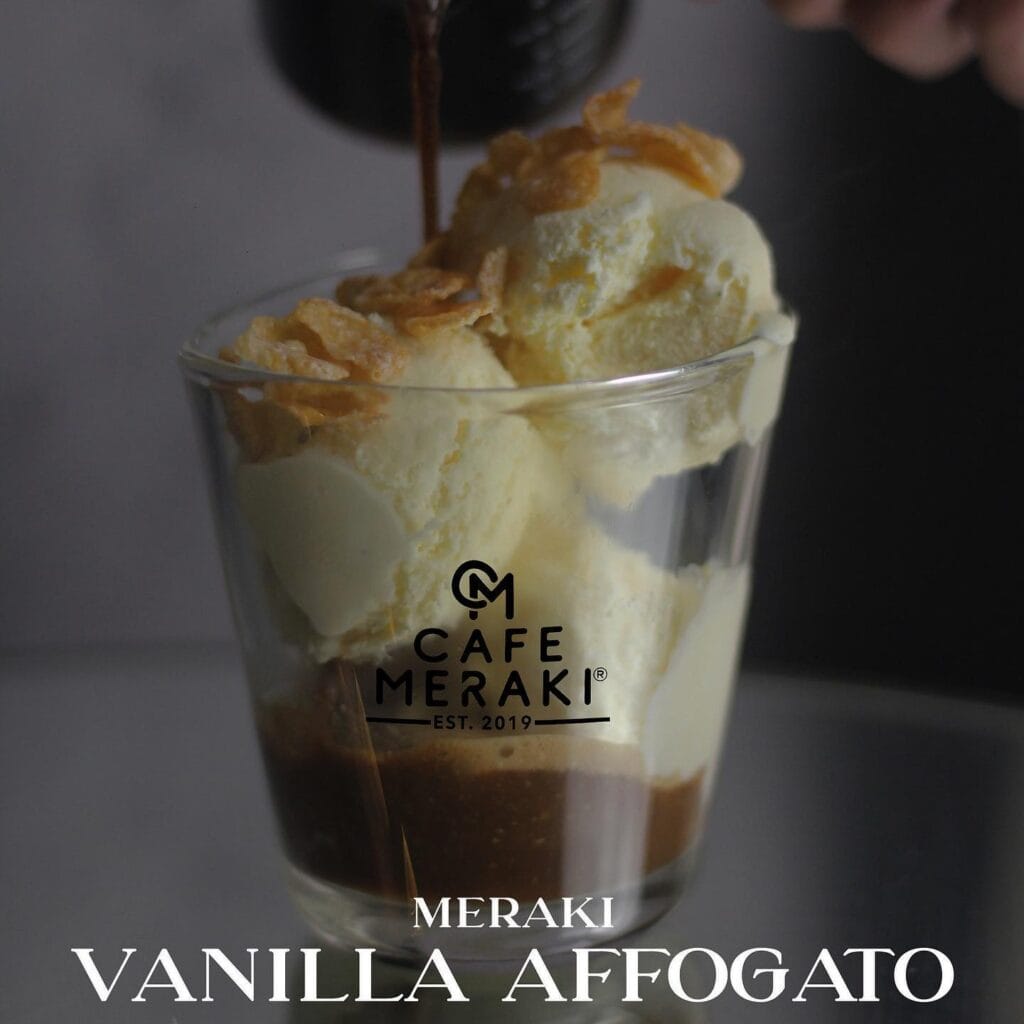 Fruit Tea Series
Quench your thirst with the Fruit Tea Series from Cafe Meraki's menu, a collection that brings together the invigorating taste of fruits and the soothing essence of tea. These beverages offer a harmonious blend, capturing the inherent sweetness of various fruits and the special attributes of tea. Delight in the Green Apple Fruitea's crispness, experience the zesty notes of the Passion Fruitea, and revel in the aromatic Jasmine Berry Fruitea's enchanting combination. For a burst of berry goodness, there's the Strawberry Fruitea, and the delicate Lychee option adds a touch of exotic delight. Each drink is meticulously designed to create a symphony of flavors, ensuring a rejuvenating and enjoyable sipping experience.
Meraki Frappe
Indulge in the Meraki Frappe menu of this Cafe, an assortment of icy and blended delights designed to offer a cooling respite from the heat. Each frappe on this menu masterfully balances the earthy undertones of coffee with the velvety smoothness of blended ice, creating a satisfying combination that caters to your taste buds' desires.
From the invigorating Meraki Madness Frappe to the comforting Vanilla Cookies Frappe and the vibrant Matcha Blend Frappe, each creation promises a delightful harmony of flavors. Dive into the rich indulgence of the Chocolate Chip Frappe, the fruity allure of the Strawberry Frappe, and the nutty goodness of the Choco Hazelnut Frappe.
Don't miss the enticing Creamberry Frappe, the invigorating Java Jive Frappe, or the exquisite blend of Mocha Hazelnut Frappe and Dark Choffee Frappe. For unique twists, there's the Taro Oreo Frappe and the indulgent Rocky Road Frappe, with additional options like Arabi Cream Jelly, Milo Fudge Frappe, White Choco Frappe, and the luscious Mango Creamcheese Frappe in a 16oz size. This menu is your passport to an icy adventure, where every sip is a blend of pure delight and refreshment.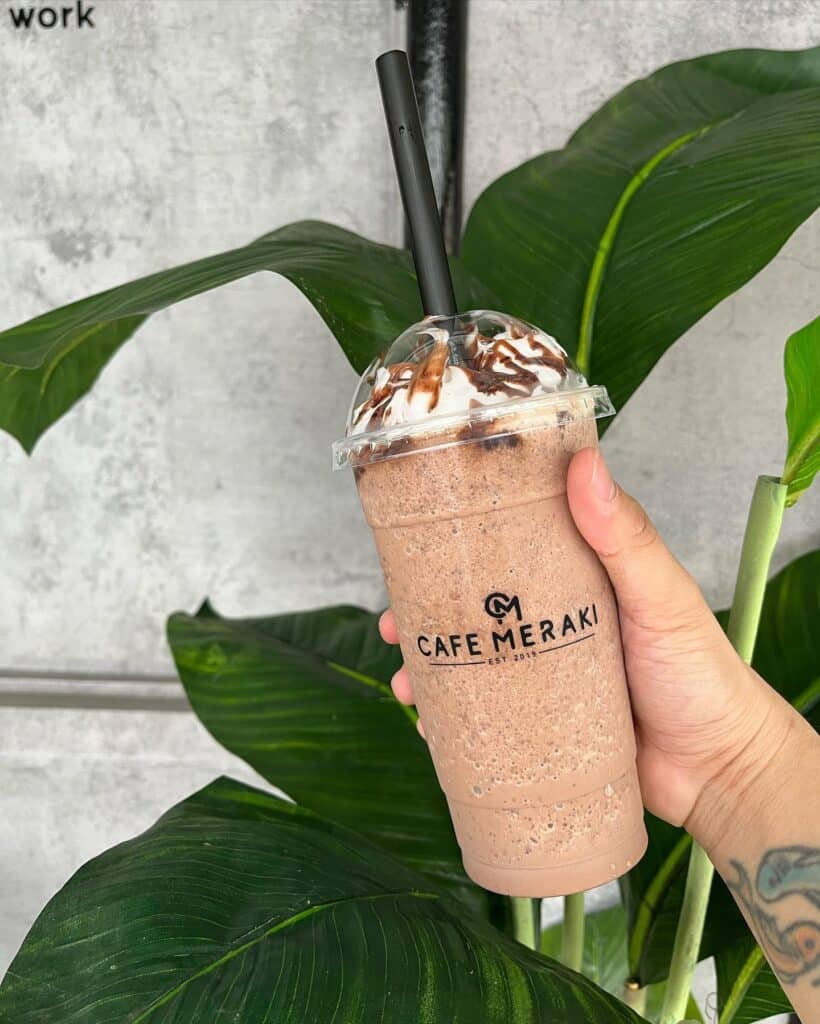 Cafe Meraki Menu Delivery
Cafe Meraki has a cool service where their usual customers can get their favorite stuff from the cafe, even when they're at home. They do this using apps like FoodPanda, which bring the food right to their door. It's like having the cafe come to you!
Social Media Pages
Make sure you're part of their adventure! Follow them on social media to know all about their newest stuff and enjoy the world of flavors they create. Your support means a lot to them, and they can't wait to share all the wonderful things about Cafe Meraki with you.
Facebook: https://www.facebook.com/cafemerakiph
Instagram: https://www.instagram.com/cafemerakiph
TikTok: https://www.tiktok.com/@cafemerakisucat
Website: https://cafemerakisucat.com/contact-us
FAQs
What type of cuisine does Cafe Meraki specialize in?
Cafe Meraki is known for its wide and diverse menu, which features a fusion of different cuisines.
Where are the different Cafe Meraki restaurant locations?
They have multiple branches set up all around Metro Manila and nearby areas.
What are some signature dishes at Cafe Meraki?
Some of the notable items at Cafe Meraki are its pizza items, burgers, buffalo wings, and milk tea beverages.
Does Cafe Meraki cater for events or parties?
Yes, Cafe Meraki does cater for events and parties.
Are there any promotions or discounts available at Cafe Meraki?
Cafe Meraki also provides promotions and discounts to keep their customers engaged.
Conclusion
Cafe Meraki is a well-known cafe with multiple branches around Metro Manila that offers a wide range of beverages and food items that complement their beverage offerings. From their expertly crafted coffee beverages to their delightful breakfast, lunch, and dessert offerings, Cafe Meraki has become a go-to place for many Manileños who are looking for a truly remarkable and satisfying dining experience. So whether you are a dedicated foodie exploring the diverse range of flavors or someone who is simply looking for a comforting meal, Cafe Meraki is one of the best places to visit!