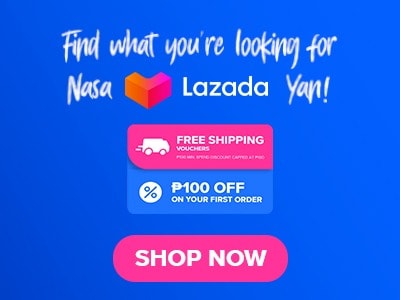 If you have been an avid reader of my blogs you surely know that I love barbeque and I have a meticulous taste before I recommend a restaurant that specializes in grilling goodness of barbeque dishes that highlights another level of smokey goodness you will surely love. I introduce to you Rackshack, a culinary haven for barbeque enthusiasts, so let's take this flaming experience en route with this menu collection.
Below, you'll find their updated list of menu prices.
Menu Items
Price (PHP)

Awesome Start

Nachos
125
Loaded Nachos
275
Ridiculous Nachos
375
Onion Strings
135
Crack Fried Calamari
235
Skinny Fries
95
Loaded Fries
275
Ridiculous Fries
375
Hail Caesar
175
Street Corn Salad
195

Main Event

Pork Rib Single
275
Pork Rib Double
525
Texas Hot Link Single
185
Texas Hot Link Double
335
Pulled Pork Single
225
Pulled Pork Double
385
Crack Fried Chicken 2pc
195
Crack Fried Chicken Double
345
Crack Fried Chicken Whole
615

Our Signature Sauce

Mother Sauce
Hoisin
Carolina Gold
Kansas Style
Spicy Mother Sauce

Sides

Shack Slaw
70
QP Corn
70
Shack Beans
70
Harajuku Potato Salad
70
Garlic Rice
55
Steamed Rice
55

We Have Groupies

Shack Platter
840
Groupie Platter
995

Dessert

Brownie Smores
195
About Rackshack
Rackshack is a perfect go-to destination for barbeque enthusiasts. From their long list of barbeque dishes that will surely bring you to the world of flaming goodness of culinary excellence, greatness is indeed an understatement. They also offer various sauces that bring absolute goodness and elevated flavor to your entire barbeque experience.
Rackshack Menu Best Seller
Now for the Big event! savor the finest and top picks at Rackshack with this menu of best sellers that offer you a high level of flaming goodness in every aromatic bite.
Loaded Nachos – Let us dive into his mountain of flavors of loaded nachos. It features a crispy tortilla chip highlighting savory toppings giving you a tantalizing experience.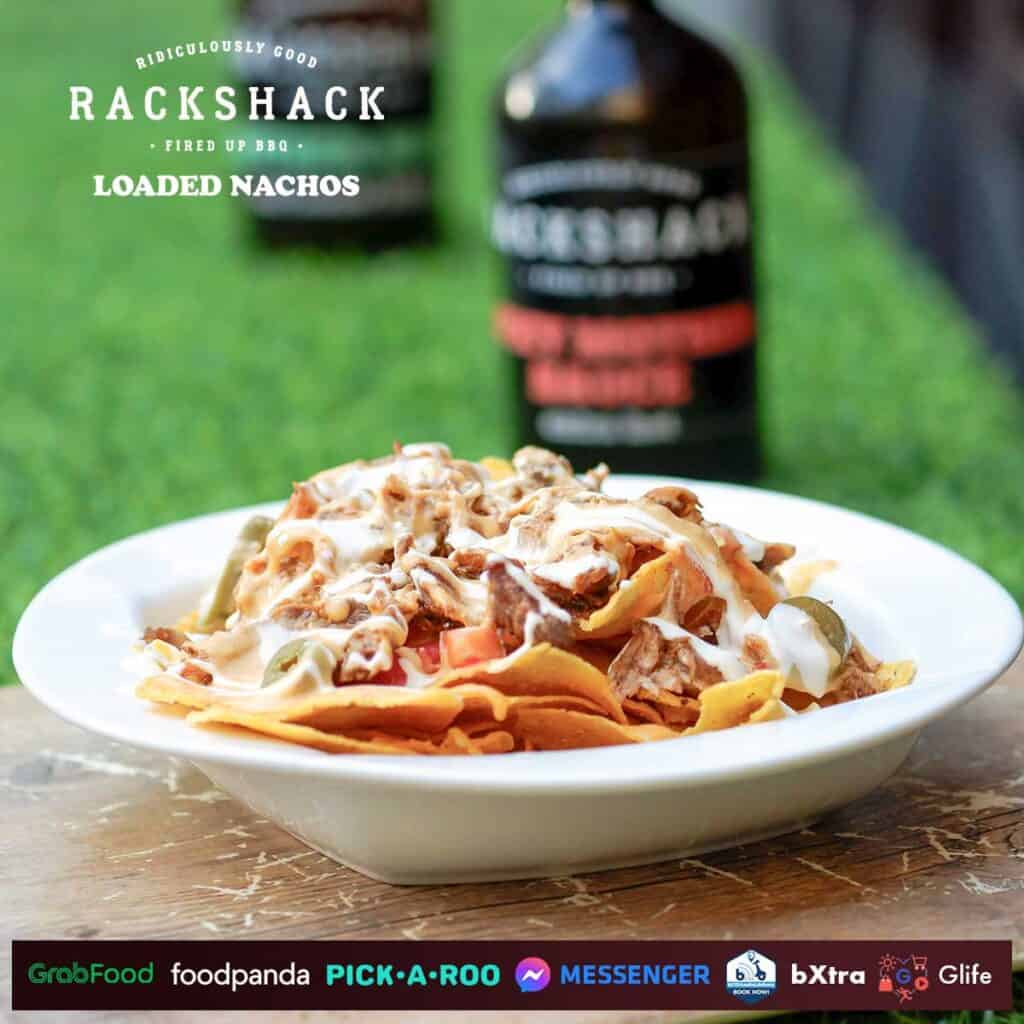 Onion Strings – This crispy to perfection onion string is so addictive from the perfect crunch up to its sweet and juicy onions. It is perfect as an appetizer that fully complements your meal.
Texas Hot Link – Prepare yourself for an other spic kick with this Texas hot link that offers fiery sausage giving you very satisfied cravings with bold flavors and aromatic spices.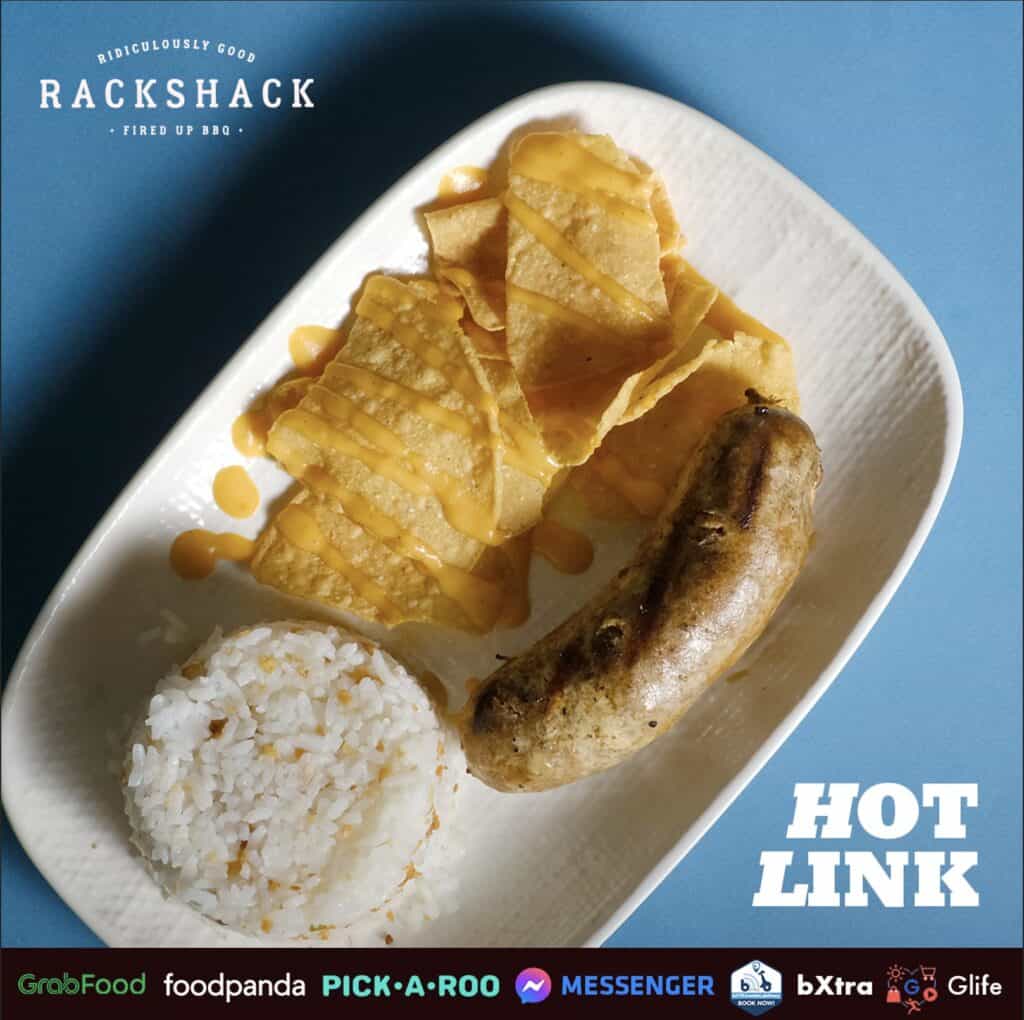 Pork Rib – Sink your teeth in the succulent pork ribs. It is a famous dish that highlights cooked-to-perfection pork ruins that are generously dripping with mouth-watering flavors and visuals.
Pulled Pork – Rackshakc's version of pulled pork is definitely something you need to try. From the satisfying barbeque flavors to its juicy and succulent insides, this barbeque is definitely one of my favorite and highly recommended dishes.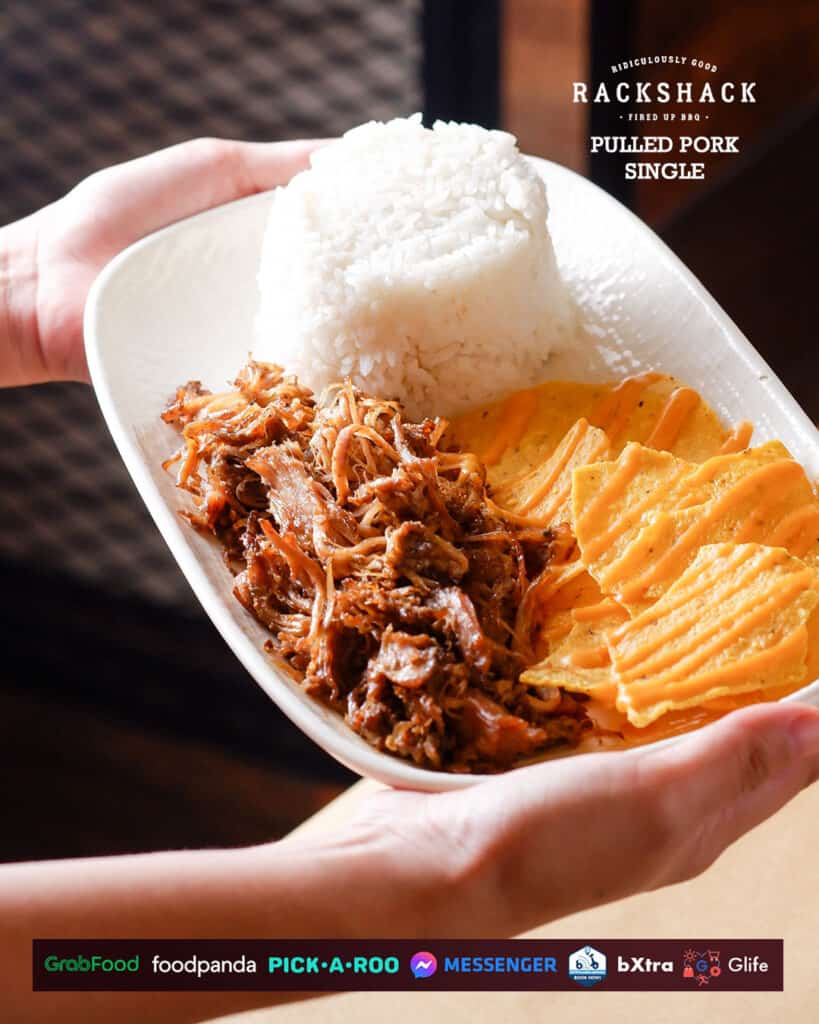 Awesome Start
Start your experience with this enticing collection of awesome starts that I curated. They have a long list of selections in this category and I chose the best of the best in this list.
Crack-Fried Calamari – Dive into an ocean of flavors of fried calamari that features tender calamari strings with its delicate coating and crispy to-perfection crunch. It is served with zesty sauce that elevates your every bite.
Loaded Fries – A haven leap is here in every crispy bite of their famous loaded fries. These fries are generously smothered in various mixtures and flavors perfect for your various cravings.
Hail Caesar – Embark in a flavorful adventure of this Hail Caesar. It features fresh and perfectly crispy romaine lettuce that is tossed lovingly in a classic Caesar dressing.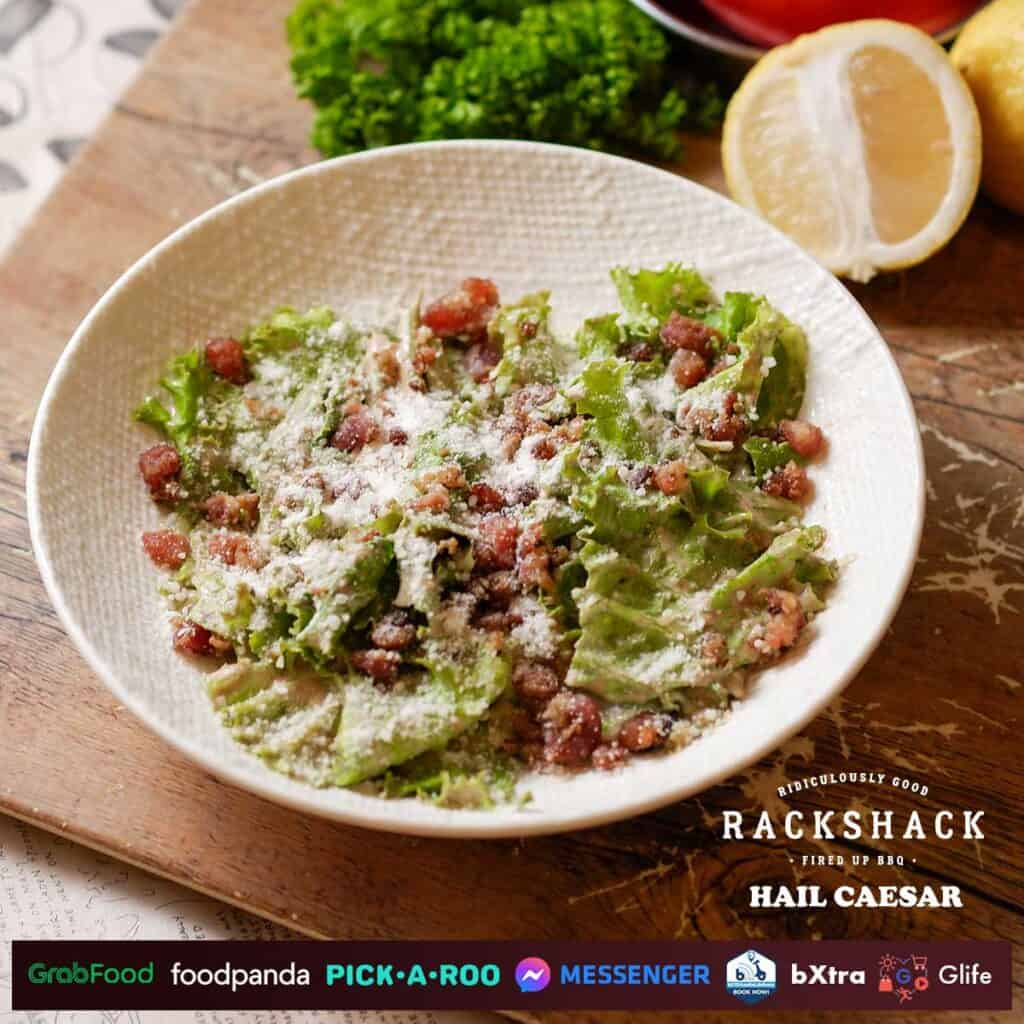 Street Corn Salad – Join me in this journey of the vibrant street with Tiktok's famous street corn salad that highlights a burst of flavors grilled corn with a flavorful mixture that adds sweetness in this street corn salad.
Other Menu
It does not end there because we are now at the Other Menu that I made if you still haven't decided on whatever you want to do here at Rucksacks.
Crack Fried Chicken – Rackshacks's Crack Fried Chicken is a culinary masterpiece that highlights a tender chicken and its finest location to secret blends and aromatic spices. It is a symphony of flavors and harmonious textures that you will surely love.
Brownie S'mores – Their only desert will surely never fail you. It offers you heavenly gooey marshmallows that are packed with richness and chocolatey brownies flavor that is so comforting to eat.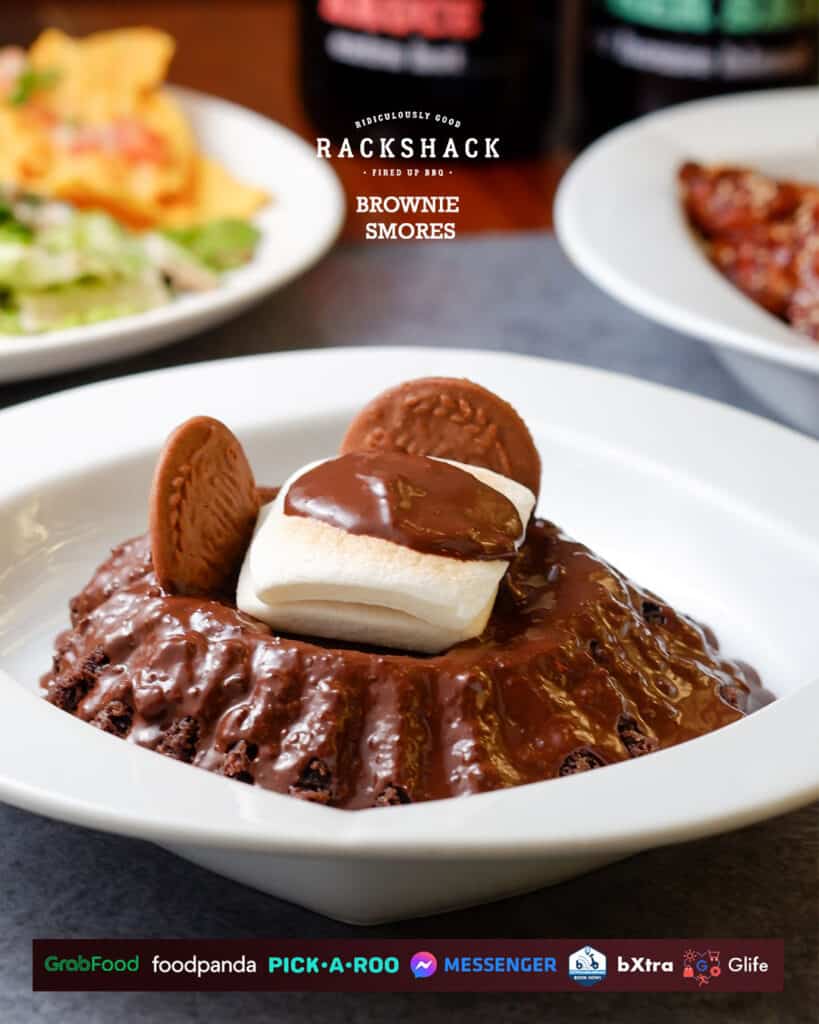 Harajuku Potato Salad – A delightful fusion is here to give you a creamy and very refreshing side. This Harajuku Potato Salad is a famous street food from Harajuku Japan that gives you a delicious bite and favors.
Garlic Rice – this simple but very important part of your plate offers you a romantic goodness you've never experienced before. This garlic rice is infused with an aromatic essence of garlic that perfectly complements every barbeque dish here at Rackshacks.
Rackshack Menu Delivery
Excited about this famous restaurant? Well, you can now enjoy this "Ridiculously Good and Fired UP BBQ" from Rackshack in the utmost comfort of your home. They offer food delivery service through third-party delivery channels like FoodPanda Philippines and other delivery services that might be available in your area. You can also check at GarbFood for a longer distance range and smooth transactions.
Social Media Pages
Rackshack is the place where your Instagram game gets strong! Follow them for a visual feast, and tag them in your foodie adventures for a chance to be featured on their page. Their followers get first dibs on the juiciest grilling tips and tricks.
Facebook: https://www.facebook.com/rackshackph
Instagram: https://www.instagram.com/rackshackph
TikTok: https://www.tiktok.com/@rackshackph
Frequently Asked Questions
What type of cuisine does Rackshack offer?
Rackshack is a casual dining restaurant that specializes in barbeque dishes and amazing sauces.
What is Rackshack known for?
Rackshack is known for its Main events menu that highlights barbeque dishes such as their famous Pork Ribs, Pulled Pork, and Texas Hot Link.
What are the operating hours of Rackshack?
Rackshack's operating hours are from 10 AM until 9 PM.
Where is Rackshack located in the Philippines?
There are 2 available branches of Rackhack that are operating in the Philippines. You can find them at Sky Park, SM Aura, and the other branch is located on the Ground Floor of Ayala Circuit Mall.
Conclusion
This restaurant is definitely a culinary haven for everyone who is looking for an indulging experience while savoring a ridiculously good barbeque. From their mouthwatering loaded nachos to their addictively crispy onion rings menu, the Rackshack is definitely a must-try for your next family bonding or barkada hangout! Their main event which is their barbecue deserves so much recognition and appreciation in a global culture. From their tender pork ribs up to the melt-in-the-mouth pulled Pork as well as their famous Texas hot link, Rackshack is indeed here not to play but to bring you a statement of the art and grilled-to-perfection dishes. Lastly, I also want to mention their great sauce and flavorful sides such as their Harajuku salad which is one of my favorites along with their brownie smores that offer a very comforting experience I would suggest trying these dishes at the last part of the dining to surely soothe all of the experience with a perfect wrap up!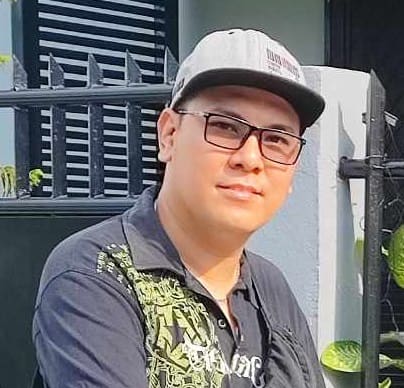 Hi! I'm Nivek Strife, the person who made MenuPH. I'm the one who added most of the popular menus you see on this website, and I really hope you enjoy them! Feel free to check them all out.
Growing up, I was surrounded by lots of tasty foods, like the classic Adobo and the sweet Leche Flan. That love for the many flavors of the Philippines is what got me excited about adding to MenuPH. When I learned how to make websites, I saw the need for a place to show off all the amazing Filipino dishes, and that's how MenuPH started.
MenuPH isn't just a website; it's like a fun journey into food. I've teamed up with famous chefs and found great places all over the Philippines to bring you a bunch of menus that show off the best of Filipino cuisine. Whether you're into the usual dishes or new twists, MenuPH is here to guide you through the rich world of Filipino flavors.
With MenuPH, my aim is to help local businesses, talk about good food choices, and make a group of friends who love food. No matter if you like fancy restaurants or street food, MenuPH has something for you. Come join me on this food adventure as we find great places, taste real flavors, and enjoy the unique food traditions that make the Philippines awesome.