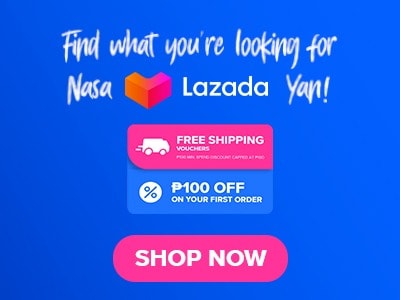 The Concha's Garden menu consists of classic and authentic Filipino cuisines. It is categorized into Filipino Breakfast, Appetizers, Salad & Ensalada, Beef, Pork, Chicken, Seafood, Vegetable, Noodles, Rice, Pasta & Sandwiches, Plated Meals, Desserts, Hot Drinks, Cold Drinks, and Shakes. The warmth of home in every bite is the special characteristic of these dishes that make their customers come back for more. 
Menu Items
Price (PHP)

Filipino Brekfast

Pork Adobo
550
Champorado
320
Beef Tapa
550
Daing Trio (Biya, Pusit, Danggit)
550
Tuyo Flakes
340
Smoked Bangus Belly
380
Daing na Bangus
380
Chicken Adobo Flakes
420
Vigan Longganisa
420
Alaminos Pangasinan Longganisa
420
Lucban Longganisa
420
Pork Tocino
400
Tuna Omelette
400
Corned Beef Omelette
400
Corned Beef Guisado with Pandesal
400
American Breakfast
650
Arrozcaldo
380
Pancake
320
Breakfast Platter (Biya, Danggit, Daing na Bangus, Longganisa Lucban, Longganisa Vigan, Tapa, Tocino, Adobo Flakes, 4 cups Garlic Rice, 4 Eggs, 4 cups Brewed Coffee)
2000

Appetizer

Homemade Okoy
250
Garlic Tofu
380
Tokwa't Baboy
450
Baked Tahong
450
Crispy Pork Belly
400
Chicharon Bulaklak
400
Baby Squid in Olive Oil
550
Sinuglaw
600
Shrimp Gambas
600

Salad & Ensalada

Concha's Garden Salad (Honey Mustard Dressing)
380
Mango Kani Salad (Sesame Dressing)
380
Caesar's Salad
380
Ensaladang Talong
350

Beef

Beef Salpicao
750
Bistek Tagalog
650
Bulalo
980
Callos
600
Concha's Laoya (Lightly Sweetened Beef Shank)
750
Beef Caldereta
680
Kare-Kare
750
Lengua Estofado in White Sauce
650
Spicy Beef Adobo Ribs
600
Sinigang Short Ribs (Real Tamarind Broth)
650
Beef with Brocolli
650

Pork

Dinuguan (Pork and Beef)
580
Crispy Pata
960
Lechon Kawali
550
Sisig (Kaampangan's Original Recipe)
480
Pork Binagoongan
550
Lechon Belly
550
Almondigas (with Ground Shrimp)
480
Lumpiang Shanghai
450
Crispy Pork Face
960
Inihaw na Liempo
600
Pork Sinigang with Water Melon
650

Chicken

Chicken Adobo sa Gata
550
Chicken Tinola
520
Chicken Wings
560
Oriental Fried Chicken (Half)
370
Oriental Fried Chicken (Whole)
650
Sinampulakang Manok
600

Seafood

Grilled Platter (Shrimp, Squid, Milkfish, Pork Liempo, Ensaladang Talong)
2500
Homemade Bangus Sardines in Olive Oil
400
Adobong Pusit sa Gata
650
Crispy Tawilis
400
Crispy Tilapia
400
Crispy Hito with Mango Salsa
550
Sizzling Bangus Belly
550
Seafood Sinigang
720
Sinigang na Bangus sa Bayabas
580
Sinigang na Bangus sa Miso
550
Sweet & Sour Lapu Lapu
850
Sizzling Jumbo Bangus
980
Grilled Pampano
850
Salmon Belly Sinigang sa Miso
650
Sinigang na Hipon
700
Grilled Pusit
650

Vegetable

Lumpiang Sariwa
275
Pinakbet w/ Lechon Kawali
600
Laing
380
Ginataang Sigarilyas
480
Saute Mixed Vegetables (No Meat)
500
Gising-Gising
450
Adobong Kangkong
280
Bokchoy with Mushroom
350

Noodles

Sotanghon (Whole)
700
Sotanghon (Half)
380
Pancit Canton (Whole)
650
Pancit Canton (Half)
350
Lomi (Good for 3 persons)
500
Special Palabok
550

Rice

Steamed Rice (per cup)
70
Garlic Rice (per cup)
80
Java Rice (per cup)
85
Tinapa Rice (Good for 2-3 persons)
390
Bagoong Rice (Good for 2-3 persons)
390
Dulong Rice (Good for 2-3 persons)
390

Pasta & Sandwiches

Mango Cream Fetuccini
420
Filipino Style Spaghetti
420
Sundried Tomato Pesto with Shrimp
420
Spaghetti with Meatballs
420
Pasta Ziti in Garlic Cream Sauce
350
Chicken Sandwich
300
Tuna Sandwich
290
Concha's Club Sandwich
400

Plated Meals

Grilled Tanigue
550
Seared Salmon
700
Chicken Inasal
550
Pork Adobo
550
Pork BBQ (Java Rice)
550

Dessert

Ginataang Bilo-Bilo
350
Leche Flan
200
Halo-Halo
250
Ice Cream Scoop
80
Kamoteng Turon
200
Banana Turon
200
Puto Bumbong
160
Mango with Nutella Crepe
350
Banana with Nutella Crepe
300
Banana Split
300
Chocolate Cake (Whole)
1300
Chocolate Cake (Slice )
150
Red Velvet (Whole)
1400
Red Velvet (Slice)
180
Blueberry Cheesecake (Whole)
1500
Blueberry Cheesecake (Half)
180

Hot Drinks

Café Americano (3 kinds of Arabica)
130
Pinoy Tsokolate
140
Belgian Hot Choco
160
Cappucino
160
Café Latte
160
Café Mocha
170
Hazelnut Café Latte
160
Caramel Macchiato
170
Hot Calamansi
120
Hot Pandan and Lemongrass
120
Green Tea
100

Cold Drinks & Shakes

Pandan and Lemongrass Juice (Glass)
120
Pandan and Lemongrass Juice (Pitcher)
320
House Blend Iced Tea (Glass)
120
House Blend Iced Tea (Pitcher)
320
Guyabano Juice
170
Fruit Juice in Can (Mango, Pineapple, Pineapple Orange)
120
Soda in Can (Coke, Royal, Sprite, Coke Zero, Coke Light)
90
Lemon and Cucumber Cooler
170
Black Gulaman
150
Fresh Buko Juice in Shell
140
Fruit Shakes (Watermelon, Buko, & Strawberry)
170
Choco Banana Peanut
150
Mixed Berries
180
Iced Coffee
150
Iced Café Latte
180
Iced Café Mocha
180
Iced Caramel Macchiato
180
Iced Hazelnut Café Latte
180
Iced Matcha
170
Cold Calamansi
120
Bottled Water
60
About Conchas Garden
Gemma Sembrano founded this restaurant in 2014 to share the notable and well-loved Filipino dishes of her grandmother, Caridad Concha-Escueta. She recreates the recipe of her grandmother and named the restaurant after her. One of the loyal customers of this restaurant is Alden Richards, a Filipino celebrity who became a business partner of Gemma in growing this business.
Concha's Garden Menu Best Seller
These are some of the best sellers of Concha's Garden that are loved by the crowd for their unique taste.
Concha's Laoya – A signature dish of Concha's Garden that has a distinctive taste. It is made up of lightly sweetened beef shank and vegetables such as saging na saba, potatoes, and pechay. The atsuete oil creates a red color and gives a sweet and mild peppery flavor.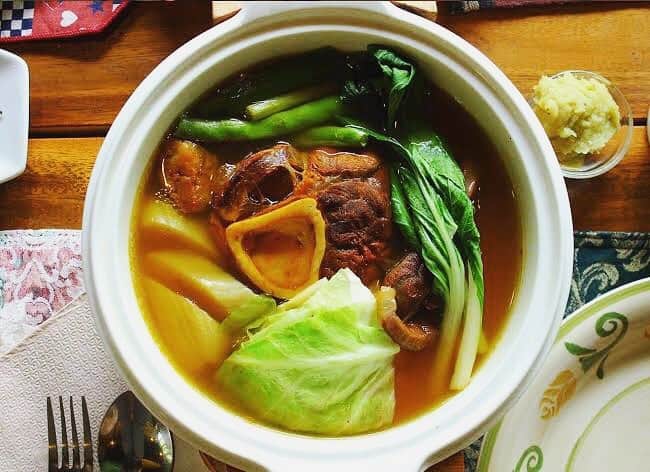 Beef Caldereta – One of the restaurant's recommended dishes as it is one of the all-time favorites of their diners. The creaminess of its sauce, the tender meat, and the well-cooked vegetables make this dish extraordinary.
Lechon Belly – Lechon is notable for its juicy meat and crispy skin. It is served with mixed vegetables, chili, and soy sauce. This irresistible lechon is spiced with special herbs and seasonings that create an appetizing aroma.
Mango Cream Fettucini – The tangy flavor of mango in this Concha's Garden menu is the feature of this dish that makes it special. It is the creaminess and distinctive taste makes this pasta delicious. Shrimp is topped on it and a slice of bread also comes on its side. 
Spicy Beef Adobo Ribs – Adobo is one of the Filipino comfort foods that is loved for its delicious taste. Concha's Garden created a special adobo that has a spicy, tangy, savory, and distinct soy flavor that makes it exciting.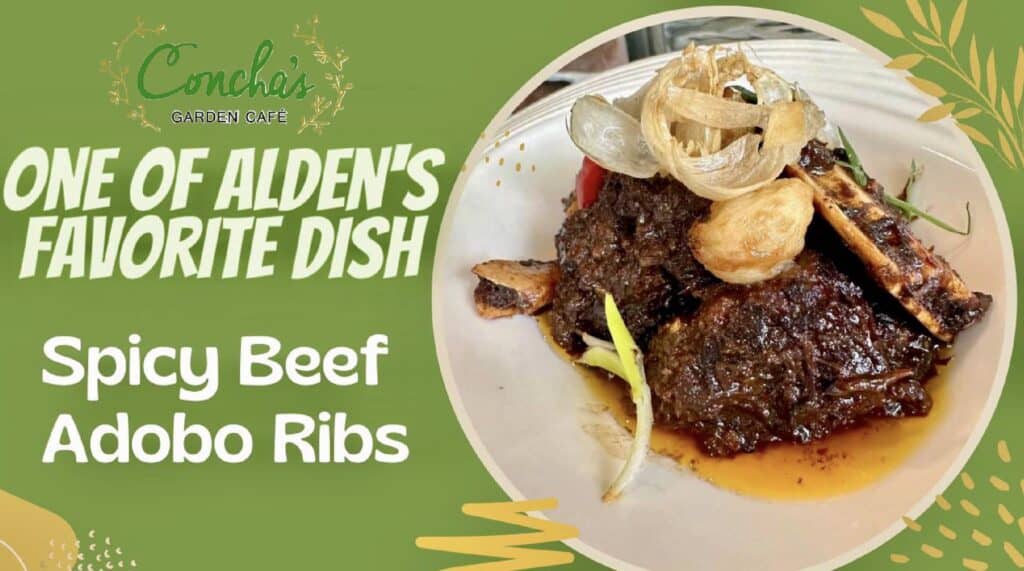 Concha's Garden Filipino Breakfast Menu
Start your day with these Filipino Breakfast meals served by Concha's Garden that are packed with flavors. The rice meals that it serves consist of eggs, mixed vegetables, garlic rice, and your preferred viand. It also offers champorado, arrozcaldo, and pancake.
Beef Tapa – This is the crowd's favorite dish as it is one of the Filipino's well-loved breakfast viands. The special marinade created by this restaurant gives this dish a classic and distinctive taste.
Alaminos Pangasinan Longganisa – One of the dishes that are popular in Alaminos, Pangasinan is its special Longganisa. This is different from Longganisa of other regions in the Philippines as it has a distinctive taste and unique presentation. It is loaded with savory flavors that will make you crave more.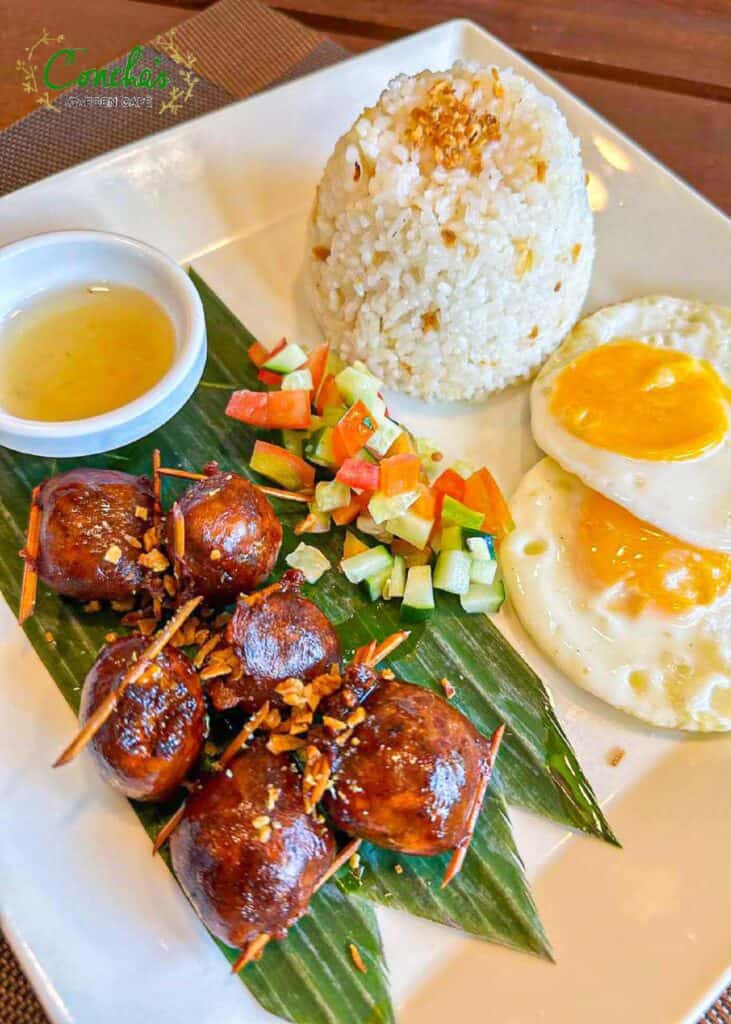 Corned Beef Guisado with Pandesal – Corn beef is sauteed with onions and other special ingredients. It is one of the dishes that is used as a filling in pandesal as it is tender and flavorful. The delicious combination of corned beef and pandesal makes every bite satisfying.
Breakfast Platter – It is a breakfast set that you will enjoy surely with your loved ones as it consists of eight savory dishes. This platter is great for four people and comes with garlic rice, eggs, and brewed coffee. With this breakfast platter, you will be able to try different dishes that this restaurant offers.
Pork
Pork is a meat that is commonly used by Filipinos in creating delicious dishes. The pork dishes of Concha's Garden are made using an original recipe to serve customers authentic and unique meals.
Pork Binagoongan – A well-loved Filipino dish that is made up of pork cooked in a luscious shrimp paste sauce that is locally known as bagoong. It is garnished with eggplant, green peppers, red peppers, and calamansi. This hearty dish is a must-try as it has a bold and salty flavor that will make your meals exciting.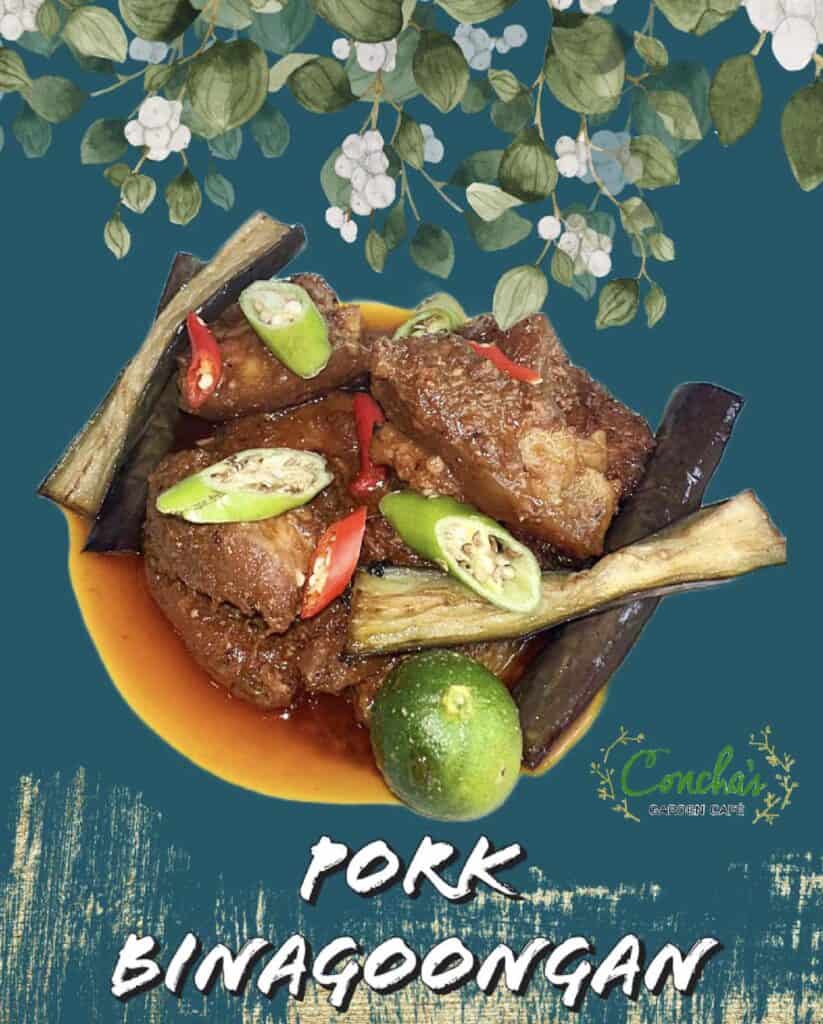 Sisig – This sisig is cooked using the original recipe of Pampanga which is why it has a unique and authentic taste. It will excite your senses with its sizzling sound, mouthwatering aroma, and appealing taste. A sunny-side-up egg is topped on it and a calamansi and chili are served on its side so diners can adjust its taste according to their preference.
Crispy Pork Face – The pork face of Concha's Garden is boneless making it convenient to eat. Its crispiness is the special characteristic of this dish that encourages people to try it. Chili, soy sauce, and ensalada also come with it to make it flavorful.
Appetizers
Excite your sense of taste with these flavorful appetizers offered by Concha's Garden that will make your meal more pleasing. It consists of homemade and traditional Filipino dishes that have a contemporary taste.
Homemade Okoy – Okoy is a Filipino shrimp fritter that is blended in a special batter and fried until it becomes crispy. A vinegar-based sauce with chili is also served with it. This menu of Concha's Garden is different from the ordinary okoy as the original and unique recipe is used in creating this dish. 
Baby Squid in Olive Oil – An appetizing dish made with baby squid cooked in olive oil and other special spices. Olive oil contains a lot of nutrients that make this dish healthy and it also enhances its taste. This flavorsome seafood appetizer is one of the dishes that you should not miss out on.
Shrimp Gambas – Shrimp are sauteed in a special sauce that is made of flavorful spices. It is garnished with slices of lemon which enhances its visual presentation. Every bite of this savory dish will boost your appetite and make you anticipate the other dishes of this restaurant.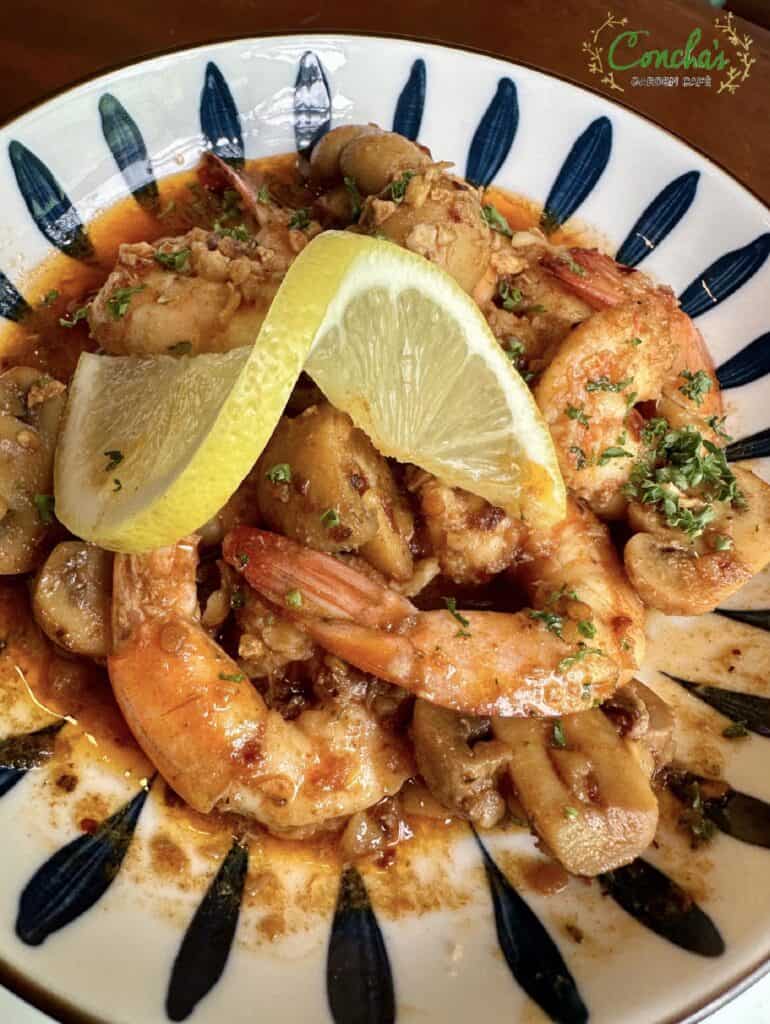 Salad
The Salad that Concha's Garden offers are great for those who want a light and healthy meal. Its festive presentation and the nutritional value that it provides encourage the crowd to try it.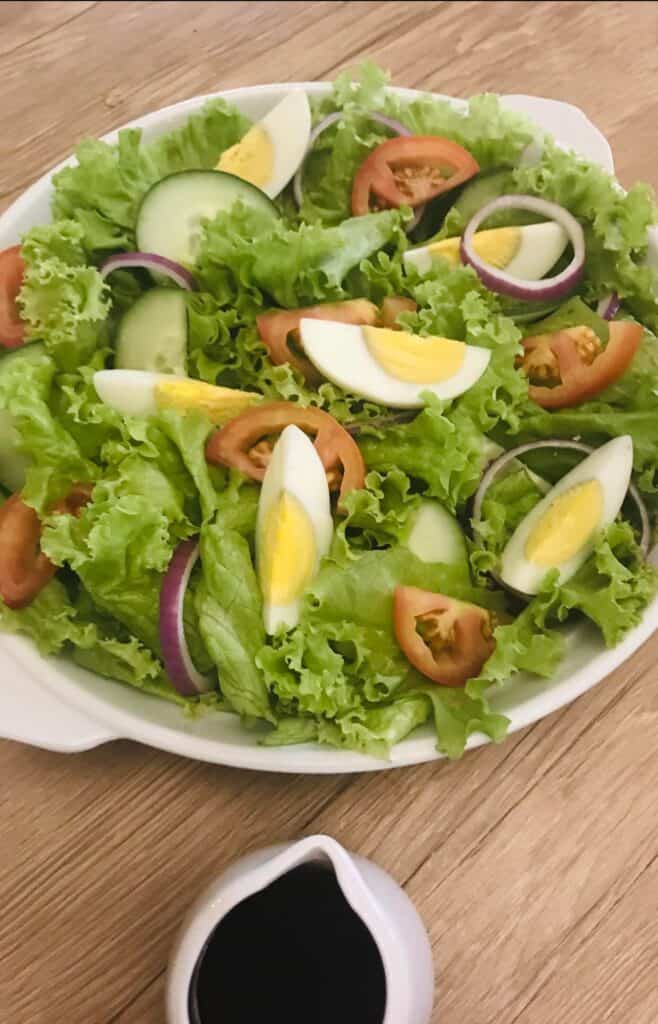 Concha's Garden Salad – A special garden salad of Concha's that consists of leafy greens and other vegetables. It comes with a honey mustard dressing that heightens the flavor of the salad making it more nutritious.
Mango Kani Salad – Mango, kani, lettuce, and other special vegetables are served with a sesame dressing. The sweet and juicy taste of mango complements well with kani and other ingredients. Its surprisingly good taste never fails to please the crowd's sense of taste.
Plated Meals
The plated meals of Concha's Garden are complete meals that consist of a special dish, rice, and iced tea. It serves Grilled Tanigue, Seared Salmon, Chicken Inasal, Pork Adobo, and Pork Barbecue. These combinations make it easy for diners to choose a perfect meal that will satisfy their cravings. Among these dishes, the seared salmon is the favorite dish of Alden Richards, a Filipino celebrity, and a co-owner of this restaurant.
Concha's Garden Menu Delivery
Concha's Garden offers a diverse menu that caters to various preferences, and customers can enjoy their meals in three ways: dine-in, in-store pickup, and delivery.
For the convenience of its customers, Concha's Garden has partnered with FoodPanda, an online food delivery platform. Customers who prefer delivery can easily place their orders through the FoodPanda website or mobile application. Alternatively, they can call Concha's Garden directly at 0927-561-7497 to place their orders. With multiple options available, customers can enjoy their favorite dishes from Concha's Garden in a way that suits their preference and schedule.
Social Media Page
To keep up to date with their latest promos, mouthwatering menu offerings, and events, don't forget to follow Concha's Garden on their social media pages. From Facebook to Instagram, Concha's Garden always keeps its followers engaged with fun and exciting content.
Facebook: https://facebook.com/ConchasGardenCafe/
Instagram: https://instagram.com/conchasgardencafe/
Conclusion
The Concha's Garden menu is great for those who want delicious and authentic Filipino cuisine. It offers a wide selection of dishes so you will surely find your favorite home-cooked meals. It has also a cozy atmosphere so you can relax while enjoying your favorite meals. The happiness and comfort of its dishes is the attribute that makes them special and heartwarming.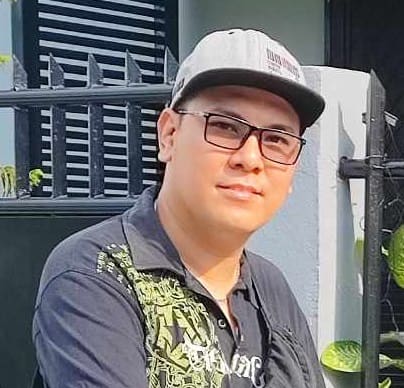 Hi! I'm Nivek Strife, the person who made MenuPH. I'm the one who added most of the popular menus you see on this website, and I really hope you enjoy them! Feel free to check them all out.
Growing up, I was surrounded by lots of tasty foods, like the classic Adobo and the sweet Leche Flan. That love for the many flavors of the Philippines is what got me excited about adding to MenuPH. When I learned how to make websites, I saw the need for a place to show off all the amazing Filipino dishes, and that's how MenuPH started.
MenuPH isn't just a website; it's like a fun journey into food. I've teamed up with famous chefs and found great places all over the Philippines to bring you a bunch of menus that show off the best of Filipino cuisine. Whether you're into the usual dishes or new twists, MenuPH is here to guide you through the rich world of Filipino flavors.
With MenuPH, my aim is to help local businesses, talk about good food choices, and make a group of friends who love food. No matter if you like fancy restaurants or street food, MenuPH has something for you. Come join me on this food adventure as we find great places, taste real flavors, and enjoy the unique food traditions that make the Philippines awesome.