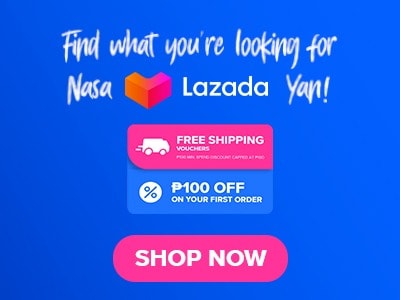 Undoubtedly one of the most noteworthy features of Filipino party culture is eating lechon.  Lechon is one of the first few things that people anticipate, and it's frequently one of the first dishes to run out during gatherings. Fortunately, there are still many restaurants in the city that serve delectable lechon, and Elar's Lechon Menu is one of them. Lechon meat is white and soft, while the cooked skin is crisp and suitable for making pork rinds. The quantity of collagen in an immature pig might cause the meat to have a slightly gelatinous texture.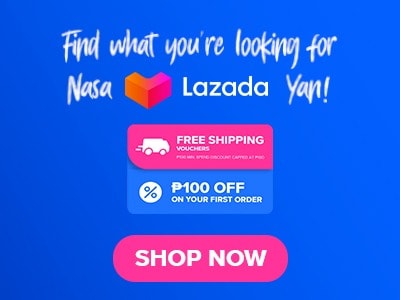 Menu Items
Price (PHP)

Super Malasa Meals

Beef Ribs Nilaga
110
Fried Lumpia
75
Pork Menudo
100
Chicken Curry
100
Kare Kare
110
Bangus Steak with Onions
90
Miswa
100
Sinigang na Lechon
110
Callos
110
Pork Binagoongan with Okra and Talong
100
Pininyahang Manok
100
Pork Sisig
100
Rellenong Bangus
90
Beef Kalitiran
110
Fresh Lumpia
75

Elar's Lechon

Lechon Rice
120
Lechon Chopped 1 Kilo
1000
Lechon Chopper 3/4 Kilo
750
Lechon Chopped 1/2 Kilo
500
Lechn Chopped 1/4 Kilo
250
15 kilos
7400
20 kilos
8000
25 kilos
8700
30 kilos
9500
35 kilos
10000
40 kilos
10500
45 kilos
11000
50 kilos
11500

Dessert

Leche Flan
40
Buko Salad
40

Drinks

All Drinks in Can
50
Allmytea
50
Bottled Water
40
About Elar's Lechon 
Jose Lontoc created Elar's Lechon in Quezon City in 1970; however, his daughters Josefina Portillo and Dolores Santos are now in charge of the restaurant. When Lontoc first began roasting lechon for celebrations and family get-togethers, Elar's Lechon was born. With several requests and queries for their meat supply, it quickly turned into a business for them. With the help of their love for cooking, Jose and Leonor honed the art of roasting the lechon over the years. They discovered that having the right breed of pig, caring for it properly, using the right methods for dressing and slaughtering it, and most importantly roasting it, provided the best lechon.
Engineer by trade, Jose created a mechanical roasting system that rotates the pig over the coals at a set speed (based on the size of the pig) to ensure consistent cooking and prevent over- and undercooking. Elar Lechon was established in 1972 and guaranteed its expanding clientele the best-tasting lechon. Manric thinks it is important to address the supply of the raw material—the native pig—in order to significantly improve his lechon product. 50% of what is required to produce the best lechon can be taken care of if you have the best supply. The system, the roasting procedure, and the marination would make up the remaining 50%.
Elar's Lechon Menu Best Seller
Pork Sisig – Sisig combines savory and fatty flavors from the grilled pork with a wonderful layering of sweet and sour flavors from the purple onions and delicious citrus notes from the limes or calamansi. As closely as possible, it resembles a crispy beef salad. A popular street food in the Philippines, sisig is thought to have started in Pampanga, a province in the middle of the island of Luzon in the north of the country. The food, however, was substantially dissimilar from what is usually served today. Chicken livers and chopped pig parts are combined with a hot and sour sauce to make sisig.
Kare Kare – The primary source of kare-flavor is peanut butter. As it is quite salty and umami-rich, the shrimp paste will make the dish.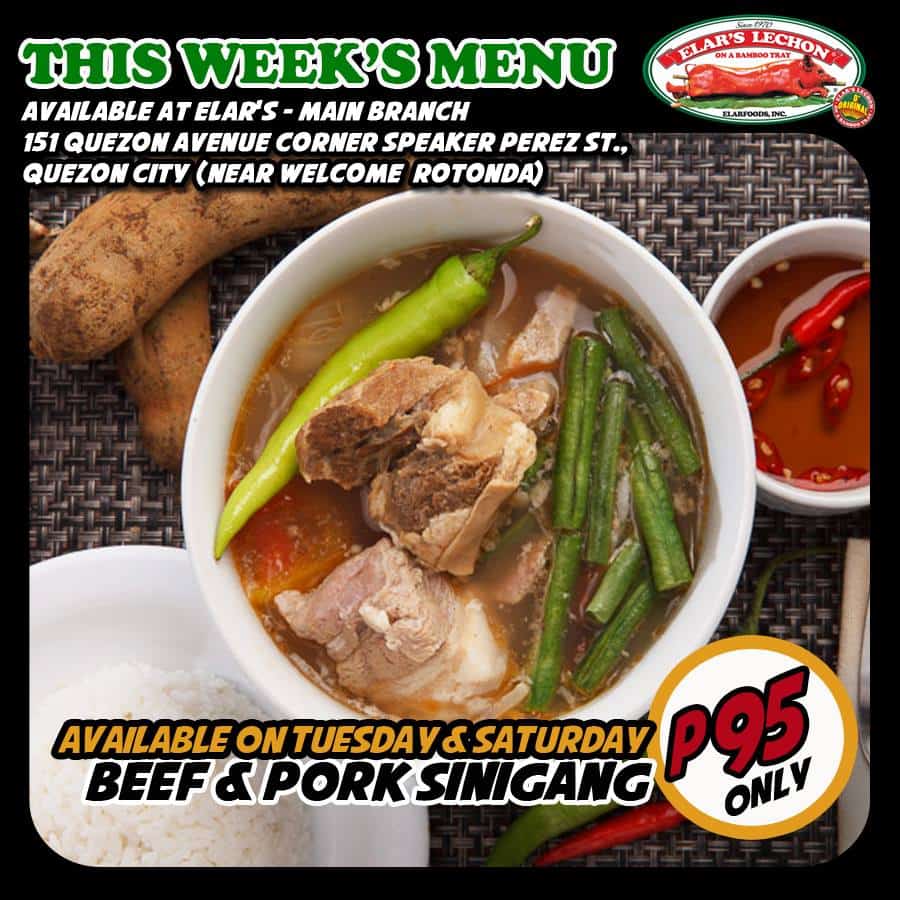 Sinigang na Lechon – This sinigang is nearly identical to the traditional sinigang na baboy, with the exception of the lechon. Sinigang, a soup or stew from the Philippines, is renowned for its sour and mouthwatering flavor. Although it can also use other sour fruits and leaves as the souring ingredient, tamarind is most frequently associated with it. Highly-recommended Elar's Lechon menu for those who love a different version of sinigang.
Beef Ribs Nilaga – Beef Nilaga, also known as Nilagang Baka in the Philippines, is a straightforward beef and vegetable soup. Nilaga, which means "cooked," could refer to any boiling meat dish that includes vegetables. You also have bulalo if the cooked meat is beef and contains collagen-rich bones like shanks or, in this case, ribs.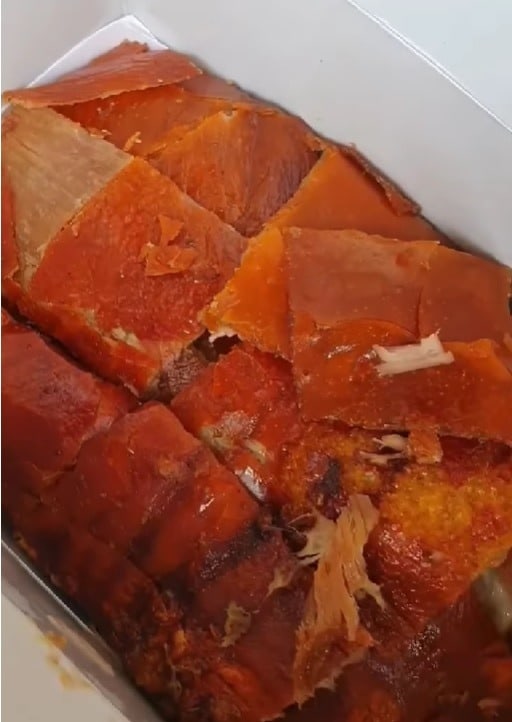 Lechon – The crispy skin of lechon baboy is the most delectable component; its reddish-brown color makes it obvious that it will taste excellent. People particularly enjoy starting with the crispy skin before moving on to the meat, which is what makes these pigs special because they are all native and organic animals. Prior to roasting, these pigs are filled with a variety of herbs and spices and flavored before roasting over a pit of coals. To give the stuffing a fragrance and a more unique flavor, they also add spring onions and garlic.
Elar's Lechon Belly Menu
This is what lechon belly should always taste like: slices of soft pork with extremely crispy skin and garlicky, lemony undertones from the lemongrass. Pork belly is one of those meats that many people have never tried before, given that it is so tasty and greasy that it is practically impossible to refuse. It is one of the most addictive cuts of beef due to its juicy and tender inside. Lechon belly features rich fat lines and is boneless since it is sometimes marketed as a huge, thick slab. Due to these qualities, it is a great choice for cooking methods that preserve moisture, including slow roasting.
Elar's Lechon Baka Menu
Lechon baka is not really a new cuisine, but it became famous after a well-known lechon manok chain launched a more reasonably priced variation of the dish. Filipinos can now order lechon baka in smaller portions rather than the entire dish. One thing is certain: charcoal-roasted beef, or lechon baka, is the current obsession of Pinoy foodies. As a viand and a pulutan, the soft, supple, and filling meat is unquestionably the greatest substitute for roasted chicken or roasted pig. However, the traditional way for Filipinos to enjoy lechon baka is to dip it in vinegar or toyomansi, which adds a sour kick that goes well with the barbecue flavors of charcoal-roasted beef.
Elar's Lechon Menu Delivery
Unlike every famous and delicious restaurant here in the Philippines, Elar's Lechon menu is not available on Grabfood and Foodpanda. However, you can still order via their contact numbers and enjoy the lechon you have always craved in the comfort of your home.
151 Quezon Ave – (02) 8732 4116
LG/F, Fisher Mall –  23521255
Social Media Pages
To get in touch with them online and get the latest updates about their food, menu, and promos, it is recommended to subscribe to their social media pages on the following sites:
Facebook: https://www.facebook.com/elarslechon/
Instagram: https://www.instagram.com/elarslechon/
Twitter: https://twitter.com/elarslechon/
Conclusion
Lechon from the Philippines is distinguished by its skin in contrast to other roast pig dishes from other cultures. The skin of a flawless lechon is smooth and shiny throughout cooking. The greatest ones have skin that lasts for several hours without becoming wrinkly. One of the best lechon available is Elar's Lechon menu. You have almost certainly seen a lechon if you have ever attended a fiesta or party in the Philippines. The fragrant scent, flawlessly crispy skin, and rich, delicate meat of the roasted pig known as Lechon are indescribable. One of the most well-liked meals in Filipino cuisine is lechon. The lechon's innate juiciness in taste is another factor contributing to its popularity. Some chefs stuff a lot of herbs and spices within the lechon's meat to give it an appealing scent.