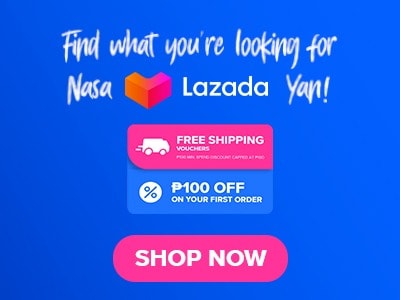 Hey there, food buddies and flavor adventurers! Prepare your palate to be captivated by KingPrin Japanese Cake in Bahayang Pag-asa. If you're on the hunt for an authentic Japanese cake experience, you've just stumbled upon your new favorite spot. KingPrin Japanese Cake is not your average store – it is your passport to the delectable world of authentic Japanese cakes. Nestled in the heart of Bahayang Pag-asa, this humble joint is a hidden gem where simplicity meets exquisite taste. KingPrin Japanese Cake's menu serves up mouthwatering Japanese cakes and snacks that are full of different flavors that will transport your palate straight to the bustling streets of Tokyo. So, if you're up for a slice of Japan right in your neighborhood, grab a seat and get ready to savor the sweetness. Your Japanese cake adventure starts here!
Below, you'll find the updated list of KingPrin Japanese Cake menu prices.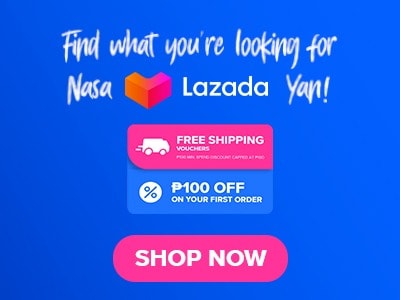 Menu Items
Price (PHP)

Classic Flavors

Classic Cheese
185.3
Classic Choco
185.3
Classic Mix
185.3

Premium Flavors

Premium Assorted
246.5
All Strawberry
246.5
All Yema
246.5
All Blueberry
246.5
All Oreo
246.5

Combo

All Flavor Combo
216.75
Cheese & Premium Combo
216.75
Choco & Premium Combo
216.75

Extra Piece

Extra Piece Choco Flavor
25.5
Extra Piece Yema Flavor
31.45
Extra Piece Cheese Flavor
25.5
Extra Piece Oreo Flavor
31.45
Extra Piece Strawberry Flavor
31.45
Extra Piece Blueberry Flavor
31.45

Deep Fried Snacks

Deep Fried Oreos
117.3
Churros
123.25
Choco Bombs
80.75
About KingPrin Japanese Cake
KingPrin Japanese Cake was established in the year 2018. Japanese cake, or "wagashi" (和菓子) in Japanese, is KingPrin Japanese Cake's primary menu. It is a particular kind of sweet dessert with Japanese origins that differs from Western-style cakes in that they frequently emphasize lighter, more delicate tastes and textures. KingPrin Japanese cakes are renowned for being flavorful, and they often offer a unique and wonderful taste experience. Despite their often understated and delicate appearance, these cakes pack a punch when it comes to flavor with their well-balanced sweetness, all-natural ingredients, and exquisite aromas. Aside from its fluffy and flavorful Japanese cakes, KingPrin Japanese Cake also serves delicious and freshly cooked snacks such as deep-fried Oreos, churros, and choco bombs that will satisfy your sweet tooth.
KingPrin Japanese Cake Menu Best Seller
Every individual who enjoys eating frequently purchases the restaurant's top-selling dishes. Like every other food kiosk, KingPrin Japanese Cake had a list of its most popular items. While there are more dishes that are regarded as best-sellers at KingPrin Japanese Cake, these are my top five favorite and top-selling dishes at KingPrin Japanese Cake that will surely make you come back for more.
Premium Assorted – This box full of flavorful premium flavors (yema, Oreo, strawberry, blueberry) will surely fill your craving appetite. You can also specifically point out which of the four premium flavors you want to put in this box.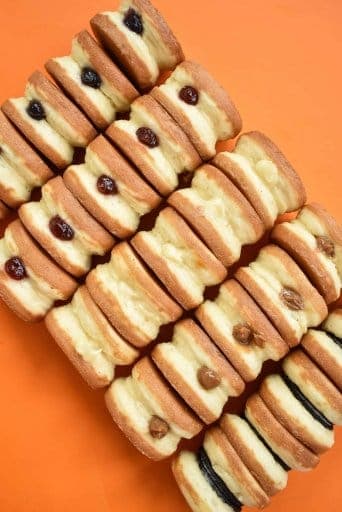 All Flavor Combo – You can now satisfy your cravings with this box full of 3 pieces of chocolate, 3 pieces of cheese, and 5 pieces of premium-flavored Japanese Cake.
Classic Cheese – If you are a fan of both cheese and light, delicate desserts, trying this Japanese Cake Classic Cheese can be a worthwhile experience. Buy this and you will receive 1 pc free per box!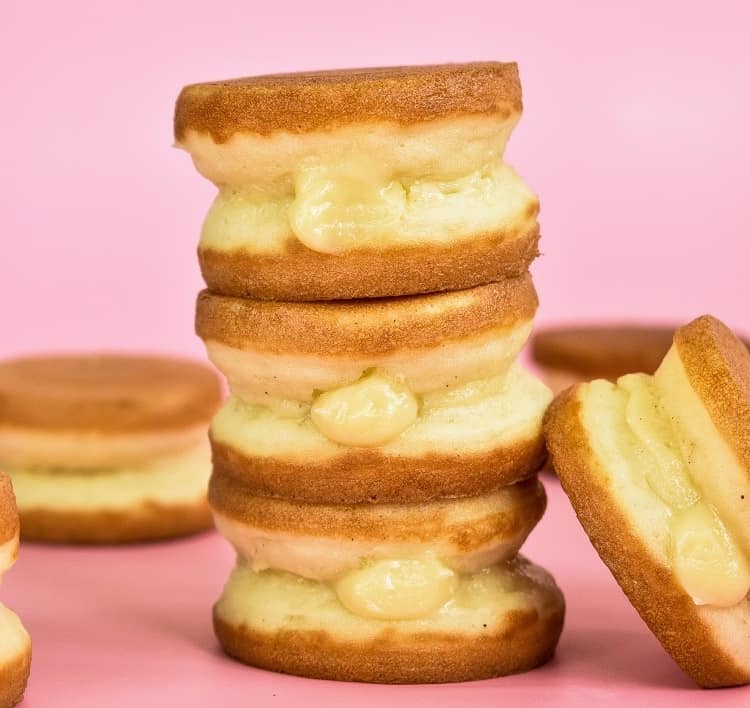 Classic Mix – This box of Japanese Cake will allow you to enjoy two of your favorite sweet treats, cheese and chocolate-flavored Japanese Cakes.
Churros – A treat that combines crispy and golden-brown exteriors with soft and doughy interiors, Churros! With a chocolate dip, you can now enjoy 9 pieces of a special dough covered with sugar cinnamon.
KingPrin Japanese Cake Premium Flavors Menu
Discover a piece of pure joy with KingPrin Japanese cake, elevated to new heights with premium fillings that will redefine your dessert experience. Presenting to you a masterpiece that's equal parts elegance and flavor.
All Strawberry – Japanese strawberry-flavored cakes are a great and popular treat that is loved for its light and refreshing flavors. The combination of the delicate cake, luscious cream, and the natural sweetness of strawberries creates a harmonious blend of flavors and textures that's hard to resist.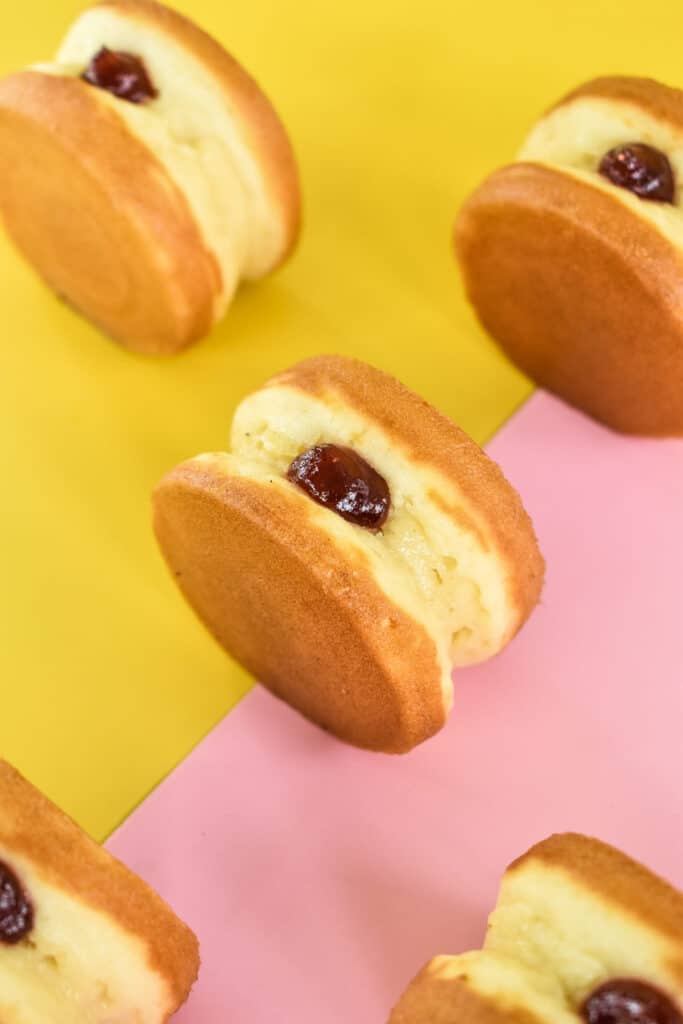 All Yema – "Yema" is a type of Filipino confectionery made from condensed milk and egg yolks. The yema frosting menu of KingPrin Japanese Cake creates a sweet and creamy layer that perfectly complements the light and fluffy Japanese cake.
All Blueberry – This blueberry-flavored Japanese cake is indeed a delicious dessert that features the juicy and tangy flavor of blueberries combined with a fluffy and warm Japanese cake. Their vibrant color and refreshing flavor of blueberries make Japanese cake a lovely addition to dessert tables and celebrations.
All Oreo – A sweet cream filling sits in the middle of two chocolate wafers in the iconic cookie sandwich known as Oreo. This Oreo-flavored Japanese cake is a delicious and popular choice for those who love the combination of chocolate cookies and cream filling that Oreo offers in a Japanese cake.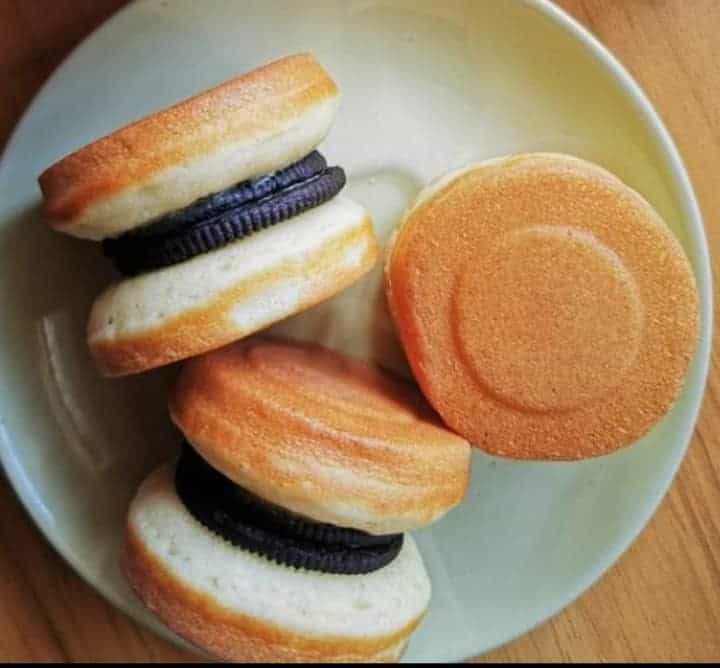 Premium Assorted – All flavors enriched with luscious, premium fillings that dance on your palate. You can now get all of these delightful flavors in one box!
Combo Menu
You can now enjoy all your favorite premium flavors combined with the two amazing classic flavors that you can never resist in one box!
All Flavor Combo – Enjoy this sweet box full of 3 pieces of chocolate and 3 pieces of cheese flavor, combined with 5 pieces of the premium flavor of your choosing.
Cheese & Premium Combo – This 5-piece Classic Cheese flavor menu of KingPrin Japanese Cake combined with 5 pieces of premium flavor of your choosing PLUS 1-piece FREE CHEESE will surely satisfy your cravings!
Choco & Premium Combo – Who would say no to the combination of 5 pieces Classic Choco and 5 pieces premium favor of your choosing? No one! Buy this box and you will receive a FREE 1-piece Choco flavor Japanese cake.
Deep Fried Snacks
Deep-fried snacks are popular treats enjoyed in many cultures around the world. These snacks are typically prepared by immersing ingredients in hot oil until they are crispy and golden brown.
Deep Fried Oreos – Enjoy the sweetness of 3 pieces of Oreo cookies covered with KingPrin Japanese Cake's special dough! These Oreo cookies are incredibly flavorful and satisfying.
Churros – One of their best-selling menu of KingPrin Japanese Cake that will surely make you come back for more. You can now enjoy these 9 pieces of churros with a chocolate dip.
Choco Bombs – Satisfy your sweet tooth with these 3 pieces of KingPrin Japanese Cake's special dough that is filled with chocolate, which is a beloved treat enjoyed by people around the world.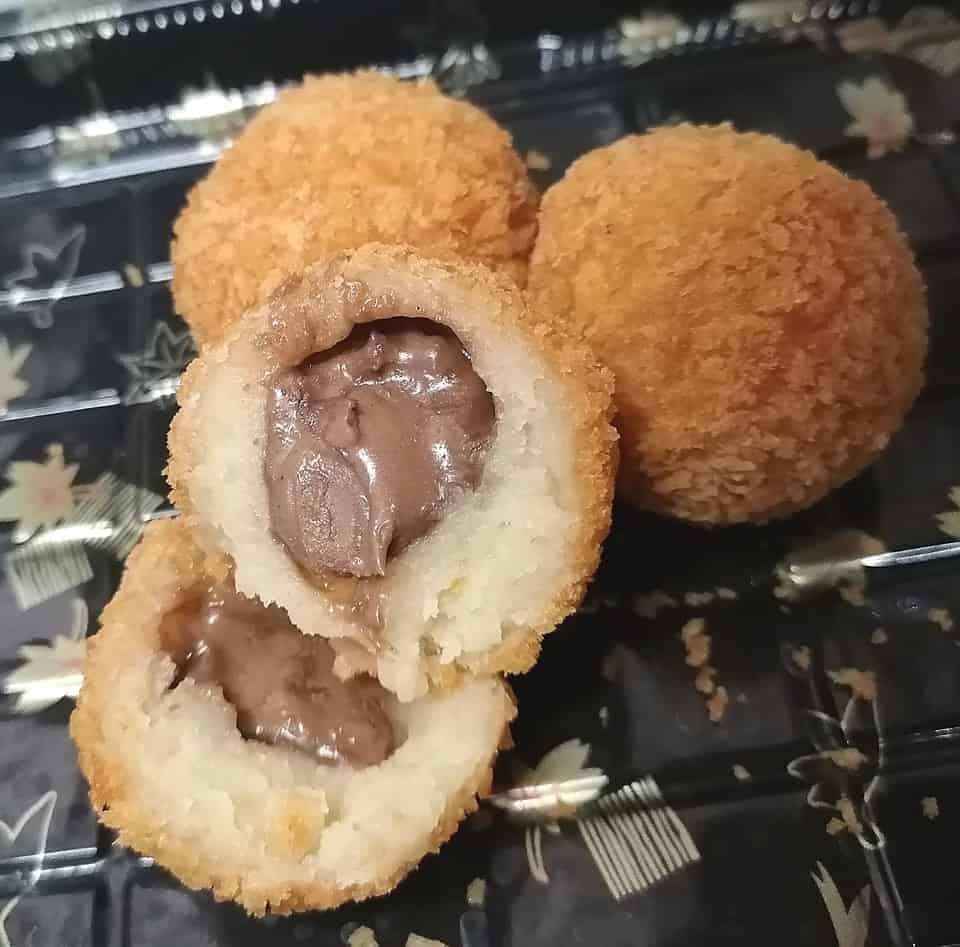 How to Order Foods from KingPrin Japanese Cake 
You can place a walk-in order at KingPrin Japanese Cake, and they also provide delivery and pick-up services via third parties like FoodPanda and Grab Food. Store pick-ups, whether for you personally or for your rider, are able to be scheduled over the phone. Written below are the location of KingPrin Japanese Cake, their operating hours, and their phone number.
| | |
| --- | --- |
| Address | RCB Building, Avenida Avenue, Bahayang Pag-Asa Bacoor, Cavite |
| Operating Hours | 7:30AM- 7:30PM |
| Contact Number | 0918 643 3333 |
For Delivery and Pick-up via a third party, you can visit these links or download FoodPanda and GrabFood, go to the search bar, and type "KingPrin Japanese Cake – Bahayang Pag asa"
Bahayang Pag-Asa FoodPanda: https://tinyurl.com/KingJapFoodPandaPagAsa 
Bahayang Pag-Asa GrabFood: https://tinyurl.com/KingJapGrabPagAsa 
Talk to KingPrin Japanese Cake PH Staff
Your feed is about to transform into a delectable gallery of sugary wonders! Let's embark on a sweet adventure together, one mouthwatering post at a time. For inquiries, you can also like and message their Facebook and Instagram accounts.
Facebook: https://www.facebook.com/kingsjapcake
Instagram: https://www.instagram.com/kingprinjapanesecakeph/  
TikTok: https://www.tiktok.com/@kingprinjapanesecake
Conclusion
It is undisputed that Filipinos enjoy eating, and it is important to know that the majority of us use food as a stress-relieving tool. Thus, if you are looking for a sweet escape into the world of Japanese cake flavors, we offer you the KingPrin Japanese Cake! With the variety of flavors on their menu, this could be your go-to place for genuine Japanese cakes that feel like a warm hug. Just picture biting into fluffy cakes made in the way of Japan right here in the heart of the Philippines. Each bite is a burst of sweetness that'll make your day a little brighter.
Whether it's a special occasion or just a well-deserved treat-yourself moment, KingPrin has got your cravings covered. Grab your pals, your date, or just your sweet tooth, and come for a piece of pure Japanese cake heaven. KingPrin is here to plate up authenticity and simplicity, one delectable piece at a time.