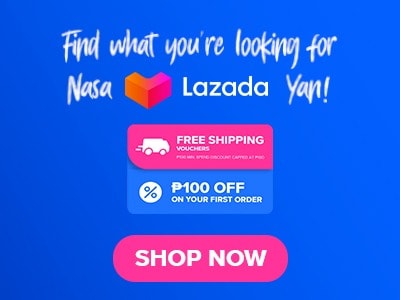 Pizza is one of the most popular food when you and your friends and family are eating outside and Dexter's Pizza menu has everything that you can ask for in a pizza, their pizzas are healthier, delicious, and affordable without compromising the quality of the food that they serve. Are you familiar already with Dexter's Pizza? If not maybe you should read this article so next time you already have an idea about the products that they serve. In this article, we are going to get to know Dexter's Pizza, its best sellers, and also its price per product. Let us get to know Dexter's, a local pizza brand that is not just delicious but affordable. 
Menu Items
Prices (PHP)

All Time Favorites (Medium/Large/Party/Superslims)

Yummy ham and cheese
140/191/259/175
Hawaiian hula
145/203/369/280
Beef delight
140/205/NA/185
Pepperoni overload
145/210/274/190

Healthy Cravings (Medium/Large/Party/Superslims)

Garden fresh
NA/203/259/178
Spanish sardines
NA/200/NA/185
Garlic and cheese
NA/197/NA/170
Hot and spicy tuna
NA/203/265/192

Premium Flavors

German sausage overload large
233
German sausage overload super slims
202
Bacon cheeseburger large
233
Bacon cheeseburger party
295
Bacon cheeseburger superslims
200
Monster meat special medium
152
Monster meat special large
253
Monster meat special party
309
Monster meat special superslims
204
Dexters supreme medium
152
Dexters supreme large
253
Dexters supreme party
309
Dexters supreme superslim
204

Gourmet Pizza

Quatro quezo medium
140
Quatro quezo large
227
Quatro quezo party
289
Quatro quezo superslims
195
Chicken pesto pizza large
233
Chicken pesto superslims
200
Pizza carbe norte large
203
Pizza carbe norte party
265
Pizza carbe norte superslims
198
Beef shawarma medium
147
Beef shawarma large
239
Beef shawarma party
299
Beef shawarma superslims
202
Chicken shawarma medium
152
Chicken shawarma large
244
Chicken shawarma party
304
Chicken shawarma superslims
200
Taco pizza superslims
213
Dexters primera medium
155
Dexters primera large
285
Dexters primera party
339
Dexters primera superslims
235

Side Dish

Wings and wedges 6
125
Wings and wedges 10
185
Wings and wedges 14
240
Potato wedges
65
Potato chips
65
Potato slices
70
Yummy spaghetti
65
About Dexter's Pizza 
Dexter's Pizza is founded by Alvin Advincula in 2002, Advincula is a food specialist that is looking for an alternative to make the all-time favorite pizza healthier for their customers. The name of their pizza comes from Dexter's Lab a cartoon program that his sons watch.
They are trying to experiment with making different pizza flavors that the Filipino people will surely love trying to catch Filipino tastebuds. As of today they already have 115 branches all over the country. The pizzas that they offer are overloaded with very affordable prices and that's the reason why people started to notice them and fell in love with their pizza. 
Dexter's Pizza Menu Best Seller
In the list are Dexter's pizza menu best sellers that you should try. Items on the list are also the safest choice to order if you are new to their menu and don't have any idea what to order. 
Chicken Pesto – This pizza has a generous amount of marinated chicken, red bell peppers, pesto sauce, olives, and a lot I mean a lot of cheese which made this pizza even more delicious. Their pizza crust is baked perfectly just enough so that the flavors are not overpowering each other also the crust is a bit crunchy on the sides so you can also eat the crust, unlike other pizza stores. I like this chicken pesto pizza with hot sauce. 
Pizza Carne Norte – This innovative pizza is actually your all-time favorite breakfast item which is corn beef that turns into a pizza. Topped with freshly cut onions and your favorite shredded corned beef. They have a special crust for this one. This pizza is something that you might like if you're a corned beef lover or if you just want a pizza for breakfast. Also great to eat with hot sauce for a bit of kick.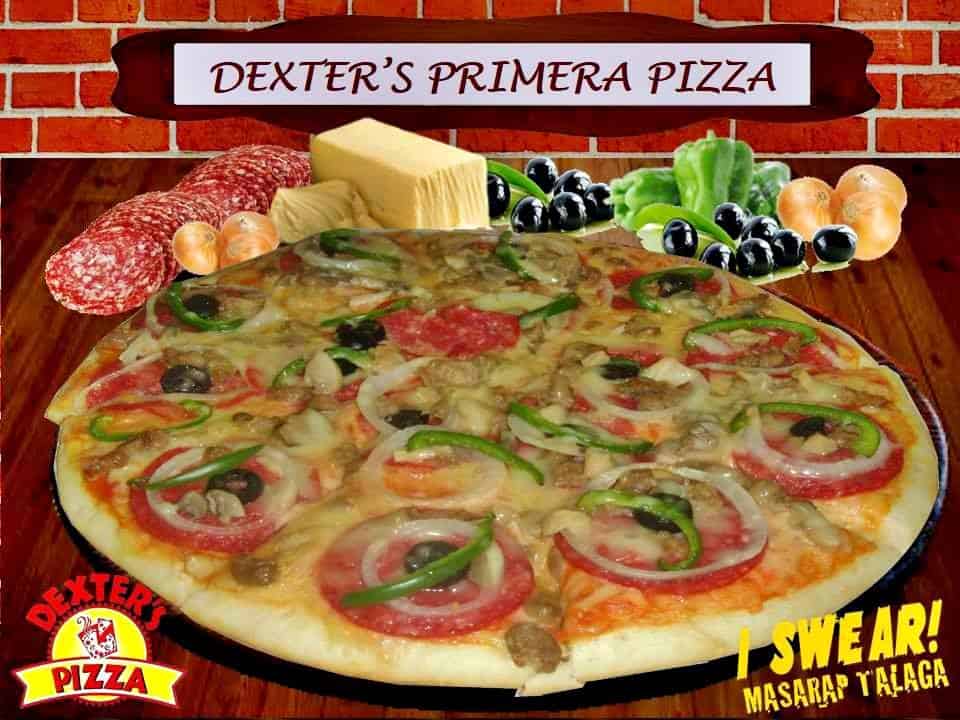 Photo Credit: Dexter's Pizza FB Page
Dexter's Primera – Imagine your pizza loaded with authentic Italian flavors bursting in your mouth with every bite. Awesome right? Dexter's Primera is made with Italian beef, salami, onions, spiced ham, olives, and lastly bell peppers. It has everything that you will ask for in a pizza, and this is actually my personal favorite among all of their pizzas. Don't get me wrong I love all the flavors but this one hits differently. Very flavorful and delicious and the flavors are not too strong. 
Spanish Sardines – This Dexter's Pizza menu is made with freshly cut onions topped with a lot of cheese and of course Spanish sardines. At first, I was honestly weirded out about this flavor but after tasting this one I can tell that their Spanish sardines pizza is something that you will like if you're looking for a change. The crust of their Spanish sardines pizza is not too thick just right and a bit crunchy on the edges adding flavors to the toppings. 
Wings and Wedges – If you're not a fan of pizza or you are looking for something to eat with your pizza then their wings and wedges are the ones that you should order. Very crispy and delicious and you can also choose if you want the original flavor or spicy barbecue. This is as well popular, especially with their youngster customers who love fried chicken. Also served with mustard and ketchup.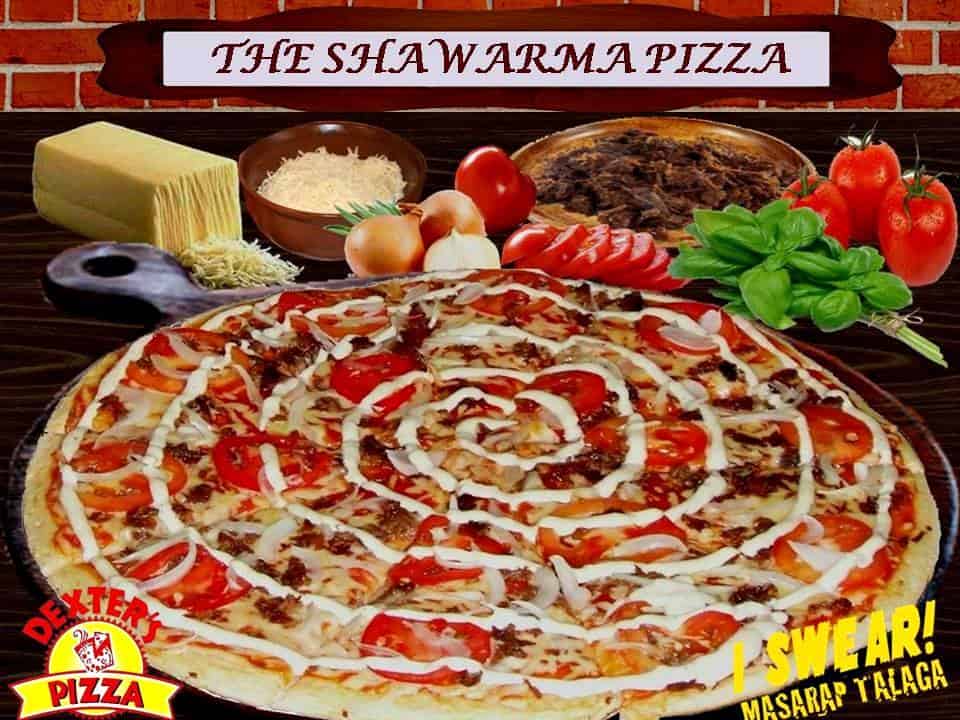 Photo Credit: Dexter's Pizza FB Page
Shawarma Pizza – According to their staff this is the most ordered item on their menu. Made with a flavorful combination of fresh onions, well-seasoned, and marinated beef, and ripe tomatoes drizzled with their delicious shawarma sauce. If you are a fan of shawarma then you will surely love their shawarma pizza. The crust for their shawarma pizza is just right to highlight the flavor of their shawarma toppings. 
Dexter Pizza A La Carte Menu
Dexter's Pizza offers ala carte items, menu includes their yummy ham and cheese pizza, Hawaiian hula pizza which I recommend for those who love pineapples on their pizza, beef delight pizza for meat lovers like me, pepperoni overlord pizza, garden fresh pizza if you're looking for a healthier choice, bacon cheeseburger pizza, monster meat pizza that is made for carnivores kidding, dexters supreme pizza, dexters Primera which is one of their best sellers, Quatro queso pizza for cheese lovers and lastly their famous shawarma pizza. 
Shawarma Menu
Upon checking on their menu I got one shawarma item aside from that shawarma pizza. Their B1T1 shawarma plus in any flavor is the only shawarma item that they offer and the price ranges from 595php. 
Dexter's Pizza Menu Delivery
Upon check, not all of their branches are offering delivery services but some do, I will list some of their branches that offer delivery services. 
Dexters Pizza Imus, Cavite: 0949-1895355
Dexters Pizza Las Piñas: 02-85152731
Dexters Pizza Muntinlupa: 02-85457011
Dexters Pizza Santa Rosa: 049-5309849
You can also use any available food delivery service in your areas like Lalafood and food panda if you can't find their phone number on the web. 
Social Media Pages
If you have a comment that you want to express on their team or you have any questions, you can contact them by sending a message thru their social media accounts such as Facebook, or Instagram. To contact them, simply refer to the following social media links:
Facebook: https://facebook.com/dexterspizzatagaytay/
Instagram: https://www.instagram.com/dexterspizza/
Twitter: https://twitter.com/dexters_pizza
Conclusion
Dexter's Pizza menu impressed customers by creating innovative pizza items that are not just delicious and unique but also healthy and affordable. Their pizza is not the fanciest pizza but customers are sure that in every pizza that dexters will serve they made it special just for their customers. Their service is fast and reliable, actually, their staffs in our area are already my friends, they are nice. Servings are in big portions. I highly recommend this pizza shop for those who love to try different flavors of pizza without breaking the bank.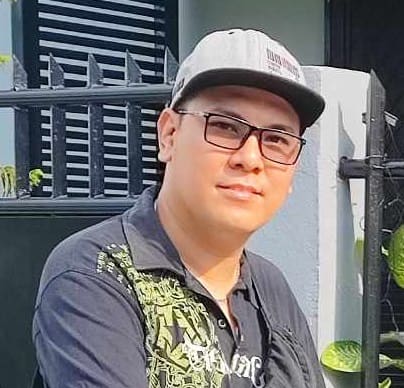 Hi! I'm Nivek Strife, the person who made MenuPH. I'm the one who added most of the popular menus you see on this website, and I really hope you enjoy them! Feel free to check them all out.
Growing up, I was surrounded by lots of tasty foods, like the classic Adobo and the sweet Leche Flan. That love for the many flavors of the Philippines is what got me excited about adding to MenuPH. When I learned how to make websites, I saw the need for a place to show off all the amazing Filipino dishes, and that's how MenuPH started.
MenuPH isn't just a website; it's like a fun journey into food. I've teamed up with famous chefs and found great places all over the Philippines to bring you a bunch of menus that show off the best of Filipino cuisine. Whether you're into the usual dishes or new twists, MenuPH is here to guide you through the rich world of Filipino flavors.
With MenuPH, my aim is to help local businesses, talk about good food choices, and make a group of friends who love food. No matter if you like fancy restaurants or street food, MenuPH has something for you. Come join me on this food adventure as we find great places, taste real flavors, and enjoy the unique food traditions that make the Philippines awesome.