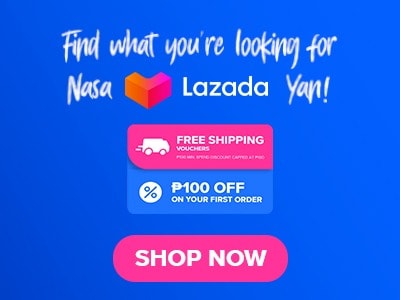 Restaurants that specialize in chicken wing dishes have grown common in the Philippines as this dish has surged in popularity in recent years. If you have grown tired of the common chicken wings in your favorite restaurant, you can visit Wing 2x to experience new chicken wings flavors and more. Wing 2x offers a mouthwatering menu of chicken options that will satisfy your cravings that ranges from classic soy garlic and spicy flavors to unique creations like cheese and honey butter, each of which provides customers with a burst of flavors.
Below, you'll find the updated list of Wing 2x menu prices.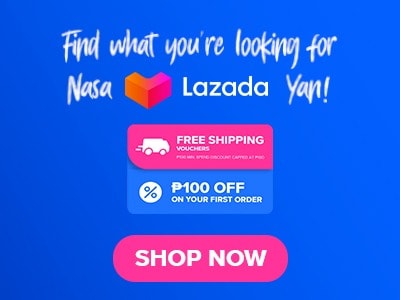 Menu Items
Price (PHP)

Wings

Sticky Adobo
329
Teriyaki Glaze
329
Soy Garlic
329
Honey Soy
329
Salt and Pepper
329
Creamy Peppercorn
329
Garlic Parmesan
329
Truffle Parmesan
329
N. Y. Buffalo
329
Honey Mustard
329
Homemade BBQ
329
Hot Nashville
329
Salted Egg
329
Cheesy Bacon
329
Flamin Hot
329
Gochu
329

Wing Sampler

Wing Sampler
499

Combo

Wing2x Combo
999
1 Dozen Wings (2 flavors)
999

Chix N' Match

Loaded Chicken Sandwich with Fries OR Chicken & Waffle with Maple Bacon Butter
345

Salads

Asian Chicken Salad
245
Green Papaya Salad
245

Fries

Garlic Parmesan
160
Truffle Parmesan
180
Mapo Tofu
220
Kimchi Bacon
280
Plain Fries
140

Pasta

Truffle Carbonara
295
Kimchi Bacon Pasta
295
Garlic Noodles
295
Drunken Noodles
295

Soup

Egg Drop Soup w/ Kani
65

Chicken All You-Can

Sticky Adobo
499
Teriyaki Glaze
499
Soy Garlic
499
Honey Soy
499
Salt Pepper
499
Homemade BBQ
499
Hot Nashville
499
Creamy Peppercorn
499
Garlic Parmesan
499
Truffle Parmesan
499
NY Buffalo
499
Honey Mustard
499
Salted Egg Chicken
499
Flamin Hot
499
Cheesy Bacon
499
Gochu
499
Creamy Truffle
499
Hot & Creamy Honey
499

Boneless Ala Carte

Sticky Adobo
329
Teriyaki Glaze
329
Soy Garlic
329
Honey Soy
329
Salt Pepper
329
Homemade BBQ
329
Hot Nashville
329
Creamy Peppercorn
329
Garlic Parmesan
329
Truffle Parmesan
329
NY Buffalo
329
Honey Mustard
329
Salted Egg Chicken
329
Flamin Hot
329
Cheesy Bacon
329
Gochu
329
Creamy Truffle
329
Hot & Creamy Honey
329

Extras

Extra Rice
30
Extra Dip
35

Drinks

Softdrinks in Can
65
Lychee Lemonade
85
Passionfruit Iced Tea
85
Arnold Palmer
75
Bottomless Arnold Palmer
95
About Wing 2x
Wing 2x is a Korean chicken restaurant located in SM City North EDSA in the Philippines that specializes in serving Korean-style chicken dishes. Wing 2x offers a variety of chicken flavors, including classic options like soy garlic and spicy, as well as unique and new flavors. They aim to provide a satisfying and enjoyable dining experience for customers who appreciate Korean cuisine, especially their delicious chicken dishes. This restaurant has recently gained popularity among many chicken lovers in the country due to its flavorful and crispy chicken offerings.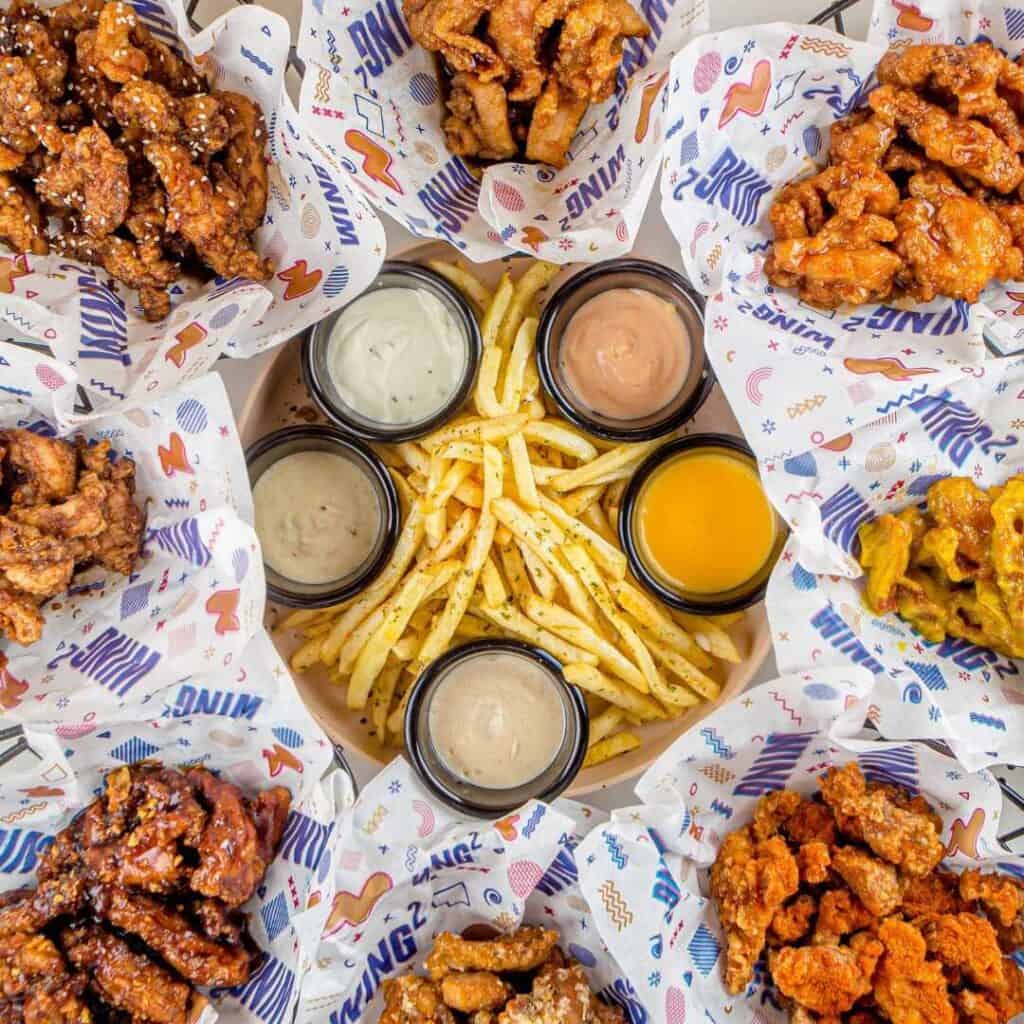 Wing 2x Menu Best Seller
This menu is composed of the most popular and best-selling items at Wing 2x's physical and online stores.
1 Dozen Wings (2 flavors) – Wing 2x's 1 Dozen Wings offers a generous portion of crispy and flavorful chicken wings. The 1 Dozen Wings is perfect for sharing with friends or enjoying as a meal on its own with each wing providing a satisfying crunch and a burst of delicious flavor to your meal
Asian Chicken Salad – This salad menu from Wing 2x combines fresh and crisp greens with tender pieces of chicken, creating a satisfying mix of textures. Tossed in a flavorful Asian-inspired dressing, it offers a balance of sweet, tangy, and savory flavors. In addition, this salad has a crunchy topping which makes it one of the many exciting and enjoyable guilt-free options in Wing 2x that are sure to leave you feeling satisfied.
Plain Fries – These fries have a perfect golden color and a crispy texture while the insides remain soft and fluffy making it a satisfying snack. These are served hot and seasoned to perfection, the Plain Fries are an ideal side dish to complement any chicken order. Whether you enjoy them on their own or dip them in your favorite sauce, these fries are a classic and comforting choice.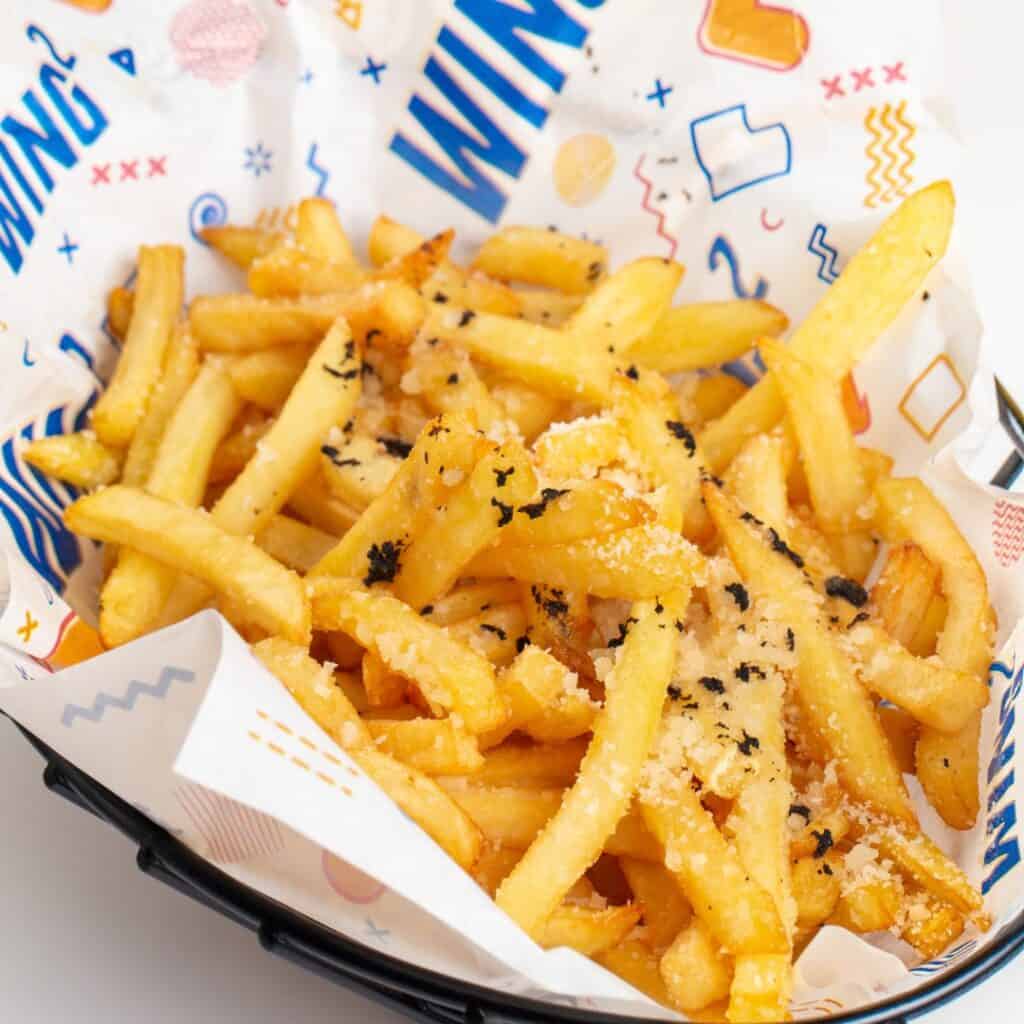 Truffle Carbonara – Wing 2x's Truffle Carbonara is a luxurious twist on the classic pasta dish with a creamy and indulgent carbonara sauce that was elevated with the addition of truffle, creating a rich and aromatic flavor profile.
Garlic Noodles – These noodles are expected to be cooked to perfection, tossed in a savory garlic-infused sauce, and garnished with some chopped green onions or herbs. The noodles are drenched in the flavors of garlic to provide customers with a comforting and satisfying experience.
Wings Menu
This menu is composed of Wing 2x specialty, their flavorful and delicious chicken wing options.
Sticky Adobo – This chicken wing flavor is a delicious and unique twist on the classic Filipino dish, the adobo. These wings are coated in a sticky and savory adobo sauce, showcasing the perfect balance of soy sauce, vinegar, garlic, and other aromatic spices.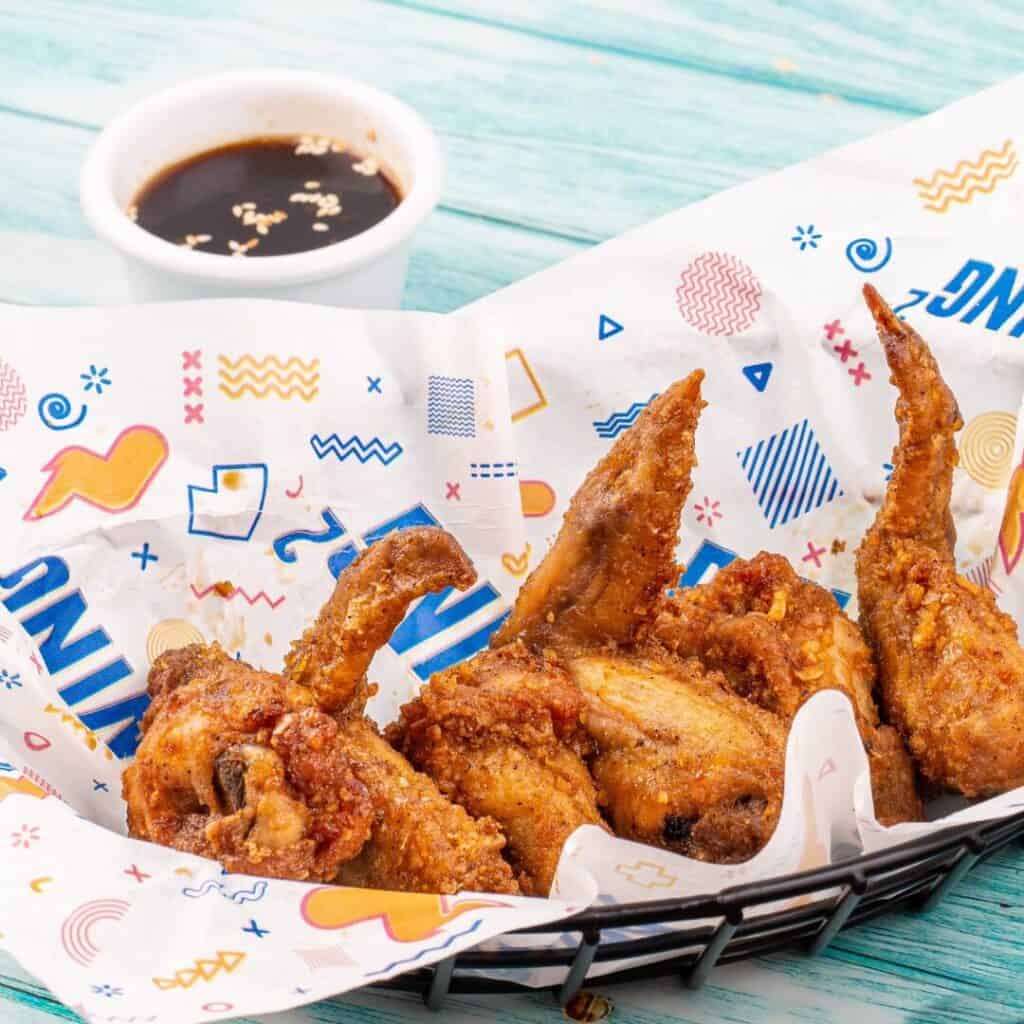 Teriyaki Glaze – These wings are glazed with a luscious teriyaki sauce, featuring a harmonious blend of soy sauce, mirin, ginger, and other seasonings. The glaze caramelizes beautifully, giving the wings a glossy appearance and enhancing their taste providing a delightful balance of flavors that will leave you wanting more.
Soy Garlic – A classic favorite, these wings are expected to be coated in a sticky glaze made from soy sauce and garlic, resulting in a delightful combination of savory and aromatic flavors. The Soy Garlic wings strike the perfect balance between sweet and savory, offering a timeless and addictive taste experience to customers.
Homemade BBQ – These wings are coated in a homemade barbecue sauce that combines smoky, tangy, and slightly sweet flavors. The sauce is rich and sticky, beautifully complementing the crispy chicken wings providing customers with a satisfying and finger-licking experience.
Garlic Parmesan – These wings are generously coated in a flavorful mixture of garlic, Parmesan cheese, and herbs which makes it a great choice for those who enjoy a savory and cheesy flavor profile. The combination of savory garlic and the rich umami notes of Parmesan create a mouthwatering experience.
Wing 2x Combo Menu
This combo meal comes with three servings of rice, three soup dishes, and a dozen of Wing 2x's famous chicken wings. Customers can select two different chicken wing flavors from the many flavors offered by Wing 2x.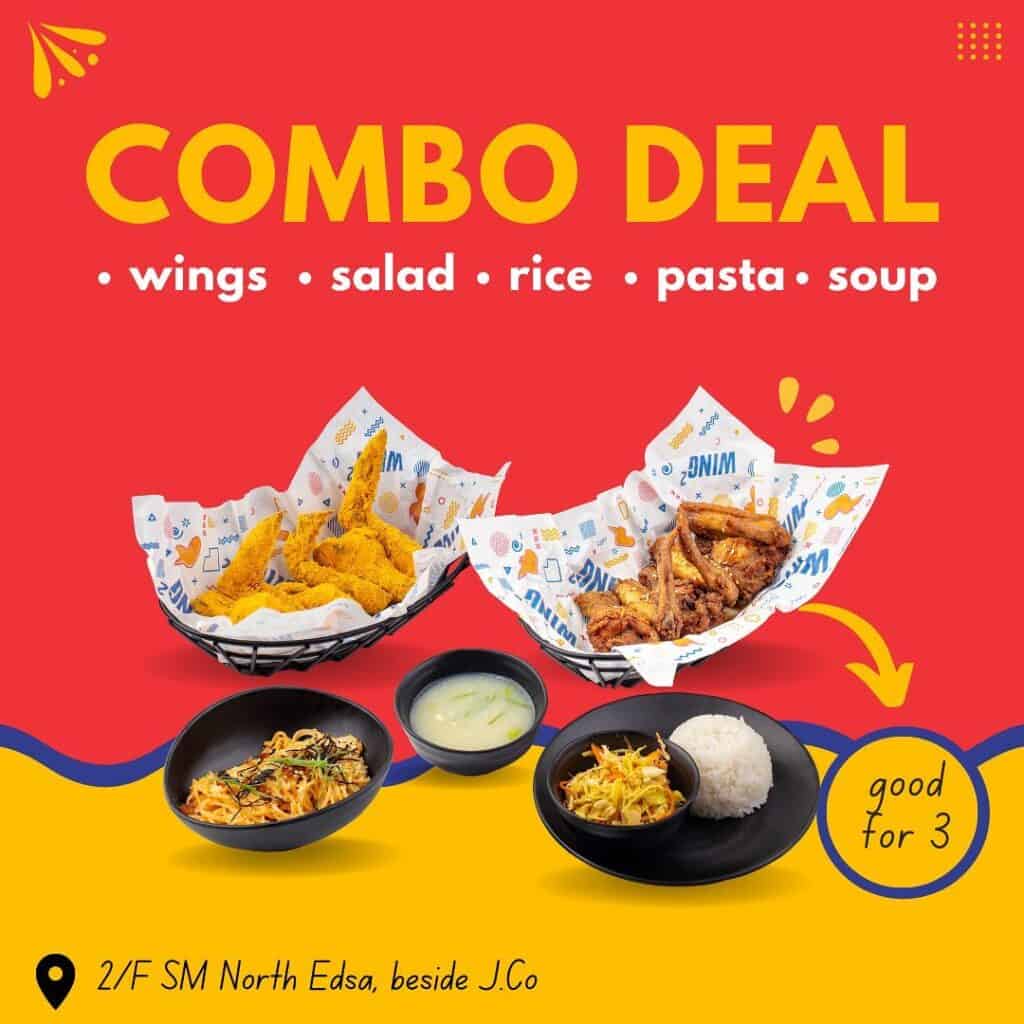 Salads Menu
At Wing 2x, they don't only have chicken dishes; they also offer salads on their menu. These salads are perfect for those who want a lighter meal. They are made with fresh and healthy ingredients, like crunchy vegetables and sometimes even fruits. So, if you're not feeling too hungry or you want to eat something healthier, the salads at Wing 2x are a great option for you to try. You can still enjoy a tasty meal while keeping it light and nutritious!
Chicken All-You-Can
By availing of this menu item, customers can enjoy an unlimited number of chicken wings at Wing 2x. They can also freely choose the flavors of the chicken wings that they want to indulge in.
Wings 2x Menu Delivery
Delivery service at Wing 2x is a great way to get their tasty chicken wings delivered right to your door. Instead of going to the restaurant, you can easily order from their menu online. You can do this directly on their website or use popular delivery apps like FoodPanda or GrabFood. It's so convenient because you can browse their menu, choose your favorite chicken wings, and have them delivered straight to your home. So, next time you're craving Wing 2x's delicious chicken wings, just place an order for delivery and enjoy the deliciousness in the comfort of your own home!
Social Media Pages
Get Ready to Double the Flavor and Double the Fun with Wing 2x! Follow their social media pages for a finger-lickin' good time as we serve up the juiciest, sauciest, and most mouthwatering wings in town.
Facebook: https://www.facebook.com/wing2xph/
Instagram: https://www.instagram.com/wing2xph/
TikTok: https://www.tiktok.com/@wing2xph
FAQs
What types of wings does Wing 2x offer?
Wing 2x provides an array of chicken flavors that will have you want to crave more. Each of their mouthwatering chicken meals is a must-try and will entice you to return time and time again to sample different flavors.
Can I choose different levels of spiciness for the wings?
Yes, Wing 2x considers the preference of their customers in every order that they get. Customers can freely inform the staff at Wing 2x to make sure that the spiciness of their orders is exactly to be at their preferred levels.
Are there vegetarian options available at Wing 2x Philippines?
As Wing 2x specializes in chicken wing dishes, there are no vegan options that are available in the restaurant.
Can I customize my wing orders at Wing 2x?
Customers are given the freedom to customize their orders at will at Wing 2x. This includes the level of spiciness, sauces, and dips.
Does Wing 2x have any loyalty programs or rewards?
Yes, Wing 2x provides loyalty programs and rewards to keep their customers engage.
Conclusion
For all chicken lovers in the Philippines who want to try something special, Wing 2x is a must-visit place. They have become very popular because of their expertly prepared Korean-style chicken. The chicken is crispy on the outside and juicy on the inside, making it really delicious. Their menu has many different flavors to choose from, so you can try classic ones or more unique ones, depending on what you like. It's a great opportunity to experience the irresistible flavors and crunch of Wing 2x's Korean-style chicken. So, if you haven't tried it yet, make sure to give it a taste and see why it has won the hearts and taste buds of many chicken lovers!