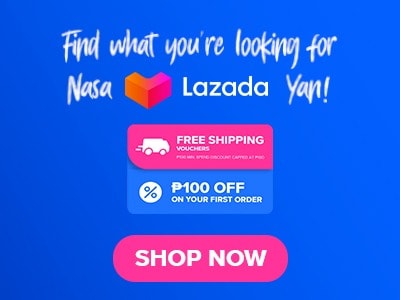 Ready for your next food adventure? If yes then I have a great recommendation for you. Have you heard about Ilustrado? This place offers Spanish-Filipino cuisine that you will surely love. Ilustrado menu offers a lot of delicious choices for you and for sure you will eventually find what you like. This place aside from serving Spanish-Filipino cuisine is also serving old-fashioned Filipino favorites. Interesting place, right? I have to be honest I just discovered this place and was amazed by their service and food. That is why I am trying to recommend them for you guys to experience what I just experienced. In this article we are going to talk about them, their food and of course the price that they offer. If you're ready then Let's go!
Below, you'll find the updated list of Ilustrado menu prices.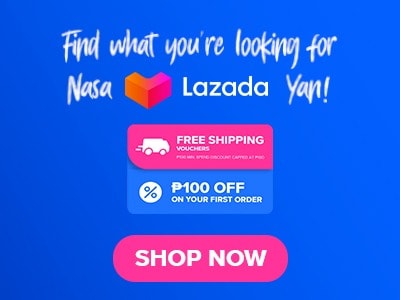 Menu Items
Price (PHP)

Breakfast

lustrado Beef Tapa
390
Pork Tapa ng Batangas
360
Boneless Bangus Dagupan
380
Garlic Longganisa
370
Home-made Pork Tocino
370
CPA (Chicken and Pork Adobo)
390
Bangus Belly Paksiw with Bagnet
400
Chicken Arroz Caldo with Tokwa't Baboy
300
Dinuguan at Puto
290
Lomi Overload
320
Fresh Lumpiang Ubod with Peanut Sauce
280
La Paz Batchoy
290

Starter

Escargots a la Bourguignonne
580
Calamari Salad with Goat Cheese, Bacon & Citrus vinaigrette
470
Tiger Shrimp with Lemon Grass, Chili, and Garlic chives
520
Baked Eggplant in Filo
480
Pate Platter
750
lustrado Caesar Salad
595
Hot Spinach Salad with Crisp Bacon
280
Seafood Bisque
280
Fresh Tomato Soup with Basil
250
Essence of Beef Consomme with Quail Eggs & mushroom
280

Basta Pasta (and noodles!)

Pasta llustrado
390
Linguine Putanesca
350
Pasta Espanola with Sundried Tomato
350
Spaghetti Carbonara
330
Fettucine Machito
390
Palabok with Bagnet
320
Pancit Guisado
285

House Specialty

Morcon ala Plaridel
580
Callos Madrilena
590
Lengua Con Setas
650
Kare-Kare (Oxtail and Tripes)
580
Kambing Kaldereta
620
Sinigang sa Miso
520
Bagnet llustrado
580

Paella

Paella Ilustrado
990
Paella Bacalao
1250
Paella Marinara
990
Paella Negra
1100
Paella a'l Bagnet
1295

Main entrees

U.S. Black Angus Prime Rib
2500
Roast U.S. Long Island Duck llustrado
1800
NZ French Cut Lamb Chops
1300
Medallion of Beef Tenderloin ala Rossini
1250
Braised Beef Spareribs Teriyaki
650
Roast Half Spring Chicken al'ajillo
550
Grilled Blue Marlin
750
Norwegian Salmon Fillet
850
Bacalao ala Vizcaina
790
Baked Whole Pampano Provencale Sauce
680
Tiger Prawns & Shrimps
850
NZ Fore Shank of Lamb
1100
Twice Cooked Angus Beef Shortplate
850

Tapas

Calamares Fritos
350
Sisig Kapampangan
300
Tokwa't Baboy
220
Chorizo De Bilbao
420
Chistorra Picante
420
Beef Salpicao
600
Gambas al ajillo
580
Baked Fresh Oysters
520
Pollo in Garlic Butter Chilli
300
Jamon Serrano with Tomato Salsa and Melba toast
620
Croquettas de Carne y Quezo
450

Sandwiches

KKB Club
420
Hot Pan De Sal Trio
270
Panini
280
Chorizo Rioja Burger
420
US Wagyu Beef Burger
400
Ham & Emmental Cheese Sandwich
250

Dessert

Tiramisu
320
Frozen Brazo de Mercedez
280
Panacota with Mango Flambea
280
Leche Flan
280
Xocolat
280
Chocolate Marquise
280
Home-made Ice Cream
280
lustrado Cakes
185
Halo-Halo
250

Hot Beverages

Americano
90
Brewed coffee
90
Cappuccino
150
Cafe latte
150
Cafe mocha
120
Espresso
90
Machiato
170

Cold Beverages

Bottled water
60
Juice canned
85
Fresh fruit juice shake
140
Iced tea
120
Soda
85
Iced cappuccino
150
Iced coffee
140
Iced latte
150
Iced machiato
170
Iced mocha
150
About Ilustrado Restaurant
Ilustrado is a place that serves delicious food and has had great customer service since 1989. This place offers Spanish-Filipino dishes while preparing its fish as authentic and old-fashioned as it could be. Local and foreign customers keep on visiting this place to experience the Philippines' best features which are wonderful food, hospitality, and of course beautiful culture. Rose and Boni Pimentel are the founders of Ilustrado restaurant and as of now, it was passed over to their children Beatrice and Chef Bernice.
These two are now leading the restaurant and bringing Ilustrado to adopt in the modern day making it a modern classic Asian flavor. Their menu now offers fresh selections together with their best sellers. The Ilustrado place in Intramuros also has a variety of function rooms and venues for corporate meetings or special occasions. They also have branches in BGC and Makati. They also offer catering services for your special occasions.
Ilustrado Menu Best Sellers
Here are some of their must-tries and best-sellers. These items are also the crowd's favorite.
Lobster Bisque – Lobster Bisque is basically a highly seasoned soup with a creamy and smooth texture of French origin. This one taste really delicious and savory because of the lobster. This soup is also filling and best partnered with any bread. Their lobster bisque has a mildly sweet flavor since the lobster that they use in creating their lobster bisque is always fresh.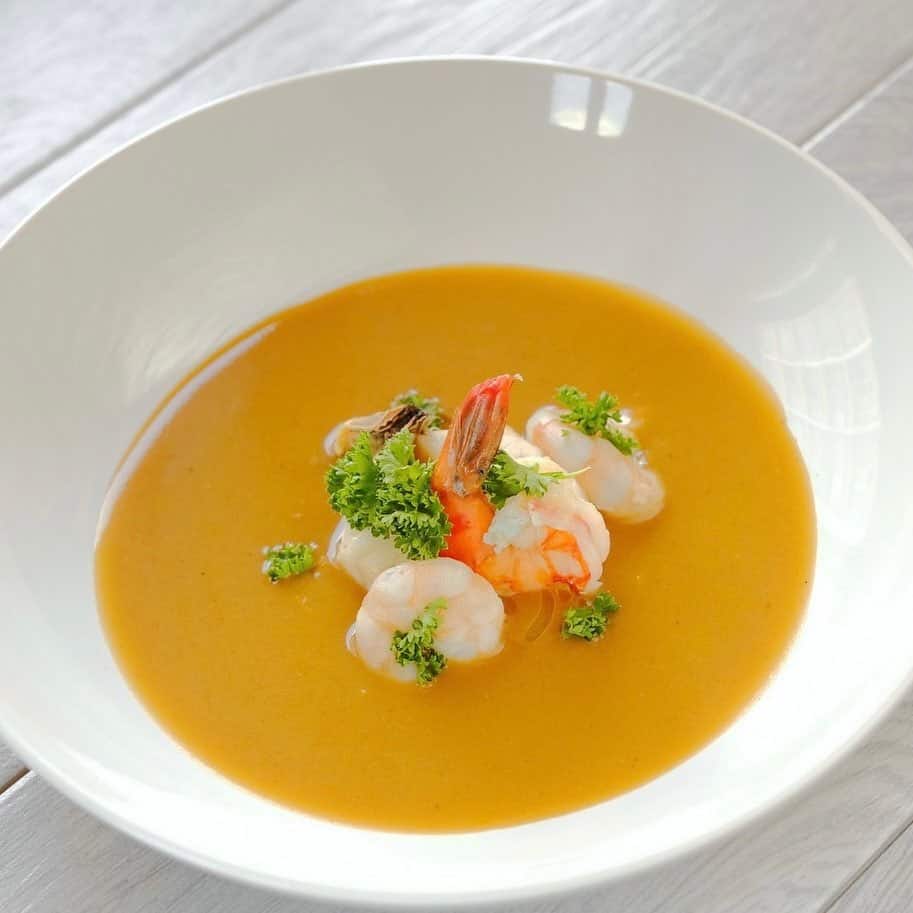 Baked Eggplant – Baked eggplant from Ilustrado restaurant is a very satisfying and at the same time healthy dish. It has a creamy eggplant then wrapped into a pastry wrapper baked and then topped with tomato sauce and pesto sauce. This one tastes really good and I couldn't get enough of their baked eggplant, to be honest. No wonder their baked eggplant is one of the crowd's favorites on their menu.
Bagnet – Who wouldn't know this lovely Filipino dish? I'm sure just reading the name of it made you think how good is the bagnet right? I'm actually still drooling right now as I remember how good is their bagnet. Ilustrado's version of bagnet is tender inside and crispy on the outside. It also has a KBL sauce which means kamatis, bagoong, and lasuna, or small as in relatively small onions that grow in the bagnet's origin Ilocos region. The bagnet is perfect with rice or with anything that you want. The KBL sauce is also delicious and perfect with the bagnet.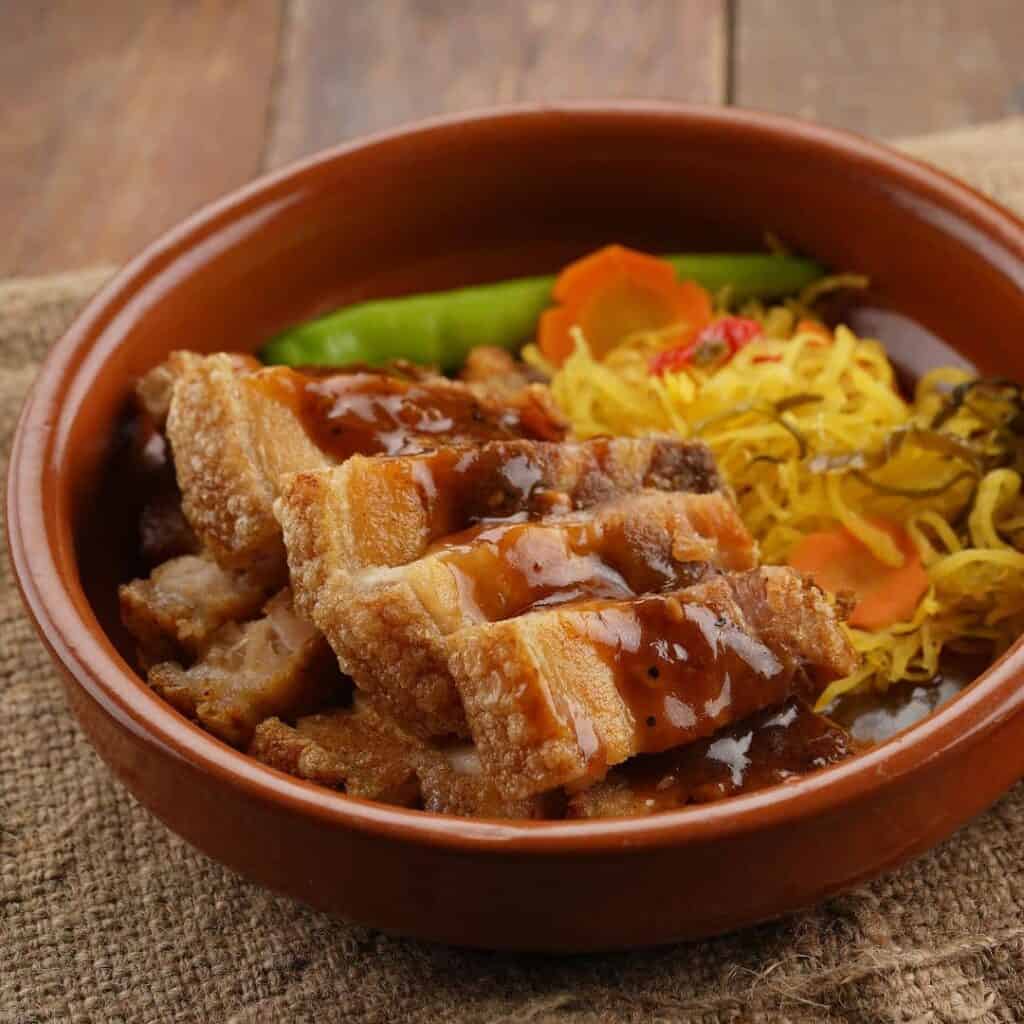 Callos –  Callos is an ox stripe stew that has chickpeas and chorizo on it. This menu of Ilustrado is really tasty because of the chorizo and ox tail flavor combined. The ox tail has that melt-on-your-mouth feel since it is really tender. The combinations of flavors are really good this is by far the best Callos that I ever tasted.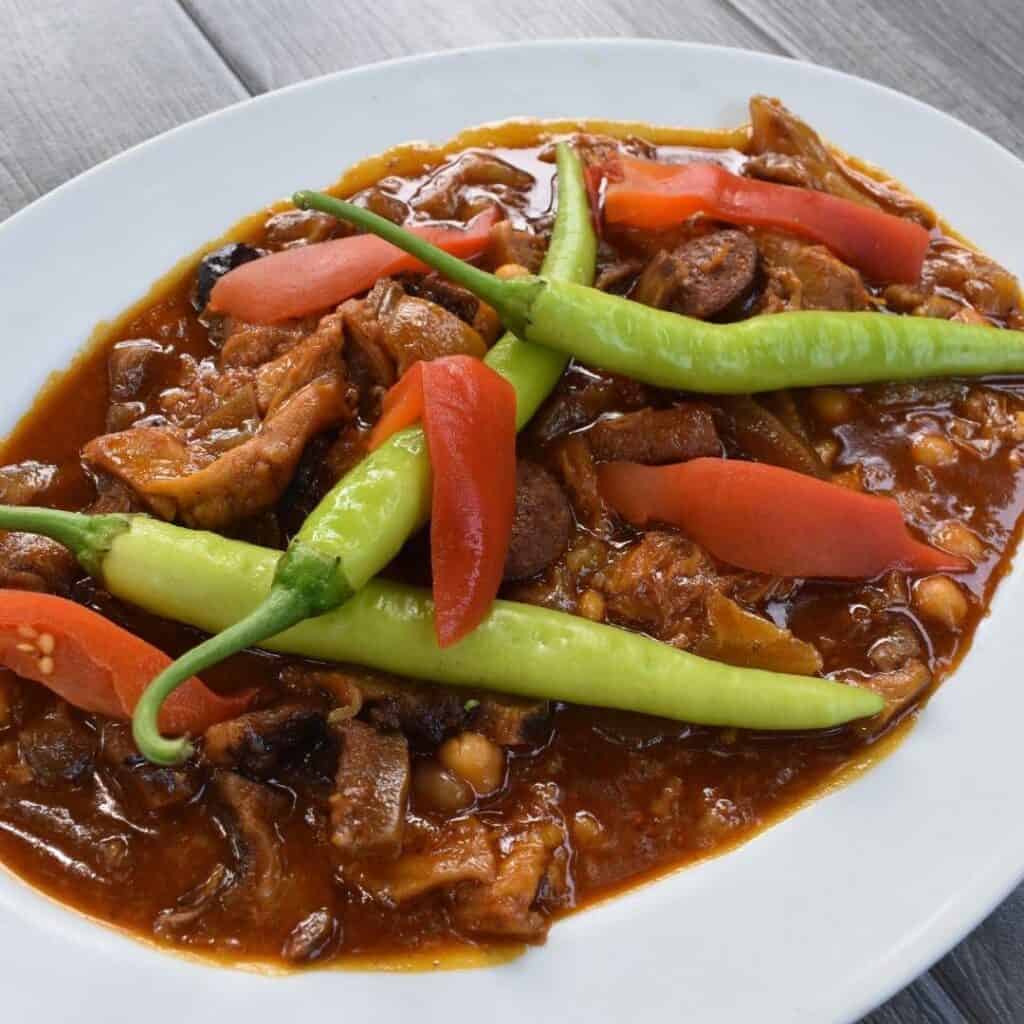 Lengua – Lengua is made with ox tongue and yes this is also delicious and definitely a classic. I'm actually a huge fan of lengua and Ilustrado's version of lengue tastes really good. The lengua is tender and very flavorful, it is also served with shiitake mushroom sauce to complete the great experience. Ilustrado's version of lengua is so good it could be your new classic favorite.
Ilustrado Menu Starter 
Ilustrado's starter menu has a lot of delicious choices. They have Escargots a la Bourguignonne, Calamari Salad with Goat Cheese, Bacon & Citrus Vinaigrette, and Tiger Shrimp with Lemon Grass, Chili, and Garlic Chives. These items are really delicious! They also have Baked Eggplant in Filo which is one of their best sellers, Pate Platter, and Ilustrado Caesar Salad. Other items are Hot Spinach Salad with Crisp Bacon, seafood bisque, Fresh Tomato Soup with Basil, and their Essence of Beef Consomme with Quail Eggs and Mushroom.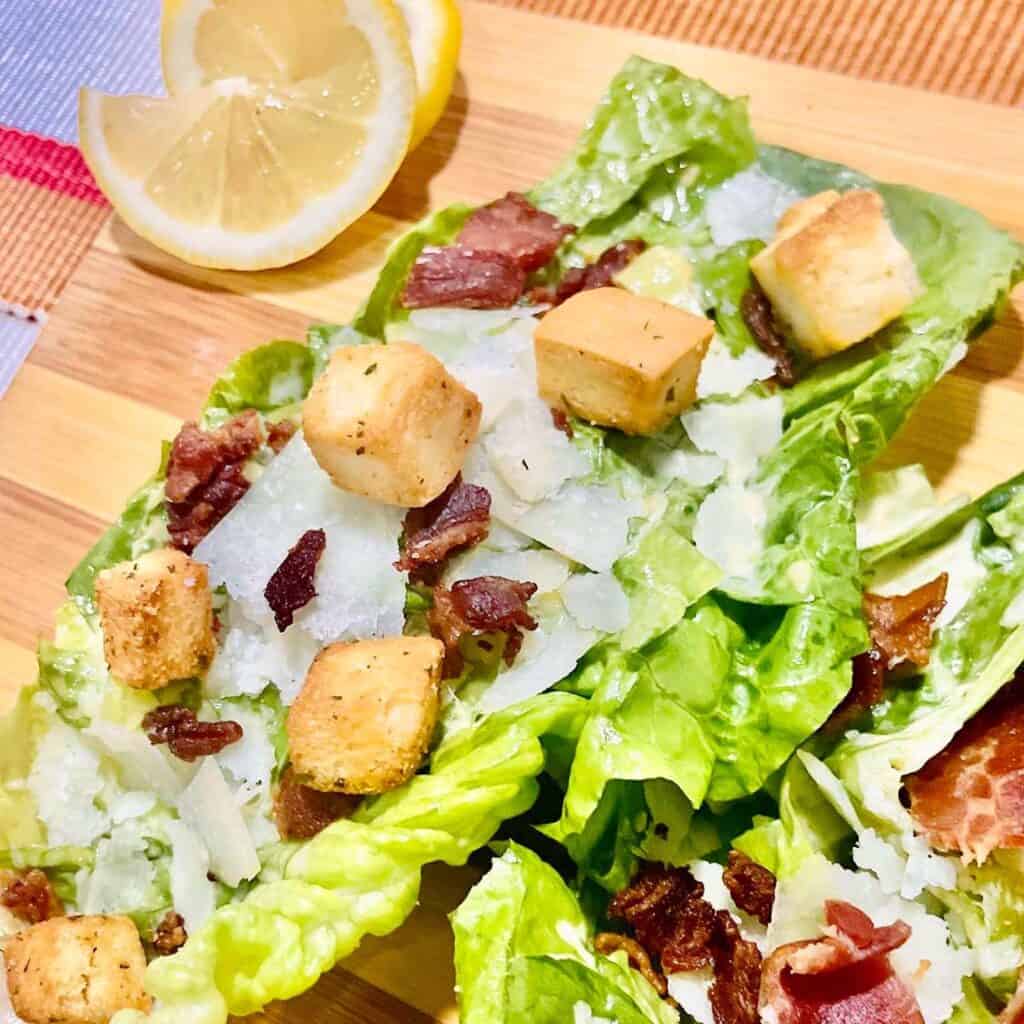 Ilustrado Menu Delivery
Ilustrado Intramuros delivers food to your doorstep! Just give them a call at (02) 8527-2345. Alternatively, you can place your order using popular food delivery apps like GrabFoods or Foodpanda. It's easy and convenient!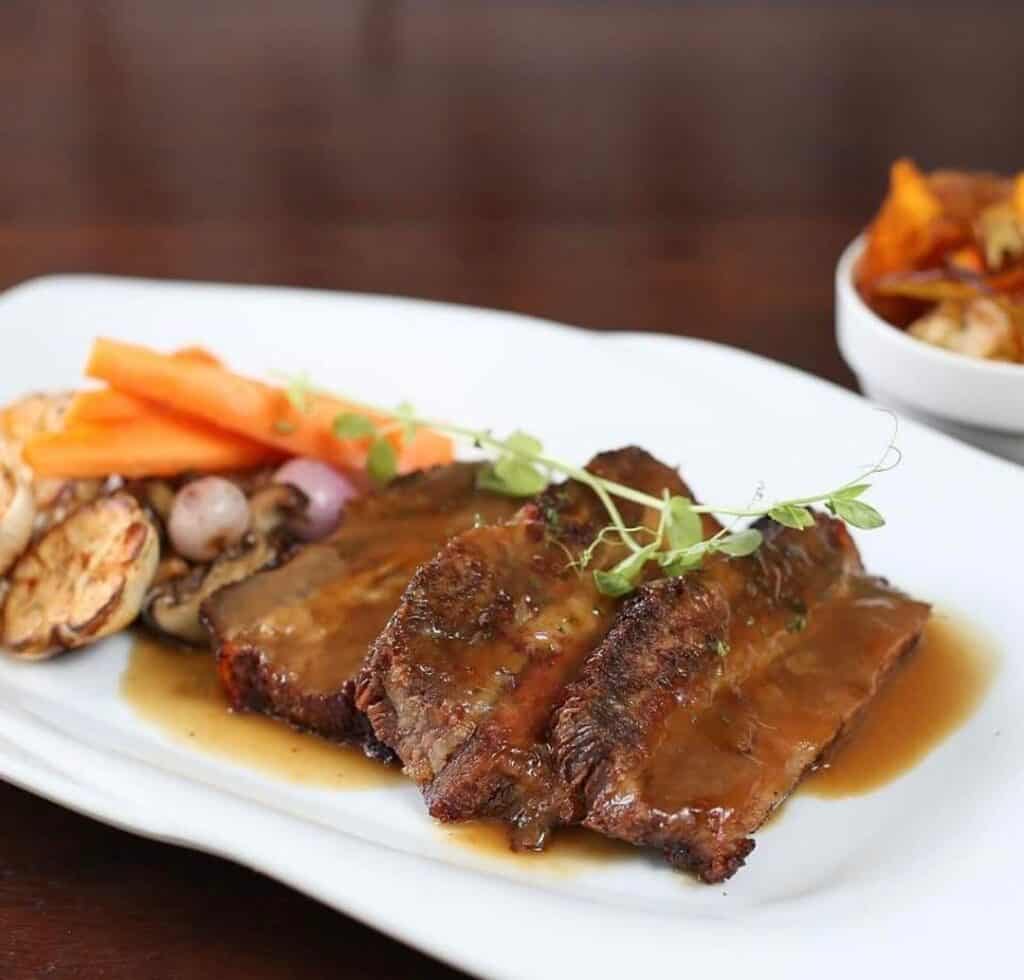 Social Media Pages
By supporting Ilustrado Restaurant on social media, you can become part of a community of food lovers who appreciate unique and delicious dining experiences. Stay updated on their latest menu offerings and discover their elegant and historic ambiance.
Facebook: https://www.facebook.com/ilustradorestaurant
Instagram: https://www.instagram.com/ilustradorestaurant
FAQs
How many branches does Ilustrado have?
Ilustrado has 5 branches, they have branches in BGC, Mandaluyong, MOA, Ayala Center, and Intramuros.
What are the operation hours of Ilustrado?
8 AM until 9 PM is the operation hours of Ilustrado. But it depends on the branch that you will visit since some close earlier.
What is the payment method accepted at Ilustrado?
They accept cash and major credit cards.
Do we need reservations at Ilustrado?
Actually, walk-ins at Ilustrado are okay but if you're planning on visiting them at noontime which is busier than usual it's advisable to call for a reservation.
Conclusion
This place is a gem to be quite fair especially their Intramuros branch where you can actually feel the vibe of an old Philippines. The Ilustrado menu offers a mix of Spanish and Filipino cuisines that are classics and definitely delicious. The service is okay and their crews are very approachable, friendly, and nice they are actually knowledgeable about the products that they serve. price of foods are reasonable with a very great presentation of food. The place is also amazing it has a very cozy and customer-friendly atmosphere that will make you feel at home. Overall a great experience where food takes you back to the old days. Highly recommended place.