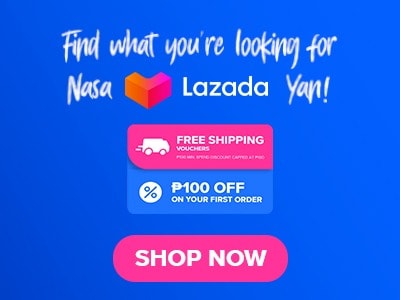 The Angel's Burger menu is decent. You may treat yourself to any of their bestsellers whenever you choose because it is open around the clock. Because they are consistently provided at a buy one, take one promo, which is a great deal for hungry Filipinos searching for hot sandwiches, their hamburger and cheeseburger are unquestionably their most popular offerings.
Retailers employ discounts and free coupons as successful short-term tactics to draw in a growing number of customers. The offer of "buy one, get one free" is common. Customers obviously enjoy getting things for nothing. Even when compared to superior quality things at a discounted price, customers typically overvalue the advantages of free. It is an effective sales strategy with several variations. Customers are compelled to buy because of the sense of urgency it generates. On the other side, a flash sale keeps shoppers from becoming accustomed to making purchases at a discount. It is a terrific way to leverage a bargain to attract customers.
Below, you'll find the updated list of Angel's Burger menu prices.
Menu Items
Prices (PHP)

Buy 1 Take 1 Burgers

Beef Burger Sandwich
30
Cheeseburger Sandwich
40

Hotdog Sandwiches

Buy 1 Take 1 Cheesy Hotdog Sandwich
30
Jumbo Cheese Footlong Sandwich
45
Cheesy Hungarian Sandwich
55

Ham Sandwiches

Ham Sandwich
18
Ham & Cheese Sandwich
23
Ham & Egg Sandwich
30
Ham, Cheese & Egg Sandwich
35

Bacon Sandwiches

Bacon Sandwich
25
Bacon & Cheese Sandwich
30
Bacon & Egg Sandwich
37
Bacon, Cheese & Egg Sandwich
42
Egg Sandwich
16

Add Ons

Extra Cheese
5
Extra Egg
12
Extra Ham
14
Extra Bacon
21

Drinks

Lipton Iced Tea
30
Bottled Water
16
Mug
18
Mirinda
17
Pepsi
17
7-Up
17
About Angel's Burger
Every successful company has a backstory, including its humble origins. The proud proprietor of Angel's Burger, Vicky Mojica, and her husband built their company from the ground up with a pitiful investment of roughly P20,000. All of their food was prepared and cooked at their house, which they utilized as a commissary. Despite their best efforts, the pair was unsuccessful, and Angel's Burger didn't succeed the first time. Vicky said that she and her husband formerly worked at a bank and a fast food restaurant to Karen Davila on My Puhunan. But their desire to launch their own company led them to quit their different employment.
In the 1990s, they tried their hand at starting as many enterprises as Vicky could think of, including franchising burger joints. The couple asked the burger franchise owner whether they might start a similar company after Vicky gave birth to their daughter Angel. So, Angel's Burger was created. In 1997, the pair launched their first store, but things weren't going well for them yet. Despite their best efforts, the burger shop's sales didn't meet their expectations.
Vicky claimed that instead of splurging on luxuries, they reopened Angel's Burger, giving it a fresh look, better flavor, and a whole new management approach. The wager was successful, and the rest is history. Because of its "buy 1 take 1" promotion, Angel's Burger gained a lot of popularity with the general public.
Over a thousand locations of burger restaurants already exist across the nation. The couple made the decision to leave their business and children behind in order to work in the United States. Vicky discovered her lucky star there. She earned $10,000 (about P500,000 at the time) playing a slot machine in a casino. Vicky claimed that after receiving a fortune of 500,000 pesos and deciding to give Angel's Burger another shot, they booked a ticket and left for home right away. Vicky claimed that their passion for cuisine is what brought them to where they are now. They are hoping that telling the Filipinos about themselves and their favorite dish, would encourage them to pursue their own dreams of success in their own line of work.
Angels Burger Menu Best Seller
Hamburger – The patties in this Angel's Burger menu are crispy and delicious when covered in bright crimson ketchup.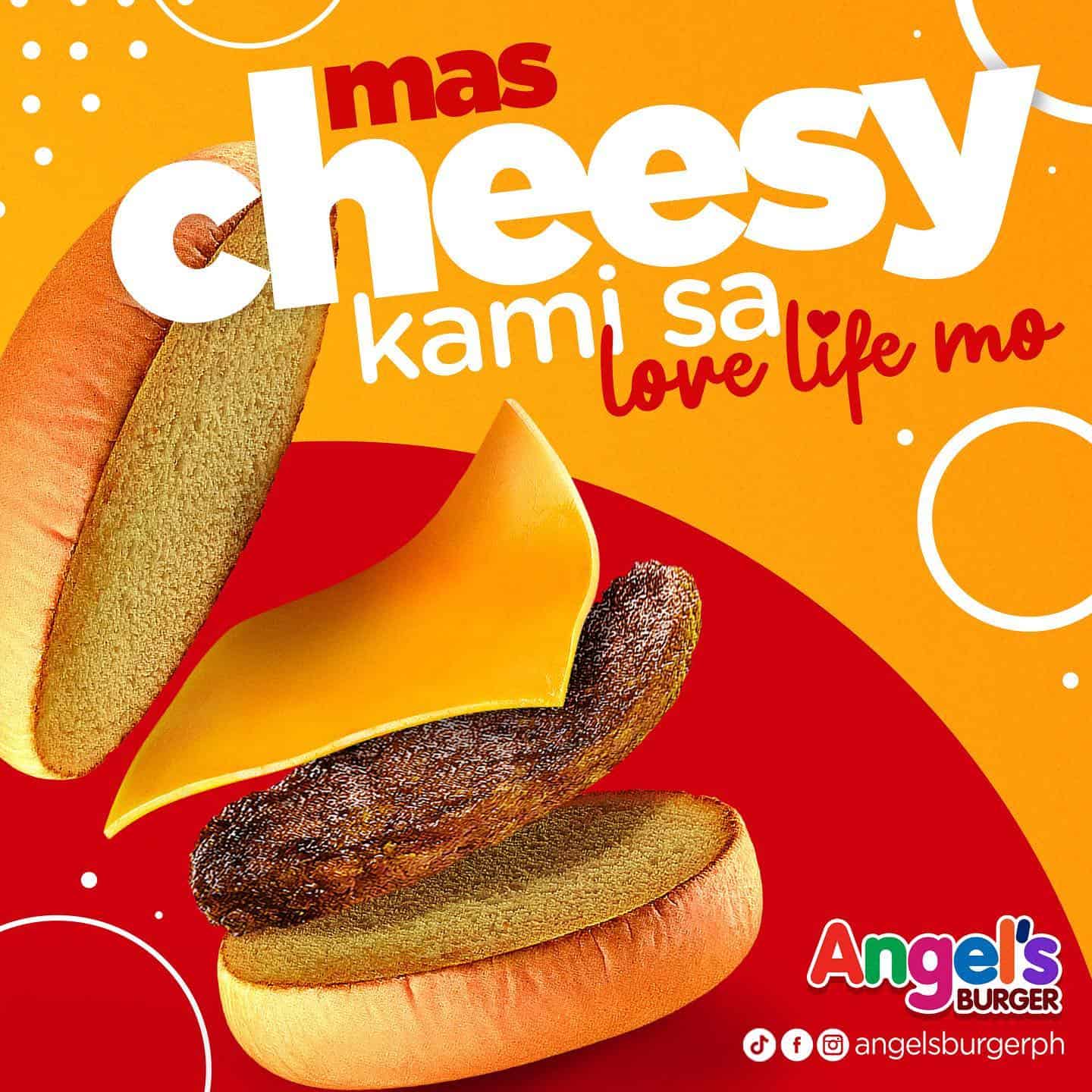 Cheeseburger – It's the ideal light supper or snack for an upset stomach when paired with an ice-cold beverage.
Jumbo Cheesy Footlong – Is a lot more delicious, and just like the patties, CDO prepared them. A single dish, which costs Php 36.00, comes with mayo, banana catsup, and other fixings to satisfy the stomach of a person of average size. This is a recommended Angel's Burger menu, especially on a tight budget.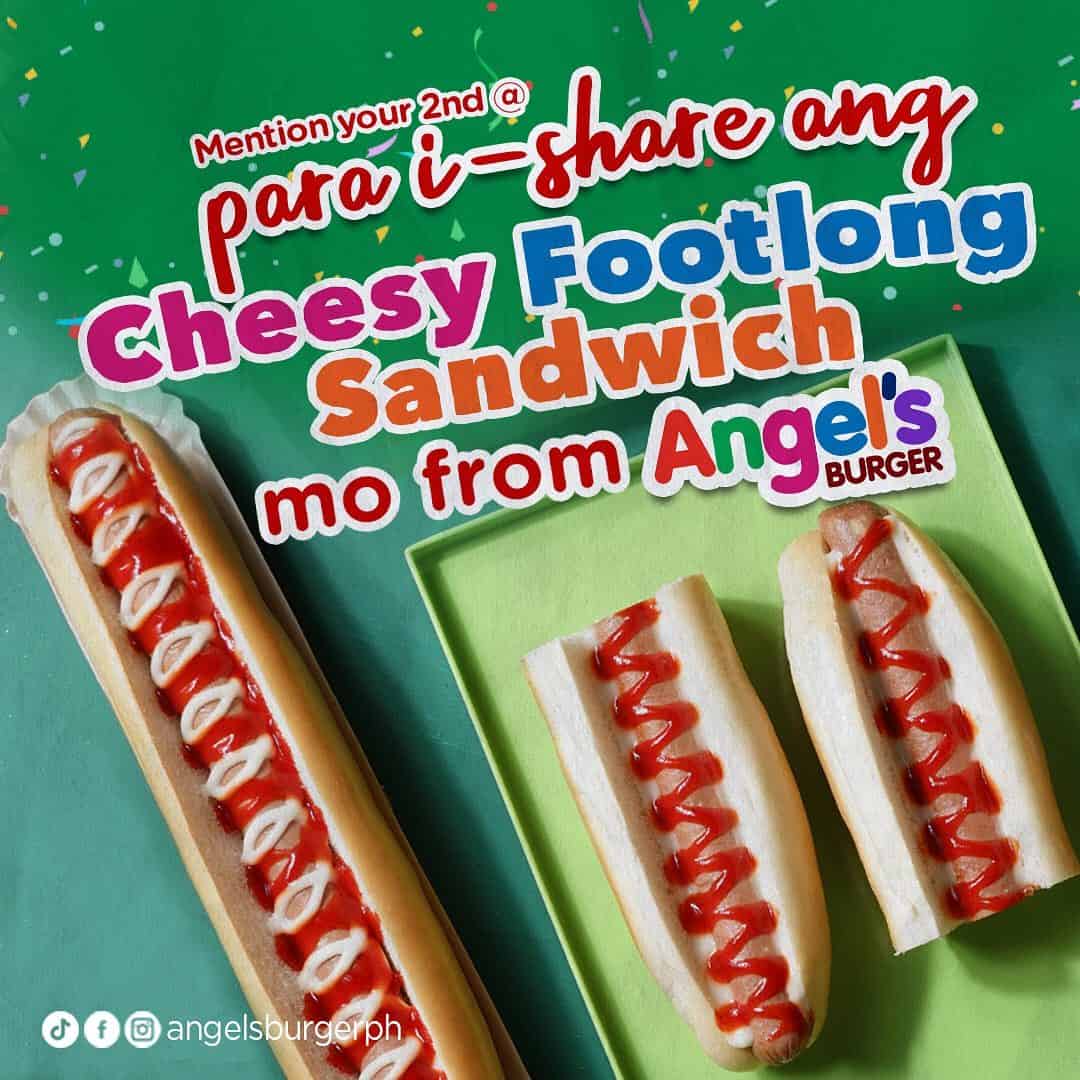 Angel's Burger Menu Delivery
In case you don't have time to go outside due to your busy schedules, no worries because you can now order the delicious meals of Angel's Burger via GrabFood, Foodpanda, and MasapBuy. All you need to do is to visit any of the following and then place your order.
Talk to Angel's Burger Staff About Menu
Do you want to ask them questions about the Angel's Burger menu, or something else, you can reach them via these email addresses:
Social Media Pages
If you are looking for their social media pages or website, you can find them at the following:
Facebook: https://www.facebook.com/angelsburgerph
Instagram: https://www.instagram.com/angelsburgerph/
Website: https://angelsburger.com/
FAQs
Who is the owner of Angel's burger?
Joseph and Vicky Mojica. The duo is the owners of the well-known Angel's Burger food truck, which has more than a thousand locations around the nation.
How much is the burger in Angel's burger?
The burgers cost thirty pesos for a beef burger, while the cheeseburger costs forty pesos.
Is Angel's pizza and Angel's burger same owner?
No. Amazing Taiwanese-Filipino businessman Jerry Liu, who established Cirtek Holdings in 1984, is the current owner of Angel's Pizza.
Conclusion
Over the course of its twenty years in business, Angel's Burger menu has stayed loyal to its commitment to menu updates and has constantly experimented with selling new goods, such as crispy French fries and ice cream cups at buying one take one price. With a combination of company-owned and franchise locations, Angel's Burger has more than a thousand locations countrywide.
The fact that burgers have been there for a century already and were probably brought to us when Americans colonized us explains why they did not become as popular until we became urbanized and lived as cosmopolitans. Burgers are the fastest food you can eat. These include enough protein and carbs to sustain us till the conclusion of the workday. The exponential growth of Angel's Hamburger is quite astonishing.
Unfortunately, the establishment's history, ownership, address, or phone number are unknown. In the Philippines, meat extenders have been used to lower the cost of hamburgers since the 1990s. We have employed a variety of sources of protein, including farmed worms, banana peels, and soy protein. Before you gag at what I just mentioned, let me reassure you that CDO, a well-regarded meat processing firm, is the source of the hamburger patties used by Angel's Hamburger, according to the information I obtained from a very credible source.
One of the fast-rising small business ventures for Filipino entrepreneurs in 2014 and the years preceding it is an Angels Burger franchise. The truth is that this SME investment opportunity has little to no web presence, and you can't even find out who the owner is, their contact information, or where to go to make an inquiry and ask about a potential franchise investment, fee/cost, prerequisites, package features, and other topics.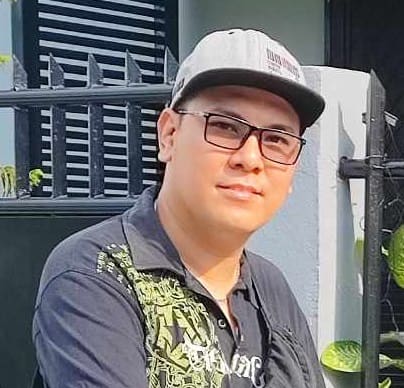 Hi! I'm Nivek Strife, the person who made MenuPH. I'm the one who added most of the popular menus you see on this website, and I really hope you enjoy them! Feel free to check them all out.
Growing up, I was surrounded by lots of tasty foods, like the classic Adobo and the sweet Leche Flan. That love for the many flavors of the Philippines is what got me excited about adding to MenuPH. When I learned how to make websites, I saw the need for a place to show off all the amazing Filipino dishes, and that's how MenuPH started.
MenuPH isn't just a website; it's like a fun journey into food. I've teamed up with famous chefs and found great places all over the Philippines to bring you a bunch of menus that show off the best of Filipino cuisine. Whether you're into the usual dishes or new twists, MenuPH is here to guide you through the rich world of Filipino flavors.
With MenuPH, my aim is to help local businesses, talk about good food choices, and make a group of friends who love food. No matter if you like fancy restaurants or street food, MenuPH has something for you. Come join me on this food adventure as we find great places, taste real flavors, and enjoy the unique food traditions that make the Philippines awesome.