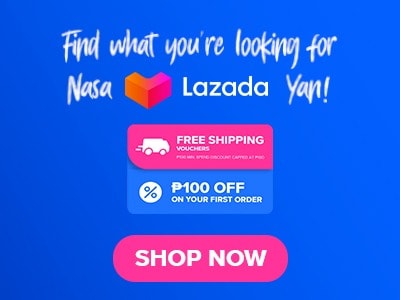 Have you ever heard about Wendy's? I guess all of us have already heard about them since they are already existing in the fast-food industry for years. Now we are going to talk about Wendy's to give you information and facts about this fast-food chain. So if you are looking for something different specifically with hamburger sandwiches and fries I'm pretty sure you'll be interested in our new article. Let's talk about what are the delicious foods on Wendy's menu that we could get, their best sellers, and other stuff. Without any delay, let us start.
Below, you'll find the updated list of Wendy's menu prices.
Menu Items
Price (PHP)

Sandwiches

Home style Chicken single
125.5
Home style Chicken double
181.5
Shrimp Fillet Sandwich single
137.5
Shrimp Fillet Sandwich double
192.5

Fam Boxes

Fambox Bacon mushroom melt (good for 3)
467.5
Fambox Bacon mushroom melt (good for 4)
577.5
Fambox Baconator single (good for 3)
605
Fambox Baconator single (good for 4)
770
Fambox Fried Chicken (good for 3)
504.9
Fambox Fried Chicken (good for 4)
658.9

Whattaboxes

Bacon mushroom melt whattabox
218
Big bacon mushroom melt whattabox
273.9
Fried chicken whattabox
196.9

Burgers

Cheeseburger deluxe solo
94.6
Cheeseburger deluxe combo
149.6
Bacon cheeseburger solo
108.9
Bacon cheeseburger combo
163.9
Dave's single with cheese solo
163.9
Dave's single with cheese combo
218.9
Dave's double with cheese solo
258.5
Dave's double with cheese combo
313.5
Bacon mushroom melt solo
108.9
Bacon mushroom melt combo
163.9
Big bacon mushroom melt solo
174.9
Big bacon mushroom melt combo
229.9
Baconator single solo
163.9
Baconator single combo
218.9
Baconator double solo
284.9
Baconator double combo
328.9

Fried Chicken

1 pc chicken with rice a la carte
86.9
1 pc chicken with rice combo
108.9
2 pc chicken with rice a la carte
178.2
2 pc chicken with rice combo
200
Chicken with spaghetti combo
163.9
Chicken with fries combo
130.9
Chicken with macaroni cup combo
119.9
3 pc fried chicken
218.9
6 pc fried chicken box
429
Chicken Nuggets a la carte
115.5
Chicken Nuggets combo with rice
154
Chicken Nuggets combo with fries
159.5

Salad

Chunky chicken salad side
75.9
Chunky chicken salad big
143
Waldorf salad side
75.9
Waldorf salad big
143
Macaroni salad side
53.9
Macaroni salad big
108.9
Taco salad big
176

Sides

Natural cut fries with seasalt regular
42.9
Natural cut fries with seasalt Large
74.8
Natural cut fries with seasalt Biggie
90.2

Combo Meals and Add ons

Combo upgrade medium drink
11
Combo upgrade large drink
19.8
Combo upgrade biggie drink
35.2
Combo upgrade large fries
22
Combo upgrade biggie fries
35.2
Combo add on ice tea classic
16.5
Combo add on ice tea lite
16.5

Frosty

Vanilla frosty regular
42.9
Vanilla frosty medium
67.1
Vanilla frosty large
82.5
Vanilla frosty tops
53.9

Drinks

Coke medium
60.5
Coke large
69.3
Coke biggie
86.9
Coke zero medium
60.5
Coke zero large
69.3
Coke zero biggie
86.9
Sprite medium
60.5
Sprite large
69.3
Sprite biggie
86.9
Sarsi medium
60.5
Sarsi large
69.3
Sarsi biggie
86.9
Iced tea classic medium
66
Iced tea classic large
74.8
Iced tea classic biggie
92.4
Iced tea lite medium
66
Iced tea lite large
74.8
Iced tea lite biggie
92.4
About Wendy's
Wendy's was founded on the year 1969 by Dave Thomas in Ohio a US state. He named his fast-food restaurant after his fourth child. They offer classic burgers and sandwiches that everyone loves. Wendy's was the third-largest hamburger chain in the world following Burger King and Mcdonald's. This American international fast food restaurant becomes popular throughout the years because of the quality and the goodness of the food that they offer.
They started expanding their chain in 1972 on their first franchise, and also that year was when they first aired their first TV commercial with the slogan "Quality is our recipe" concept they attract more and more customers. From 1988 to the 1990s Wendy's started their business expansion globally.
In December 2017 Wendy's announced its partnership with Doordash, one of the largest delivery services in the United States. As of today Wendy's is serving in different countries like the United States, Canada, South America, Asia, United Arab Emirates, United Kingdom, and more. Todd Penegor is the current CEO of this chain with 6,711 outlets worldwide.
Best Wendy's Salad Menu
Wendy's Menu also offers salads. Here are examples of the best salad that they can offer.
Apple pecan chicken salad – This salad is healthy and delicious. It is incredibly refreshing and got some crunch on it, it's hard to believe that you can get this thru a fast food restaurant.
Taco Salad – This salad is a bit Mexican, if you love food with a kick of spicy Wendy's menu is recommended it for you. it comes with crunchy tortilla chips Wendy's lettuce, diced tomatoes, shredded cheese, sour cream, and salsa.
Harvest Salad – Though the availability for this salad is depending upon your location I will still include this on their list of best Wendy's menu salads. Made with juicy grilled chicken, feta cheese, lettuce, smoked bacon, brown sugar, and walnuts this salad is a bomb.
Parmesan Caesar Chicken Salad – This Salad Is actually their classic salad that is fresh and very tasty. The Parmesan Caesar chicken salad is made with combining the romaine lettuce, Italian cheeses, grilled chicken breast, ceasar dressing and parmesan crisp. Very refreshing.
Southwest Avocado Chicken Salad – Their Southwest Avocado Chicken Salad is made with lettuce, avocado, pepper jack cheese, smoked bacon, tomatoes, and juicy chicken breast. Comes with ranch dressing that is so good to the taste.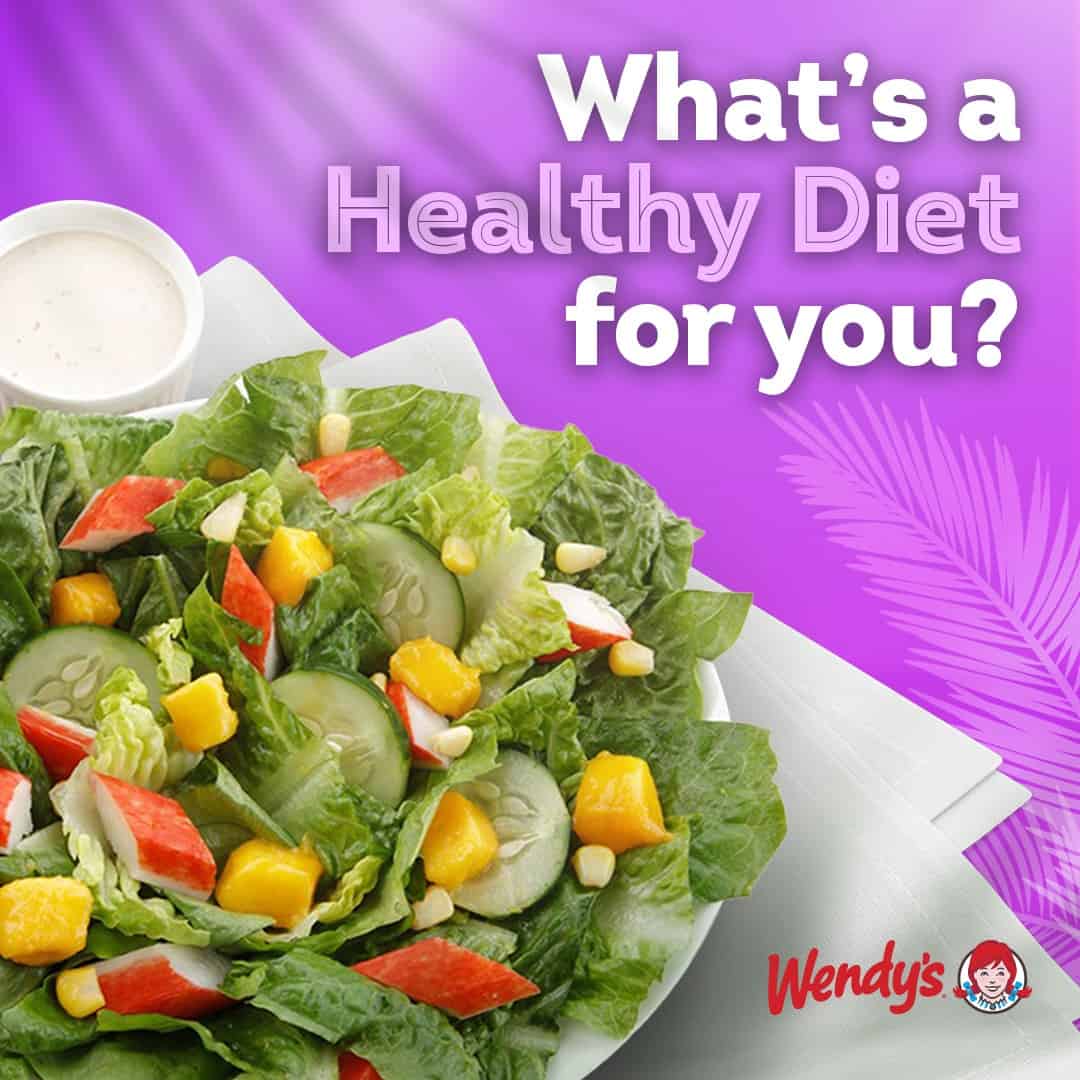 Best Wendy's Menu Breakfast
Here is a list of Wendy's menu breakfast items that you should try.
Maple Bacon Chicken Croissant – This breakfast item is made with croissants with chicken and bacon. Surprisingly Greaseless and very addictive. One of the breakfast items that you should try.
Classic Sausage, Egg & Cheese Sandwich – Who wouldn't want this classic goodness? The combination of sausage, cheese, and egg will surely give you a kick through your day.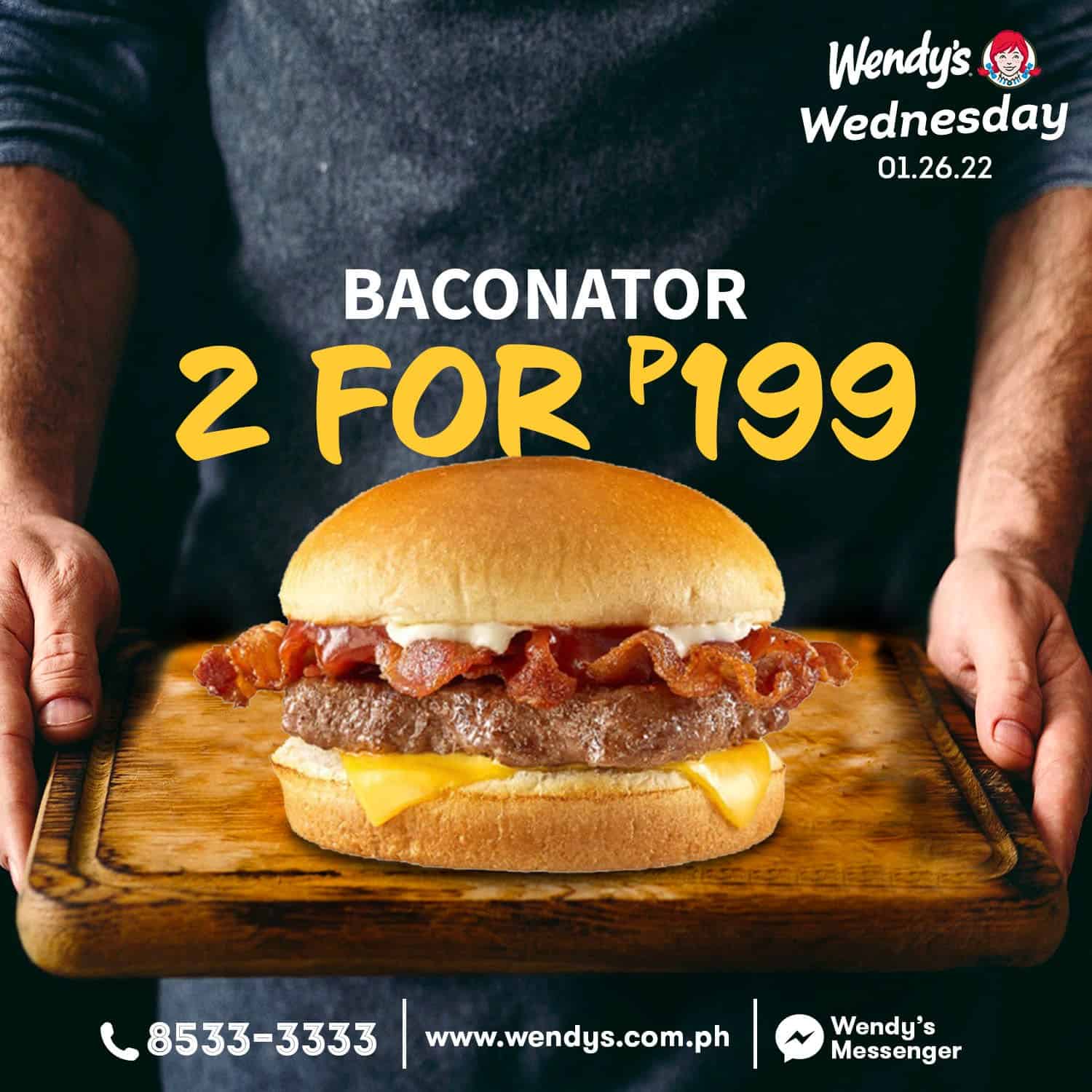 Breakfast Baconator – Made with bacon cheese and egg. This breakfast meal is your classic morning meal recommended for people on the go. Great for take-out if you're in a hurry.
Frosty-ccino – Start your day with Wendy's frosty casino, cold brew on ice with a frosty mix flavor of your choice.
Best Wendy's Burgers
Here are some of Wendy's best burgers that you should try.
Big Bacon Classic – This deluxe cheeseburger is made with a quarter-pound patty and bacon. With lettuce cheese tomato and Wendy's burger sauce, this one is goodness in every bite.
Baconator – Looking for a heavy meal? Then this one is for you. It is made with two quarter-pound patties, six slices of bacon, and cheese. Is this burger delicious? Yes! Try it for yourself.
Jr. Cheeseburger Deluxe – This one is a standard burger made with tomato onion lettuce and a burger patty with their delicious bun and burger sauce. Perfect for not-so-big appetite eaters.
If you want to try alternative burgers you can try Burger King.
Order Online at Wendy's
If you are craving their burgers and other food items you can now order online, all you have to do is to go to their website at https://wendys.com.ph/ or you can call their hotline number at 533-3333. There are also alternative options that you can use to order food from them. You can use the Food Panda and Grab Foods apps to order your favorite foods at Wendy's.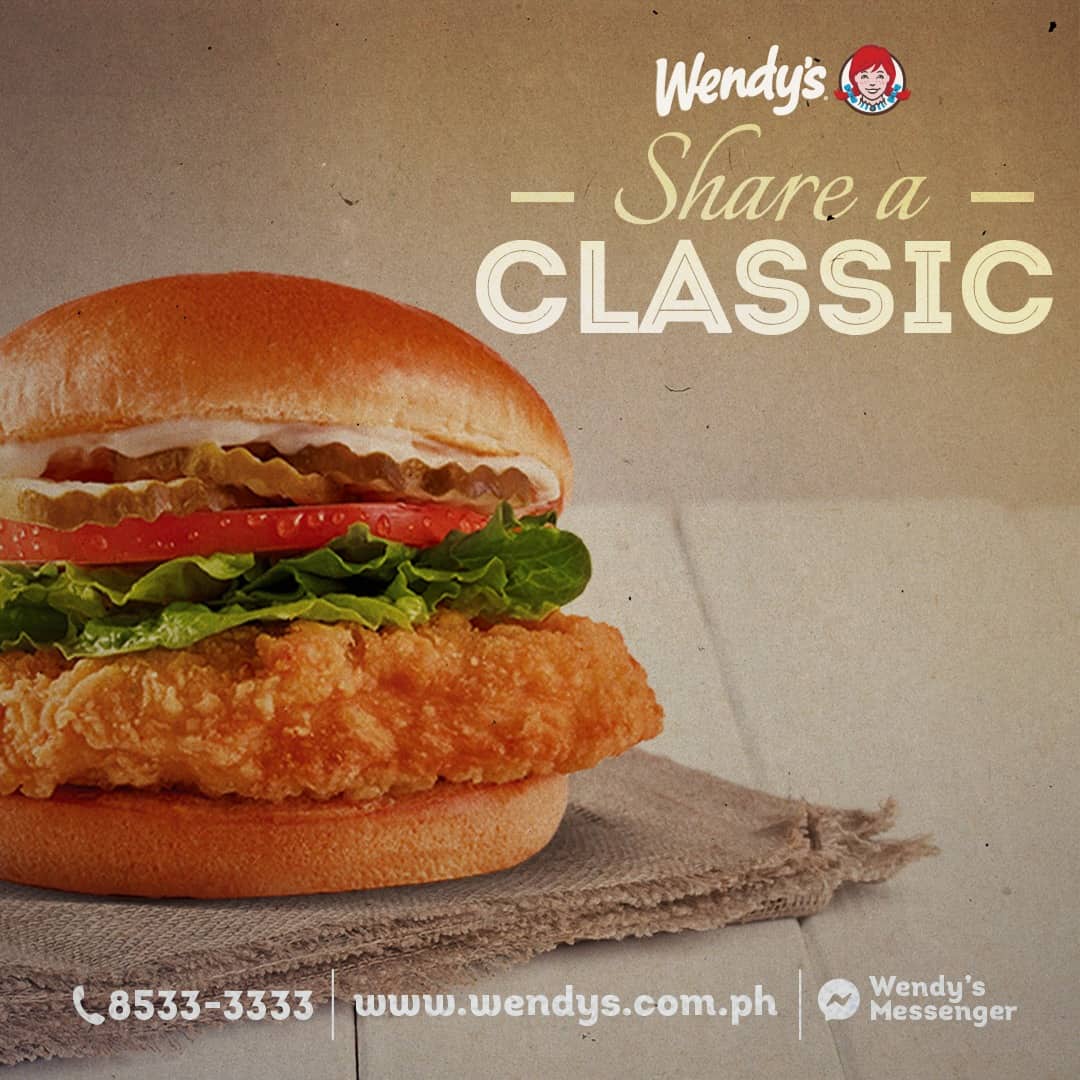 Conclusion
This food chain is one of the institutions when it comes to burgers so if you are looking for good-tasting burgers one of your best choices would be this fast-food restaurant. The food on Wendy's menu is really delicious and their service is very good. It is highly recommended for health-conscious burger lovers, also dining in their fast food restaurant is also a great experience since their service crews are polite and the place is clean and customer friendly. Thumbs up.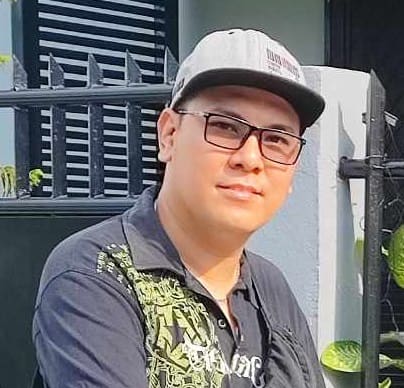 Hi! I'm Nivek Strife, the person who made MenuPH. I'm the one who added most of the popular menus you see on this website, and I really hope you enjoy them! Feel free to check them all out.
Growing up, I was surrounded by lots of tasty foods, like the classic Adobo and the sweet Leche Flan. That love for the many flavors of the Philippines is what got me excited about adding to MenuPH. When I learned how to make websites, I saw the need for a place to show off all the amazing Filipino dishes, and that's how MenuPH started.
MenuPH isn't just a website; it's like a fun journey into food. I've teamed up with famous chefs and found great places all over the Philippines to bring you a bunch of menus that show off the best of Filipino cuisine. Whether you're into the usual dishes or new twists, MenuPH is here to guide you through the rich world of Filipino flavors.
With MenuPH, my aim is to help local businesses, talk about good food choices, and make a group of friends who love food. No matter if you like fancy restaurants or street food, MenuPH has something for you. Come join me on this food adventure as we find great places, taste real flavors, and enjoy the unique food traditions that make the Philippines awesome.