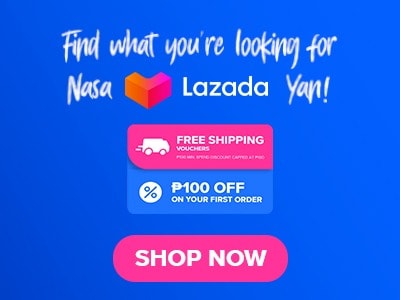 Have you heard about Batchoi? Well, if you are not yet familiar with this iconic cuisine, this article will surely help you out as we are going to talk about this favorite Asian cuisine. Today we are going to talk about Oishi Batchoi! A restaurant that serves a work of art culinary masterpiece featuring this hearty batchoi that will give you a flavorful kick to the finest flavors of Japan. Let us continue this chit-chat later as I am going to show you the finest menu collections they offer for you.
Below, you'll find the updated list of Oishi Batchoi menu prices.
Menu Items
Price (PHP)

Salad

Kani Salad
281
Kaizen Salad
331

Ippin Ryori

Chicken Teriyaki Plain
369
Gomoku Umani
306
Chicken Platter 5 Pcs
438
Salmon Sashimi 10 Slices
481
Chicken Platter 3 Pcs
256
Salmon Sashimi 5 Slices
281
Buta Yaki Niku
369

Noodles

Super Batchoi
319
Original Miso Batchoi
294
La Paz Classic Batchoi
294
Seafood Miso Batchoi
306
Beef Hot Pot
306
Yakisoba
331

Donburi & Rice

Chickendon
336
Katsudon
336
Butadon
336
Gyudon
349
Gohan Platter
188
Salmon Chahan
313
Gomoku Chahan
313
Chahan
250

Sides

California Maki
149
Crunchy Maki 5 Pcs
156
Chicken Maki 5 Pcs
200
Beef Maki 5 Pcs
200
Rainbow Maki 8 Pcs
300
Ebi Tempura 5 Pcs
499
Ebi Tempura 3 Pcs
311
Gohan
56
About Oishi Batchoi
Oishi Batchoi offers a delightful bowl of these noodles that highlights a savory and sweet flavor of pork that is both rich and comforting, giving you the warmth that defines culinary excellence. Aside from flavorful Batchoi noodles, this restaurant also offers a flavorful collection of salad, Ippin ryori, Donburi and rice, and outstanding sides to surely give you an enticing adventure as you savor the finest bites here at Oishi Batchoi.
Oishi Batchoi Menu Best Seller
Experience the umami and comforting favor of this best-selling collection from Oishi Batchoi that is here to give you the warmth you need that will ray as sunshine to your day.
Katsudon – Indulge in this Japanese comfort food that features a crispy perfect pork cutlet that is delightfully breaded and fried to golden texture. It is topped with a flavorful sauce that is both sweet and sour.
Gyudon – Another day for classics is what you have here in this iconic Gyudon. It features tender slices of simmered beef that highlight an umami flavor with its rich and hearty taste.
Original miso Batchoi – This best-selling noodle features an authentic flavor of rich miso broth with a harmonious flavor with finely textured noodles and a medley of veggies.
Gyoza – An enticing appetizer is what you can expect in this best-selling gyoza that offers a delightful crunch of pan-fried gyoza infused with ground meat.
Seafood Miso Batchoi – Make some way for seafood lovers because this best-selling batchoi noodle is for them. It features another level of richness and flavor with its brimming in the flavors of the sea featuring perfectly made noodles laden with various seafood treasures.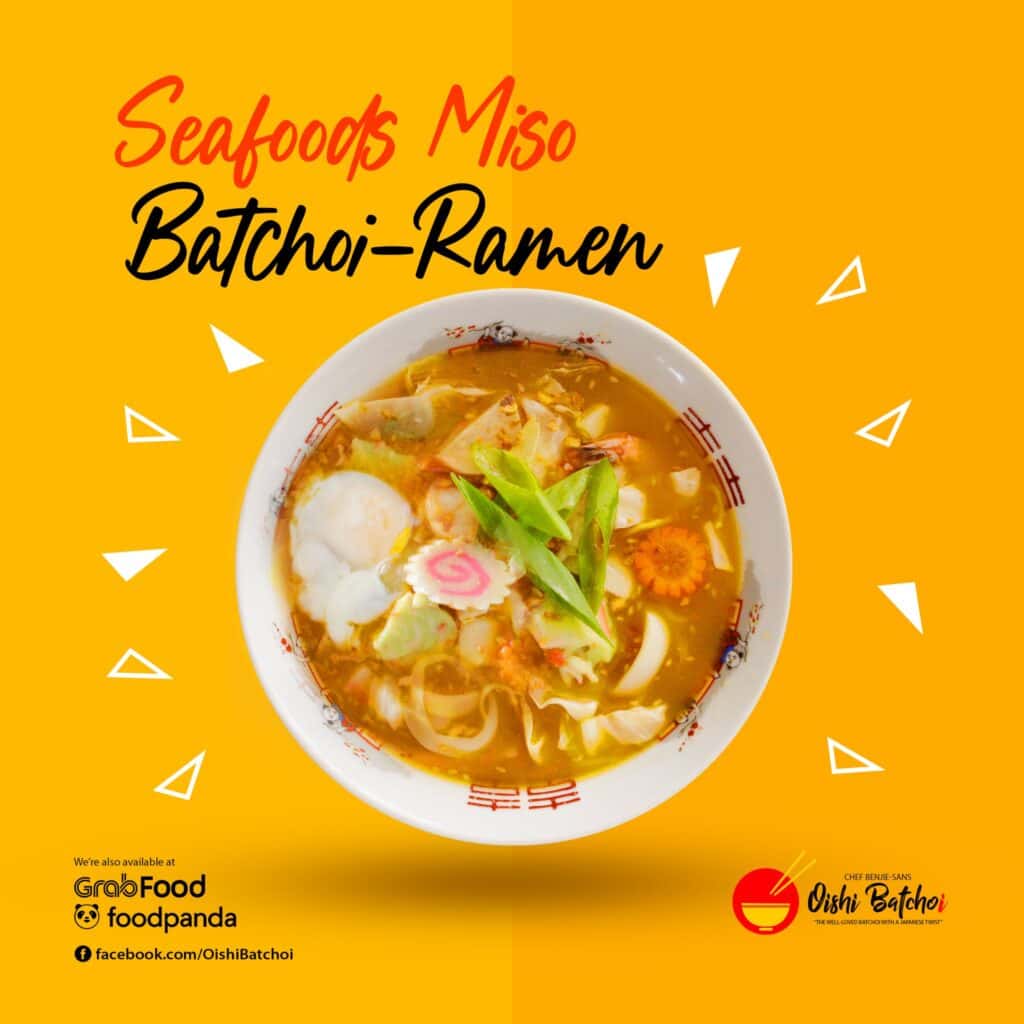 Ippin Ryori
This Ippin Ryori menu is a selection of a diverse array of Japanese dishes highlighting the tender meat with flavorful and aromatic spices that are one of the must-tries here at Oishi Batchoi.
Chicken Platter – This chicken platter offers you a delightful arrangement of chicken dishes featuring tender and juicy bites that are the perfect option to share with your family.
Chicken Teriyaki Plain – Savor the blazing flavor of Chicken Teriyaki featuring its succulent ices of chicken that are delightfully glazen in this classic teriyaki sauce.
Garlic Chili Tofu – A harmony of flavors that you can have here at Garlic Chili Tofu that features silky and soft tofu that is finely coated with savory garlic chili sauce.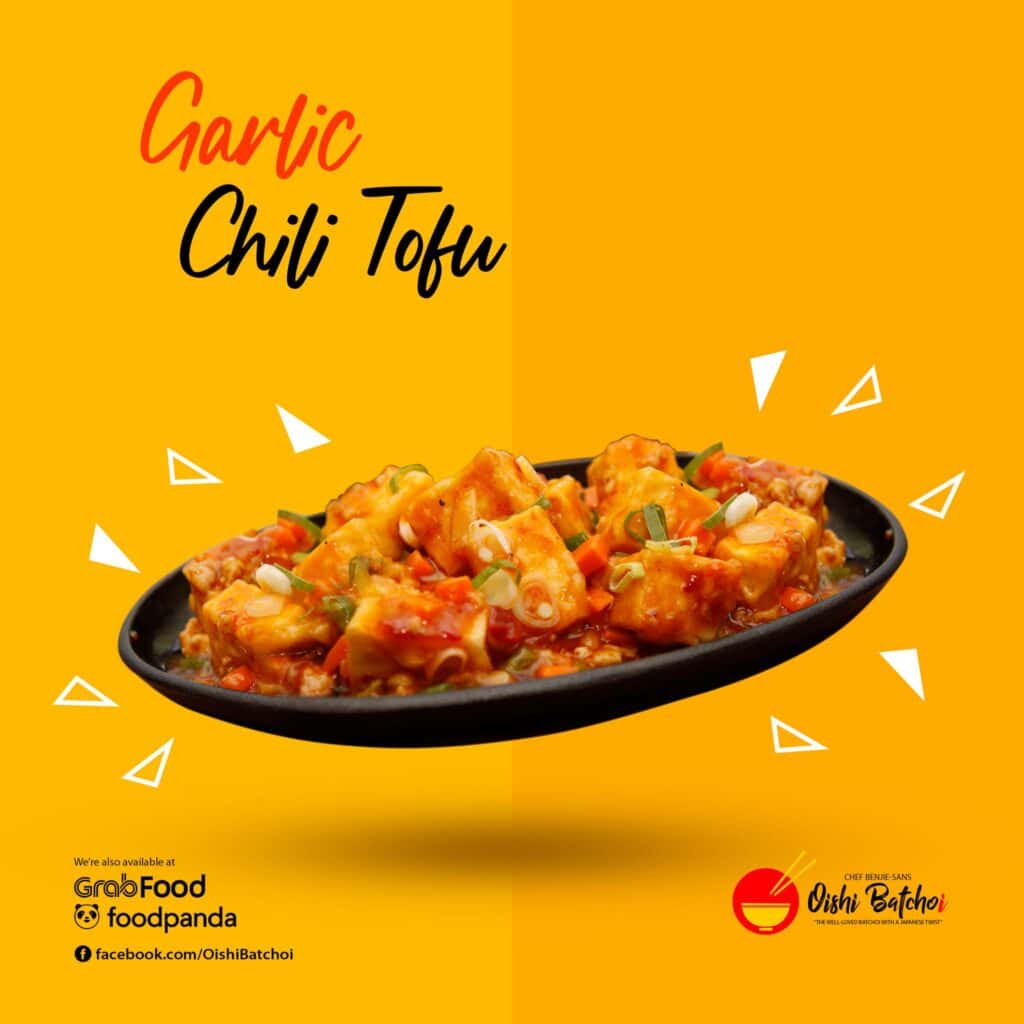 Salmon Sashimi – Experience the simplicity and sophistication here at their plate of Salmon Sashimi. This sashimi features a delicate slice of lemon that is served with soy sauce to fully elevate the flavorful bite that you will surely love.
Donburi & Rice
A section that offers a wide array of comforting Japanese rice plates featuring the brimming in flavor Chickendon and other familiar dishes that are considered safe options for your first-time dining.
Chahan – Starting this collection with this iconic Japanese fried rice. It has the fluffy texture of rice giving you a savory blend of ingredients and spices. A perfect rice for all of their entrees.
Chickendon – The comfort this Chickendon can give is something you need to try especially if you are looking for a fulfilling meal. It has tender pieces of chicken that are served on top of steaming in an aromatic bed of rice.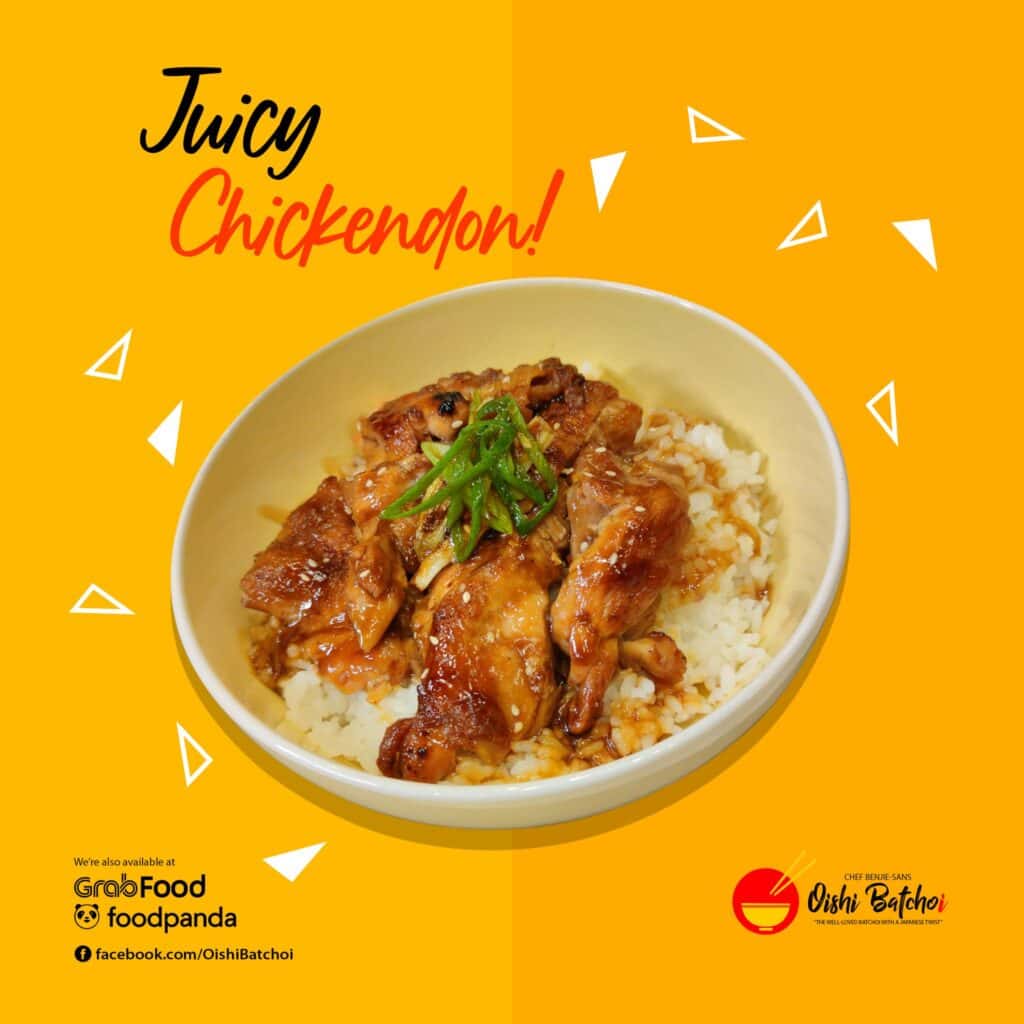 Salmon Chahan – You will surely be delighted with this delightful twist of seafood meal that features fried rice with a richness of flavor of salmon giving you the right aroma and flavors. A perfect dish for every seafood enthusiast.
Gomoku Chahan – This fried rice is packed with a medley of veggies made without roasted pork. It is a very ideal option for everyone who is looking for a healthier way of eating.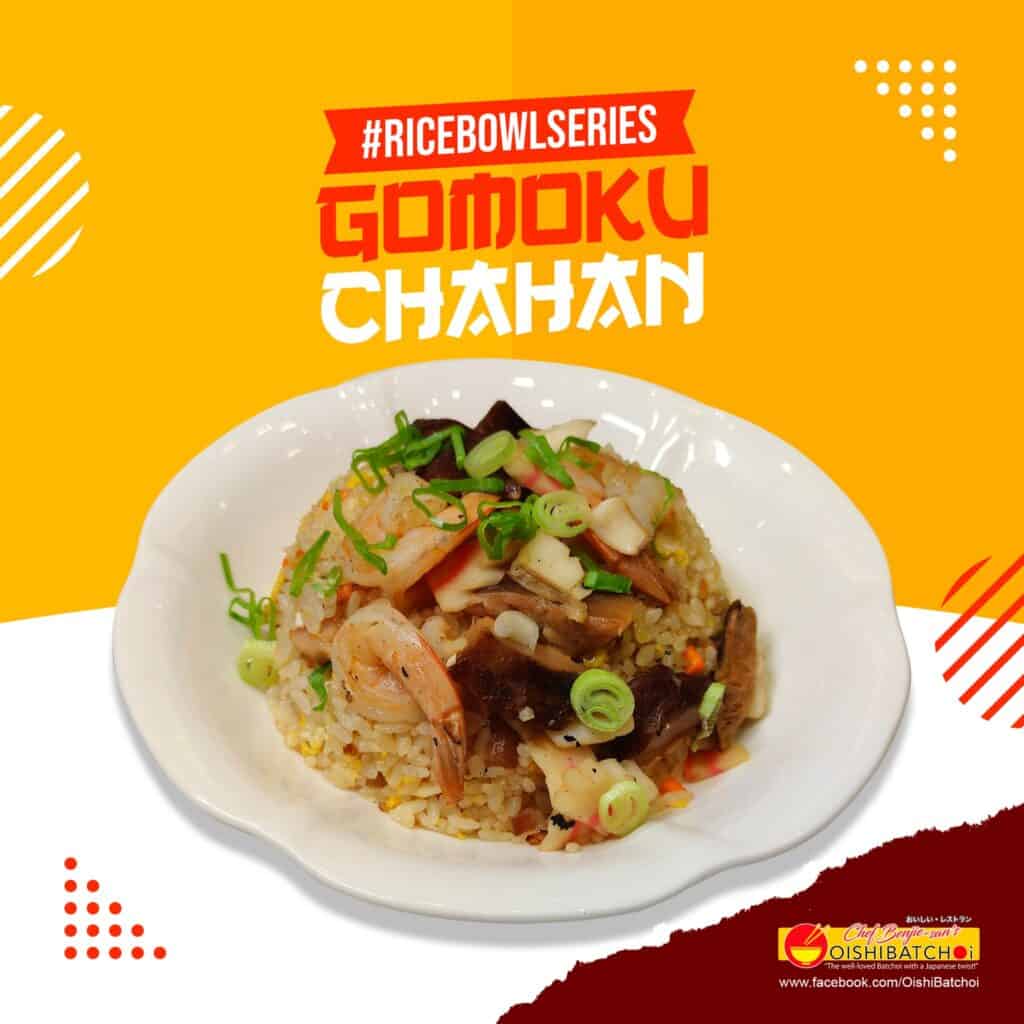 Oishi Batchoi Menu Delivery
Craving for these Japanese delights but you don't have the luxury of time to have it your way out and visit the store? you can enjoy this delightful collection in the utmost comfort of your bed, you can order this through their third-party delivery apps such as FoodPanda or GrabFood. You can check at FoodPanda if you are part of the selected areas they are available and you can also check at Grabfood for long-distance areas.
Social Media Pages
Join them in the world of unforgettable flavors at Oishi Batchoi. Follow their social media pages for a daily dose of deliciousness that will leave you craving more.
Facebook: https://www.facebook.com/OishiBatchoi
Instagram: https://www.instagram.com/oishibatchoiofficial
Frequently Asked Questions
What type of cuisine does the Oishi Batchoi offer?
Oishi Batchoi offers an enticing Japanese collection featuring the finest flavors of their Noodles and Donburi rice bowls. They also offer Ippin Ryori collections as well as their exciting appetizers.
What is the Oishi Batchoi known for?
Oishi Batchoi is famously known for their iconic Original Miso Batchoi as well as their Katsudon and Gyudon which are some of the reasons why people kept coming back for more.
What are the operating hours of Oishi Batchoi?
Oishi Batchoi is at your service from 11 AM until 8 PM from Monday to Sunday.
Where is the Oishi Batchoi located in the Philippines?
Oishi Batchoi is available in selected SM Malls such as SM City Sta. Rosa, and at Level 3 3062 1 2 Festival Mall Corporate Avenue FCC Alabang 1st District, 1781 Muntinlupa City.
Conclusion
In conclusion, Oishi Batchoi is more than just your typical Japanese restaurant, it is a celebration of authenticity and tradition. I love how their menu collections are not the type of meals you can commonly see in every Japanese restaurant. Their collection of Ippin Ryori and Noodles is definitely one of the trademarks of the restaurant, not to mention the savory and familiarity the Donburi & rice offer. One of their main bestsellers is Katsudon and Gyudon which comes with no surprise as they offer the authentic and comforting bite you need that will surely make your day. Aside from the food they do provide a welcoming space for your date, gatherings, and family dining.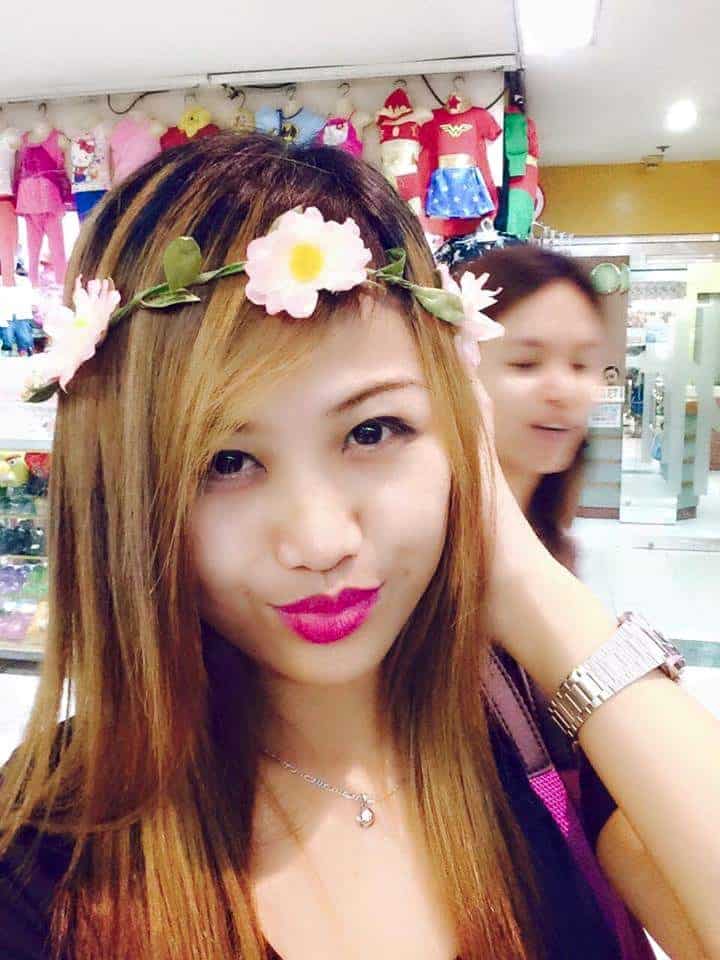 Hello! I'm Shaoyeu Cassandra, a mom who spends most of my time at home, and when I'm not busy, I enjoy writing blogs. I live in Cavite, and I really love talking about the menus of different restaurants.
So, I decided to share my thoughts on the menus of some fast-food places. I'm hoping my take on them can be like a helpful guide for you to decide what tasty treat to go for next. I hope you discover something you really enjoy! Thanks for stopping by!