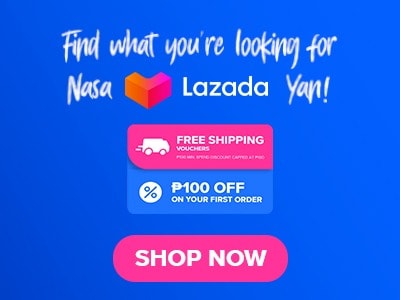 Step into a world filled with harmonious taste, and unique dining with a musical twist. Playlist Cafe is home to hearty meals that offer various tastes and flavorful meals such as their ala Carte specials, Salads, and hearty pasta. There is definitely so much to love in this restaurant and gives you more reason to love them so keep reading and let us make flavorful memories here in Playlist Cafe here is the menu collection you are looking for.
Menu Items
Price (PHP)

Soup

Soup of the Day
90

Salad

Asian Salad
120
Caesar Salad
120
Garden Salad
120

Top Hits Ala Carte Special

T-bone Steak
390
Roast Beef w/ mushroom sauce
390
Playlist Baked Beef Stew
390
Baked Pork Belly
550
Lechon Kawali
550
Shanghai Rolls
280
Signature Fried Chicken
580
Hainanese Chicken
380
Binagoongang Pork Belly
550
Crispy Pata
750

Dessert

Tempura Ice Cream
120
Coffee Jelly
90
Halo-Halo Delight
90

Extras

White Rice
25
Fried Rice
25
Mashed Potato
45
Garlic Bread
25

On The Wings Of Love

1/2 DOZEN
180
1 DOZEN
350
1 BUCKET
680

Appetizers Radio

Playlist Burger & Fries
190
Fil-Mex Nachos
180
Box-Office Cheese Fries
280
Garlic Parmesan Fries
180
Just Fries
160
Corn Dog 1pc
70
Corn Dog 3pcs
200
Corn Dog 5pcs
300

All Day Breakfast

S. Fried Chicken
140
Beef Tapa
130
Pulled Pork Adobo
130
Chicken Pork Tocino
110

Continental

Chicken Caesar
110
Ham and Cheese
110
Tuna Madness
110

Pasta

Creamy Carbonara
150
Pesto
150
Spaghetti Bolognese
150
Oriental Spaghetti
150
Baked Lasagna
150
Baked Penne Pasta
150

Coffee

Americano Hot
90
Cafe Mocha Hot
100
Cafe Latte Hot
100
Cappuccino Hot
100
Spanish Latte Hot
110
Caramel Macchiato Hot
110
French Latte Hot
110
Americano Iced
120
Cafe Mocha Iced
130
Cafe Latte Iced
130
Cappuccino Iced
130
Spanish Latte Iced
140
Caramel Macchiato Iced
140
French Latte Iced
140

Milkshakes

Strawberry Shortcake
130
Blueberry Cheesecake
130
Kiwi Madness
130

Milktea

Red Velvet
130
Okinawa
130
Hokkaido
130
About Playlist Cafe
Playlist Cafe is a casual dining restaurant that specializes in various hearty meals and comfort foods that are perfect for various cravings. Their menu is filled with choices of ala carte meals, Soups, salads, Pasta, and varieties of coffee and quick bites that are perfect for your daily boost. Another thing to enjoy in this restaurant is their entertaining dining with bands and music you can surely enjoy.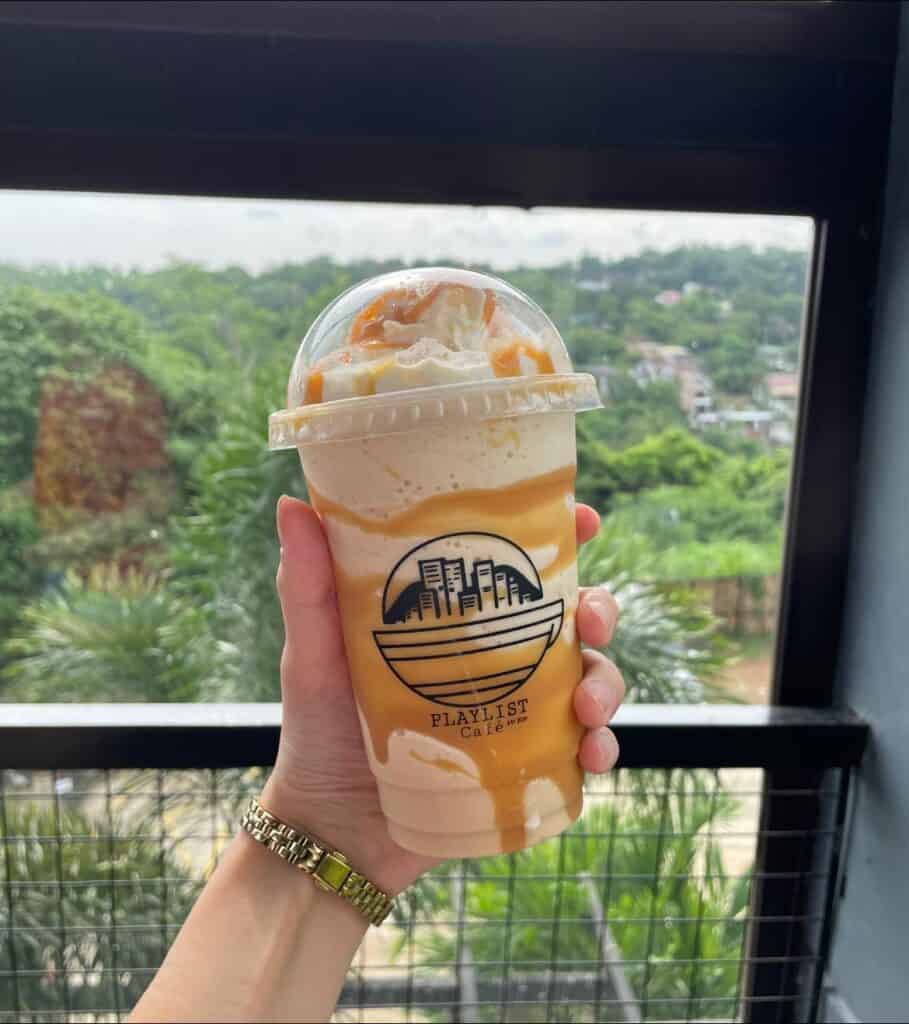 Playlist Cafe Menu Best Seller
Now for the most awaited part! This collection shares with you the top five best-selling dishes at Playlist Cafe and also the best options for your first-time dine-in.
T-Bone Steak – This meaty dish offers you the culinary masterpiece you're looking for in a meal. It features a perfect cut of tender filet mignon and a very rich flavorful strip steak that is grilled into the finest perfection offering you the mouth-watering delight you're looking for.
Baked Pork Belly – Indulge your taste buds with this savory dish that offers succulent pork that is perfectly seasoned featuring the masterpieces of irresistibly crispy pork belly that is so tender in every bite.
Lechon Kawali – This pinoy classic menu of Playlist Cafe is what always comes into our mind every time we hear a crispy pork perfection. It has incredibly tender pork belly chunks perfect with its sauce giving you harmonious flavors and mouth-watering textures.
Playlist Baked Beef Stew – Prepare to be serenaded with this hearty dish that offers a comforting medley of Playlist Baked Beef Stew. The aroma it gives is to die for while serving the cooked packed with rich stew that will surely be one of your favorites on this menu.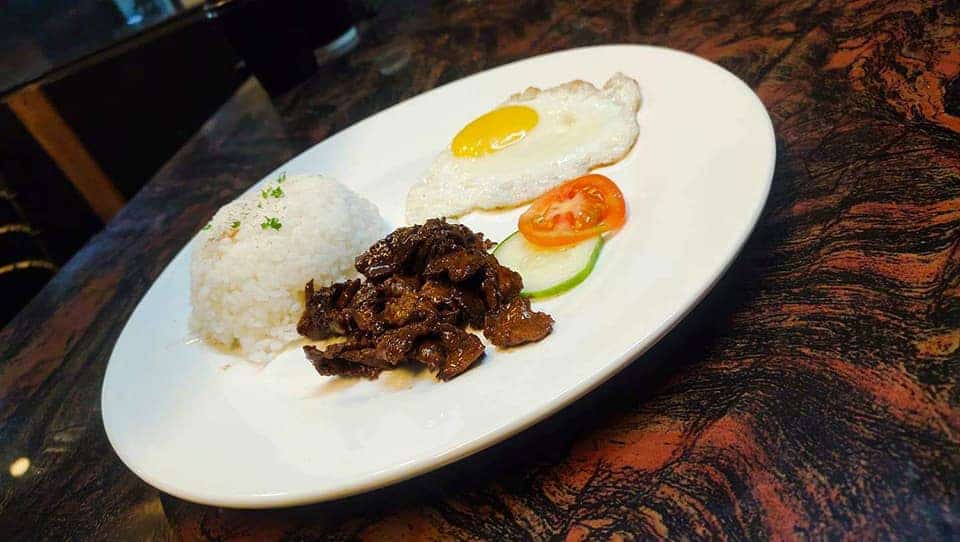 Hainanese Chicken – A beloved Asian delicacy is now here for you to savor. It offers a tender poached chicken that is served with various Asian herbs and spices giving you a very aromatic dish.
On the Wings of Love
As poetic as the name itself, this menu collection of Playlist Cafe offers you the finest crispiness and the quality goodness of succulent chicken wings that are coated and glazed with various sauces for a flavorful journey.
Korean BBQ – This flavor highlights the best flavors of South Korea and offers a well-marinated chicken that is sizzling with aroma and smoky flavors.
Garlic Parmesan – This garlic parmesan highlights the perfect blend of savory and creamy you don't want to miss. It has a flavorful glaze of garlic and grated parmesan cheese giving you rich and comforting juicy bites.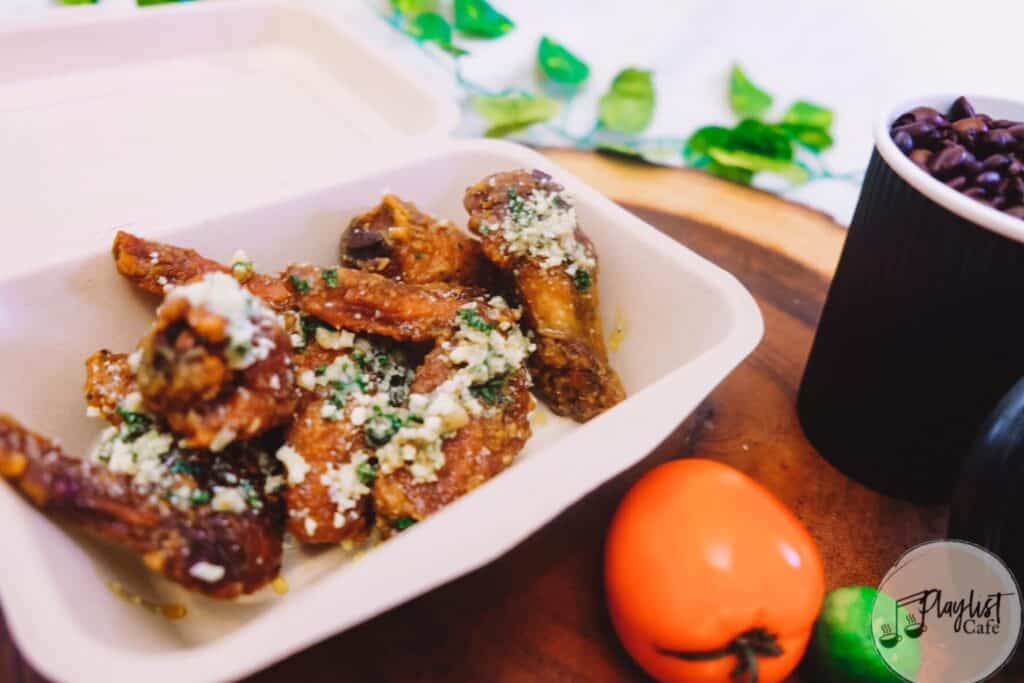 Wild Buffalo – As bold as it can get, these fiery chicken wings offer you an extra spice for your table. It combines with tangy and spicy buffalo sauce that has a balanced tanginess with the spicy kick you don't want to miss.
Salted Egg – A flavorful salted egg that offers a unique and exciting experience highlighting a tender chicken on a velvety sauce made from salted egg yolk with a touch of buttery and spicy kick.
Southern Style – Let us bring the goodness of Southern Style chicken to your plate with these chicken wings that are packed with various seasonings and spices including paprika peppers and garlic powder for an extra flavorful kick!
Pasta
Let us take a flavorful trip of the best Italian pasta to your table in this heavy collection of premium Italian Pasta that offers you various savory and creamy textures.
Creamy Carbonara – The velvety mix in this pasta offers you the fine symphony of eggs, cheese, and pancetta along with black pepper for you to savor the highest level of creaminess without giving you the umay feeling.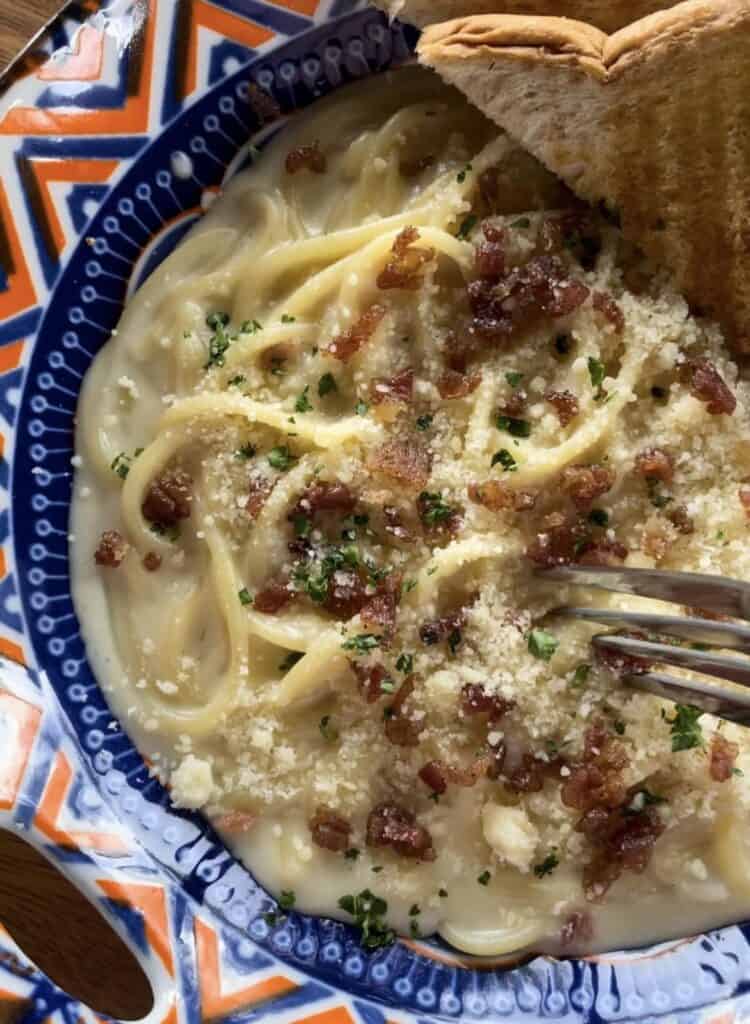 Spaghetti Bolognese – The richness and the save sauce you don't want to miss is here to serve you this perfectly cooked spaghetti that has a balance of sweetness and savory feeling. Personally, I recommend this menu of Playlist Cafe for people who love unique spaghetti.
Oriental Spaghetti – An exotic twist but something you will love is here to give you an Asian-inspired flavor of pasta highlighting various ingredients and the best of the Asian spices.
Pesto – One of the highly recommended pasta in this collection that highlights a fragrant fusion of basil along with garlic, olive oil, and pine nuts topped with parmesan cheese.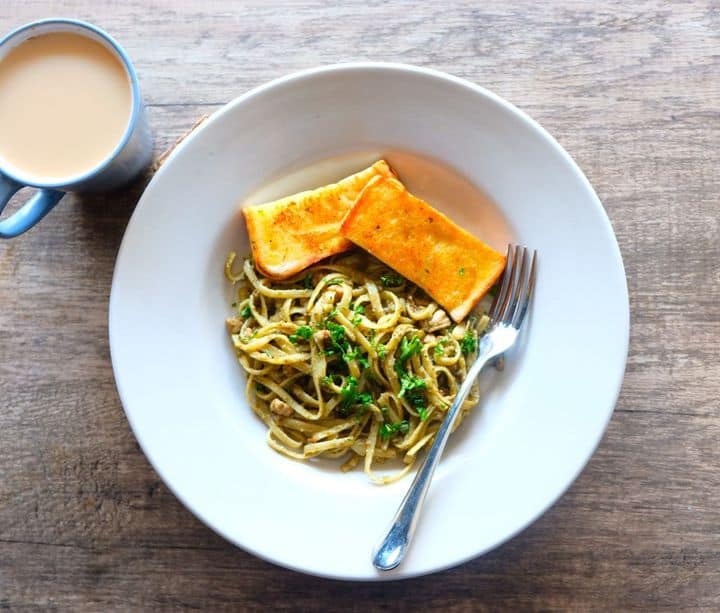 Baked Lasagna – This lasagna offers you magnifying layers of the goodness of rich meat sauce along with sauce and melted cheese that are absolutely baked to the finest perfection.
Are They Available Online?
As of now, Playlist Cafe is more committed to serving you the finest experience with good quality dining and an entertaining atmosphere inside their restaurant. They don't offer delivery service as they want you to enjoy and dine at their table while enjoying the flavorful symphony of both the food and the music at Playlist Cafe.
Social Media Accounts
Craving a unique dining experience with a side of soulful tunes? Look no further than Playlist Cafe! Hit that follow button to unlock a world of flavor and music. As loyal followers, you're in for a treat.
Facebook: https://www.facebook.com/playlistantipolo
Instagram: https://www.instagram.com/playlistcafeantipolo
FAQs
What type of cuisine does Playlist Cafe offer?
Playlist Cef offers you a comforting collection of food that is perfect to bring an extra boost to your day. Their menu features various salads, ala carte, pasta, chicken wings, and many more.
What is Playlist Cafe known for?
Playlist Cafe is known for its flavorful ala Carte that is considered a Top Hit on its menu.
What are the operating hours of Playlist Cafe?
They operate from 10 AM until 10 PM. They are closed every Monday and open for the rest of the week.
Where is Playlist Cafe located in the Philippines?
Blk 16 Lt 18, Sierra Madre st, Grand heights Subd, Brgy. San Roque, Antipolo City , Antipolo, Philippines
Where can I reach them?
You can hop a call through their contact number at +63 917 116 8173.
Conclusion
In conclusion, this restaurant deserves to be recognized by more people. Their staff is very entertaining not to mention how well-curated their interior design is from the exterior to the interior decoration. You can perfectly enjoy your food with quality dining and music along with bands that are playing along while you enjoy your hearty meals and their flavorful menu. The quality of the food is top-notch and it won't surely be my last visit.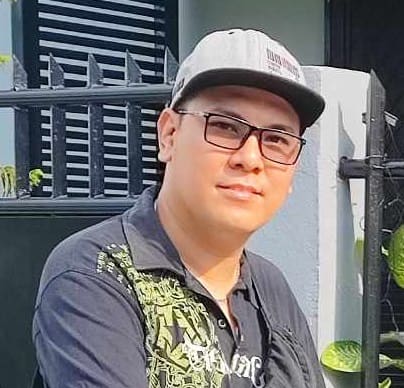 Hi! I'm Nivek Strife, the person who made MenuPH. I'm the one who added most of the popular menus you see on this website, and I really hope you enjoy them! Feel free to check them all out.
Growing up, I was surrounded by lots of tasty foods, like the classic Adobo and the sweet Leche Flan. That love for the many flavors of the Philippines is what got me excited about adding to MenuPH. When I learned how to make websites, I saw the need for a place to show off all the amazing Filipino dishes, and that's how MenuPH started.
MenuPH isn't just a website; it's like a fun journey into food. I've teamed up with famous chefs and found great places all over the Philippines to bring you a bunch of menus that show off the best of Filipino cuisine. Whether you're into the usual dishes or new twists, MenuPH is here to guide you through the rich world of Filipino flavors.
With MenuPH, my aim is to help local businesses, talk about good food choices, and make a group of friends who love food. No matter if you like fancy restaurants or street food, MenuPH has something for you. Come join me on this food adventure as we find great places, taste real flavors, and enjoy the unique food traditions that make the Philippines awesome.