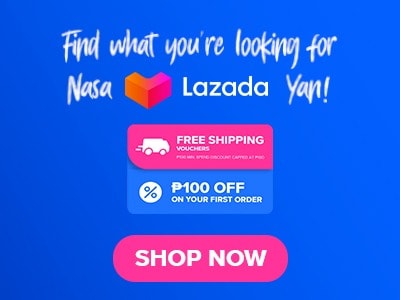 Dimsum Break is a special place where you can enjoy yummy Chinese bites and other tasty Asian snacks. It's like finding a big box of deliciousness made just for people who like smaller portions. This popular place to eat in the Philippines is really proud of all the favorite Chinese dishes they serve, like siomai, hakaw, spring rolls, and dumplings. These are like little bites of goodness that lots of people love. Whether you enjoy the regular dim sum flavors or want to try something new, Dimsum Break is the perfect choice. They have good prices, and you get a bunch of tasty food to share with your friends and family. It's a great spot for having a fun time and enjoying yummy food together. If you're curious about Dimsum Break's menu, which includes siomai, hakaw, spring rolls, dumplings, and other delicious items, you can take a closer look and learn about all the tasty options they offer!
Below, you'll find the updated list of Dimsum Break menu prices.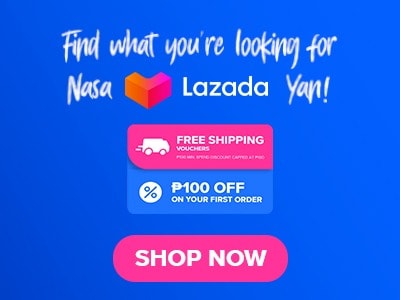 Menu Items
Price (PHP)

Oriental Value Meals

Oriental Value Meal 1 - Steamed Fried Rice
146
Oriental Value Meal 2 - Steamed Fish
216
Oriental Value Meal 3 - Fried Chicken
228
Oriental Value Meal 4 - Shaomai & Lumpiang Shanghai
240

Rice Pots

Steamed Fried Rice
122
Spicy Steamed Fried Rice
122
Crispy Fish Rice
144
Steamed Chicken Rice
144
Steamed Pai Kuat Rice
144

Soups & Noodles

Lomi
106
Beef Sate Noodles
106
Wanton Noodle Soup
125
Oriental Soy Noodles with Spring Rolls
130
Oriental Soy Noodles with Shaomai
118
Oriental Soy Noodles with Vegetable Dumplings
118

Steamed Dimsum

Shaomai
139
Mushroom Shaomai
119
Bacon Shaomai
109
Chicken Feet
119
Steamed Chicken
114
Spicy Shaomai
119
Mandunggo
109
Empress Roll
110
Steamed Pai Kuat
111
Steamed Fish
113

Fried Dimsum

Spring Rolls
118
Sweet & Sthis Pork
117
Fried Shrimp Balls
117
Shrimp Toast
116
Garlic Pork
123
Vegetable Spring Rolls
112
Fried Wanton
109
Beef Spring Rolls
112
Sweet & Sour Fish
112
Crab Pincers
126
Vegetable Dumplings
91

Vegetables & Salads

Radish Salad
97
Cucumber Salad
97
Garlic Vegetables
97

Shaopao

Bola-bola Mini Size
55
Bola-bola Regular Size
89
Pork Asado Mini Size
55
Pork Asado Regular Size
89
Chopao Mini Choco Pao
55

Dessert

Buchi
99
Choco Bavarian Creme
99
Mango Fruit Cream
99
Leche Flan
99
Buko Pandan
99
Ube Xie Ping
99

Drinks

Mineral Water
68
Iced Tea
85
Pineapple Juice
85
Sprite
100
Coke
100
Coke Zero
100
About Dimsum Break
Dimsum Break is a popular food chain in the Philippines that specializes in serving a wide variety of Chinese dim sum and other Asian delicacies. This restaurant was founded in 1996 and has since become a favorite go-to place for delicious and affordable dim sum dishes for both locals and tourists in the Philippines. Overall, Dimsum Break is known for its consistent quality, flavorful dishes, and generous serving sizes, making it a favorite spot for casual dining with family and friends.
Dimsum Break Menu Best Seller
This menu is filled with a wide variety of dim sum items that are mostly ordered by visiting customers at Dimsum Break.
Shaomai – These dumplings are filled with a delicious mixture of well-seasoned ground pork and shrimp and then wrapped in thin and delicate dumpling wrappers. The shaomai is steamed to perfection, resulting in tender and juicy dumplings that burst with umami flavors making it a must-try for dim sum lovers.
Mandunggo – This unique and tasty dish combines the flavors of traditional Chinese and Filipino cuisines. The mandunggo features tender pieces of chicken marinated in a blend of Chinese spices and infused with the distinct flavors of annatto, giving it a vibrant and appetizing color.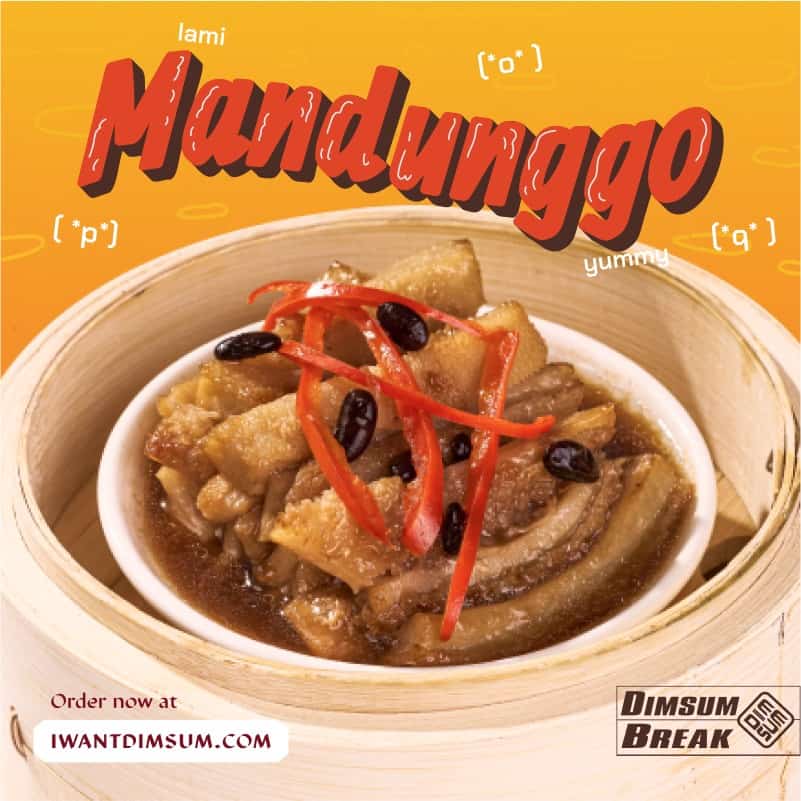 Empress Roll – It is an enjoyable and satisfying treat that features a crispy spring roll wrapper filled with a savory mixture of ground pork and vegetables. The roll is deep-fried to a golden brown, creating a treat with a crispy texture and well-balanced taste.
Spring Rolls – These rolls menu of Dimsum Break are filled with a combination of vegetables and meat that are expertly wrapped in a delicate spring roll wrapper and then deep-fried to crisp and golden perfection. They are then served with a dipping sauce enhancing the flavors and making them a delicious and satisfying start to any dim sum meal.
Garlic Pork – The garlic pork at Dimsum Break is a savory and aromatic dish that features tender and juicy pieces of pork that are marinated in a flavorful garlic sauce. The strong garlic flavor adds a comforting taste to this dish which makes this dish a favorite among garlic lovers.
Oriental Value Meals
This menu is made up of oriental value meals that are known for their flavors and budget-friendly prices.
Steamed Fish – It is a light and healthy dish that showcases the natural flavors of a fish that was steamed to preserve its tenderness and freshness and seasoned with flavorful herbs and spices. It is served with a savory soy-based sauce and topped with fresh herbs making it a delicious option for those that are looking for a lighter dim sum choice.
Fried Chicken – This chicken dish is marinated with a blend of spices, ensuring that each bite that the customers take is bursting with deliciousness. This dish is an excellent addition to any dim sum spread, especially for those who crave the comforting taste of fried chicken.
Shaomai & Lumpiang Shanghai – When you try the Shaomai and Lumpiang Shanghai from the Dimsum Break menu, you're in for a tasty treat that combines different textures and flavors. These bite-sized delights come with special dipping sauces that add even more yumminess. It's a popular choice among diners because it brings a delicious variety to your dim sum experience at Dimsum Break.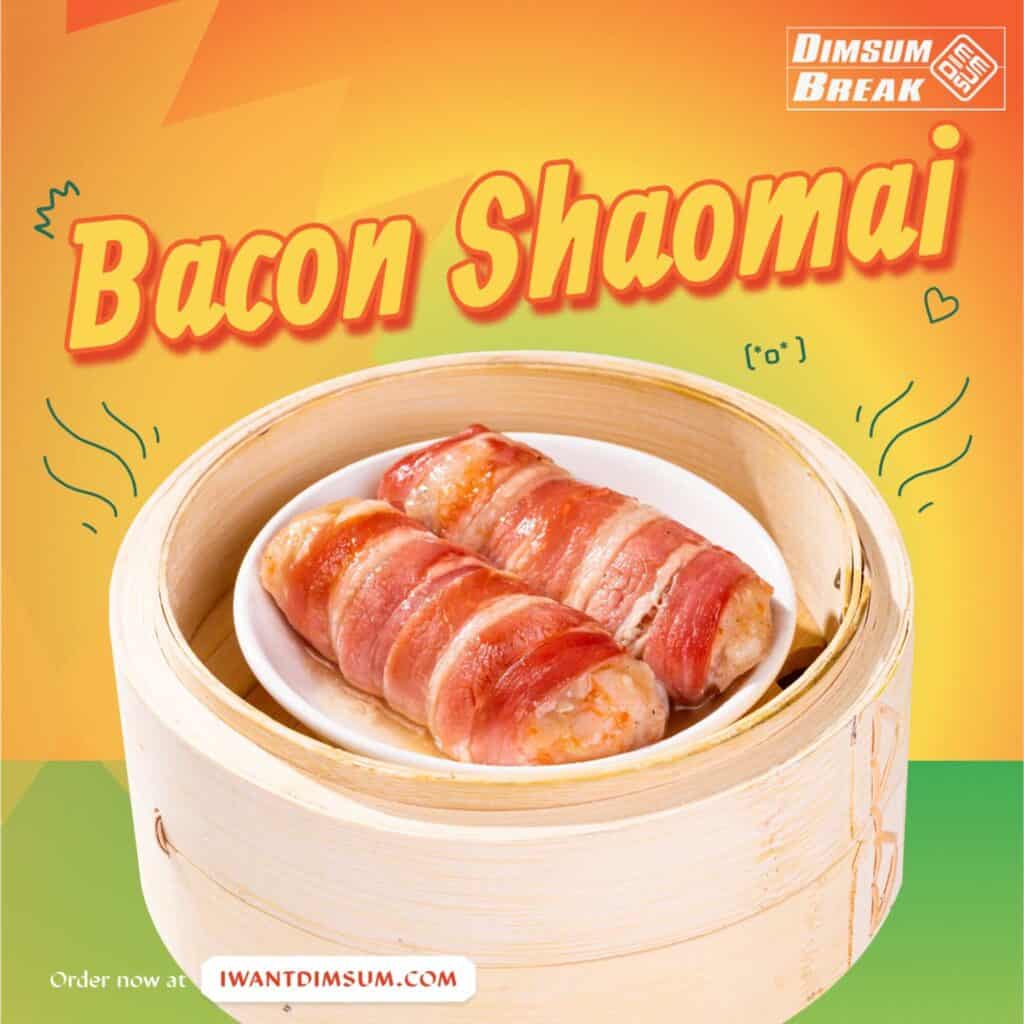 Rice Pots
This menu is filled with a wide variety of rice dishes that aren't missed in any Chinese meal.
Spicy Steamed Fried Rice -This Dimsum Break menu features steamed rice cooked to perfection, combined with a medley of aromatic spices and vegetables. The addition of tender pieces of meat, such as chicken or pork, adds a savory element to the dish. The highlight of this dish is the subtle kick of spiciness, making it a perfect choice for those who enjoy a bit of heat in their meals.
Crispy Fish Rice – The dish features crispy-fried fish fillets, perfectly cooked to achieve a golden and crunchy exterior while maintaining the flaky interior of the fish. These fish fillets have the perfect crispy texture and are served with steamed rice which absorbs the flavors of the fish and its sauces.
Steamed Chicken Rice – In this dish, tender pieces of steamed chicken are served on a bed of fluffy, fragrant rice cooked with chicken broth, giving the rice a rich and savory flavor. This dish is accompanied by a side of dipping sauce, such as soy sauce or chili sauce, to enhance the taste of the chicken and rice.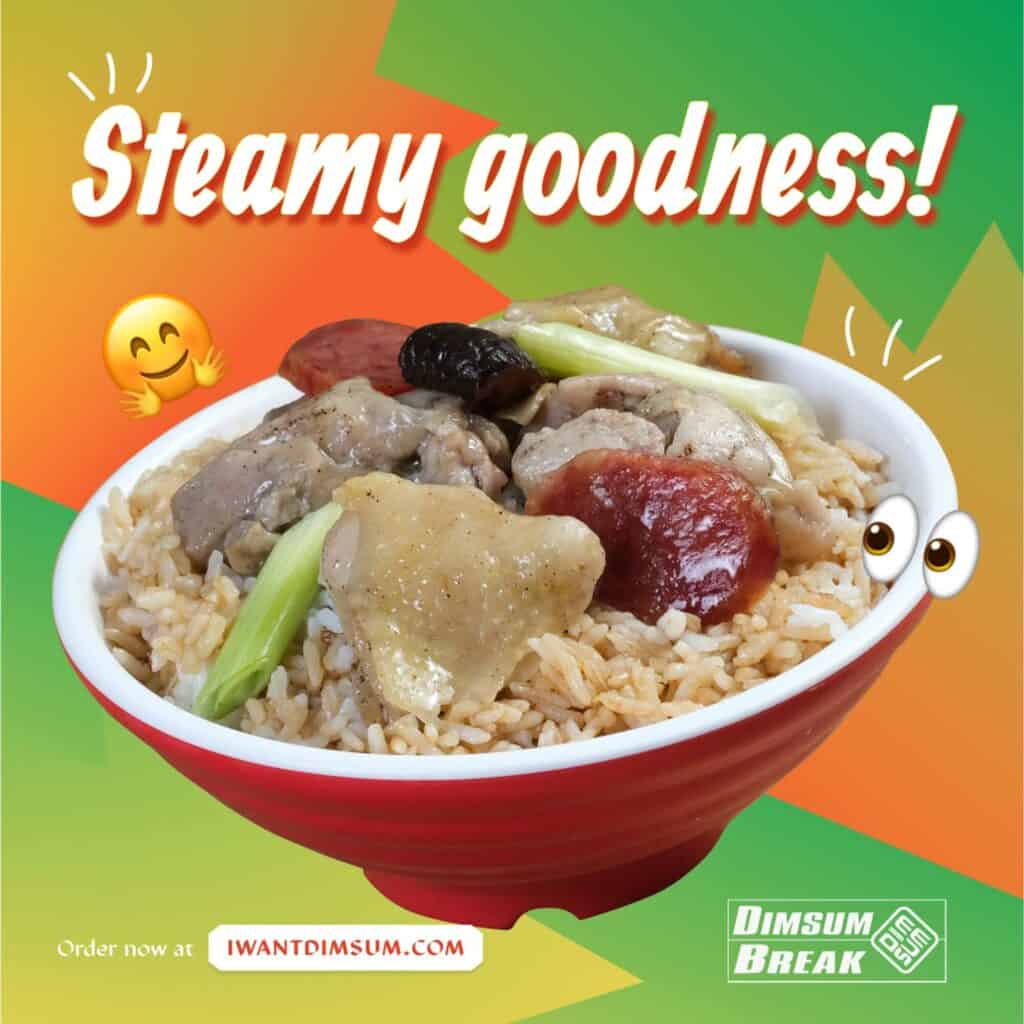 Soups & Noodles
On this menu, you'll find a bunch of Asian dishes that make you feel warm and happy inside. Think of a bowl full of delicious soups and noodles that taste really good. These dishes are like a special hug for your tummy! Some examples of these tasty dishes include lomi, which is a type of noodle soup, and oriental soy noodles with spring rolls, vegetable dumplings, beef sate, and shaomai. These might sound like big words, but they're just different ways of making noodles taste extra yummy. It's like a secret recipe from faraway places! So, if you want to try something that feels like a warm and tasty hug, this menu is the perfect place to find it.
Fried Dimsum
The Fried Dimsum menu of Dimsum Break is like a treasure box full of delicious small bites that are cooked until they're just right – crispy and tasty! These treats are so enjoyable to eat and they come in small sizes that you can easily munch on. It's like having a little party in your mouth! Some examples of these yummy bites include spring rolls, which are like crispy packages filled with tasty stuff, sweet & sour pork that's tangy and savory, fried shrimp balls that are crunchy and yummy, and garlic pork that's flavorful and savory. There's also fried wanton, which is like a crispy pouch with something delicious inside, and sweet and sour fish that's a mix of flavors. Don't miss out on trying crab pincers that are crunchy and shrimp toast that's like a crispy sandwich. For those who love veggies, there are vegetable spring rolls and beef spring rolls – they're like crunchy wraps with tasty fillings.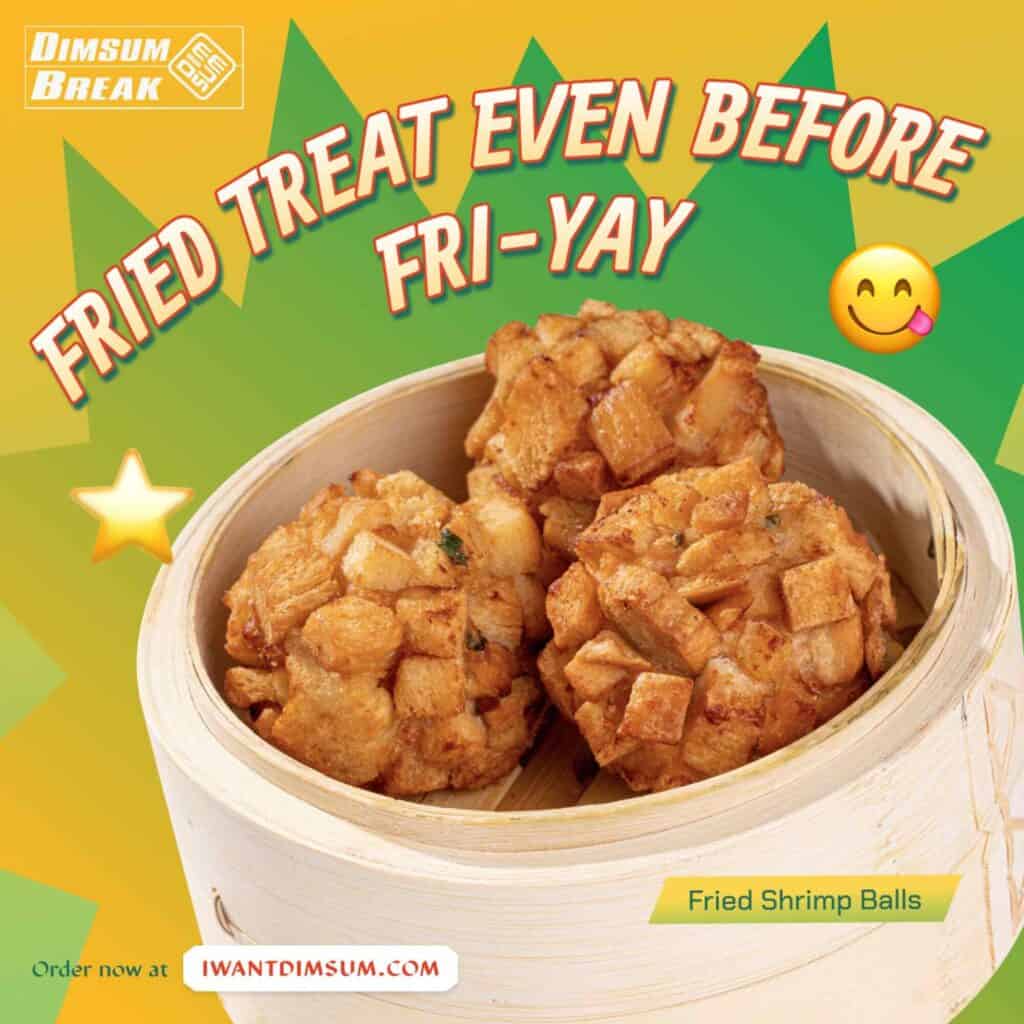 Dimsum Break Menu Delivery
Dimsum Break wanted to make things super convenient, so they brought their menu right to people's phones! With this option, you can use your mobile phone to check out all the delicious food on Dimsum Break's menu and even place an order. How? Well, there's a cool app called FoodPanda that can help you out. Just get the app and install it on your phone. Then, open it up and search for the nearest Dimsum Break. Once you find it, you can start picking out your favorites and place your order right there. It's like having Dimsum Break's menu right in your pocket!
Social Media Pages
Get ready to be wowed by their innovative creations, insider cooking tips, and sneak peeks into their dim sum haven. Follow them for a daily dose of dim sum inspiration, and be the first to know about their special offers, limited-time delights, and dim sum galore. Check out the links below:
Facebook: https://www.facebook.com/DimsumBreak/
Instagram: https://www.instagram.com/dimsumbreak/
TikTok: https://www.tiktok.com/@dimsumbreakph
Twitter: https://twitter.com/DimsumBreak
Website: https://harbourcitydimsum.com/page/contact
FAQs
What types of dim sum dishes does Dimsum Break offer?
Dimsum Break offers a wide variety of traditional and contemporary dim sum dishes which ensures that can enjoy a wide range of bite-sized treats.
Does Dimsum Break have any specialty dim sum items?
Yes, Dimsum Break does have some specialty dim sum items that set them apart from other dim sum restaurants.
Does Dimsum Break offer any promotions or discounts?
Yes, Dimsum Break does provide special promotions and discounts.
Can I request customization for certain dim sum dishes?
Yes, you can ask staff to customize your orders to fit your preference.
Does Dimsum Break offer any non-dim sum dishes?
Yes, Dimsum Break has a range of non-dim sum dishes that an average diner can enjoy.
Conclusion
Dimsum Break is one of the best places to go if you are looking to help yourself with a delicious set of dim sum items. This restaurant provides both locals and tourists with a wide variety of Chinese dim sum and other Asian delicacies ensuring that their menu can cater to the different tastes and preferences of each customer that visit. And with the warm and inviting ambiance of their establishment, there are no other things that customers could as for at Dimsum Break. So make sure to visit Dimsum Break for a satisfying and memorable dim sum experience.