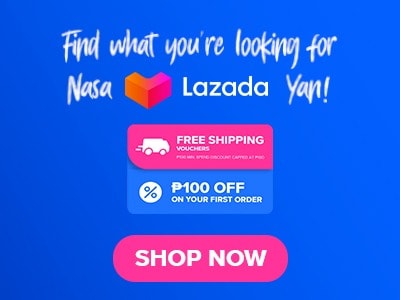 If you are looking forward to having a simple but memorable dining experience, there is no better place to visit than Chikaan. Chikaan is a Filipino restaurant that offers both locals and tourists a wide range of dishes that highlights the flavors of Filipino dishes and the cooking traditions of the Philippines. Its menu offers an authentic and memorable dining experience for all its guests by providing them with Filipino comfort foods and many local favorites.
Below, you'll find the updated list of Chikaan menu prices.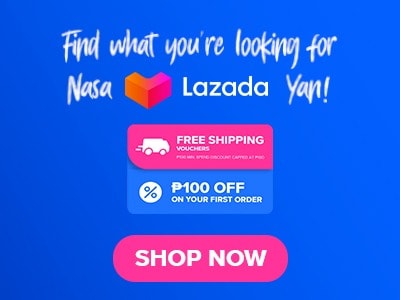 Menu Items
Price (PHP)

Salad

Green Mango with Bagoong
105
Ampalaya with Dilis
175
Salted Egg with Tomato Salad
125

Appetizers

Baked Scallops
230
Pork Sisig
225
Dinuguan
145
Lechon Sisig
275
Buttered Garlic Shrimp
275
Calamares
255
Sugba ug Kilaw
285
Kinilaw na Tuna with Pepino
205

Soup

Mongo Soup
200
Utan Bisaya
195
Chicken Hinalang
305

Sinigang

Sinigang - Shrimp
260

Pork

Grilled Pork Belly
185
Grilled Chorizo de Cebu
145
Lechon Kawali
259
Lumpia Shanghai
220
Pork BBQ
135

Chicken

Buttered Chicken
285
Chicken BBQ
135
Soy Glazed Fried Chicken
290
Rellenong Manok
305

Beef

Bistek Cebuano
325
Baka Caldereta
395
Kare-Kare
450

Seafood

Chili Garlic Tuna Belly
290
Camaron Rebosado
270
Grilled Tuna Belly
270
Spicy Shrimp in Coco Cream
255
Sizzling Crabmeat
200
Crab Relleno
195

Noodles

Pancit Guisado
225
Sotanghon Guisado
225
Bam-I Guisado
225

Sizzling

Tuna Belly
275
Bangus L
305

Vegetables

Pinakbet with Chicharon
175
Rellenong Talong
160
Adobong Kangkong
145
Bicol Express
140
Sizzling Spicy Talong
185
Gin. Kalabasa With Shrimp
225
Binagoongang Kangkong
155
Adobong Talong
195

Rice

Plain Rice
55
Garlic Rice
55

Dessert

Leche Flan
80
Biko With Latik
85

Drinks

Bottled Water
55
Coke Zero
90
Sprite
90
Royal
90
Coke
90
About Chikaan
Chikaan is a well-known Filipino restaurant that brings the flavors of the Visayas region to the table. It has several branches across the Philippines and is starting to get recognized for its authentic and delicious Filipino dishes that showcase the rich culinary heritage of the Visayan people. The restaurant takes its name from the Visayan word "chika," which means to chat or engage in friendly conversation. True to its name, Chikaan aims to create a warm and welcoming ambiance, making it an ideal place for friends and family to gather and enjoy delicious food together.
Chikaan Menu Best Seller
This menu is filled with the most popular dishes from Chikaan due to the unique twists that are added to them which makes them more exciting for many customers.
Rellenong Manok – It is a delicious dish that features a whole chicken stuffed with a flavorful mixture of ground meat, vegetables, and spices. The chicken is roasted to perfection, resulting in a crispy skin and juicy, tender meat, while its stuffing is well-seasoned which adds a burst of flavor to every bite.
Bistek Cebuano – Chikaan's Bistek Cebuano is a local version of the popular Filipino beef steak dish which features tender slices of beef marinated in a tangy and savory soy-calamansi sauce that helps infuse the meat with a burst of citrusy flavor. The Bistek Cebuano from Chikaan is a satisfying and comforting choice that pairs excellently with steamed rice.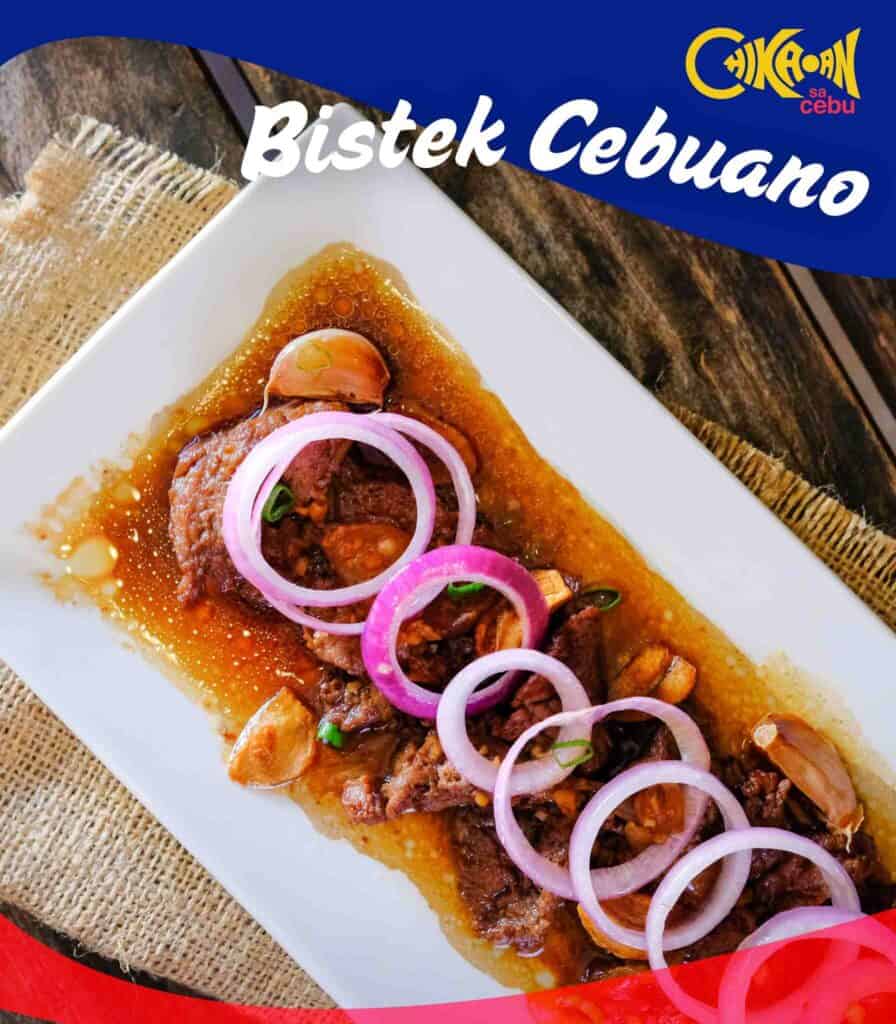 Baka Caldereta – It is a hearty and flavorful beef stew that boasts a rich tomato-based sauce and tender beef chunks that are generously smothered in a sauce with a hint of spiciness. The addition of vegetables like potatoes, bell peppers, and carrots adds both color and a satisfying crunch to the dish.
Grilled Tuna Belly – This tuna belly is marinated before being grilled to perfection, resulting in a dish with a smoky and charred exterior and succulent, juicy meat inside. It is served with a side of soy-vinegar dipping sauce making it a simple yet satisfying choice for seafood lovers that visit Chikaan.
Pinakbet with Chicharon – Chikaan's version of the popular dish pinakbet is a flavorful dish that combines various native vegetables like eggplant, okra, squash, and bitter gourd, sauteed in shrimp paste for a distinct taste. The addition of crispy chicharon adds a delightful crunch and indulgence to the dish, making it a perfect choice for vegetable and pork lovers.
Chikaan Pork Menu
This menu is filled with different kinds of pork dishes that are cooked traditionally but with slightly unique twists.
Grilled Pork Belly – It is a must-try dish that showcases the delicious simplicity of perfectly grilled pork that is marinated with flavorful herbs and spices. The dish is served with a side of vinegar dipping sauce, which complements the pork's natural flavors making it one of the crowd-pleasers at Chikaan that captures the essence of Filipino barbecue.
Grilled Chorizo de Cebu – The Chorizo de Cebu is a delightful addition to the menu, offering a taste of Cebu's famous sausage. It is made from premium-quality ingredients and a blend of spices giving each sausage a burst of flavor with rich and a slightly smoky taste.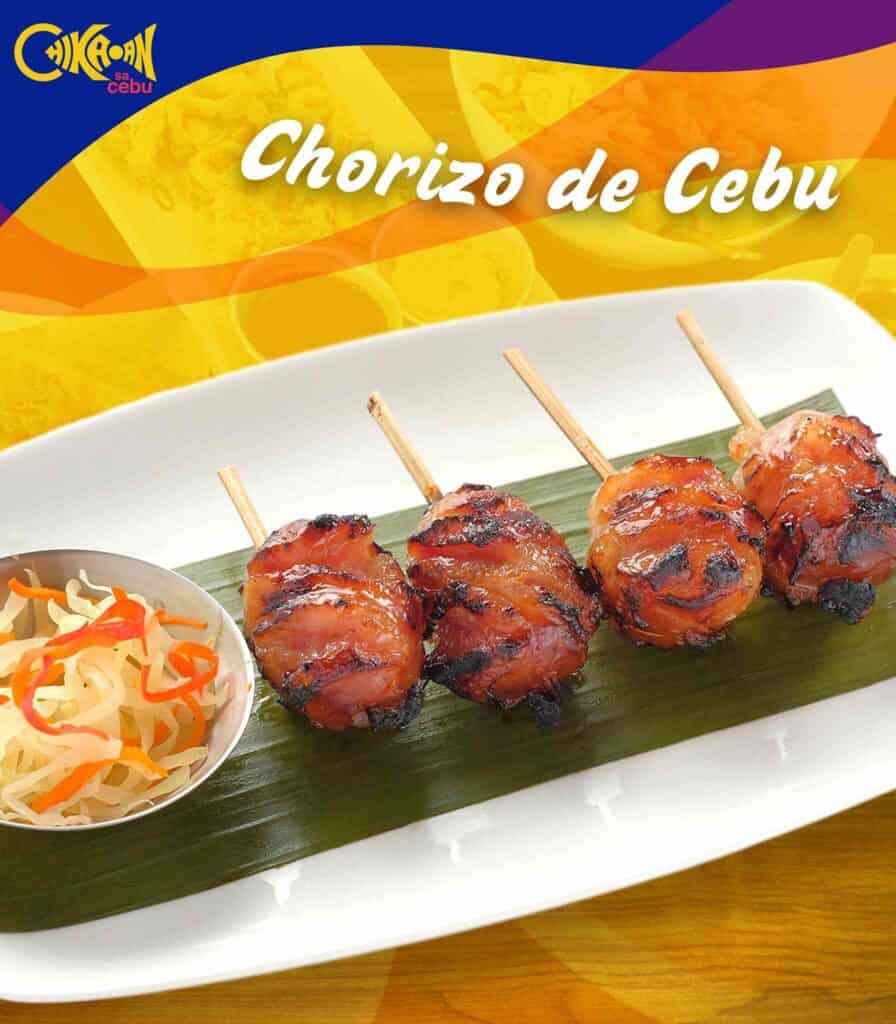 Lechon Kawali – The dish features a deep-fried pork belly, resulting in crispy golden skin and juicy, flavorful meat. The Lechon Kawali is traditionally served with a side of vinegar dipping sauce or a soy-vinegar mix for added tanginess.
Chicken
This menu is made up of different variations of chicken dishes that are also cooked traditionally with different twists making each one of them unique.
Buttered Chicken – This dish combines the tender and juicy chicken with a rich and flavorful buttery sauce resulting in a mouthwatering dish that offers a perfect balance of savory and buttery goodness making it a comforting and satisfying option that is sure to please both kids and adults alike.
Chicken BBQ – This Chikaan menu showcases the classic Filipino grilled chicken, known for its sweet and tangy marinade. The chicken is marinated in an array of spices and a sweet sauce that creates a unique flavor combination. It is then grilled to perfection which results in a chicken dish with tender and juicy meat with a slightly caramelized interior.
Soy Glazed Fried Chicken – This dish features a chicken coated with a savory soy-based glaze, which adds a delightful umami flavor to each bite. This dish offers a unique and enjoyable fusion of Asian flavors with the familiar comfort of fried chicken, which makes it a great choice for those that are looking for a satisfying meal.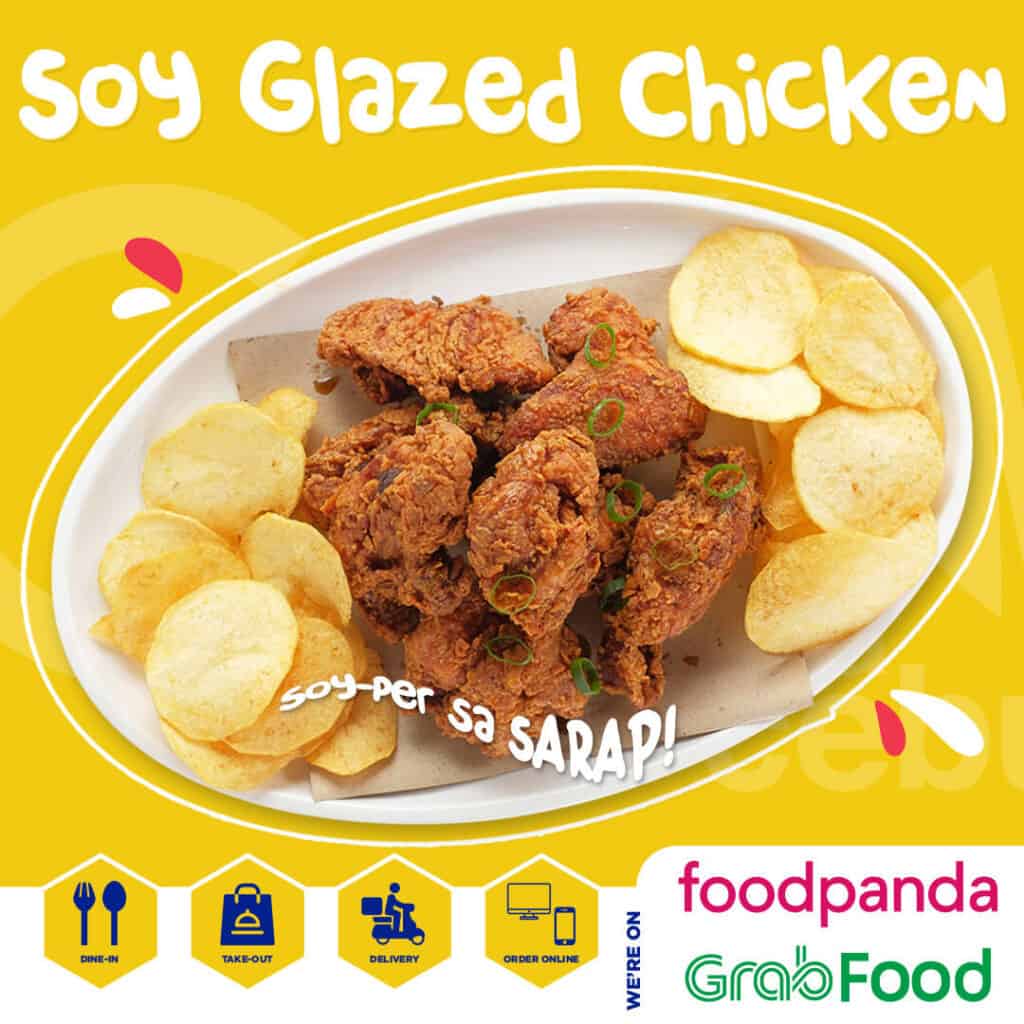 Beef
This menu of Chikaan has tasty beef dishes that are made the old-fashioned way. That means they're cooked like how people used to cook them, so they have a familiar and delicious taste. But here's the cool part: each dish has a little special something added to make it even more delicious and interesting. Check out these two dishes:
Bistek Cebuano – This is a special beef dish from Cebu, a place in the Philippines. It's like a tasty steak, but it's cooked in a way that's unique to that region. The beef is marinated to make it extra flavorful and tender, then it's cooked with onions and soy sauce. This gives it a really good and slightly tangy taste.
Baka Caldereta – A hearty and rich stew made with beef. That's what Baka Caldereta is! It's a comforting dish where beef is cooked slowly with tomatoes, potatoes, carrots, and sometimes even bell peppers. It's like a warm and cozy hug for your tummy, especially on a chilly day.
Chikaan Menu Appetizers
Chikaan has a bunch of appetizers that can make your meal really tasty and satisfying. These small dishes get your taste buds excited for your main meal. Let me tell you about a few of them:
Baked Scallops – Imagine tender scallops, plucked from the ocean and cooked with a touch of magic. They become tender and juicy, filled with flavors that make you want to dance with joy.
Pork Sisig – This dish is a symphony of textures and flavors. Small pieces of pork are transformed into crispy, savory bites, mixed with aromatic onions, zesty spices, and perhaps even a hint of tanginess that awakens your palate.
Dinuguan – An intriguing and flavorful concoction, dinuguan is a dish where pork meets pig's blood, creating a surprisingly rich and savory sauce. Don't let the name fool you – it's a culinary adventure worth trying.
Buttered Garlic Shrimp – Shrimp, those ocean treasures, are treated with care. They're cooked with butter and garlic, creating a mouthwatering melody of flavors that'll have you reaching for more.
Calamares – Delight in the crispy joy of calamares, which are essentially rings of squid that have been fried to perfection. They're wonderfully crunchy on the outside and tender on the inside, making for an irresistible bite.
Sugba ug Kilaw – Experience the best of both worlds with this dish. Grilled and raw fish join forces, mingling with special ingredients that create a fusion of flavors and textures that is both intriguing and delightful.
Kinilaw na Tuna with Pepino – Here's a dish that takes raw tuna and elevates it into a flavorful masterpiece. The tuna is marinated to perfection, becoming a canvas of taste, and then fresh cucumber (pepino) adds a refreshing crunch.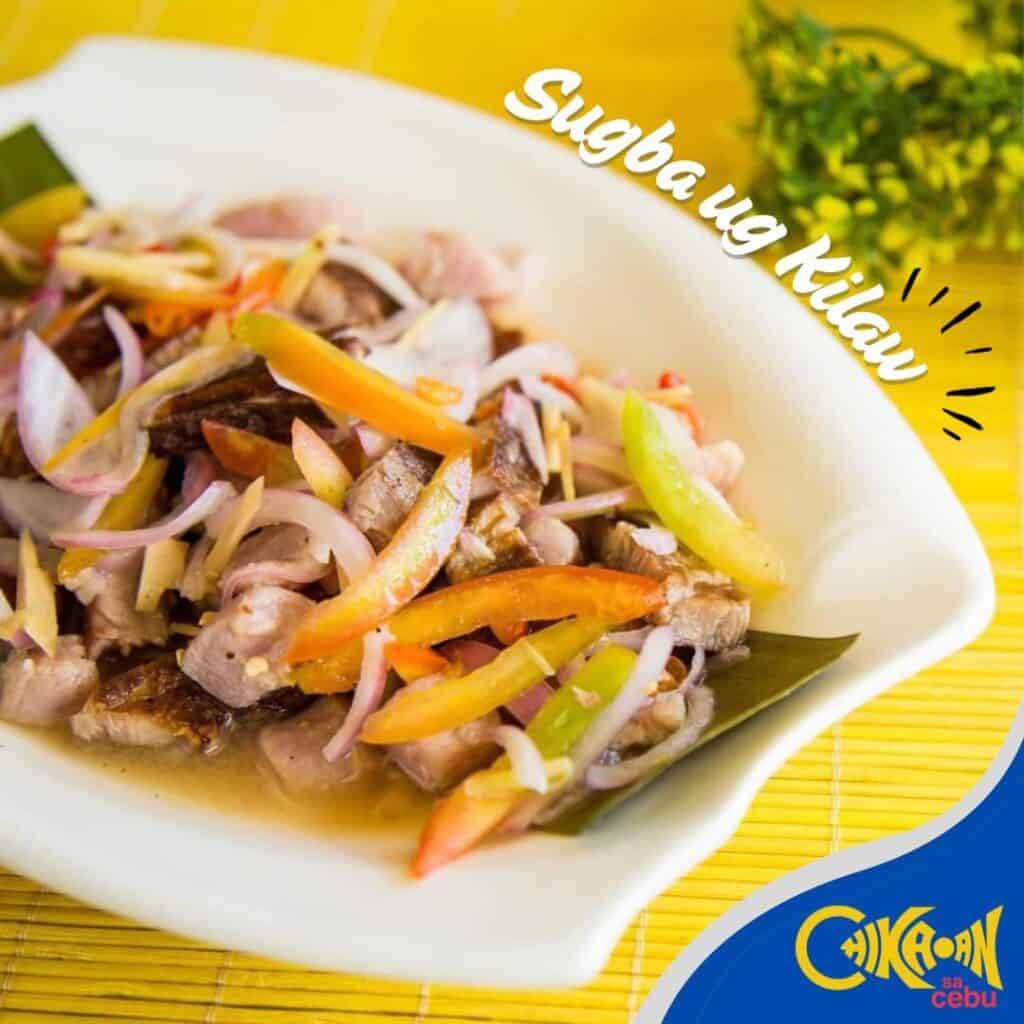 Vegetables
Chikaan's special vegetable menu brings together a variety of tasty choices for those seeking a healthy and lighter meal. You can enjoy dishes like pinakbet with crispy chicharon, where different veggies come together in a delicious mix. Try adobong kangkong, made with tangy and savory flavors, or sizzling spicy talong, which is hot and full of taste. There's also ginisang kalabasa with shrimp, combining pumpkin and shrimp in a delightful way. And don't miss relyenong talong, a dish where eggplant is stuffed with flavorful fillings. These options are perfect for a satisfying and wholesome meal at Chikaan.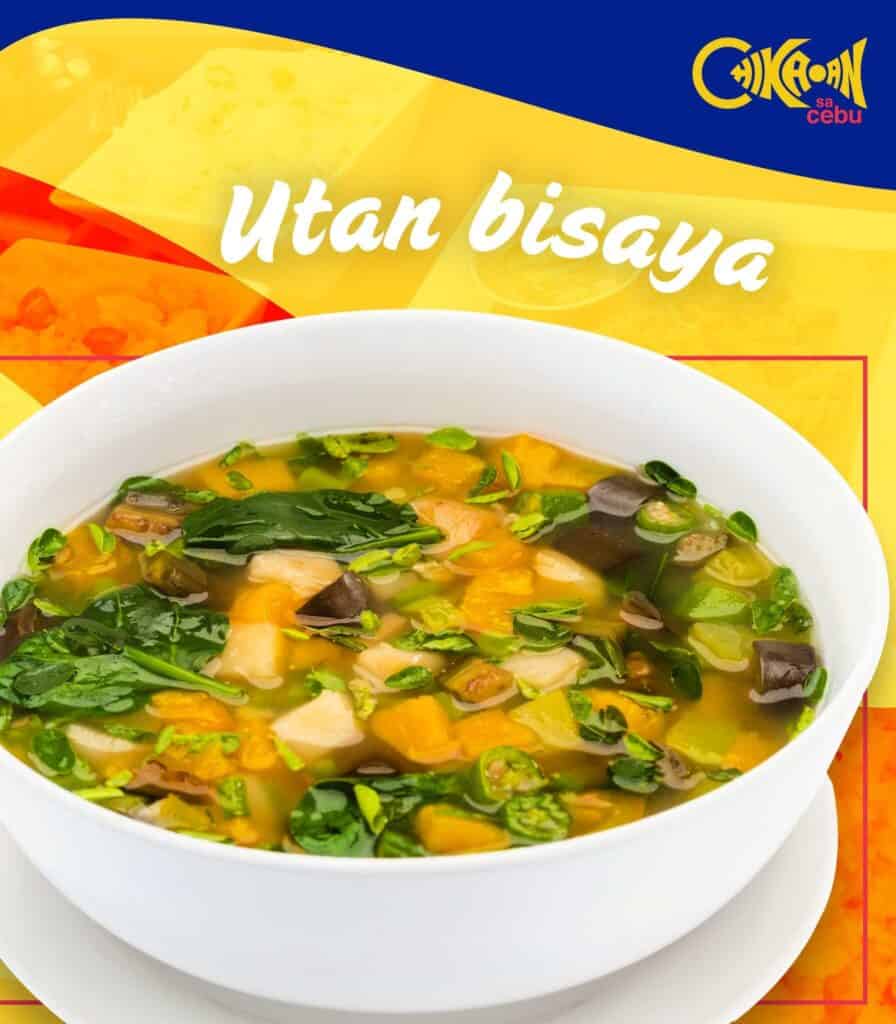 Chikaan Menu Delivery
Chikaan's menu delivery was made to make sure that its offerings are accessible to its customers wherever they may be. With this option, customers are able to order Chikaan's offerings even without visiting their stores with the help of delivery services like FoodPanda.
Social Media Pages
Share your #ChikaanMoments with us as we journey together through the colorful tapestry of Filipino flavors. Follow and like their social media pages to keep you in touch with the updates and promotions they will post.
Facebook: https://www.facebook.com/chikaanph/
Instagram: https://www.instagram.com/chikaanzc/
Website: https://creativecuisinegroup.ph/chikaan#get-in-touch
FAQs
What type of Filipino cuisine does Chikaan specialize in?
Chikaan specializes in Visayan cuisine, a type of Filipino cuisine that came from the Visayas region which is in the central part of the Philippines.
Where are the different Chikaan restaurant locations?
Chikaan has multiple branches nationwide, however, its main branch is located in Cebu.
What are some signature dishes at Chikaan?
Some of Chikaan's signature dishes are lechon manok, seafood kinilaw, and utan bisaya.
Does Chikaan cater for events or parties?
Chikaan does offer catering services for multiple parties and events.
Are there any promotions or discounts available at Chikaan?
Yes, Chikaan provides its regular customers with multiple promotions and discounts.
Conclusion
Chikaan is a popular Filipino restaurant that features unique and delicious dishes from the Visayas region. It has a wide variety of authentic and delicious Filipino dishes paired with a warm and inviting ambiance where friends and family can enjoy delicious meals together. From grilled specialties to comforting stews and soups, Chikaan's menu is made to cater to different tastes and preferences while also showcasing the rich culinary heritage of the Visayan people. So if you are a local or a tourist that is looking for a memorable dining experience, you give Chikaan a visit.