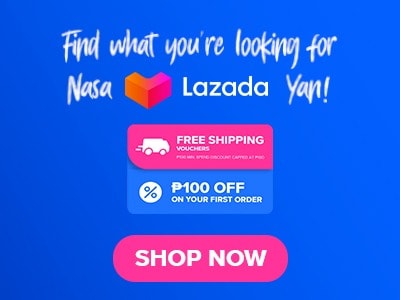 Modern Filipino cuisine has truly revolutionized our dining experience when it comes to fresh experiences and new tastes. Today we are going to talk about this famous cafe where it offers not just great drinks but an experience that will surely leave a mark on your dining game. This is Courtbean Cafe and I am sure when I review a cafe I am always meticulous about the taste, quality, and the entire dining experience. So what are we waiting for? Let us savor their menu collections.
Below, you'll find the updated list of Courtbean Cafe menu prices.
Menu Items
Price (PHP)

Sandwiches

Chicken Sandwich
165
Ham And Cheese Sandwich
165

Savory Meals (Rice Meal)

Filipino Beef Steak
175
Marinated Porkchop
165
Original Sweet-Style Chicken
175
Daing Boneless Bangus
175

Chicken Wings with Rice

Chicken Wings with Rice (4 Pcs)
155

A La Carte

Hamsilog
115
Tocilog
115

Chicken Wings

Chicken Wings (8 Pcs bucket)
255

Small Bites

Loaded Nachos
165
Cheese Sticks
110

Courtbean's Finest

Chocolate Chips Muffin
79
Red Velvet Muffin
79
Corn Muffin
79
Blueberry Muffin
84

Cakes

Carrot Cake
110
Choco Caramel Cake
95

Beverages

Cafe Americano
105
Cappuccino
110
Cafe Latte
115
Cafe Mocha
120
Cafe White Mocha
120
Cafe Caramel Macchiato
125
Cafe Matcha
135
Chocolate
125
Cafe Toffee Hazelnut
120
Cafe French Vanilla
120
Cafe Roasted Almond
120
Honey Citron
105
Ginger Honey
105

Iced Blended Beverages

Java Chip
165
Cookie Crumble
160
Mocha
145
White Mocha
145
Caramel Macchiato
155
Vanilla Caramel
155
Double Dark Chocolate
150
Matcha Green Tea
165

Smoothies

Mixed Berry Smoothie
145
Strawberry Smoothie
145

Milk Tea

Pearl Milk Tea
100
Caramellato
100
Roasted Almond
100
Hazelnut
100
Winter Melon
100
Oreo Milk Tea
100
Dark Chocolate
100
Taro
100
Okinawa
90

Fruit Tea

Kiwi
100
Strawberry
100
Mango Cream Cheese
100
Green Apple
100
Tropical Passion Fruit
100
About
Courtbean Cafe is a cafe that has a story to tell in every coffee they serve to the table and in every savory plate they offer right in front of you. It is a work of art featuring commitment and passion for cooking. It is a cafe where conversations are kindled and unforgettable moments are being created in every sip and delightful conversation of their coffee. Just like what I mentioned, they do not only focus on coffee but a wide range of savory meals and chicken, beef, and pork entrees. That is why I am confident that this restaurant has so much to show to us today.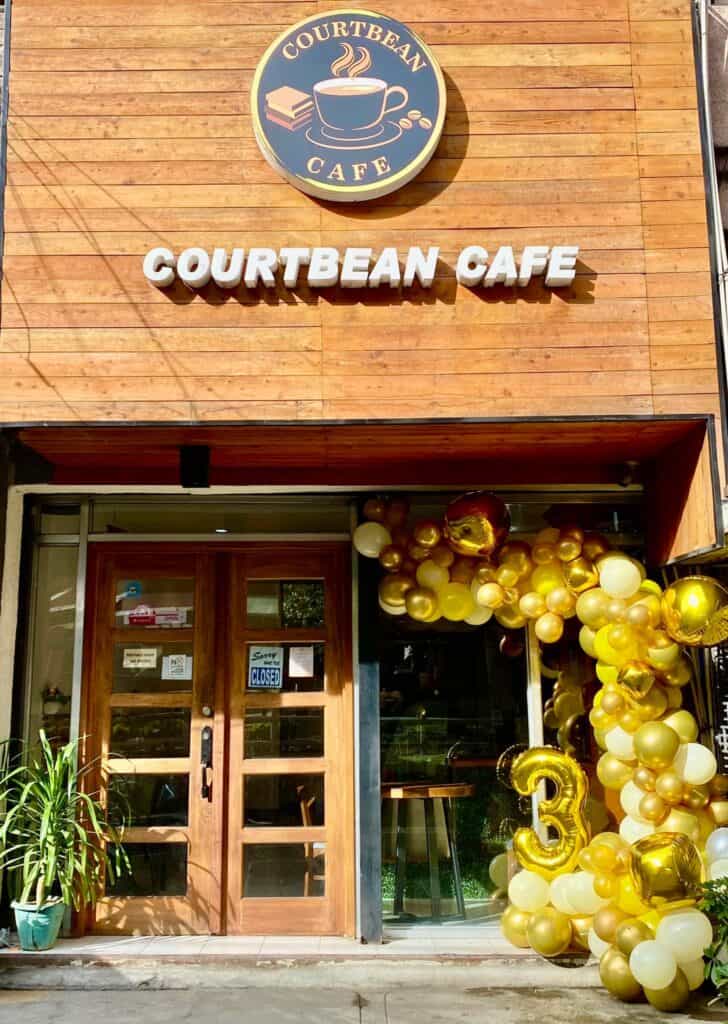 Courtbean Cafe Menu Best Seller
Courtbean Cafe is not just passionate when it comes to coffee but also a wide range of savory entrees featuring their iconic best-selling dishes that highlight the magnifying goodness of textures and enticing flavors.
Filipino Beef Steak – This savory masterpiece will surely have your way to the classics. It allows you to indulge in savoring full tender slices of beef that are perfectly marinated to perfection.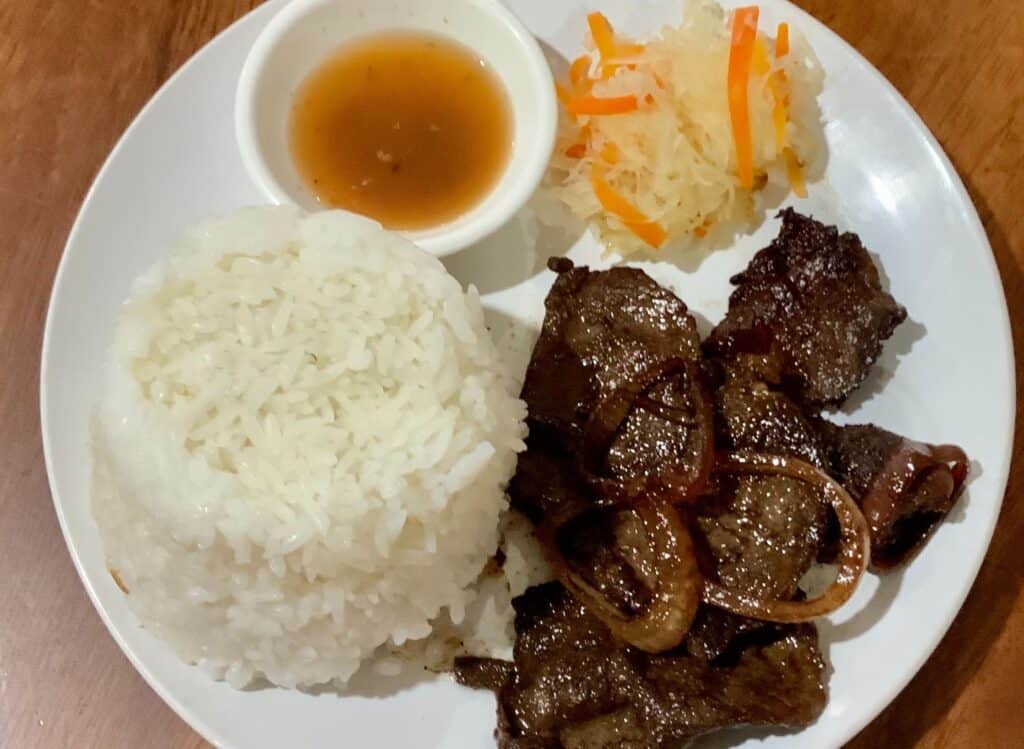 Caramel Macchiato – A coffee for everyone who loves the take of caramel fusion in their delightful cup of coffee. It features a luscious blend of espresso with steamed milk and caramel syrup that elevates the entire flavor of the cup.
Chicken Sandwich – Next on our list is this best-selling Chicken sandwich menu of Courtbean Cafe. It features a tender chicken that is packed with juiciness and served on fluffy slices of triangular bread.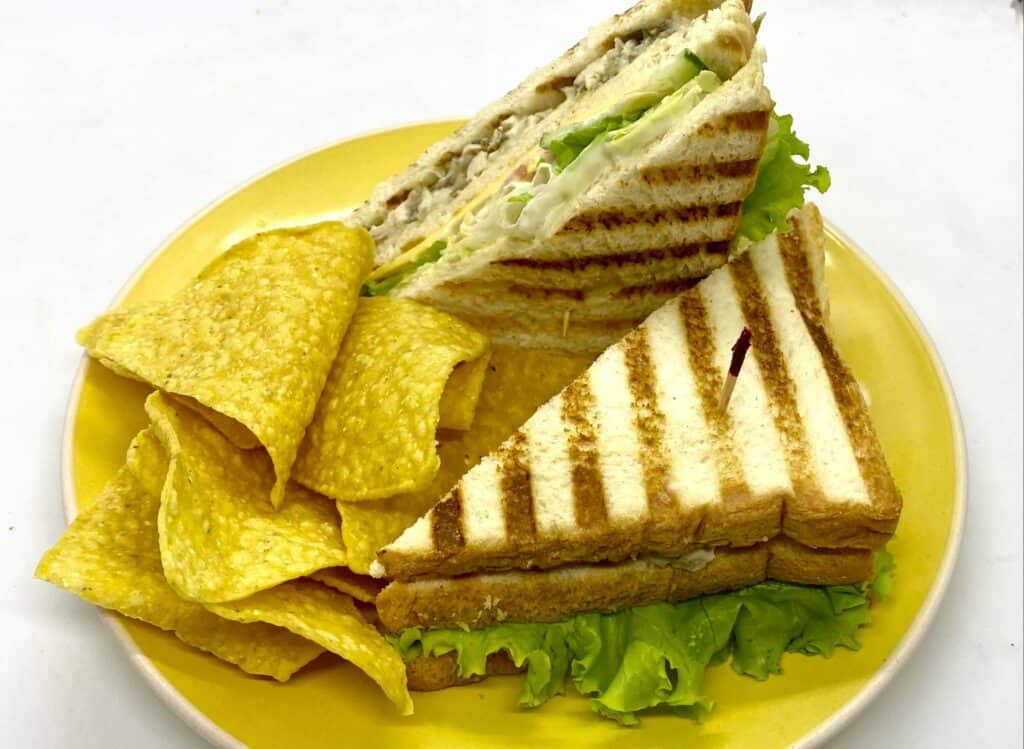 Ham and Cheese Sandwich – This iconic Ham and Cheese sandwich is made out of magnifying layers of ham and delightful cheese in between the slices of freshly baked bread.
Marinated Pork Chop – Courtbean Cafe's Marinated Pork Chop is here to give you a savory and satisfying plate of pork chops that are perfectly marinated to perfection.
Courtbean's Finest
Enjoy the fluffy texture of these muffins that are not just delightful but also offer a comforting bite. It features different varieties of muffins that will surely leave you with a satisfying bite.
Red Velvet Muffin – Starting with this iconic Red Velvet Muffin, this muffin allows you to indulge in the moist and flavorful muffin that is delightful to the core.
Blueberry Muffin – This blueberry muffin is a burst of fruity bites. It is made of blueberry essence that is baked in the fluffy texture of this muffin.
Chocolate Chips Muffin – A star in this collection that is well loved, especially with the chocolate lovers out there. It is made of a moist muffin with rich flavors of chocolate chips.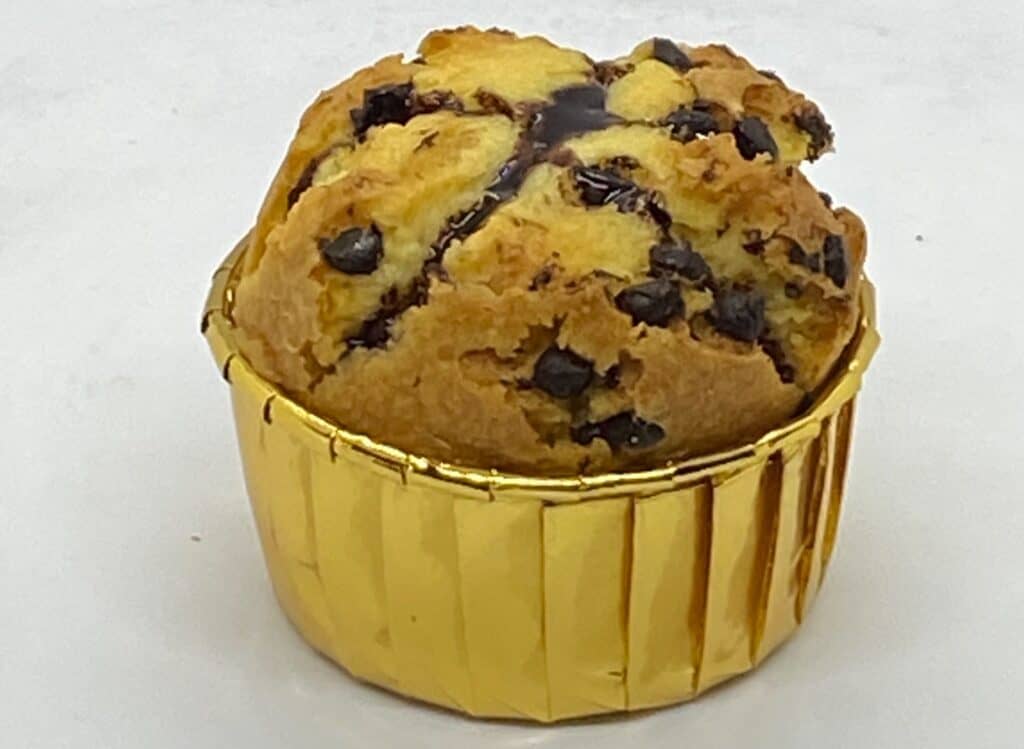 Corn Muffin – And on the next list is this Corn muffin that is heartwarming of corn favor. It is the perfect muffin if you want to take a buttery and corn-flavored muffin that will surely bring a smile to your day.
Beverages
And for the most waiting part! This menu selection of recommended coffee is a list I curated for you to make the best out of your Courtbean's Cafe experience. experience the aroma and bold flavors of this coffee.
Cafe White Mocha – Starting with this beloved Cafe White Mocha that highlights an espresso with creamy white chocolate. It has a velvety texture and sweet flavor.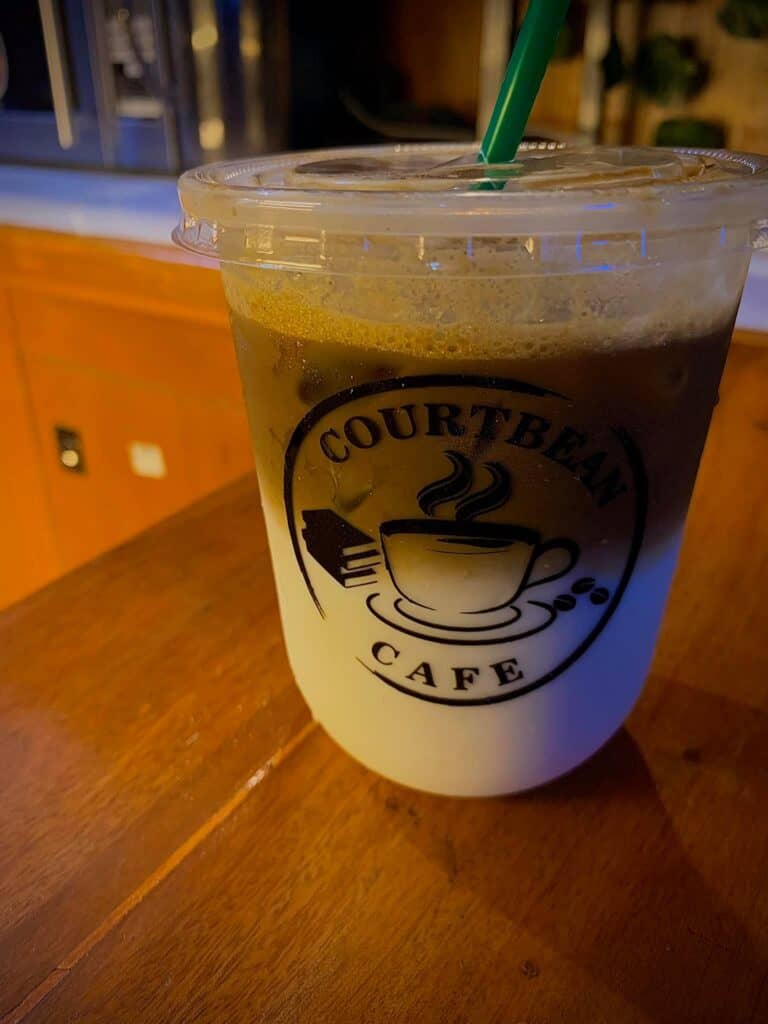 Cafe Latte – Another classic here at Courtbean's that allows you to savor the flavourful combination of espresso and steamed milk. It has a well-balanced flavor of coffee that you will surely love.
Cappuccino – The bold and frothy texture of this Cappuccino is what makes it even more special that it has a flavor shot of espresso with steamed milk and foam milk that adds a depth of character to the entire cup.
Americano – Another day for classics when this Americano takes your way to start your day. It features a flavorful shot of espresso with hot water resulting in a burst in every sip flavor.
Courtbean Cafe Menu Delivery
Orchestrate every morning with a flavorful cup of coffee and great meals here at Courtbean Cafe. You're in luck because I have good news for you today that will bring extra excitement and boost to your day. You can order these delightful creations from Courtbean Cafe through online delivery services such as s FoodPanda and GrabFood and have them delivered right to your door. Treat yourself with a great spike to start your day with productivity and enthusiasm.
Social Media Pages
Courtbean Cafe is a great place to get your coffee and food fix, and they have a social media presence that's just as great. Their pages are always updated with new photos and videos of their delicious food and drinks, as well as special offers and events.
Facebook: https://www.facebook.com/courtbeancafe.12
Instagram: https://www.instagram.com/courtbeancafe.official
FAQs in Courtbean Cafe
What type of cuisine does Courtbean Cafe offer?
Courtbean Cafe is an establishment that offers blazing aroma specialty coffees that are packed with freshly brewed beans and amazing varieties. They also offer a wide range of savory meals that you will surely love to pair with your coffee.
What is Courtbean Cafe known for?
Courtbean Cafe is famous for its Caramel Macchiato and Filipino beef Steak which are also considered as a perfect combo for flavorful dining.
What are the operating hours of Courtbean Cafe?
They operate from 10 AM until 8:30 PM on any day of the week except Sundays.
Where is the Courtbean Cafe located in the Philippines?
If you want to be delighted even more, you can visit them here at their establishments located at 1991 Taft Avenue، Corner San Juan, Pasay, Metro Manila.
Conclusion
In conclusion, the Courtbean Cafe is a place where you can have great coffee and a great time. It is indeed a safe haven for everyone who is looking for an excellent coffee experience and savory meals. Their commitment to serving well-curated meals and delightful collection of coffee is something I really admire in this restaurant. Courtbean Cafe invites us to the comforting and inviting atmosphere of their store where you can savor a delightful sip of their coffee collection that has a story to tell. I love how they truly plunged themselves deeper into the modern style of Filipino cuisine that is perfectly paired with every cup of coffee they offer. It shows how they put so much time and effort into creating their menu that offers a great experience and great memories. I am very pleased with my experience and these blissful memories will surely mark me as one of my favorite cafe spots!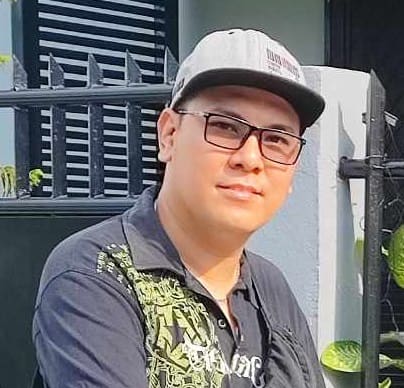 Hi! I'm Nivek Strife, the person who made MenuPH. I'm the one who added most of the popular menus you see on this website, and I really hope you enjoy them! Feel free to check them all out.
Growing up, I was surrounded by lots of tasty foods, like the classic Adobo and the sweet Leche Flan. That love for the many flavors of the Philippines is what got me excited about adding to MenuPH. When I learned how to make websites, I saw the need for a place to show off all the amazing Filipino dishes, and that's how MenuPH started.
MenuPH isn't just a website; it's like a fun journey into food. I've teamed up with famous chefs and found great places all over the Philippines to bring you a bunch of menus that show off the best of Filipino cuisine. Whether you're into the usual dishes or new twists, MenuPH is here to guide you through the rich world of Filipino flavors.
With MenuPH, my aim is to help local businesses, talk about good food choices, and make a group of friends who love food. No matter if you like fancy restaurants or street food, MenuPH has something for you. Come join me on this food adventure as we find great places, taste real flavors, and enjoy the unique food traditions that make the Philippines awesome.