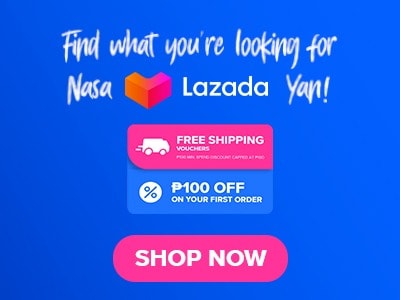 Ice cream is one of the most popular desserts all over the world it is also one of the favorites here in our country because we have a tropical climate and it is just perfect, especially in summer but what if I told you that you could enjoy ice cream on another level? Another level means their ice cream has different flavors that im sure you'll only get in their shop. Carousel Creamery is the shop that im talking about, the Carousel Creamery menu has a lot of usual flavors to offer and they also have those innovative flavors that you will surely love. In this article, we are going to know even more about their prices and the products that they offer, interesting right? So without further ado let's start! 
Menu Items
Prices (PHP)

Menu

Float
150
Milkshake
165
Oreo overload
245
You've got to be nuts
245
Frostbites
190
Depeache a la mode
295
Low fat smoothie
150
Apple pie ala mode
190
Belissimoo
245
Brownie ice cream sandwich
190
Caffeine buzz
190
Caramelized banana split
245
Chocolate insanity
245
Chocolate monkey
190
Coneundrum
850
Dentist's nightmare
225
Hot fudge sundae
190

The scoops

Sampler plate of 5
450
Homemade waffle cone
25
Handpacked takeaway pint
350
4 pint party pack with styro
1299
Styro for 1 hour travel
75

The icecream and caffeine (espresso shake)

Cookies and cream
165
Salted caramel
165
Vanilla toffee crunch
165
Speculoos
165
Cookie dough
165

icecream/waffle and crepe

The ice cream & waffles/crepes
165
Strawberry compote
25
Egg
50
2 strips bacon
60
Hotdog
80
Chicken mozza tender
100

The salty

All beef gourmet dog
150
Bbq/cheese/Chicago/polish dog
175
Chili con carne dog
190
Chili con carne cheese dog
200
Double bacon/tokyo dog
200
Ramen
200
Chicken mozza tenders and fries
225
Calamares and fries
250
Fish and fries
250
Beef nachos
160
Onion rings
150
Fries
100
Bag of chips/corndog
80
Add 2 strips of bacon
60
Add extra beef or cheese or jalapeño
25

The caffeine hot/cold

Espresso
80
Long black
95
Cappuccino
110
Latte
110
Flat white
120
Matcha latte
120
Steamed almond or hazelnut milk
120
Mocha
150
Caramel macchiato
150
Bag of slurp x-blend, rocket fuel, afterglo
350

The hot/cold chocolate

Hot chocolate ice cream
150
Frozen hot chocolate
150

The drinks

Evisn bottled water
60
Soda in can
60
Twinings dried loose - leaf tea
65
Sola iced tea
70
Milk (cold/warm)
45
Stanford shaw brewing Co
125
About Carousel Creamery
Carousel creamery is not your ordinary ice cream shop since this is a local brand of ice cream shop that first opened in Green Hills San Juan. This shop is famous for its variety of flavors to offer, they actually have 101 so every ice cream lover will find their place a perfect spot. They are offering different unique flavors of ice cream that are surprisingly good.
Chicharon beer and ginger ice cream are just two of their different flavors, impressive right? They have a lot of usual flavors if you're not adventurous enough and when it comes to the taste or if you're wondering if their ice creams are too sweet no worries their products have just the right sweetness amount. If you're not a fan of ice creams nothing to worry about since they also serve nonice cream items like shakes, coffees, nachos, and hotdogs.
Their ice creams are made to please their customers also the presentation is very appealing and Instagram-able. For their customer's convenience they also have free wifi and to be quite fair their shop's wifi is fast so you can post right away on your social media account. This ice cream shop is one of the best that you can find in the Metro, open from 10 in the morning until 10 in the evening, they also have al fresco and dine-in options. 
Carousel Creamery Menu Best Seller
We gather some information and research the best-seller menu of Carousel Creamery to provide you with relative data as much as possible. Here's the list of their best-selling items.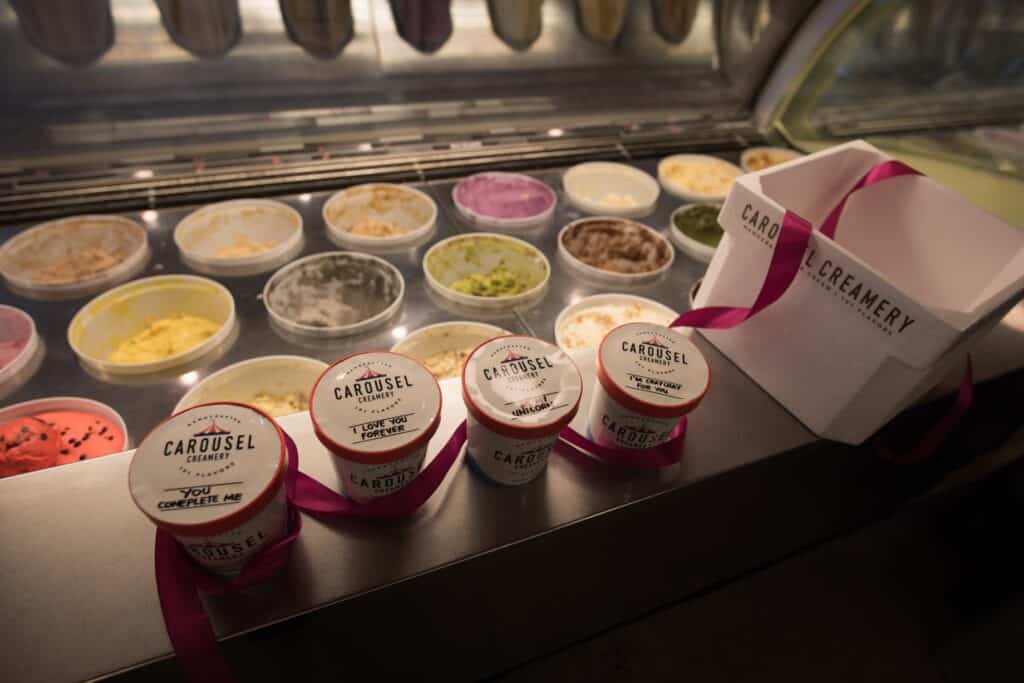 Espresso Shake – This one is made for coffee lovers since they also serve nonice cream items. Their espresso shake has that strong flavor of espresso but not overpowering. This is made with 2 scoops of ice cream and a double shot of espresso it also has whipped cream on top and coffee beans. This is perfect with their nachos, so if you want to take a break with their ice cream their espresso shake could be an alternative. This is also one of their best sellers because this is so good. 
Caramelized Banana Split – This Carousel Creamery menu is one of the must-try if you're planning to visit their shop because it is delicious. Made with caramelized banana with caramelized banana sauce, drizzled with hot chocolate fudge then topped with chopped nuts, almonds, and whipped cream then the cherry on top. This one looks fantastic and is very Instagramable, and when it comes to the taste it has the right amount of sweetness that you will surely love. 
Coneundrum – this one is for sharing so if you're going with your friends this is the perfect item for you. This item includes 10 scoops of any of their ice cream flavors, it also has hot fudge which is actually homemade and really good, some caramel sauce, then topped with chopped almonds and nuts plus cherries on top and wafer sticks, and a side of chips. This one taste amazingly good and sweet but not too much.
S'mores – This very chocolatey dessert is really good I swear and this is my favorite. I think this is a vanilla ice cream with a generous amount of hot chocolate fudge and marshmallows and some I think crushed graham crackers on top. This is one of their best flavors and a must try this is also quite popular among their customers and best sellers as well.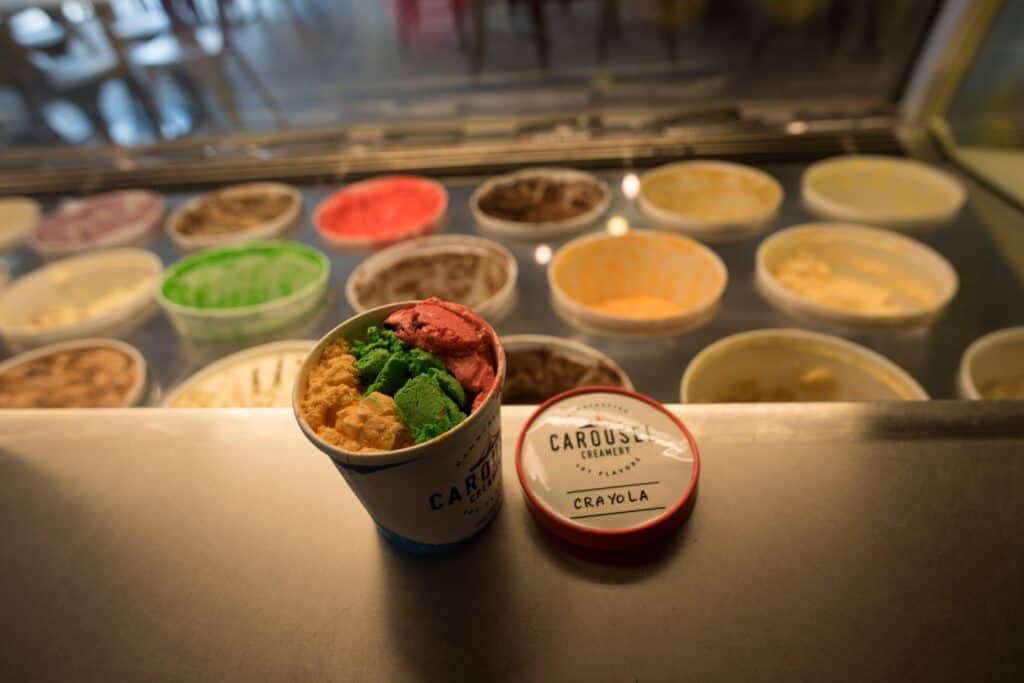 Avocashew – Avocashew is actually an avocado ice cream with cashews. This is brilliant and the taste is amazing especially if you love avocado you'll definitely love this one. Their avo-cashew has that creamy flavor and the strong taste of avocado but it's really good. This menu from Carousel Creamery is also one of my favorites.
You've Got to be Nuts – this is also included in their best-selling items. This has 3 scoops of nutty-flavored ice cream which includes maple walnut, chocolate macadamia, and butter pecan. They also drizzle hot chocolate fudge on top more nuts whipped cream and cherry on top.
The Scoops – The scoops are served in a cup or in a cone depending on your preference. It could be a single service which is one scoop, double or triple. You can also try their homemade waffle cone as an add-on. This is also great for takeaways since they offer styro for an hour's travel, they also have takeaway pints or party pints which are 4 pints of ice cream.
The Ice Cream & Caffeine – This Carousel Creamery menu is a combination of espresso and ice cream with whipped cream on top. This is their espresso shakes. Flavors available are cookie and dough, speculoos, salted caramel, cookies and cream, and vanilla toffee crunch. They also have affogato which is made with a scoop of ice cream and one shot of espresso. 
Ice Cream/Waffles & Crepe – The ice cream & waffle/crepes is actually waffle or crepes with a scoop of ice cream with whipped cream, hot chocolate fudge, caramel sauce, and cherry on top. This also has add-ons like strawberry compote, egg, 2 strips of bacon, hotdog, or chicken Mozza tender.
Carousel Creamery Menu Delivery
Ordering your favorite carousel creamery items is made easy simply by calling 09778991010 or 09778193038 you can also call their landline number at 0287759092 or you can book on third-party delivery riders like Grab, Joyride Ph, food panda, Lalamove or Mr. Speedy. You can pay thru GCASH or bank transfer thru BDO online banking.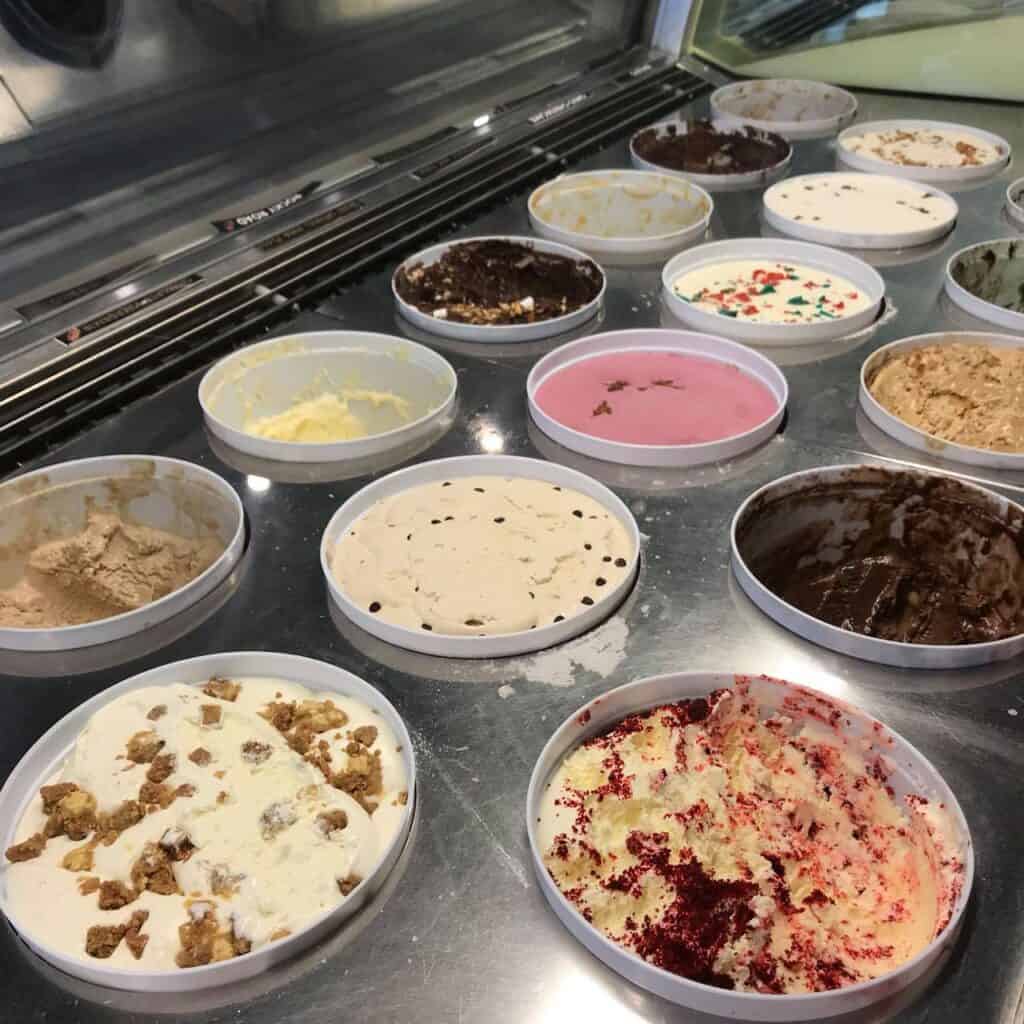 Social Media Pages
Are you a fan of Carousel Creamery and their mouth-watering ice cream flavors? Then you won't want to miss their latest news, promos, prices, and surprises. Follow them on social media and get ready for a sweet treat. You'll be the first to know when they launch a new flavor, offer a discount, or host a giveaway. You'll also get to see behind-the-scenes photos and videos of how they make their ice cream. Here are their social media accounts:
Facebook: https://www.facebook.com/carouselcreamery/
Instagram: https://www.instagram.com/carouselcreamery/
Twitter:
Conclusion
A great place if you're looking for different kinds of ice cream. The Carousel Creamery menu has a lot to offer if you are adventurous enough to try its distinct ice cream flavors. They have many flavors to choose from, so im sure anything you want is already on their menu, even those unfamiliar, like beer and chicharon ice cream or bacon and cheese ice cream. The place is cozy and clean I actually notice how good the smell is inside their shop. When it comes to their crews they are friendly so their customer service for me is amazing. Ice cream Flavors on their menu are amazing even those that are unfamiliar they're actually delicious and pretty good. So if you're ready to try ice cream in a different approach you must try carousel creamery.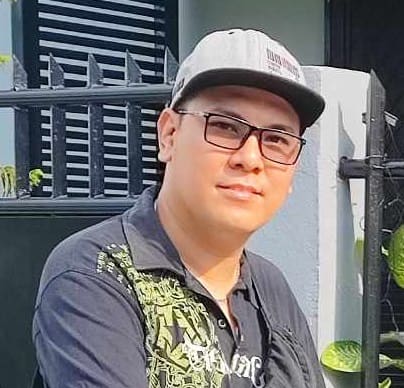 Hi! I'm Nivek Strife, the person who made MenuPH. I'm the one who added most of the popular menus you see on this website, and I really hope you enjoy them! Feel free to check them all out.
Growing up, I was surrounded by lots of tasty foods, like the classic Adobo and the sweet Leche Flan. That love for the many flavors of the Philippines is what got me excited about adding to MenuPH. When I learned how to make websites, I saw the need for a place to show off all the amazing Filipino dishes, and that's how MenuPH started.
MenuPH isn't just a website; it's like a fun journey into food. I've teamed up with famous chefs and found great places all over the Philippines to bring you a bunch of menus that show off the best of Filipino cuisine. Whether you're into the usual dishes or new twists, MenuPH is here to guide you through the rich world of Filipino flavors.
With MenuPH, my aim is to help local businesses, talk about good food choices, and make a group of friends who love food. No matter if you like fancy restaurants or street food, MenuPH has something for you. Come join me on this food adventure as we find great places, taste real flavors, and enjoy the unique food traditions that make the Philippines awesome.