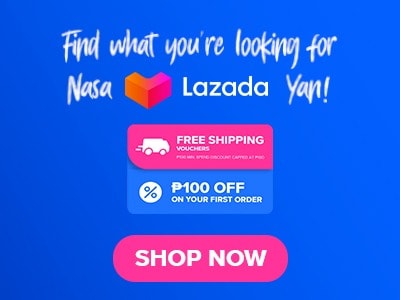 Take a refreshing sip from this flavorful and colorful drink that is known for its golden bubble milk tea! Introducing KOI Thé, where the joyful bubbles meet the art of tea. The KOI Thé menu offers a premium selection of bubble teas showcasing a diverse flavor palette and irresistible boba toppings. I am sure you will love this tea shop so let's head on to this tea adventure starting from their latest menu collection.
Below, you'll find their updated list of menu prices.
Menu Items
Price (PHP)

Flavoured Tea

Jasmine Green Tea
60
Assam Black Tea
60
Honey Green Tea
80
Peach Green Tea
90
Mango Green Tea
90
Passion Fruit Green Tea
90

Milk Tea/Green Milk Tea

Milk Tea
80
Milo O
100
Milo O Milk Tea
100
Honey Milk Tea
100
Honey Green Milk Tea
100
Hazelnut Milk Tea
100
Caramel Milk Tea
100
Brown Sugar Milk Tea
130
Black Tea Macchiato
110
Green Tea Macchiato
110
Peach Green Tea Macchiato
140
Mango Green Tea Macchiato
140
Passion Fruit Green Tea Macchiato
140
Milo O Macchiato
150

Chewy Tea

Bubble Black Tea
80
Bubble Green Tea
80
Golden Bubble Milk Tea
100
Bubble Green Milk Tea
100
Grass Jelly Milk Tea
100
Konjac Jelly Milk Tea
110
Coconut Jelly Milk Tea
110
Bubble Milo O
120
About KOI Thé
KOI Thé is known as a tea brand that is fully committed to serving premium quality drinks that showcase the flavorful and innovative culture of Taiwan. It is a rapidly grown business and a well-loved bubble tea chain because of its exceptional tea quality and a very diverse menu that it takes great pride in. They are also famous for their golden bubble tea branding because it became the hallmark of these beverages. Whether you're craving a classic drink, fruit tea, or other specialty concoctions, KOI Thé is here to offer you a delightful craving satisfying experience.
KOI Thé Menu Best Seller
Take a refreshing start with these best-selling drinks from KOI Thé. They cater to various cravings and are a very safe option for every first-timer who wants to take their first sip of these delightful drinks.
Green Milk Tea – This famous drink is a delightful fusion of green tea and creamy milk. It offers you a refreshing flavor with earthy hints of green tea. It is then added with the smoothness of milk to finally give you the delight you deserve.
Hazelnut Milk Tea – The nutty flavor of this drink is definitely one of my favorites at Koi Thé, It offers you an aromatic flavor of hazelnuts that are blended with milk tea.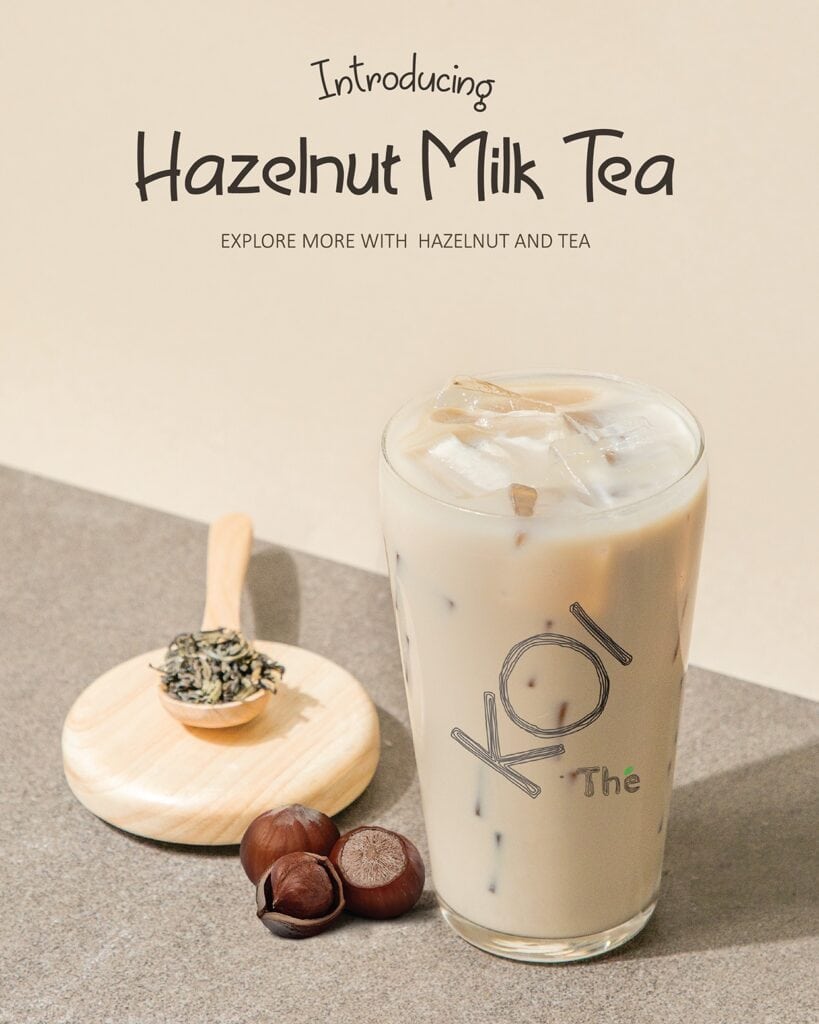 Caramel Milk Tea – A sweet and very indulging drink! This drink features a flavorful and rich caramel that is combined with black tea giving you a lusciously sweet and creamy drink.
Brown Sugar Milk Tea – This Brown Sugar Milk tea is a popular choice, especially for everyone with a sweet tooth! It has a sweet and caramelized brown sugar syrup that is drizzled over a delightful base of milk tea.
Golden Bubble Milk Tea – An all-star at Koi Thé that is known for its classic but very refreshing flavor. It is a bubble tea that is famous for its golden tapioca pearls that add a different level of sweetness to your drink.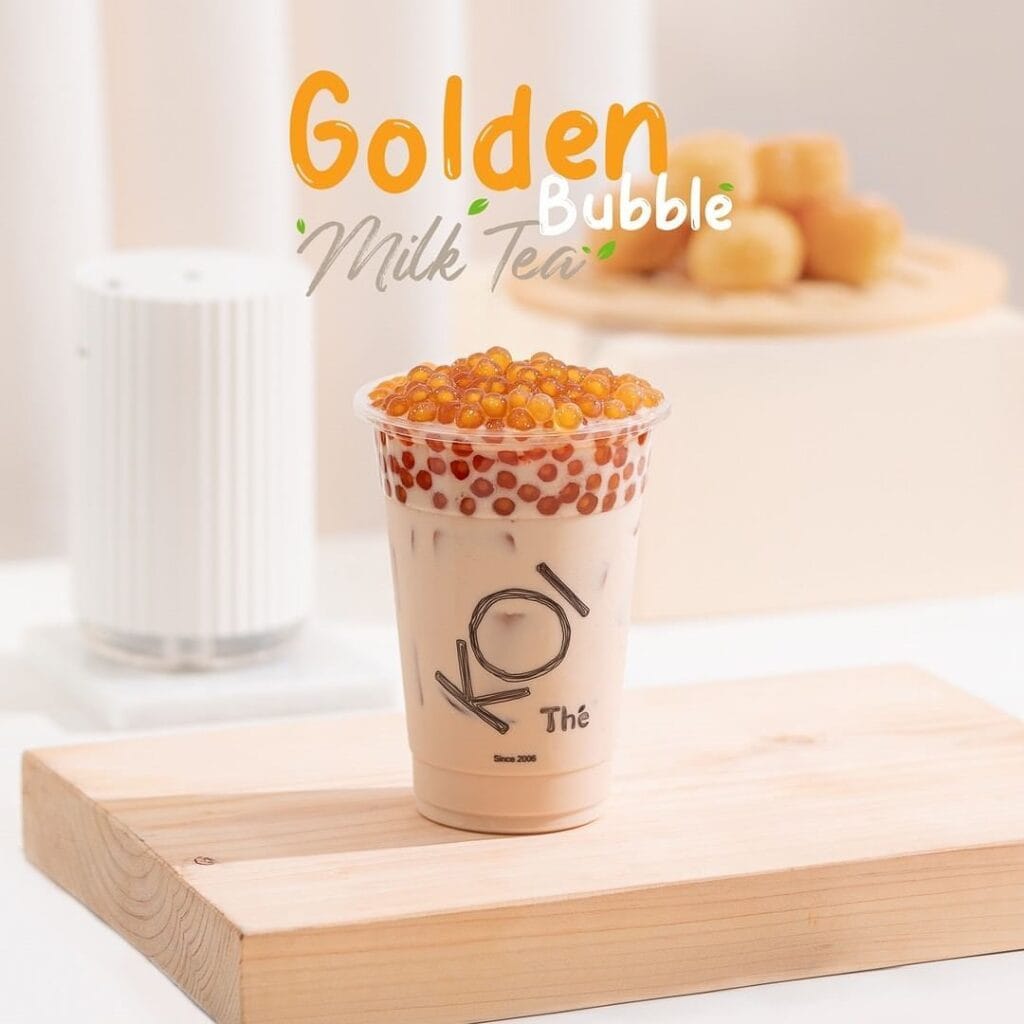 Signature Macchiato
Refresh yourself on a different level with this signature macchiato menu of KOI Thé that offers creamy and very appealing drinks.
Black Tea Macchiato – A combination of black tea and creamy milk foam that ultimately bursts out of flavors in your mouth is something you need to expect in this drink. It is bold yet smooth in the mouth.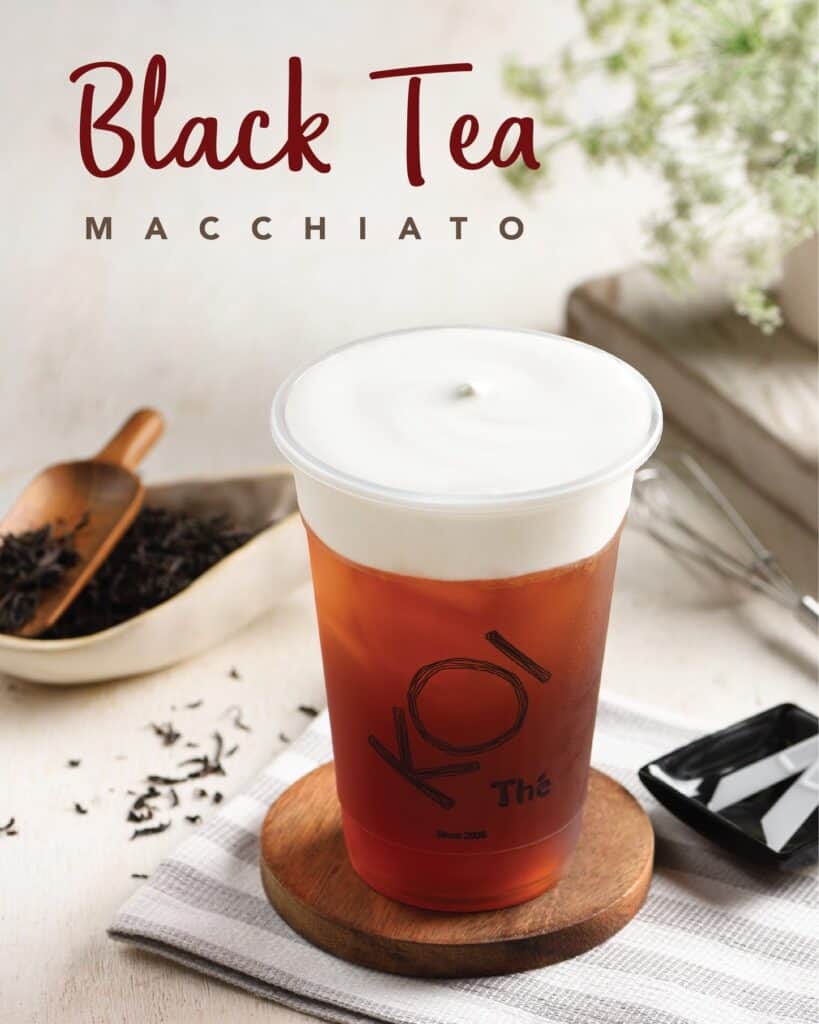 Green Tea Macchiato – This green tea offers you a slightly bitter but creamy hint of its milk foam. It is refreshing and still has a well-balanced formula of flavors that get along with each other.
Peach Green Tea Macchiato – For the fruity twist! This peach green tea macchiato offers you the sweet and aromatic essence of peaches that are incorporated in every sip of this drink.
Milo O Macchiato – A unique blend that flavorfully combines your beloved milo chocolate malt in a delightful layer of milk foam. It is a very comforting drink that offers a nostalgic childhood experience.
Chewy Tea
A chewy and delightful sensation that bursts in the mouth flavor is what you have in these selections of chewy tea. It is a satisfying fusion of our favorite tea and the delightful flavors of tapioca pearls.
Bubble Milo Oh – This Bubble Black Milo Oh features a chocolatey goodness of milo that is paired with chewy tapioca pearls giving you a very decadent and enjoyable experience.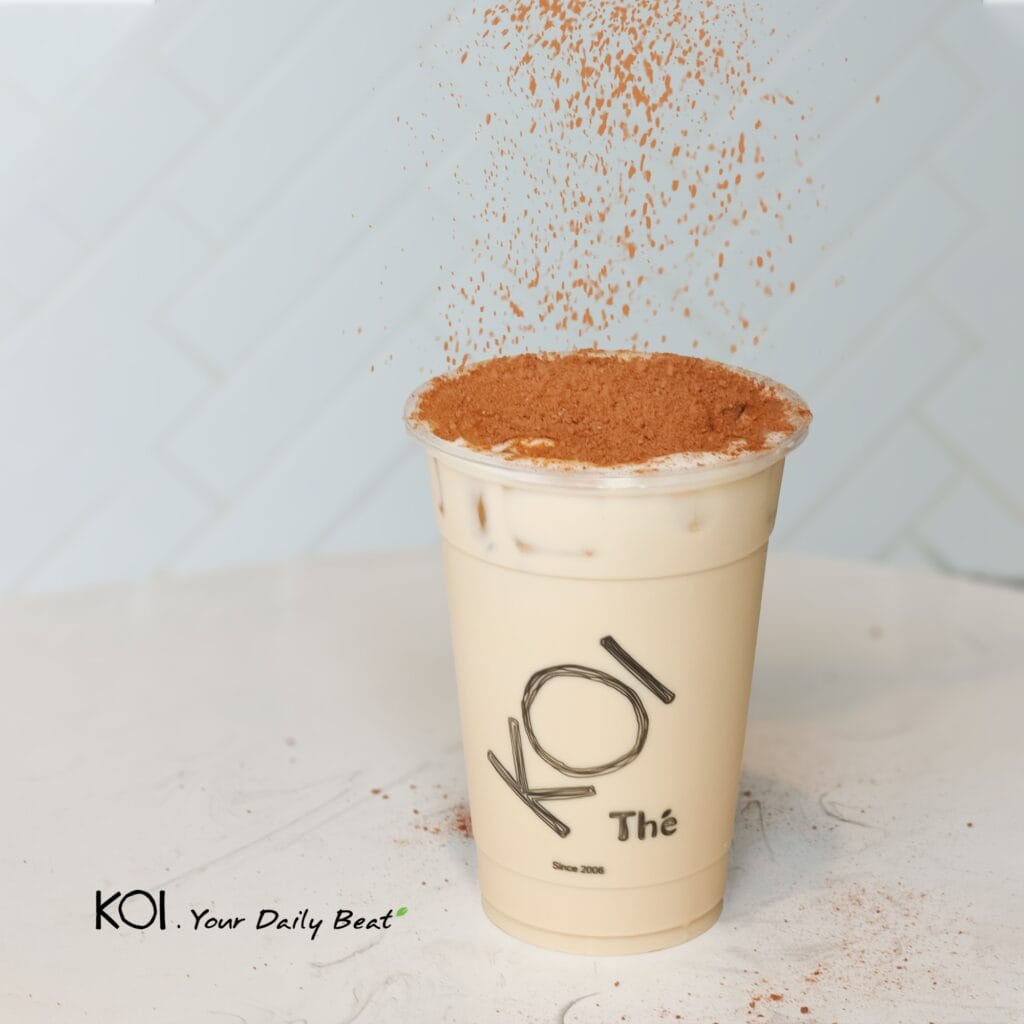 Buble Black Tea – A delightful drink from the KOI Thé menu that combines the richness of black tea along with chewy tapioca pearls that are known for their bold and robust flavors.
Grass Jelly Milk Tea – A slightly bitter drink but has a balanced flavor because of the creamy milk tea giving you a unique and very delightful choice.
Coconut Jelly Milk Tea – A famous tropical delight is also here at Koi Te to give you the blend of the creamy taste of coconut in a flavorful fusion of milk tea, a unique choice that you will surely love.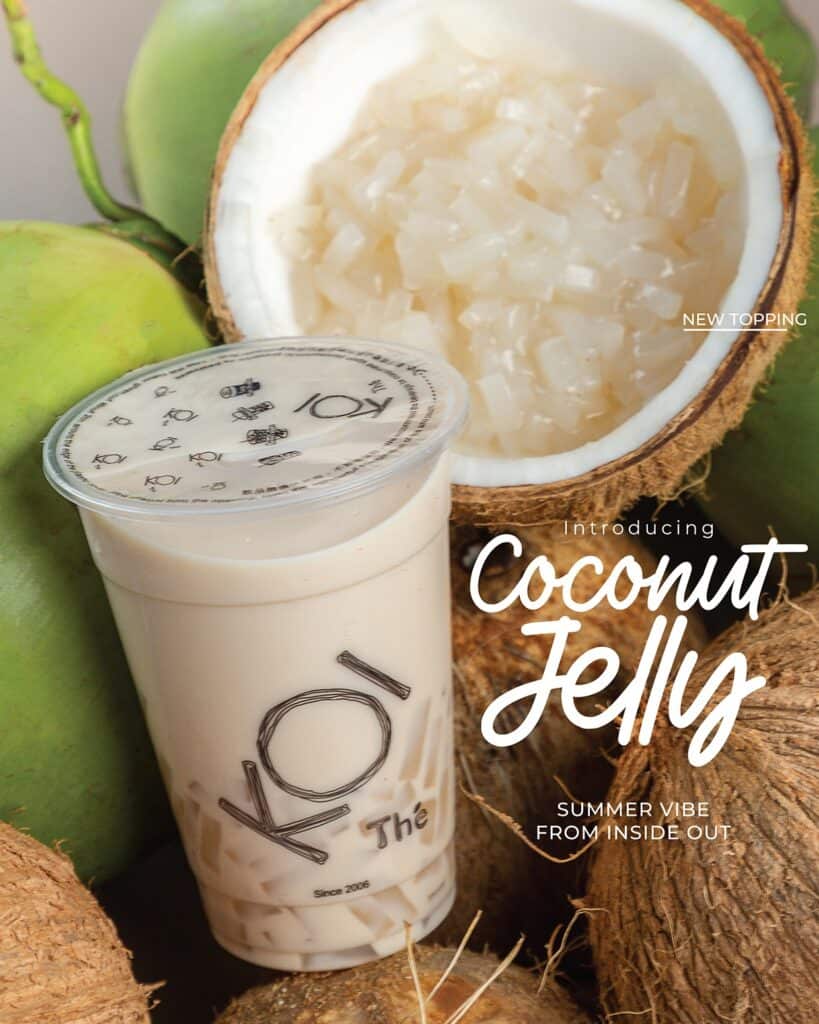 KOI Thé Delivery
Satisfy that bubble milk tea craving without going outside and have that drink delivered right to your doorstep! You can order through third-party delivery channels such as FoodPanda which offers a transaction and smooth experience. You can also order through GrabFood for long-distance areas. Treat yourself to these flavorful drinks that will surely bring great comfort to your day!
KOI Thé Social Media Pages
Refresh your perspective and taste buds with KOI The. Follow them on social media and let's embark on a tea-infused adventure together!
Facebook: https://www.facebook.com/KoithePhilippines
Instagram: https://www.instagram.com/koithephilippines
Website: https://www.koithe.com/en#contact
FAQs in KOI Thé
What type of cuisine does KOI Thé offer?
KOI Thé menu offers you a delightful blend of bubble tea that is packed with flavors of premium quality tea.
What is KOI Thé known for?
It is famous for its Golden Bubble Milk tea which became the hallmark of its own branding.
What are the operating hours of KOI Thé?
KOI Thé operates from 10 AM until 10 PM every day.
Where is KOI Thé located in the Philippines?
KOI Thé has three branches available in the Philippines, here are their locations and contact numbers.
Venice Store
Address: Ground Floor, San Marco Wing, Venice Grand Canal Mall McKinley Hill, Taguig City 1630, Metro Manila, Philippines
Contact: (+63) 9957-734262
Address: 2nd Level, The Annex, SM North Edsa EDSA corner North Avenue, Barangays Santo Cristo and Bagong Pag-Asa, Quezon City 1100, Metro Manila, Philippines
Contact: (+63) 9957-734262
The Curve, BGC
Address: 32nd Street corner 3rd Avenue, Bonifacio Global City, Taguig City, Manila, Philippines
Contact: (+63) 9958-502419
Conclusion
In conclusion, KOI Thé has truly proved itself in the market and has offered a delightful bred that showcases premium quality tea and the incredible goodness of bubble teas. They are very dedicated to delivering high-quality tea beverages from the ingredients up to the entire menu collection. Indeed, KOI Thé has truly earned a special place in the heart of every tea enthusiast, and having to be a famous bubble tea shop globally is significant evidence that entirely proves the point. From their classic milk tea up to the flavorful blend of their signature macchiatos, you will never run out of options in this shop so I am confident that you will love their collection too.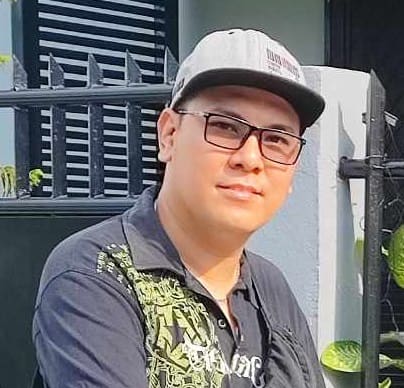 Hi! I'm Nivek Strife, the person who made MenuPH. I'm the one who added most of the popular menus you see on this website, and I really hope you enjoy them! Feel free to check them all out.
Growing up, I was surrounded by lots of tasty foods, like the classic Adobo and the sweet Leche Flan. That love for the many flavors of the Philippines is what got me excited about adding to MenuPH. When I learned how to make websites, I saw the need for a place to show off all the amazing Filipino dishes, and that's how MenuPH started.
MenuPH isn't just a website; it's like a fun journey into food. I've teamed up with famous chefs and found great places all over the Philippines to bring you a bunch of menus that show off the best of Filipino cuisine. Whether you're into the usual dishes or new twists, MenuPH is here to guide you through the rich world of Filipino flavors.
With MenuPH, my aim is to help local businesses, talk about good food choices, and make a group of friends who love food. No matter if you like fancy restaurants or street food, MenuPH has something for you. Come join me on this food adventure as we find great places, taste real flavors, and enjoy the unique food traditions that make the Philippines awesome.