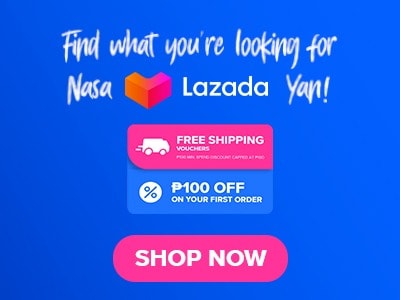 Japanese Dishes have a special place in our hearts as Filipinos. Most of the time they're the comfort food that brings an absolute warmth to your tiring day. That is why I have a new recommended restaurant that is all about the brimming goodness and magnifying flavors of Japanese cuisine. Introducing, Ohayo! a restaurant that emphasizes your delightful journey through the heart of Japanese cuisine. I won't make you wait any longer because here is the menu collection for us to start this gastronomic adventure.
Below, you'll find the updated list of Ohayo menu prices.
Menu Items
Price (PHP)

Cold Appetizer

Potato Salad
165
Kani Mango Salad
195
Salmon Poke Bowl
350
Spicy Salmon Tanuke
280
Spicy Tuna Tanuke
195

Hot Appetizer

Gyoza
250
Ebi Tempura
410
Steamed Gyoza with Spicy Ponzu
145
Chicken Karaage
195
Tofu Steak
195

Ramen

Tonkotsu
350
Tamago Tantanmen
390
Beef and Tendon
410
Ebi Tonkotsu
460

Add-Ons

Ramen Noodles
60
Chashu Pork
70
Minced Pork
70
Aji Tamago
30
Japanese Rice
50

Udon

Tsukemen
390

Rice Bowls

Chicken Teriyaki Don
290
Pork Katsu Don
300
Beef Gyudon
330
Chicken Karaage Don
295
Beef Misono
330
Tendon Tempura
350
Miso Yaki Salmon
470

Curry

JFC Curry
395
Beef and Tendon Curry
480
Pork Katsu Curry
420

Maki

Cali Maki
245
Salmon Torch
295
Spicy Salmon
310
Spicy Tuna
310
Spicy Tuna Teka Maki
310
Ebi Black Spicy Maki
495
Beef Sukiyaki Roll
320
Kani Mango Roll
235
Ebi Furai Roll
340
Spam Musubi
195
Salmon Aburi
265

Sashimi

Salmon
380
Tuna
360

Dessert

Coffee Jelly
90

Drinks

Signature Red Iced Tea
99
Coke, Coke Zero, Sprite
60
Purified Drinking Water
30
San Mig Light, Pale Pilsen
80
Santory Grape, Santory Peach, Strong Zero Lemon, Asahi, Kirin
180
About Ohayo
Ohayo is a casual dining restaurant that highlights the delightful fusion of traditional Japanese cuisine with creative innovation to bring extra spice to your dining experience. Everything they serve is a product of authenticity, love for cooking, and passion to give you the finest quality of flavorful bite and delightful textures. From their iconic Sushi and Maki to the delightful flavor of Ramen, Ohayo is indeed the home of authentic Japanese flavors.
Ohayo Menu Best Sellers
Let us bring the joyful Japanese dream into reality with these best-selling dishes from Ohayo. The bestsellers cater to a safe option, especially for Everyone who is taking their first step into Japanese dining.
Tonkotsu – Delight in this Tonkotsu Ramen that is here to give you the savory masterpiece that combines pork bone broth, ramen noodles, tender Chashu pork, along with green onions, black garlic oil, and a perfect Aji Tamago.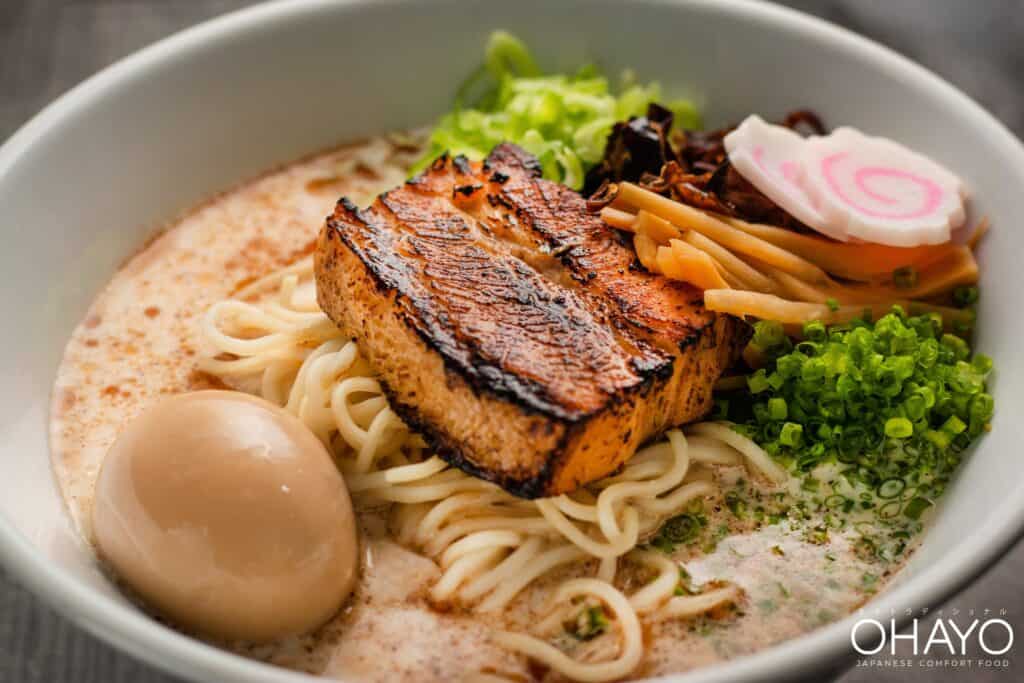 Tsukemen – Dive into the classic Tsukemen, featuring Tukosei sauce, Chashu pork, homemade udon noodles, spring onion, Aji Tamago, and Naruto.
Tantanmen – For the spice lovers! Tantanmen is a fiery delight with delightful pork bone broth, sesame seed paste, spicy minced pork, and the perfect chewy texture of ramen noodles.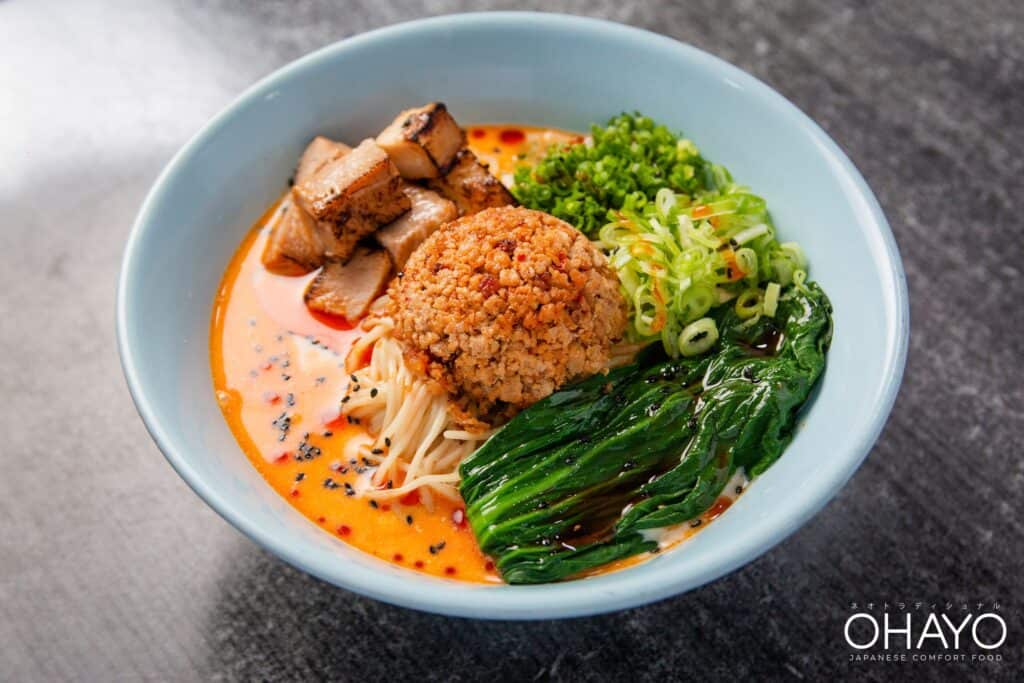 Spicy Salmon – This Spicy Salmon Sushi is a work of art, it allows you to indulge in delicate salmon, spicy mayo, cream cheese, chili leaves, Aunori, and eel sauce.
Cali Maki – Experience a taste of California with Cali Maki. This sushi roll features Kani crab, cucumber, mango, Ebiko, and a tangy kick from red radish.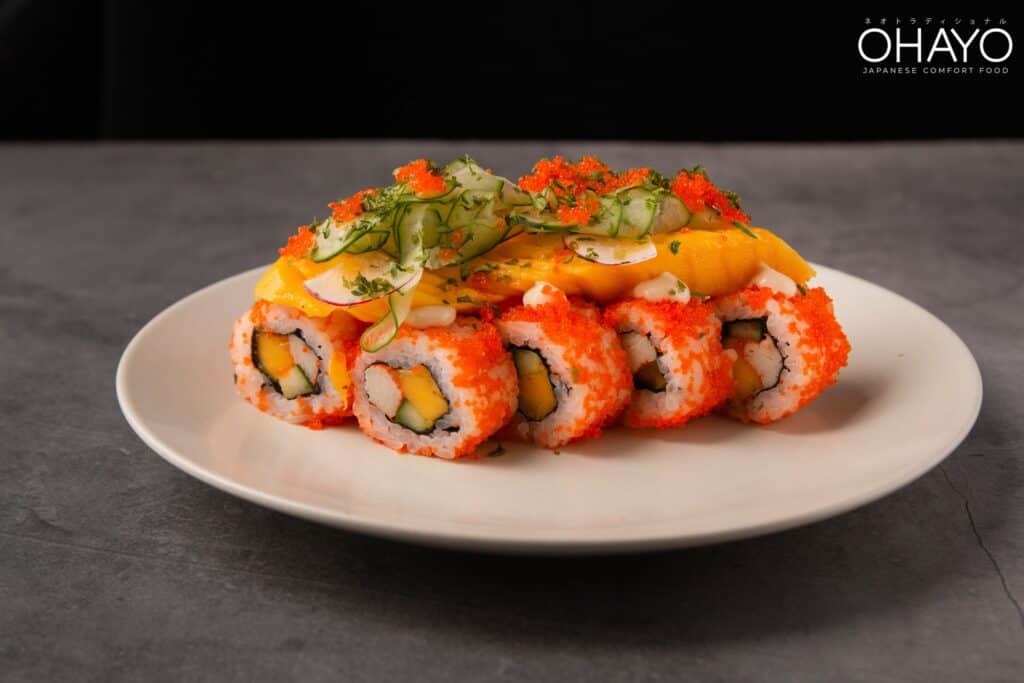 Maki
Experience the rolling-in goodness of Ohayo Maki menu that highlights its outstanding delightful bite from various selections of maki such as their iconic Spicy Salmon to Ebi Furai Roll.
Salmon Torch – Prepare yourself for a flavor-filled experience with this Salmon Torch. With Aburi Mayo and Tonkatsu Sauce, this meal sets your taste senses ablaze with crunchy Nori, delicate salmon, and the smooth richness of cream cheese.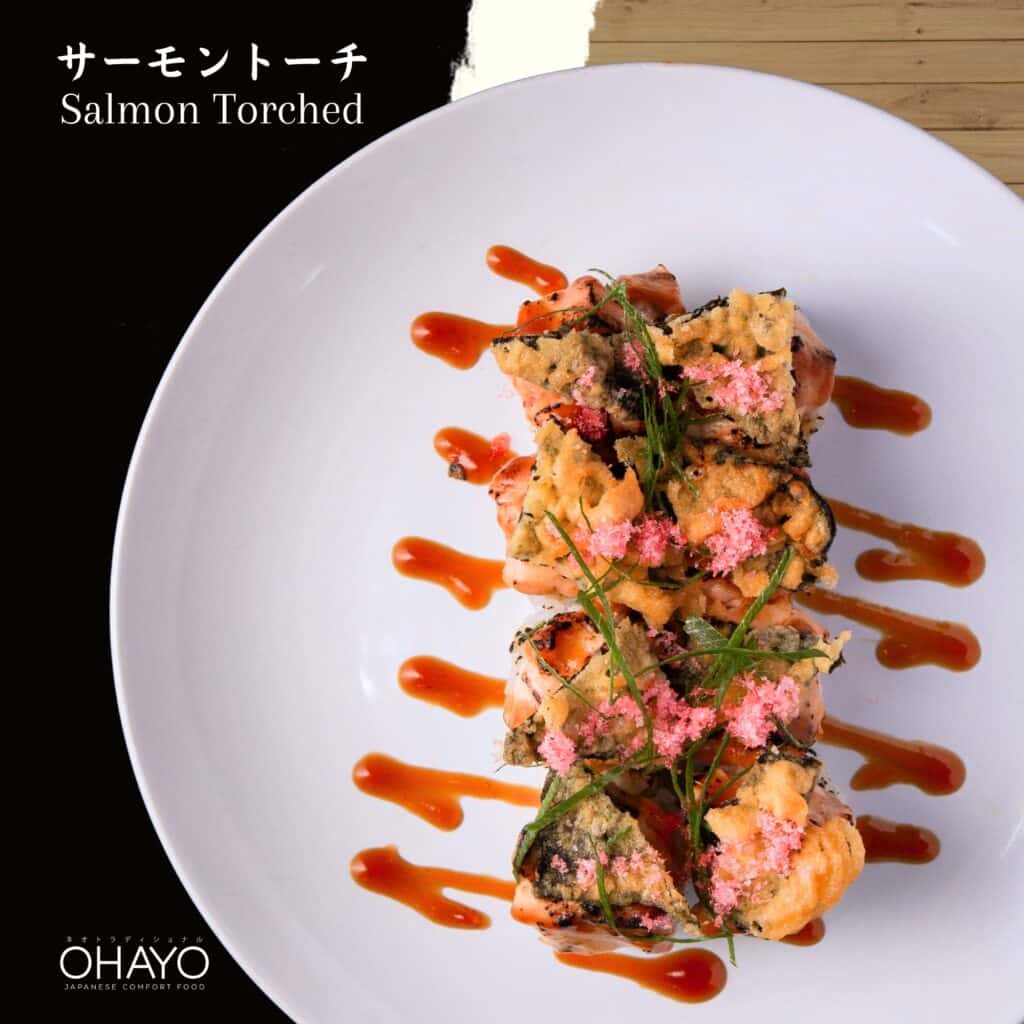 Spicy Tuna – Indulge in our Spicy Tuna, a flavor symphony of crunchy Nori, delicious cream cheese, and the hot kick of Aburi Mayo and Tonkatsu Sauce. Obboro adds a tangy flavor to complement the heat, giving this a spicy sensation you won't forget.
Jani Mango Roll – This Jani Mango Roll will transport your taste senses to a tropical paradise. This delectable dish includes Kani Crab, crisp cucumber, Sesame Miso Mayo, and the crisp bite of wakame and shredded cabbage.
Ebi Furai Roll – A culinary wonder, the Ebi Furai Roll. It mixes Ebi Furai's crunchy deliciousness with cream cheese's creaminess. A hint of heat from the chili leaves and the rich flavor of the Spicy Crab Fat Mayo make a tasty fusion. Fried prawn heads and Squid Ink Tanuki lend crunch and creativity to this extraordinary meal.
Rice Bowls
Experience the fulfilling sensation brought to you by these delightful bowls highlighting the iconic Japanese rice bowls.
Chicken Teriyaki Don – This Chicken Teriyaki menu of Ohayo allows you to indulge in the smoky grilled chicken basted with a savory teriyaki sauce and Yasai Itame.
Beef Gyudon – Delight your dining experience with this Beef Gyudon that is brimming in beef goodness of teppan Sauce. It also features Sous Vide Egg, Onions Carrots, and Leaks.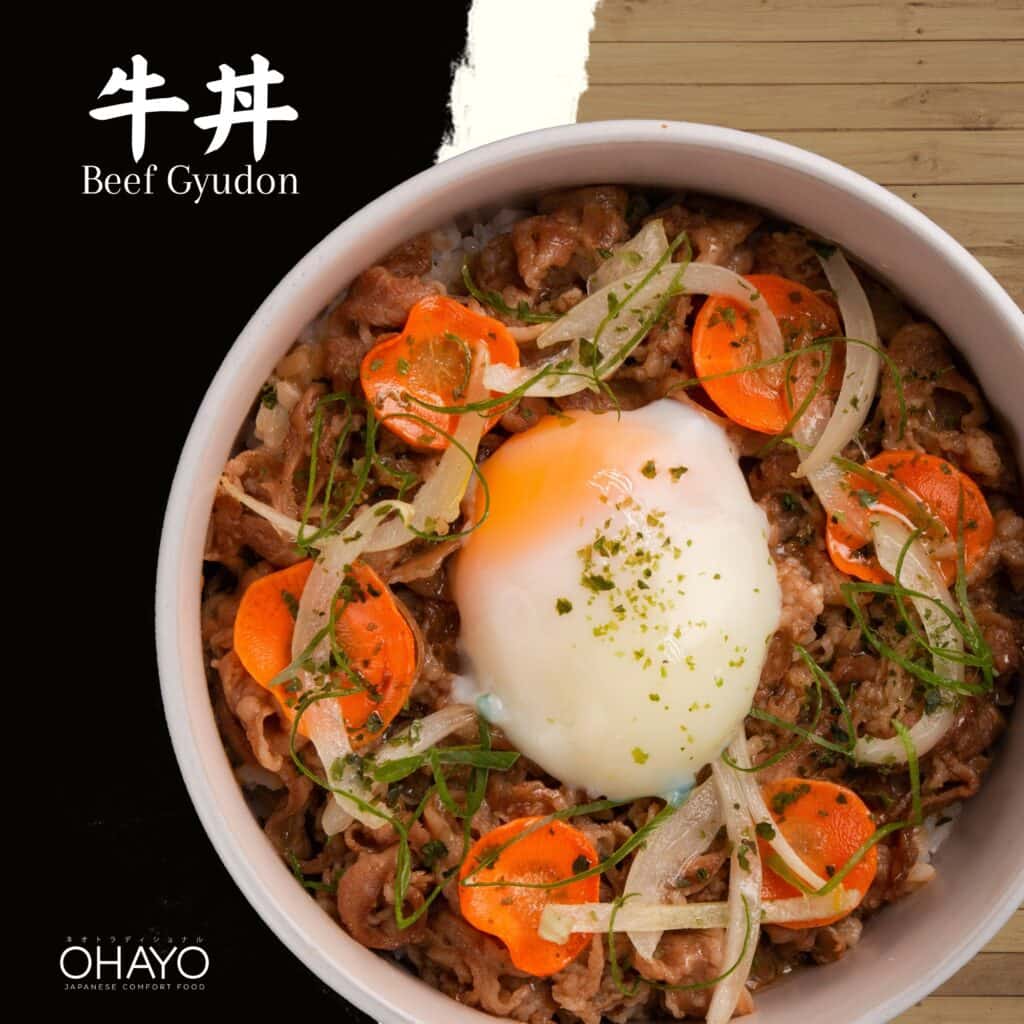 Pork KatsuDon – Don't miss the crunch that will amaze your entire Ohayo dining experience. This Pork Katsudon features a Perfectly fried pork cutlet with miso sauce, carrots, leeks, onions, and egg.
Tendon Tempura – Experience the magnifying flavors of this tendon tempura which features shrimp tempura with carrots, potatoes, eggplant, and onions. It is made perfectly with a tempura glazed that elevates the entire plate.
Ohayo Menu Delivery
Do you want to experience a different level of Japanese dining while still honoring the classic experience? Well, this restaurant is all about authenticity with a touch of modernity and creativity. However, if you do not have the time or energy to experience the magnifying goodness of their collection by going out and visiting them at their store, you can always order through third-party delivery whales such as FoodPanda Philippines or GrabFood.
Social Media Page
Let Ohayo's social media pages be your gateway to a culinary wonderland where every bite is an explosion of taste and every dish a masterpiece.
Facebook: https://www.facebook.com/ohayojapanesecomfortfood
Instagram: https://www.instagram.com/ohayojapanesecomfortfood
Website: https://ohayo-maki-and-ramen-bar.business.site
FAQs
What type of cuisine does Ohayo offer?
Ohayo allows you to dig into the classic collection of Japanese cuisine. It features the familiar and iconic Japanese food that you have loved since then and new flavors for your adventurous heart.
What is Ohayo known for?
This restaurant is known for its authentic collections of Maki as well as its Rice bowl that features an extra elevated style that takes your entire dining to new heights.
What are the operating hours of Ohayo?
Ohayo operates from 10 AM until 12 AM every Monday to Sunday.
Where is Ohayo located in the Philippines?
If you are planning to visit Ohayo, you can check them at 835 Banawe Avenue Corner Sta Catalina Street Barangay St. Peter 1st District (7Q63J2P2+R8).
Conclusion
In conclusion, Ohayo is definitely what we can consider a culinary oasis when it comes to innovation and tradition. They indeed never fail to satisfy us with their classic take but with a touch of creativity while honoring Japanese culture. Every plate they serve is filled with delightful and well-balanced flavors of Japanese cuisine that are packed with austerity and the finest craftsmanship. I love how their Jani Mango Roll is burst in flavors as well as how delightful their Chicken Teriyaki Don is. There are a lot of sides that are close to my heart and I love every flavorful experience I had here at Ohayo.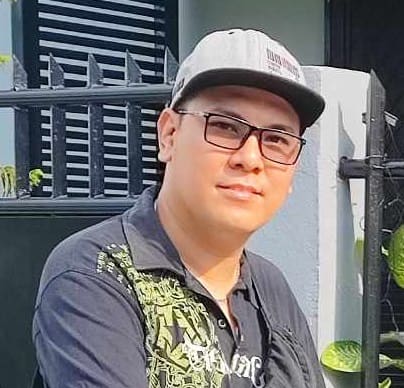 Hi! I'm Nivek Strife, the person who made MenuPH. I'm the one who added most of the popular menus you see on this website, and I really hope you enjoy them! Feel free to check them all out.
Growing up, I was surrounded by lots of tasty foods, like the classic Adobo and the sweet Leche Flan. That love for the many flavors of the Philippines is what got me excited about adding to MenuPH. When I learned how to make websites, I saw the need for a place to show off all the amazing Filipino dishes, and that's how MenuPH started.
MenuPH isn't just a website; it's like a fun journey into food. I've teamed up with famous chefs and found great places all over the Philippines to bring you a bunch of menus that show off the best of Filipino cuisine. Whether you're into the usual dishes or new twists, MenuPH is here to guide you through the rich world of Filipino flavors.
With MenuPH, my aim is to help local businesses, talk about good food choices, and make a group of friends who love food. No matter if you like fancy restaurants or street food, MenuPH has something for you. Come join me on this food adventure as we find great places, taste real flavors, and enjoy the unique food traditions that make the Philippines awesome.