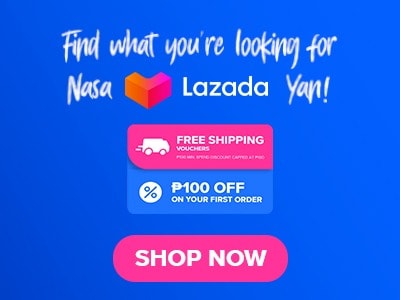 Today is different from all of the restaurants we previously reviewed before. It is not a Chinese, Japanese, or other restaurant that highlights varieties of delectable entrees. We are going to talk about Pretzels! A restaurant whose menu offers a variety of pretzels that take your delightful bite to a world filled with sweetness and exciting flavors. This is Pretzelmaker and let us find out what else can they serve on the table.
Below, you'll find the updated list of Pretzelmaker menu prices.
Menu Items
Price (PHP)

Limited Time Offer

Pesto Pretzel
110
Pizza Pretzel Roll
140

Pretzels To Go

A: 32 Cream Cheese Stuffed Bites with 2 Choices of Dips
435
B: 6 Pretzels with 2 Choices of Dips
460
C: 32 Mini Pretzel Dogs with 2 Choices of Dips
530

Premium Bites

Almond Crunch Premium Bites
115
Garlic Seasoning Premium Bites
110
Cinnamon Sugar Premium Bites
110
Plain Premium Bites
105
Pizza Bites (Made with 100% Beef)
155

Pretzels

Strawberry Cream Cheese Pretzel
100
Almond Crunch Pretzel (Premium)
95
Cinnamon Sugar Pretzel (Premium)
90
Salted Pretzel (Regular)
80
Unsalted Pretzel (Regular)
80

Pretzel Dog

Mini Pretzel Dogs (Made with 100% Beef)
150
Cheesy Pretzel Dog (Made with 100% Beef)
140
Pretzel Dog (Made with 100% Beef)
130

Beverages

Calamansi Iced Tea
80
Coffee (8oz)
75
Bottled Water
35
Green Tai-Chee Juice
80

Eco Bag

Eco Bag
35
About Pretzelmaker
Pretzelmaker is an establishment that highlights mouthwatering pretzels you will never have before. It is served in a variety of sizes, forms, and styles along with a variety of toppings and filling that will bring joy in every bite. It allows you to enjoy irresistible pretzels that are perfect for snacks with the magnifying freshly baked goods. They also offer Pretzel Dogs that will surely give you a delightful day with the joyful bites it offers.
Pretzelmaker Menu Best Seller
Let's dig in with the best-selling pretzels from their collection to make the best of your pretzel-maker experience.
Almond Crunch Premium Bites – Starting with this best-selling Almond Crunch premium Bites that allow you to indulge in the perfect combination of sweet and crunchy. They are delightfully coated with a delectable almond crunch that adds character and texture to these goodies.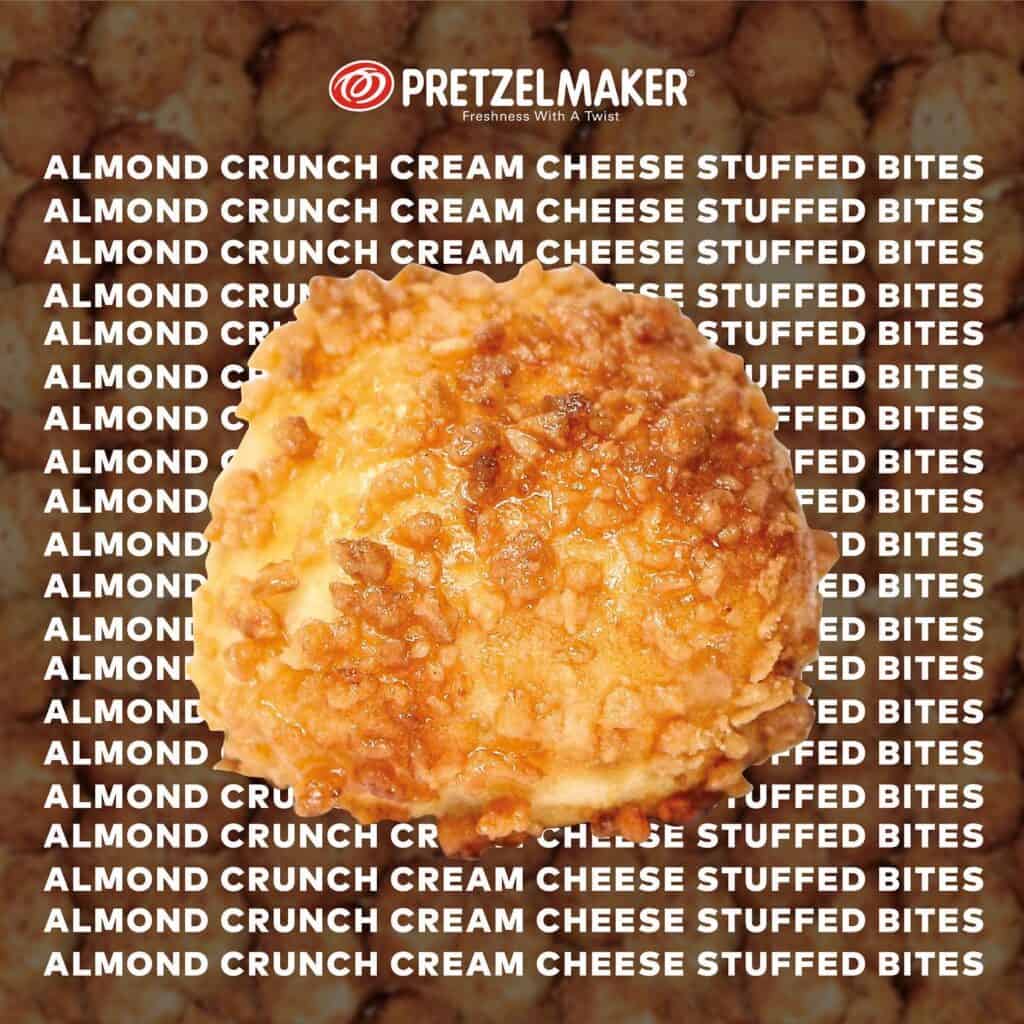 Mini Pretzel Dog– A delightful twist to the classic pretzel is here to serve you a mini pretzel dog that is both savory and delightful and very convenient for a snack.
Almond Crunch Pretzel – Experience The united texture of this soft classic pretzel in a sweet almond crunch. It has a unique flavor and textures that complement the sweetness and savory it offers.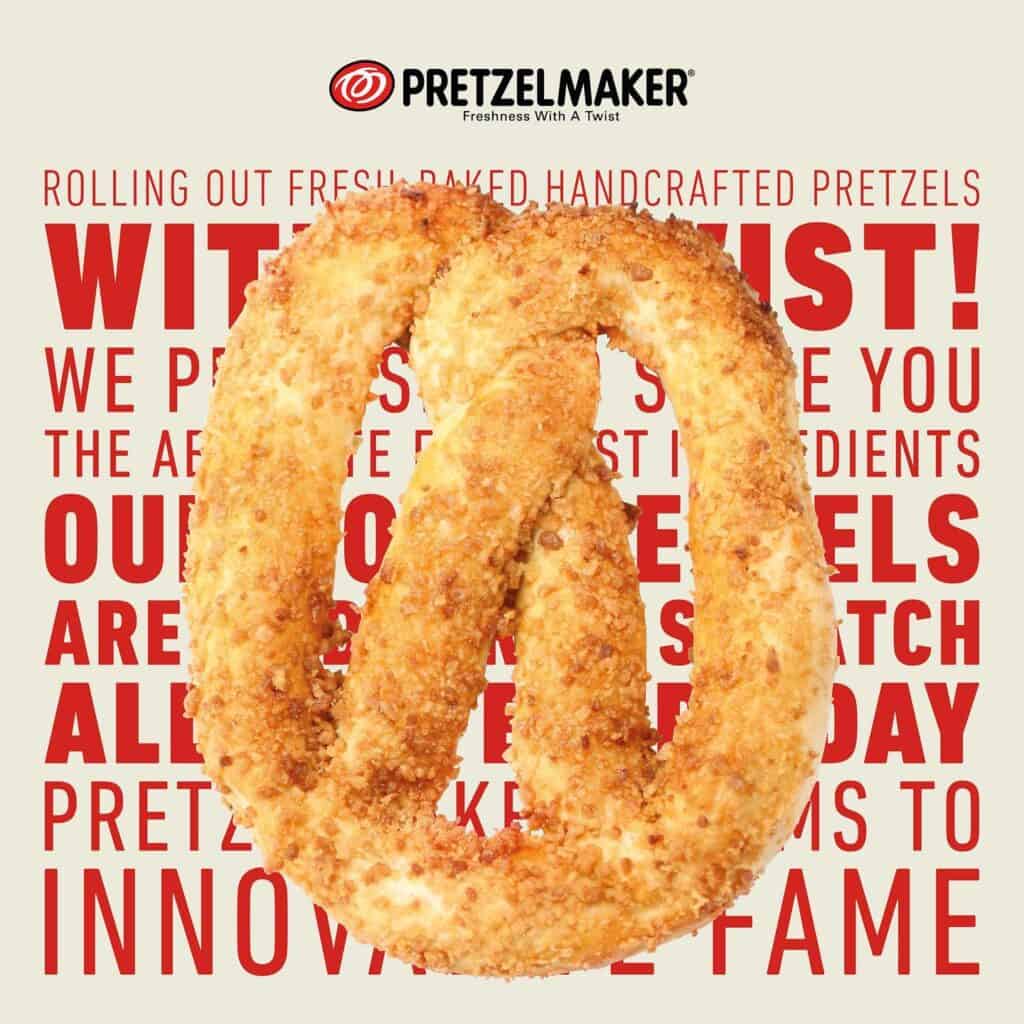 Cinnamon Sugar Premium Bites – Dive into the finest flavors of sweetness with these premium bites. It offers a morsel in a finely coated blend of cinnamon and sugar that creates an explosion of flavor that is hard to resist.
Pizza Bites – For everyone who is craving savory flavors, these pizza bites are a convenient way to satisfy your cravings. It is a perfect choice with the pizza goodness in every bite.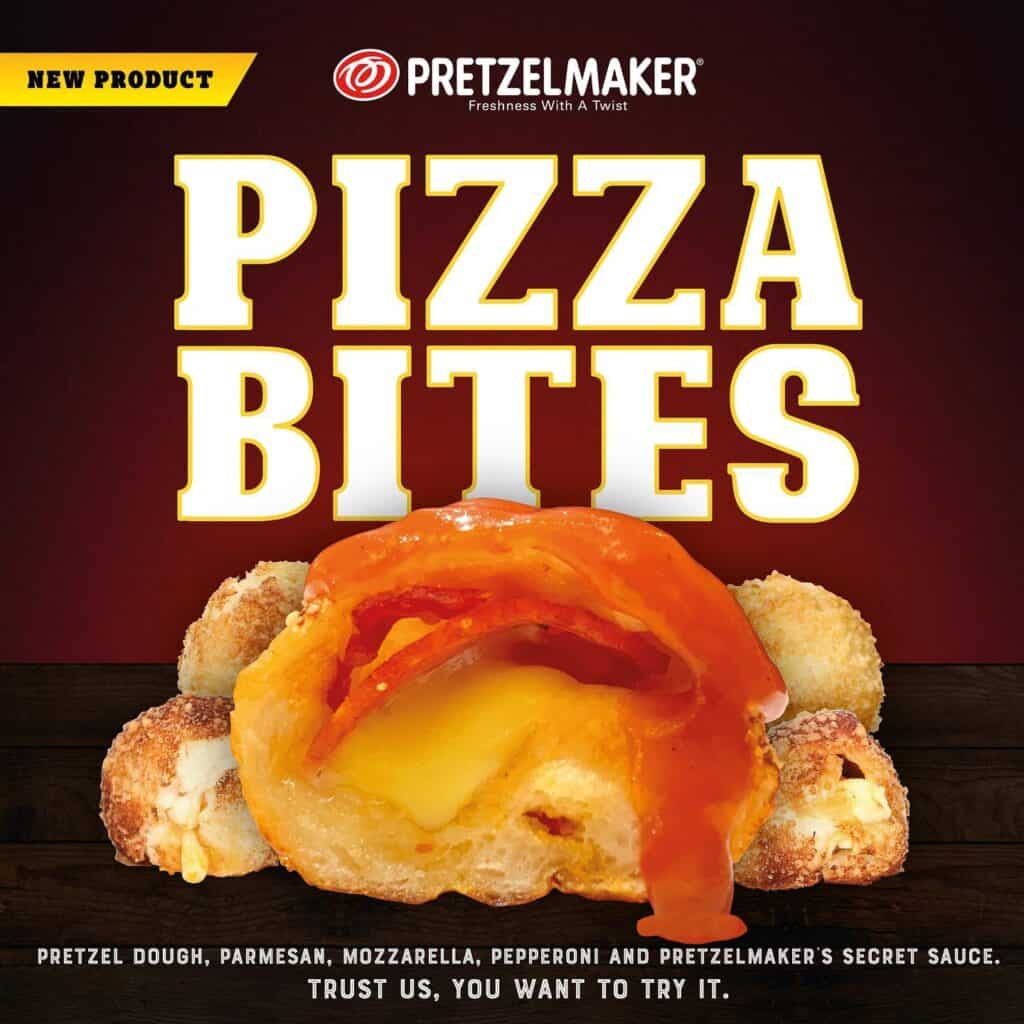 Pretzels
Pretzelmaker takes great pride in their collection of these pretzels, They are filled with goodness and crunch that will surely entice more. Let us start digging in with these 4 pretzels listed below.
Salted Pretzel – This classic pretzel is a timeless favorite. It features an ideal balance of softness and warmth creating a perfect balance with savory taste.
Unsalted Pretzel – A perfect choice if you prefer to savor the pure and simple goodness of a soft pretzel. It is like a blank canvas for your dipping sauces.
Cinnamon Sugar Pretzel – A sweeter take on your classic pretzel is here in their cinnamon sugar pretzel. It allows you to enjoy a generously coated pretzel with cinnamon and sugar.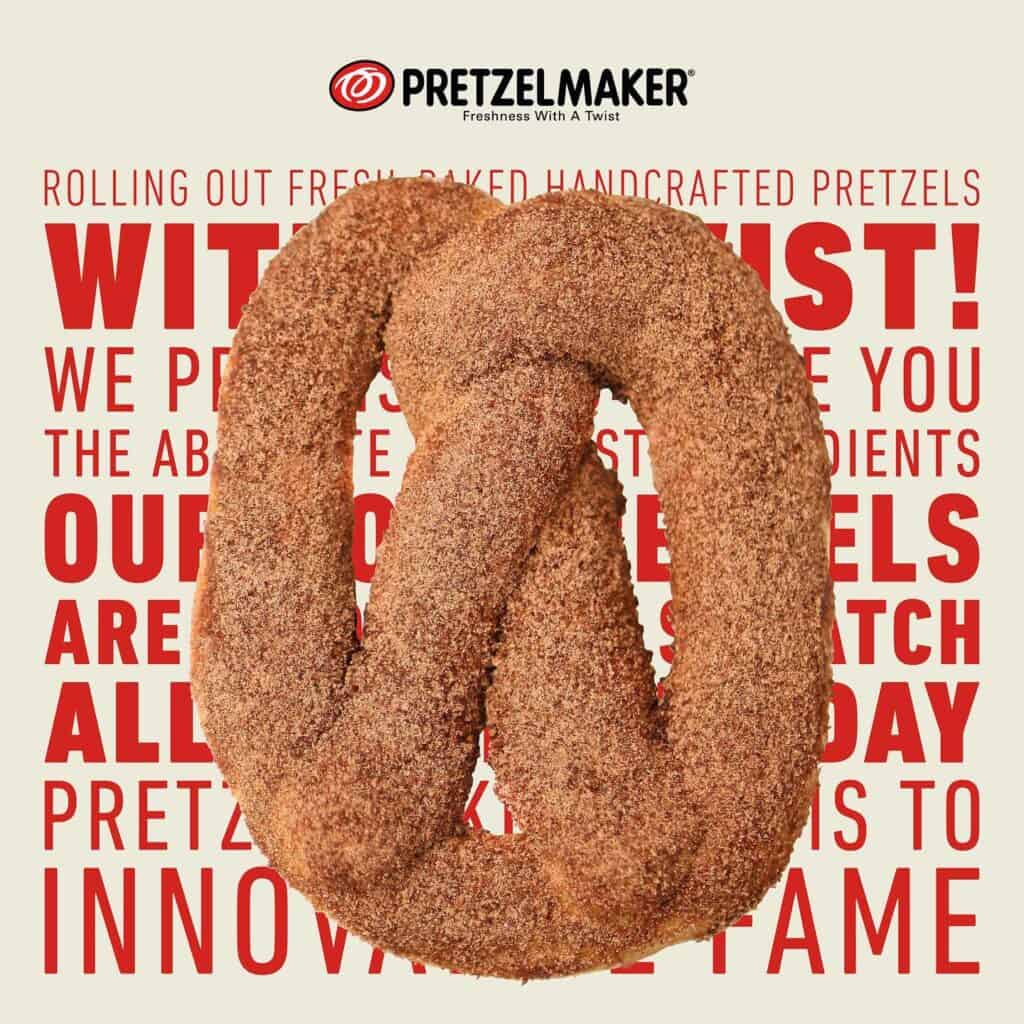 Strawberry Cream Cheese Pretzel – For an extra sweet and creamy experience, you'll never go wrong with this strawberry cream cheese pretzel. It allows you to enjoy a strawberry cheese pretzel that is delightful and sweet with a smooth texture of creaminess.
Others
Now for an extra fulfilling experience for pretzels, you might want to consider these pretzel dogs. It is an innovative option if you want to experience a savorful moment with pretzels.
Cheesy Pretzel Dog – This Cheesy Pretzel Dog is made with 100% beef. It is generously filled with cheesy goodness perfect as a satisfying treat.
Pretzel Dog – A savory delight that features a 1005 beef filling that is delightfully encased in a soft and warm pretzel. It has a delicious twist that you definitely want to try.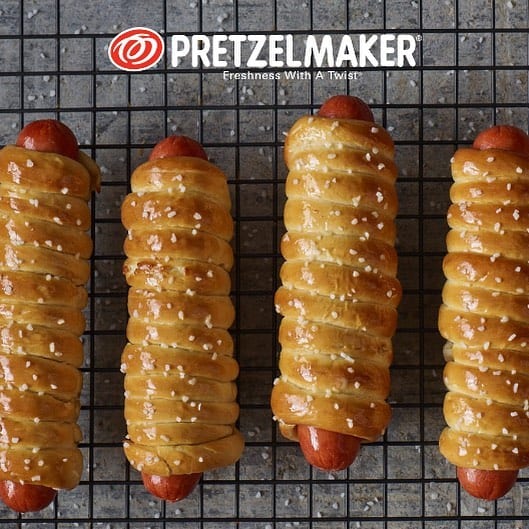 Garlic Seasoning Bites – Prepare for an enchanting experience with the savory allure of Garlic seasoning bites. These are bite-sized delights that are generously dusted with a flavorful blend of garlic and seasonings.
Cinnamon Sugar Bites – Take a step into a world of sweetness with cinnamon sugar bites. Highlighting its perfectly coated cinnamon and sugar that is delightful and sweet. They are a joyful treat perfect for your sweet tooth.
Pretzelmaker Menu Delivery
Cravings for these exciting flavors of Pretzels? How about I tell you that you can have this delightful goodness in an extra convenient way? Yes, because you can order these pretzels from Pretzelmaker through the food delivery service. They are available at FoodPanda Philippines and GrabFood to experience smooth and hassle-free transactions. Just download the app or order through their official website.
Pretzelmaker's SocMed Pages
On their pages, you'll find mouthwatering photos of freshly baked pretzels, drool-worthy videos of their delicious dipping sauces, and exclusive deals that you won't find anywhere else.
Facebook: https://www.facebook.com/pretzelmakerph
Instagram: https://www.instagram.com/pretzelmakerph
TikTok: https://www.tiktok.com/@official.pretzelmaker
Twitter / X: https://twitter.com/pretzelmakerph
Frequently Asked Questions 
What type of cuisine does Pretzelmaker offer?
The Pretzelmaker menu offers a delightful assortment of Pretzels that allow you to indulge in the most joyful way. They have a wide range of pretzels served in various styles and forms that will surely give you a satisfying experience.
What is Pretzelmaker known for?
Pretzelmaker is known for its iconic Pretzels. They are famous for the variety of styles of their pretzels such as their Mini Dogs and Bites.
What are the operating hours of Pretzelmaker?
Pretzelmaker welcomes you from 9:00 AM to 8:00 PM, Monday through Thursday, and from 9:00 AM to 9:00 PM on Friday through Sunday.
Where is Pretzelmaker located in the Philippines?
You can find one of the branches of Pretzelmaker on the Ground Floor of SM Mindpro Citimall La Purisima Street Corner Campaner Street Barangay Zone III 1st District.
How can I reach out to Pretzelmaker staff?
You can reach out to Pretzelmaker through their Facebook account in one of their branches such as the Pretzelmaker SM Fairview and Pretzelmaker SM Clark at Facebook.
Conclusion
In conclusion, Pretzelmaker is indeed the ultimate destination for pretzel enthusiasts. It immerses you in a world of a wide range of savory and sweet pretzels. It is a place where convenient snack options are literally convenient with their bite-sized and Pretzels To Go options that you can choose from and pair it with their iconic dips. Whether you are in the mood for classic salted pretzels or if you want to experience the sweet sensation of cinnamon sugar delights, the Pretzelmaker menu will surely satisfy your taste buds with all those cravings. I am delighted with my experience here even though it was my first time trying these types of establishments. I now understand the type and it is really worth the hype!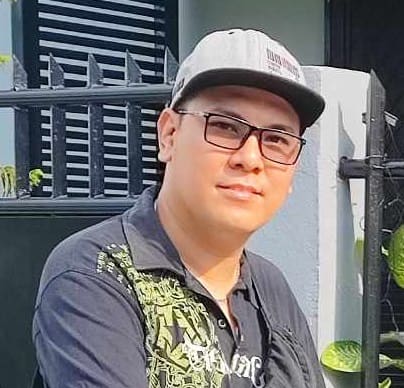 Hi! I'm Nivek Strife, the person who made MenuPH. I'm the one who added most of the popular menus you see on this website, and I really hope you enjoy them! Feel free to check them all out.
Growing up, I was surrounded by lots of tasty foods, like the classic Adobo and the sweet Leche Flan. That love for the many flavors of the Philippines is what got me excited about adding to MenuPH. When I learned how to make websites, I saw the need for a place to show off all the amazing Filipino dishes, and that's how MenuPH started.
MenuPH isn't just a website; it's like a fun journey into food. I've teamed up with famous chefs and found great places all over the Philippines to bring you a bunch of menus that show off the best of Filipino cuisine. Whether you're into the usual dishes or new twists, MenuPH is here to guide you through the rich world of Filipino flavors.
With MenuPH, my aim is to help local businesses, talk about good food choices, and make a group of friends who love food. No matter if you like fancy restaurants or street food, MenuPH has something for you. Come join me on this food adventure as we find great places, taste real flavors, and enjoy the unique food traditions that make the Philippines awesome.