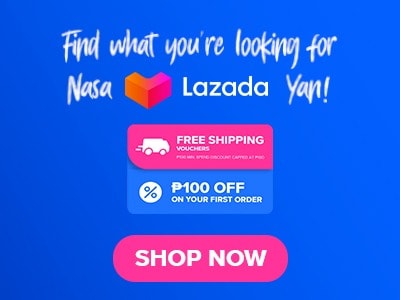 Indulge in the finest flavors with The Alley by Vikings. Take your family celebration to new heights if you dine in with them highlighting a diverse collection of sets that will provide an aesthetic satisfaction of Asian cuisine. Their menu collection allows you to indulge with their Buffet to Go perfect for family bonding. Come on and join me as we embark on another day filled with great conversation and great food.  
Below, you'll find the updated list of The Alley by Vikings menu prices.
Menu Items
Price (PHP)

Appetizer

Assorted Maki Rolls
Assorted Dimsum
Roti w/ Curry Sauce
Ball Park Nachos

Antipasto

Mama's Macaroni Salad
Symphony Salad

Rice/Starch

Yangchow Fried Rice
Nasi Goreng
Fukien Rice
Seafood Fried Rice
Fiesta Fried Rice
Not your usual Biryani Rice

Signature Entrée

Shrimp Tempura
Chicken Teriyaki
Katsudon
Agadeshi Tofu
Double Trouble (Bagnet, Chicharong Bulaklak)
Sous Vide Chicken Caprese
Porkbellicious
Grilled Chicken
Seafood Mongolian Noodles
Sous Vide Salmon Steak with Mango Rainbow Salsa
Fish & Chips
Cajun Mixed Seafood
Seafood Pasta
Calzone
Beef Rendang
Seafood Sambal
Lemon Chicken
King-Dao Spareribs
Lechon Paksiw
Binagoongan ni Lolo
Garlic Honey Butter Wings
Sous Vide Buffalo Chicken Wings
BBQ Chicken Wings

Gourmet Street Foods

Kanto Platter (Squid ball, Kikiam, Fishball)
Bibingkinitan
Puto Bumbong Leche con Quezo

Vegetable

Pinakbet con Bagnet
Stir Fry Vegetable

Pasta / Noodles

Mac & Cheese
Chick alfredo
Birthday Noodles

Hunneycomb

Thai Sweet Sticky Rice with riped Mango
Fresh Fruit Platter in Season
Assorted French Pastries

Soda

Soda

Juice 1L

Lipton Lemon Iced Tea
Lipton Red Orange Flavor Iced Tea
About
The Alley by Vikings allows you to indulge in the wonderful sets that capture the heart of the finest flavors of Asia. They offer a variety of sets that are available for delivery and savor the finest moment while indulging it at home with your family. Their Buffet To Go features varieties of appetizers, Antipasto, Rice, signature entrees, Gourmet Street food, vegetables, pasta and so much more.
The Alley by Vikings Menu Best Sellers
Create more flavorful memories with your family or special someone with their sets and the top-pick dishes from various entrees.
Chicken Teriyaki – Dive into the world of Japanese cuisine with this Chicken teriyaki that highlights a chicken that is glazed delightfully with luscious teriyaki sauce that has top-notch savory flavors.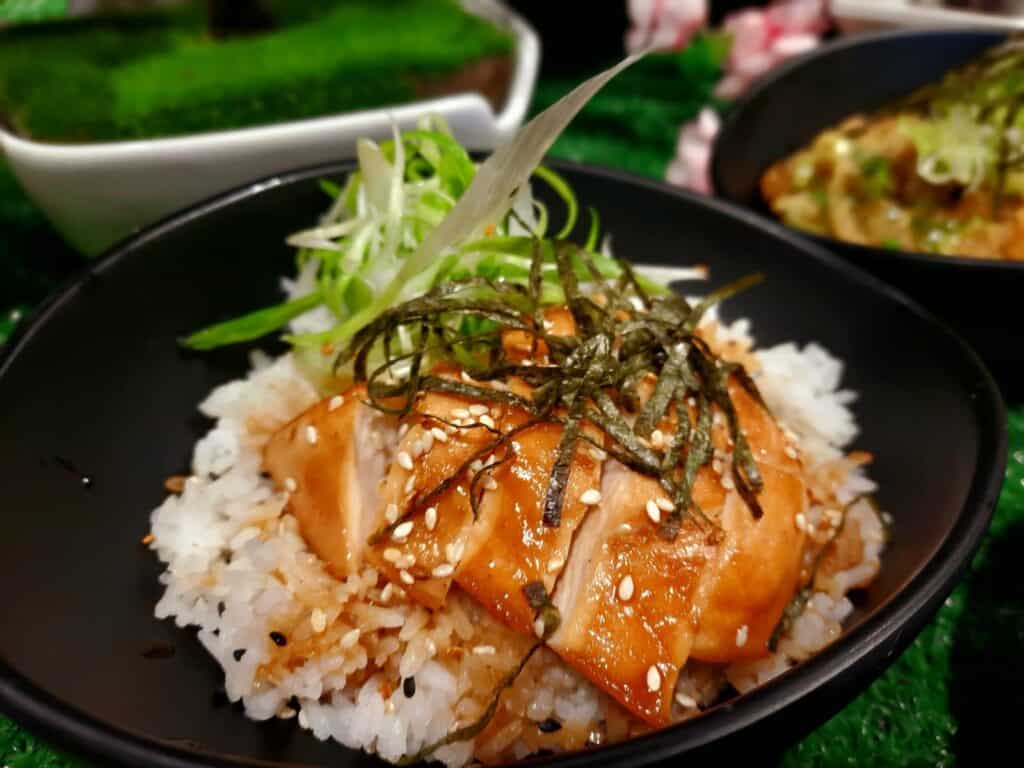 Katsudon – Experience the irresistible temptation of this Katsudon that highlights a crispy and well-breaded pork cutlet that is sitting atop a bed of steaming rice. This dish is bathed in rich and flavorful sauce making it a must-try in their best-selling list.
Double Trouble – A perfect dish for your Filipino heart. Enjoy this Double Trouble that highlights a crispy Bagnet and chicharon bulaklak that takes your crunchy and delicious twist with an iconic combination of these two.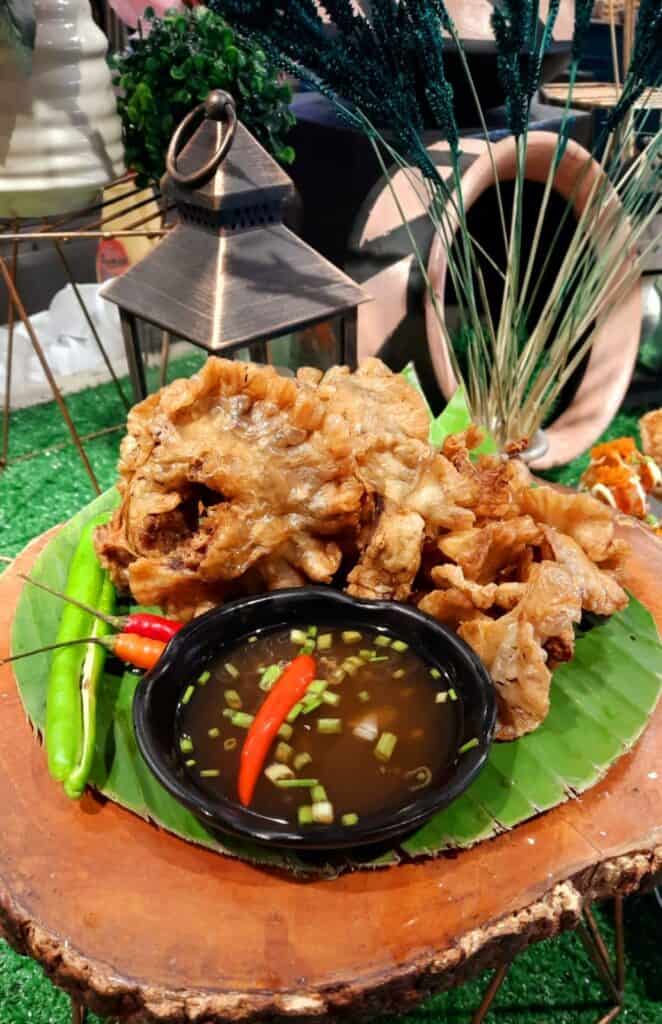 Grilled Chicken – Savor the hottest and smokey flavor of this mouthwatering masterpiece. It features a juicy chicken that is perfectly seasoned and marinated to give you an outstanding flavor in every bite.
Porkbellicious – If you are a pork enthusiast this porkbellicious is made perfectly for you. It showcases a variety of delectable pork that celebrates the outstanding flavors of your beloved meat.
Others
Never miss these other options of The Alley by Vikings menu to complete your buffet to-go. Here are the other entries that will surely bring a delightful experience to your table.
Lemon Chicken – Starting with this burst of zesty flavors lemon chicken. It features a piece of chicken that is perfectly bathed with luscious lemon sauce giving you a good balance of tanginess and sweetness.
Lechon Paksiw – Experience the essence of Filipino cuisine here with their iconic Lechon Paksiw. It features a dish that transforms your crispy lechon into an irresistible stew giving you a comforting taste of the Philippines.
Pinakbet con bagnet – This Pinakbet con Bagnet is actually a traditional cuisine here in the Philippines featuring a pinakbet with crispy bagnet giving you tasty and crispy textures to your usual pinakbet.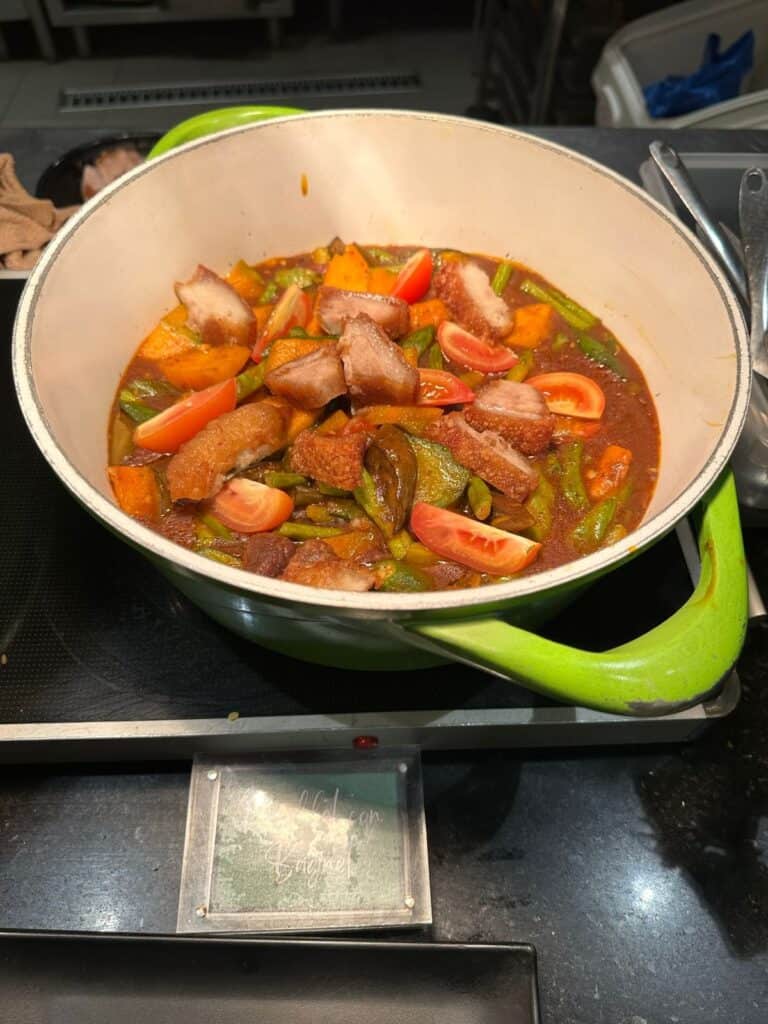 Mac & Cheese – Another highlight is this Mac and Cheese that can be found in their Pasta. Noodle collection. It has a gooey cheese sauce that embraces the perfectly cooked pasta shells.
Thai Sweet Sticky Rice with Ripe Mango – This Thai Sweet Sticky rice trended on TikTok featuring its ripe mango with the luscious sweetness of sticky rice giving you delicious notes to your meal.
Assorted Maki Rolls – Taste the finest flavors of Japan like you never had before. These Assorted Maki Rolls allow you to enjoy a flavorful assorted maki with a delightful creation of fresh ingredients.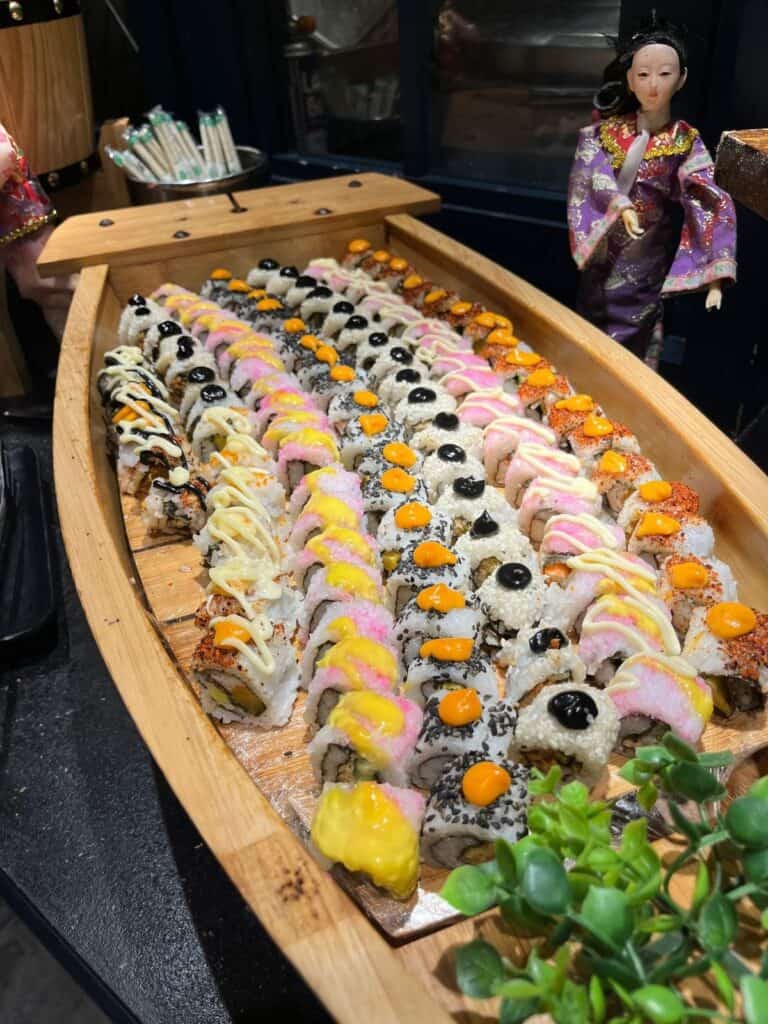 Yangchow Fried Rice – A rice for all is all about this Yangchow rice. This rice allows you to indulge in the aromatic flavors of China served with a variety of ingredients and meat.
Shrimp Tempura – Crispy and juicy is all about this shrimp tempura. It features a high-quality shrimp that offers great texture perfect for every seafood enthusiast out there.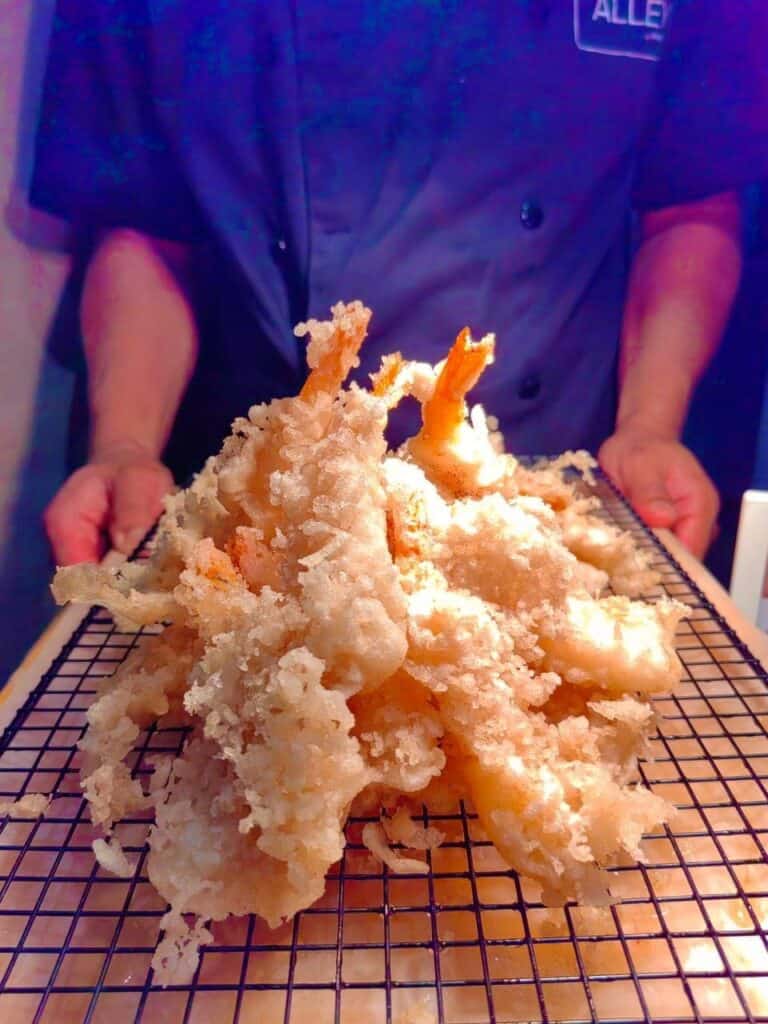 The Alley by Vikings Menu Delivery
You can order your favorite buffet sets from The Alley by Vikings at Vikings delivery. You never have to stress yourself with the traffic and all because you can surely enjoy these iconic treats right in the comfort of your home. Just visit this site that I will list below so you can order your favorite set at The Alley by Vikings.
Social Media Pages
Discover hidden gems from their extensive menu, get exclusive access to special offers, and be the first to know about upcoming events. Let The Alley by Vikings be your guide to an unforgettable gastronomic experience.
Facebook: https://www.facebook.com/thealleybgc
Instagram: https://www.instagram.com/thealleybyvikings
Website: https://www.vikings.ph/thealleybranches
FAQs
What type of cuisine does The Alley by Vikings offer?
The Alley by Vikings features iconic sets and collections of varieties of Asian and other foreign cuisine such as Thai, Japanese, Chinese, European, and more.
What is The Alley by Vikings known for?
This buffet restaurant is popular with its iconic sets which feature a variety of appetizers, Antipasto, Rice, signature entrees, pasta, and many more.
What are the operating hours of The Alley by Vikings?
At The Alley by Vikings, Lunch is served from 11:00 AM to 2:30 PM, and dinner is available from 5:30 PM to 10:00 PM.
Where is The Alley by Vikings located in the Philippines?
They have three available locations which are located at BGC Taguig, UP Town Center, and Cloverleaf Quezon City.
Do you need reservations for The Alley by Vikings?
Reservations are encouraged by the management for you to experience hassle-free and prevent pending lines. You can book your reservation at https://bookings.vikings.ph or call 8845-4647.
Conclusion
In conclusion, The Alley by Vikings is a restaurant that celebrates the world's diverse culinary traditions. It offers an exquisite collection of various dishes featuring iconic dishes from the Philippines, Japan, China and so much more. It offers a welcoming ambiance that will surely bring delight to your table. Whether you're craving classic Katsudon or sizzling teriyaki, this restaurant truly got you covered with all of your moods and cravings. However, I suggest that they need to establish a website of their own for them to be distinguished more and take that platform to showcase more of the restaurant. Aside from that I am truly delighted with my experience and I cannot wait to have my family here.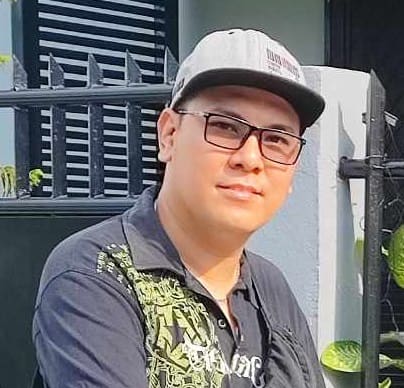 Hi! I'm Nivek Strife, the person who made MenuPH. I'm the one who added most of the popular menus you see on this website, and I really hope you enjoy them! Feel free to check them all out.
Growing up, I was surrounded by lots of tasty foods, like the classic Adobo and the sweet Leche Flan. That love for the many flavors of the Philippines is what got me excited about adding to MenuPH. When I learned how to make websites, I saw the need for a place to show off all the amazing Filipino dishes, and that's how MenuPH started.
MenuPH isn't just a website; it's like a fun journey into food. I've teamed up with famous chefs and found great places all over the Philippines to bring you a bunch of menus that show off the best of Filipino cuisine. Whether you're into the usual dishes or new twists, MenuPH is here to guide you through the rich world of Filipino flavors.
With MenuPH, my aim is to help local businesses, talk about good food choices, and make a group of friends who love food. No matter if you like fancy restaurants or street food, MenuPH has something for you. Come join me on this food adventure as we find great places, taste real flavors, and enjoy the unique food traditions that make the Philippines awesome.