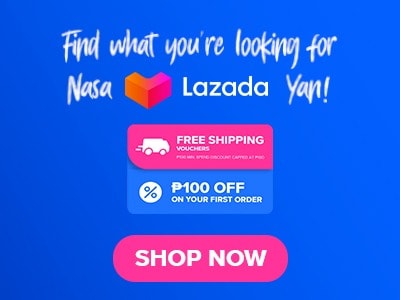 Are you looking for a great place to go on your next eat-out with your family or friends? Do you love Filipino foods? If yes then I have a recommendation for you. Ramboy's menu offers a lot of delicious and healthy Filipino dishes for you and your family, this place has a wide variety of mouthwatering options for you to choose from and if you're a fan of Filipino cuisine then this place is perfect for you. Let's talk about their menu, price, and best sellers for you to have an idea of what they offer just in case you decide to try their restaurant. Let's start! 
Menu Items
Price (PHP)

Food

Shrimp Tempura
285
Sizzling Gambas
210
Crispy Pata
325
Patatim
355
Ox Tounge Toppings
135
Hotsilog
105
Longsilog
125
Tapsilog
135
Beef Teriyaki
145
Chicken Teriyaki
125
Chicken Bbq
125
Ramboy's Chicken
125
Ramboy's Liempo
145
Group Meal (8-10 Persons)
2350
Group Meal (6-8 Persons)
1700
Sizzling Sisig
225
Sizzling Liver
195
Sizzling Tuna
245
Lumpia Shanghai
210
Kare-Kare
275
Sweet And Sour Pork
205
Sweet And Sour Liver
205
Seafood Mix
275
Beef Steak
240
Pork Chop
195
Kinilaw Na
245
Tanigue
195
Calamares
195
Halabos
295
Sizzling Pork Chop
195
Sizzling Boneless Bangus
225
Sizzling Chicken
245
Sizzling Calamares
195
Group Meal (4-6 Persons)
1150
Group Meal (3-4 Persons)
750
Mango Float
165
Garlic Rice
95
Chicken Chopsuey
180
Chicken Canton Guisado
160
Chicken Sotanghon Guisado
170
Chicken Bihon Guisado
160
Sweet & Sour Meatballs
185
Plain Meat Balls
165
Pinakbet
255
Chopsuey
255
Bam- E
180
Canton Guisado
165
Sotanghon Guisado
175
Bihon Guisado
165
Fried Chicken
280
Fried Rice
115
Plain Rice (Cup)
30
Plain Rice (Plate)
90
Leche Flan
155
Leche Flan (Single)
65
Fruit Salad
65
Chicken Lomi
155
Lomi
155
Sinigang Na Baboy
275
Sinigang Na Isda
275
Sinigang Na Hipon
275
Bulalo
345
Chicken Bbq (Paa & Pecho)
225
Inihaw Na Liempo (Half)
145
Kinilaw Na Pasayan
205
Onion Rings
115
Sizzling Hot Garlic Mushroom
220
Ox Tongue
245

Drinks

Hand Brew Coffee
150
San Miguel Light
65
San Miguel Pilsen
60
Buko Shake
85
Mango Shake
85
Four Seasons Juice
55
Pineapple Juice
55
Mango Juice
355
Bottled Water
40
Buko Juice
65
Iced Tea
45
Soda In Can
50
Red Horse
65
About Ramboy's
Ramboy's restaurant is originally located in Bulwang Numancia, Aklan. This place is known for its delicious liempo and other local favorites. Started their business in the 1990s their business expanded its menu and became famous in their place of origin, they actually have branches in Luzon and Visayas nowadays. True to their tagline Ramboy's offers the best-tasting lechon manok and liempo that you can find in the market these days. A lot of people loved their dishes and became a household name, especially in Iloilo.
They started to commence their restaurant in the year 2011 and now have 18 branches nationwide. Ramboy's has a lot to offer and it's not surprising that they have a lot of customers specifically on lunch and dinner so you better be early. As this restaurant grows the owner of this place continues to give fresh and quality ingredients to ensure the quality of their foods to make everyone come for more. This place is also sulit since the serving size of their meals is quite big enough for sharing.
Ramboy's Menu Best-sellers
Here below are Ramboy's best sellers according to some research.
Liempo – Liempo is the most popular item on Ramboy's menu. Everybody loves their liempo and I must say their liempo is one of the best that I ever tasted so far. crispy on the outside and flavorful and juicy on the inside. This mouthwatering goodness is a dish that you can't say no to.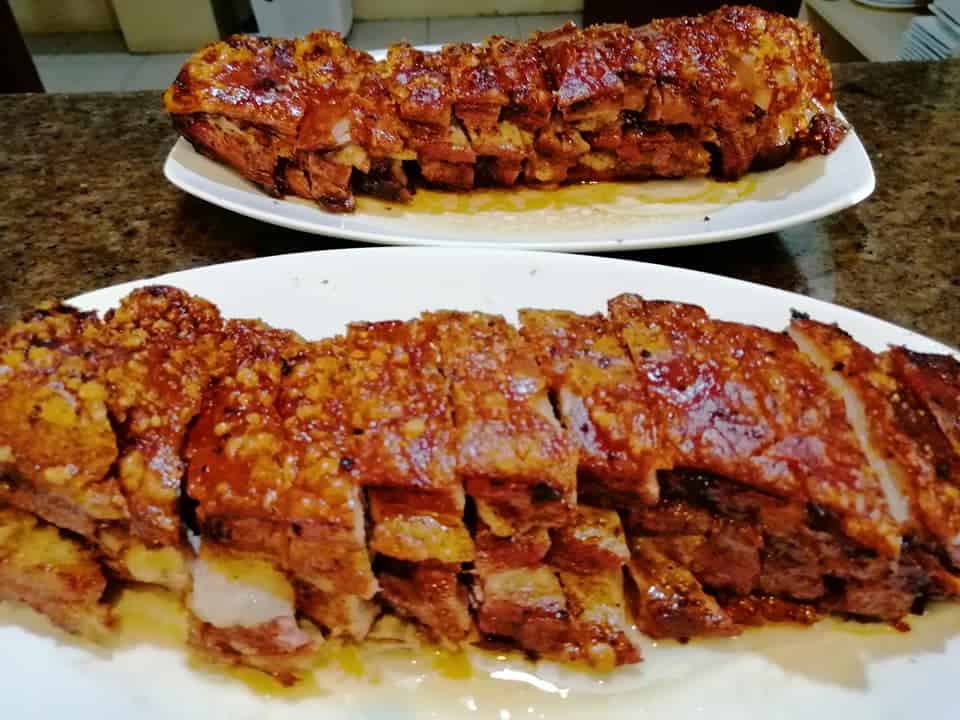 Lechon Manok – Ramboy's Lechon Manok is also included on their best sellers, this one is perfect for sharing with the whole family or your friends. Their lechon manok tastes really good with or without the sauce. Chicken is tender and not dry not overcooked too. It's still juicy on the inside and has that a little crispy and golden outside.
Sinigang – Sinigang whichever version it is is quite popular on their menu as well. The soup is not too sour and one thing I like most about their take on sinigang is the vegetables are not overcooked. Sinigang is undoubtedly one of the most famous dishes in our country and Ramboy's sinigang is one of the best that I tried so far. Must try.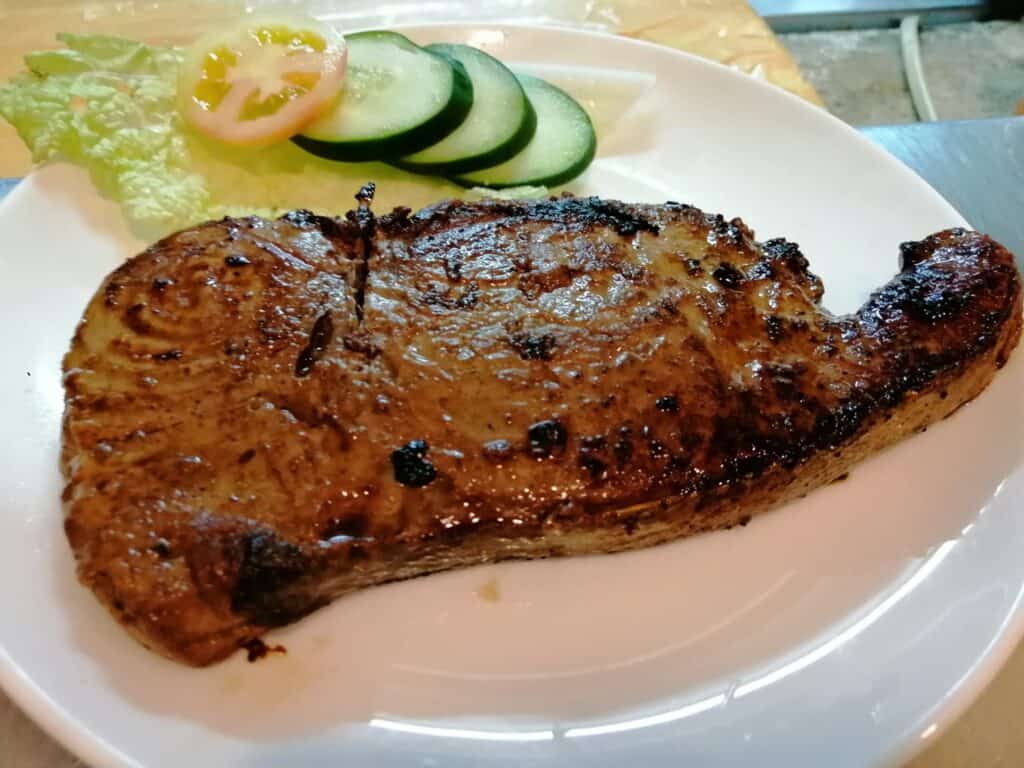 Sotanghon Guisado – Sotanghon guisado is widely popular in our cuisine. This noodle dish is one of the celebratory dishes for most Filipino families as it represents "long life". Their version of Sotanghon Guisado is delicious with fresh vegetables and meats on it. This doesn't mean a long life but also a satisfied and happy tummy. Perfectly cooked noodles and vegetables too.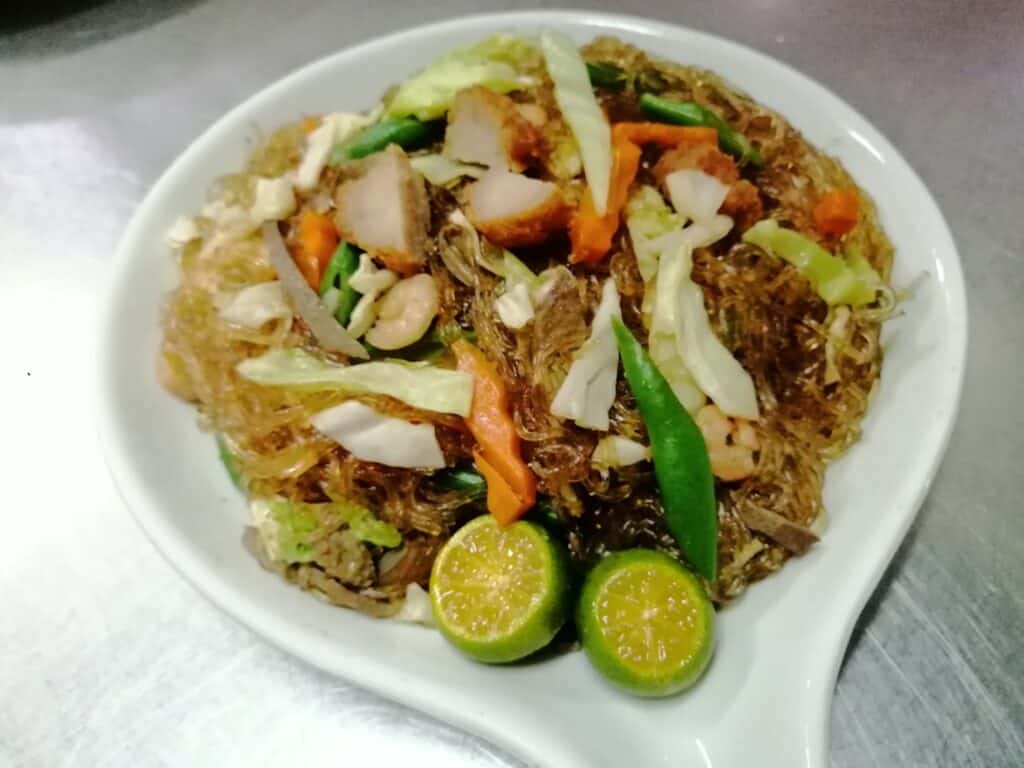 Soups
Ramboy's offers a lot of soupy dishes that we Filipinos have loved for years. Most of these items are local favorites as well. They have 3 types of sinigang, hipon, baboy, and isda so it's really up to you which one you prefer. They also have lomi which is pork and chicken lomi, these are also good.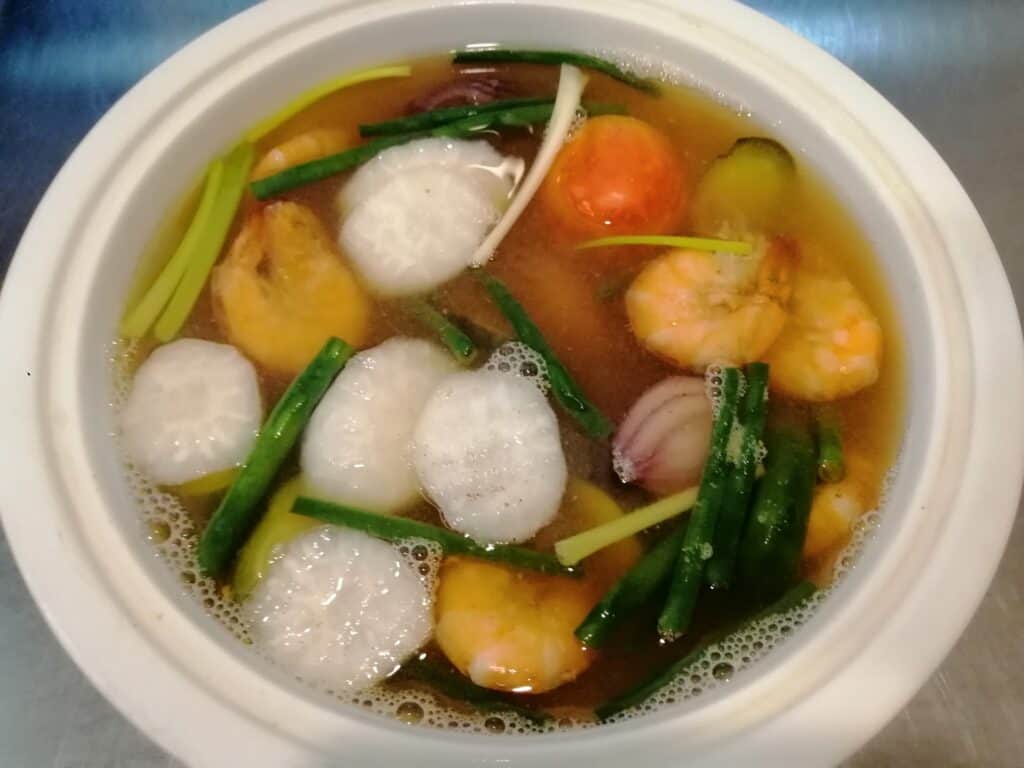 Other than that they also have chicken sotanghon soup which is a lighter kind of delicious soup that is popular in our country. If you're looking for something classic they also have tinolang native na manok the broth of this one is so rich and very flavorful. They also have nido soup on this menu.
Meaty Items
Ramboy's offers 4 kinds of meaty menu that are great for sharing. They have liempo which is good for 3-4 people already. They also have patatim which is my favorite thing to order on their menu. Crispy pata is also on their menu their popular crispy pata is juicy and tender on the inside and very crispy on the outside and lastly their lechon manok, this one is a whole chicken that they serve with dipping sauce.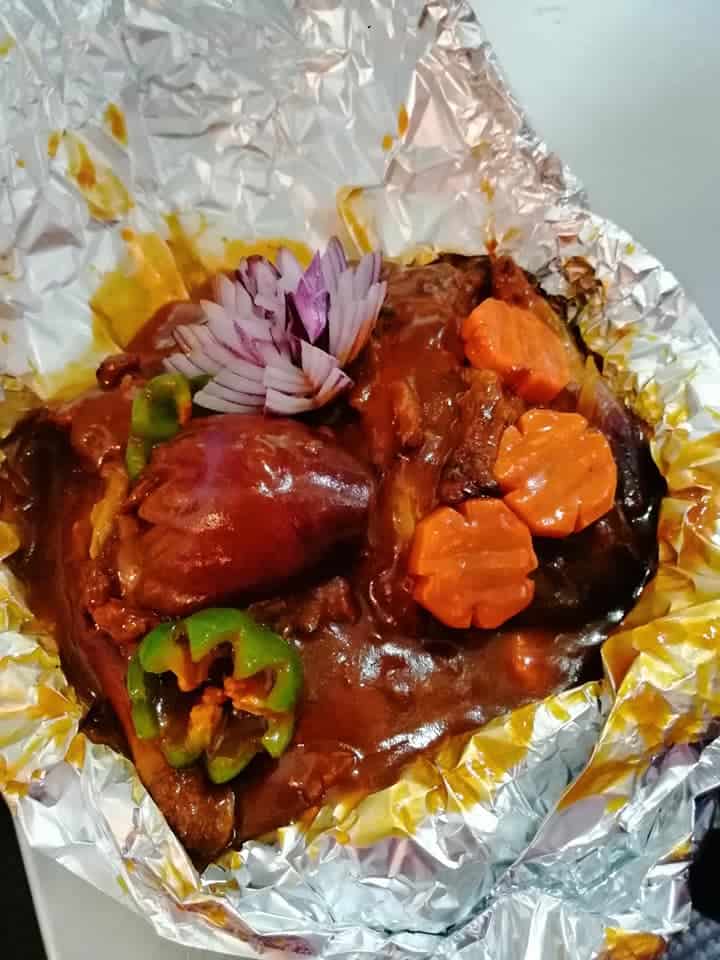 Ramboy's Menu Delivery
Ramboys lechon manok and liempo offers delivery within Iloilo city. All you have to do is call their number at 09519717277 for smart and 09665935986 for globe subscribers. You can also message them on their Instagram account for your orders. Aside from that if you're living nowhere near Iloilo you can also use other platforms such as third-party delivery services available in your location.
Ramboy's Facebook Page
Join them on a journey of flavor and tradition by following Ramboy's on their Facebook. Discover the authentic taste of homegrown favorites that have delighted generations!
Facebook: https://www.facebook.com/Ramboys
FAQs
Can I have a reservation at Ramboy's?
Yes. Ramboy's accepts reservations. All you have to do is to call them at 09519717277 or 09665935986.
What are the payment options at Ramboy's?
Ramboy's accepts cash for payments and debit and credit cards for a cashless transaction. While on their delivery orders, they accept GCash, or bank transfers.
What is Ramboy's business hours?
Ramboy's is open daily Mondays through Sundays from 10:00 am until 11:00 pm.
Does Ramboy's accept delivery orders?
It depends on the branch not all Ramboy's offers delivery orders however there are a lot of Ramboy's restaurant branches that offer it.
Why is Ramboy's popular?
Ramboy's is popular because of its mouthwatering Filipino favorites to offer. Sample dishes are liempo, halabos, and many more.
Conclusion
It is a great place to go if you are craving Filipino food. Overall experience with this place is good and very satisfying. Ramboy's menu offers a wide variety of mouthwatering dishes that will surely satisfy your cravings and tickle your tastebuds for more. This place also has a spacious dining area where you can eat comfortably and just enjoy your delicious meal. Service crews offer good customer service they are fast, nice, and easy to deal with, even give recommendations if you're nice and ask them. Highly recommended for every foodie out there who loves to experience great food and good customer service.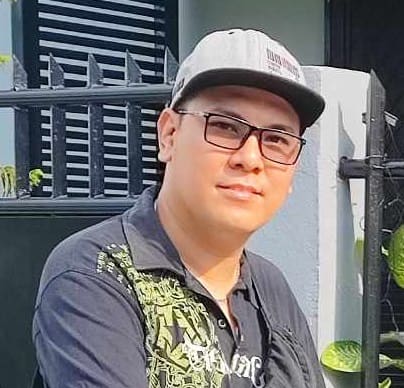 Hi! I'm Nivek Strife, the person who made MenuPH. I'm the one who added most of the popular menus you see on this website, and I really hope you enjoy them! Feel free to check them all out.
Growing up, I was surrounded by lots of tasty foods, like the classic Adobo and the sweet Leche Flan. That love for the many flavors of the Philippines is what got me excited about adding to MenuPH. When I learned how to make websites, I saw the need for a place to show off all the amazing Filipino dishes, and that's how MenuPH started.
MenuPH isn't just a website; it's like a fun journey into food. I've teamed up with famous chefs and found great places all over the Philippines to bring you a bunch of menus that show off the best of Filipino cuisine. Whether you're into the usual dishes or new twists, MenuPH is here to guide you through the rich world of Filipino flavors.
With MenuPH, my aim is to help local businesses, talk about good food choices, and make a group of friends who love food. No matter if you like fancy restaurants or street food, MenuPH has something for you. Come join me on this food adventure as we find great places, taste real flavors, and enjoy the unique food traditions that make the Philippines awesome.