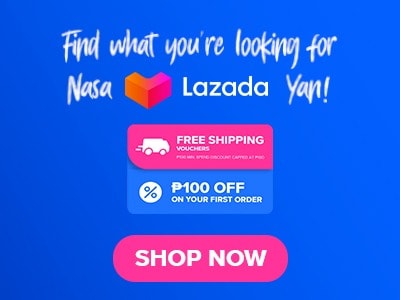 Sunburst offers a diverse menu that caters to various taste preferences that extend beyond Filipino dishes to include a range of international dishes. The restaurant provides a wide selection of flavorful options that range from seafood to grilled meats, pasta to burgers, and sandwiches to salads to make sure that there is something for everyone to enjoy. Sunburst also emphasizes quality and affordability, designing their menu to please both individuals and families and ensuring that everyone that comes to their restaurant will be full and satisfied.
Below, you'll find the updated list of Sunburst menu prices.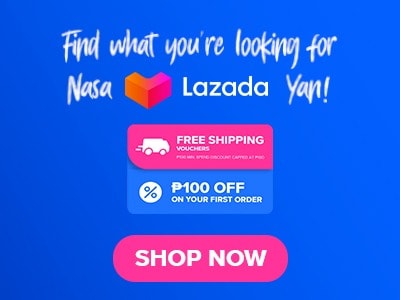 Menu Items
Price (PHP)

Appetizers

Chick'n Cracker (Regular)
338
Chick'n Cracker (Small)
238
Liver and Gizzard (Regular)
218
Liver and Gizzard (Small)
148
Liver (Small)
138
Gizzard (Regular)
208
Gizzard (Small)
138
Calamares (Regular)
408
Calamares (Small)
368
Chicken Neck
178

Specialties of the House and Prime Cuts

Sunny Solo - Thigh
168
Sunny Solo - Keel
178
Sunduo
238
Drumstick (Prime Cuts)
368
Ribkeel (Prime Cuts)
408
Wings (Prime Cuts)
438
Thigh (Prime Cuts)
378

Double and Quadro

Drumstick (Double)
208
Ribkeel (Double)
308
Wings (Double)
198

Chicken and Seafoods

Fish Fillet (Ala Carte) - Regular
348
Fish Fillet (Ala Carte) - Small
218
Fish Fillet Mix (Regular)
338
Fish Fillet Mix (Small)
218
Chicken Ala King with Rice
278
Chicken Curry with Rice
278
Chicken Cutlet
258

Snacks

Chicken Sandwich
148
Clubhouse
218
Chicken Fillet Sandwich
178

Desserts and Extras

Garlic Rice (Mould)
48
Mayonnaise
48
Gravy - Chicken
58

Soup and Chilled Salad

Pancit Molo
108
Cream of Mushroom
118
Sotanghon
108
Chicken Asparagus
138
Sinigang ng Hipon
308
Sinigang na Tanguigue (Regular)
378
Sinigang na Tanguigue (Small)
278
Fresh Vegetable Soup (Regular)
228
Fresh Vegetable Soup (Small)
178
Special Lomi (Regular)
268
Special Lomi (Small)
178
Cole Slaw (Regular)
188
Cole Slaw (Small)
138
Chicken Potato (Regular)
208
Chicken Potato (Small)
158
Potato (Regular)
188
Macaroni Salad
148
Potato (Small)
148

Drinks

Regular Softdrinks (in can)
88
Diet Softdrinks (in can)
88
Orange Juice
88
Pine-Orange Juice
88
Pineapple Juice
88
Mango Juice
88
Four Seasons
88
Sola Raspberry
108
Sola Lemon
108
Mineral Water
38

On the Grill and Pinoy Classic

Grilled Pork Chop (Regular)
278
Grilled Pork Chop (Small)
188
Grilled Tanguigue
378
Grilled Chicken
298
Beef Ampalaya
218

Extras

Cutlery

Short Orders

Sweet and Sour Pork (Regular)
248
Sweet and Sour Pork (Small)
208
Potato Wedges (Regular)
138
Potato Wedges (Small)
98
Rice Noodles (flat) - Regular
368
Rice Noodles (flat) - Small
258
Sotanghon Guisado (Regular)
268
Sotanghon Guisado (Small)
208
Pancit Canton (Regular)
258
Pancit Canton (Small)
198
Bihon Guisado (Regular)
278
Bihon Guisado (Small)
198
Chopsuey Special (Regular)
278
Chopsuey Special (Small)
218
Lumpia Shanghai (Regular)
248
Lumpia Shanghai (Small)
178
Vegetable Curry
238
Shanghai Fried Rice
218
Potato Chips (Small)
98
About Sunburst
Sunburst is a popular restaurant in the Philippines that is known for its signature fried chicken and a wide selection of Filipino dishes with a mix of international cuisine as well. It has multiple branches across the country and slowly gained a reputation for its flavorful meals and warm dining experience. Sunburst offers a diverse menu that combines Filipino favorites and international dishes, with the Sunburst Fried Chicken at the front. The restaurant has a warm and casual ambiance, creating a welcoming and family-friendly atmosphere that contributes to an enjoyable dining experience for both individuals and groups.
Sunburst Menu Best Seller
This menu is made up of a wide variety of food offerings that could cater to everyone making them the most popular items at Sunburst.
Drumstick (Double) – This is a double serving of drumsticks from Sunburst that are both flavorful and satisfying. These drumsticks are juicy on the inside with crispy skin on the outside resulting in a super satisfying meal.
Wings (Double) – This Sunburst menu includes two pieces of chicken wings that are seasoned with various sauces or spices to add flavor. The taste can range from mildly seasoned to spicy, depending on the preference and seasoning that customers choose.
Chicken Ala King with Rice – A delicious dish that has chicken pieces in a creamy sauce with mushrooms, bell peppers, and peas. They cook it all together, and when it's done, they put it on top of steamed rice. The chicken and veggies taste really good together, and the creamy sauce makes it even better. It's a mix of tasty flavors that you'll enjoy!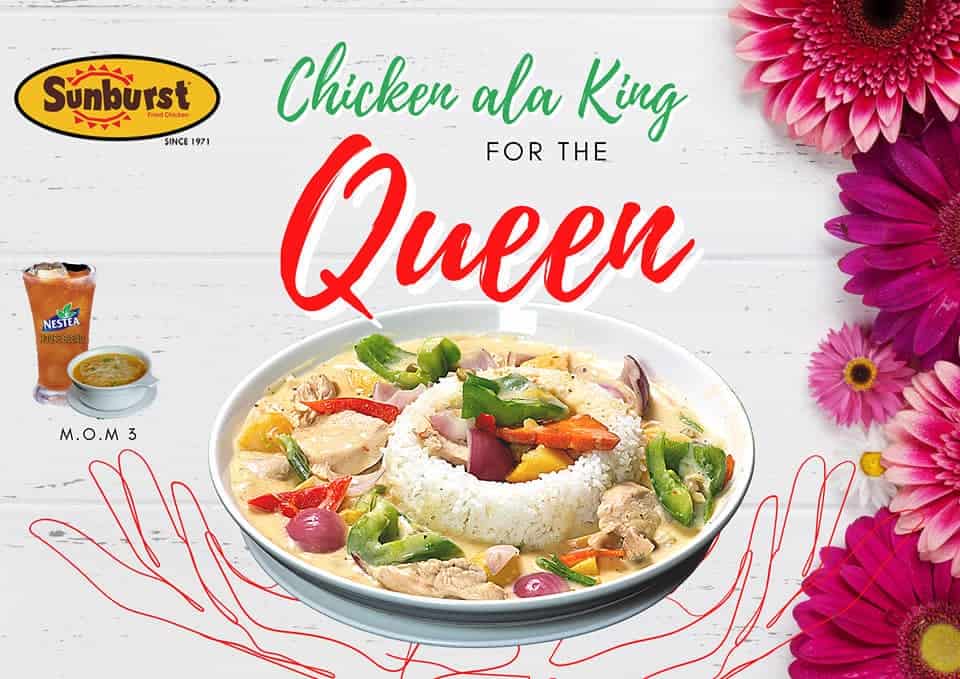 Chicken Curry with Rice – It is a dish with chicken pieces cooked in a flavorful curry sauce that is made with a blend of spices, coconut milk, and other ingredients, resulting in a rich and aromatic dish.
Sinigang ng Hipon – This dish is a classic Filipino sour soup that uses shrimp as its main ingredient. The soup is typically cooked with a tamarind-based broth, which gives it its distinct sour flavor.
Sunburst Menu Appetizers
This menu is composed of mouthwatering appetizers that would make a great start to any meal at Sunburst.
Chick'n Cracker (Regular) – It consists of crispy and seasoned chicken cracklings or fried chicken skin. This crunchy snack is often enjoyed as a side dish or appetizer due to its addictive texture and flavorful coating.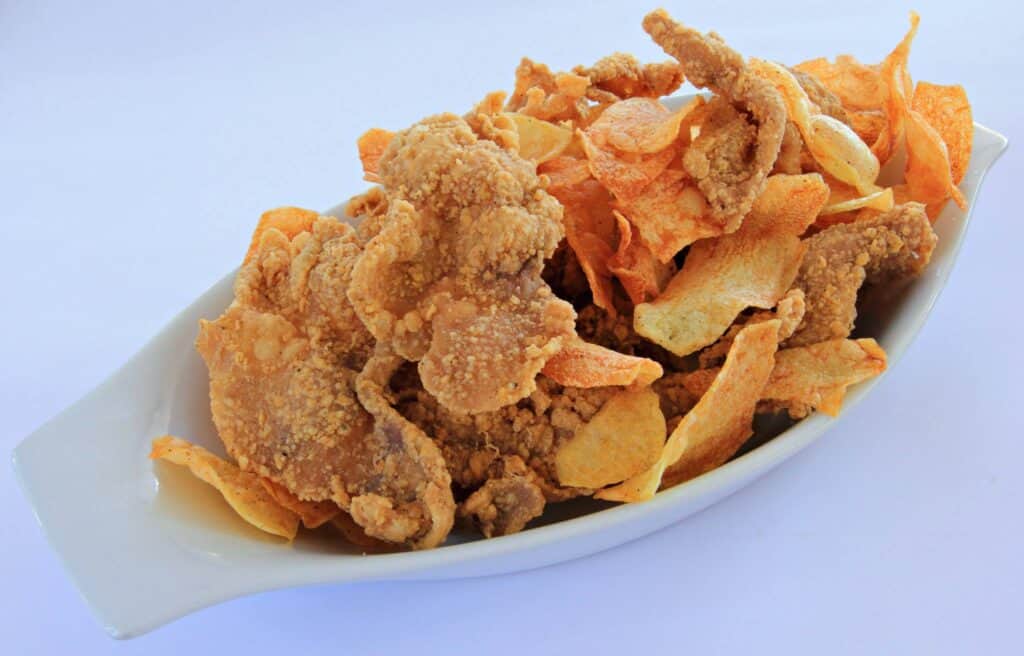 Liver and Gizzard (Regular) – This dish features tender and flavorful pieces of chicken liver and gizzard. These organs are marinated and coked perfectly to provide customers with a rich dish with a chewy texture.
Gizzard (Regular) – It is a dish that focuses solely on the chicken gizzard, a muscular organ found in the digestive tract of chickens, and when cooked properly, it becomes tender and flavorful. It is marinated and cooked using various methods resulting in a dish with a slightly chewy texture and a rich, meaty flavor.
Sunburst Menu Specialties
This menu is made up of Sunburst's specialty items that will surely fill and satisfy anyone who tries them.
Drumstick (Prime Cuts) – The Drumstick (Prime Cuts) from Sunburst is a popular choice for those who enjoy chicken drumsticks. Prime cuts typically refer to the high-quality portions of the chicken, ensuring a flavorful and tender eating experience. The drumstick is known for its juicy meat and crispy skin that can be enjoyed as a standalone dish or as part of a larger meal.
Ribkeel (Prime Cuts) – The Ribkeel (Prime Cuts) is a chicken dish that focuses on the rib section of the chicken, often marinated and cooked to perfection. This cut offers a combination of meat and bones, resulting in a flavorful and juicy eating experience. The ribkeel is tender and juicy, with a balance of meat and fat that enhances the taste.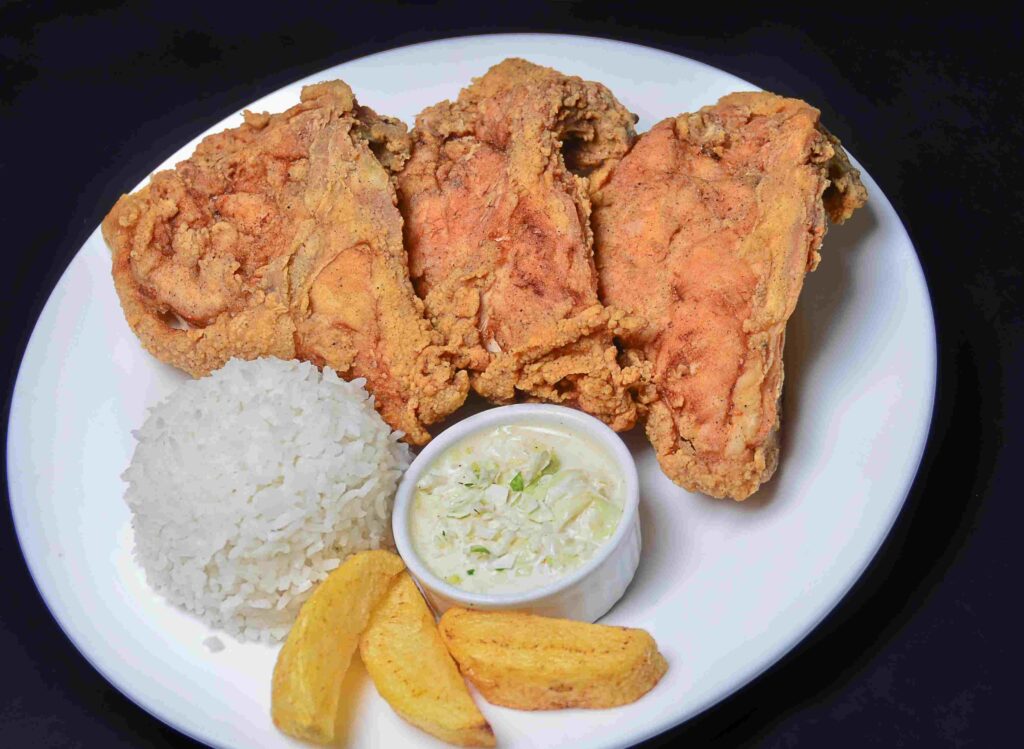 Wings (Prime Cuts) – The Wings (Prime Cuts) from Sunburst are an appealing choice for chicken wing lovers that visit  Sunburst. Prime cuts ensure that you get the best quality wings with maximum meatiness and flavor.
Double and Quadro
On this menu, there are three items you can choose from: drumstick, ribkeel, and wings. You can order these in pairs if you're eating with a friend or all three if you're in a group of up to four people. So, whether you're with a small group or just one friend, there's something delicious for everyone!
Chicken and Seafood
If you enjoy eating chicken, seafood, or both, this menu has something for you! They've got a variety of delicious options that will make your taste buds happy. So, whether you're a chicken lover, a seafood enthusiast, or enjoy both, this menu has got you covered!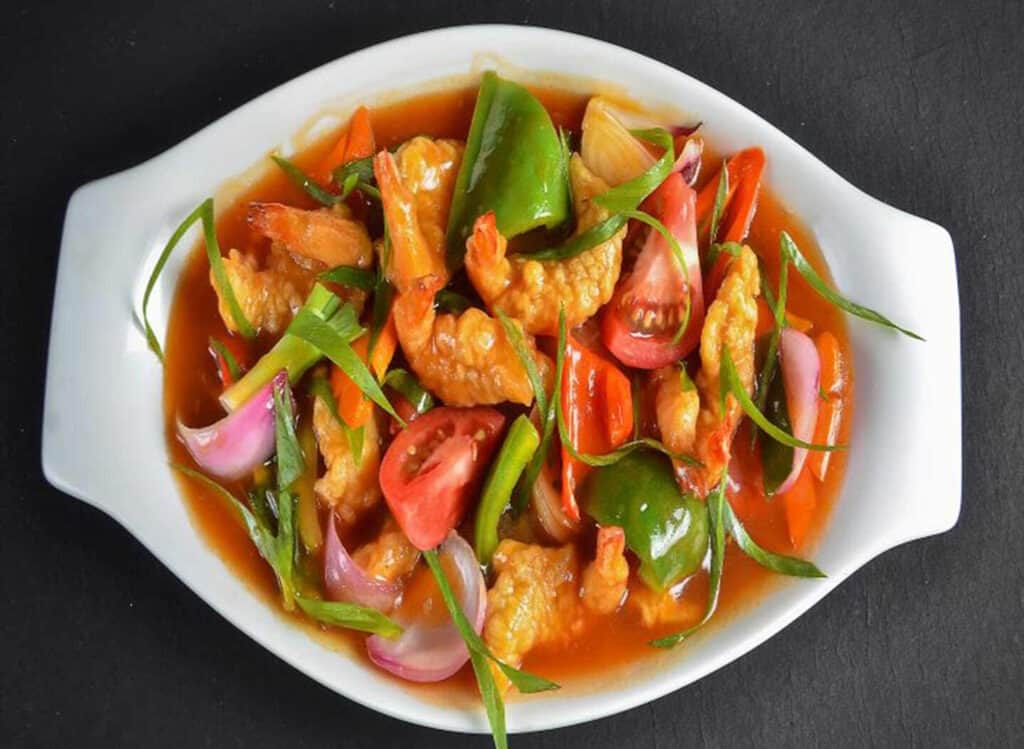 Soup and Chilled Salad
The menu at this restaurant has a lot of different soups and chilled salads. These dishes are perfect if you want something comforting and healthy to eat. The best part is that they offer a wide variety of these items, which means there are many options to choose from. So, if you like soups or salads, you can try different ones and enjoy a diverse and delicious meal!
Sunburst Menu Delivery
Sunburst provides a delivery service to make ordering much easier for their regular customers and also make their food offerings more accessible to the wider public. Customers can browse Sunburst's menu and order their favorite dishes through third-party delivery services like FoodPanda and GrabgFood.
Social Media Pages
Their social media pages are your gateway to a world of crispy goodness and finger-licking delights. Don't miss out on the fun – follow, like, and share the love for Sunburst Fried Chicken. It's time to add some sunshine to your meals with their delectable fried chicken delights!
Facebook: https://www.facebook.com/SunburstFriedChicken/
Instagram: https://www.instagram.com/sunburstoakridge/
FAQs
Where can I find Sunburst?
Sunburst has multiple branches set up in Cebu and in Bohol.
What types of chicken dishes does Sunburst offer?
Sunburst offers a variety of chicken dishes such as Fried Chicken, Chicken Barbecue, Chicken Adobo, and more!
What other types of food does Sunburst serve?
In addition to its chicken dishes, Sunburst also offers a range of seafood items, grilled meats, pasta, and salad dishes.
Are there any ongoing promotions or discounts available at Sunburst?
Sunburst often provides their customers with a variety of promotions and discounts so make sure to always check their social media pages to stay up to date.
Is Sunburst Halal certified?
Sunburst does not have any halal certification.
Conclusion
Sunburst has established itself as a beloved restaurant chain in the Philippines, known for its flavorful fried chicken and diverse menu offerings. This restaurant provides a warm and casual dining experience that appeals to both locals and visitors with its multiple branches across the country. Their signature Sunburst Fried Chicken is a crowd favorite, delivering a crispy and juicy delight. However, Sunburst goes beyond just fried chicken, offering a variety of Filipino and international dishes to cater to different palates. The affordability of their menu makes it accessible to a wide range of customers, ensuring that everyone can enjoy a satisfying meal.