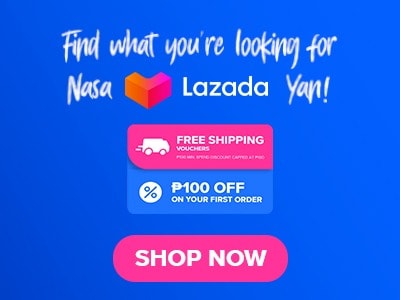 Barbecue is one of the most popular food choices for us Filipinos. Nowadays there are a lot of barbecue restaurants that are mushrooming in our country especially if you're living in the metro but where can we find a good barbecue? No worries I got you on this one, Reyes Barbecue menu has a lot to offer, not just barbecue but they have our favorites as well. Now let's talk about this restaurant, a humble place where you can get the best-tasting barbecue without spending too much. Let's get to know them a little bit more so that next time that you are craving a Filipino-style barbecue maybe you can check their place. Let's go.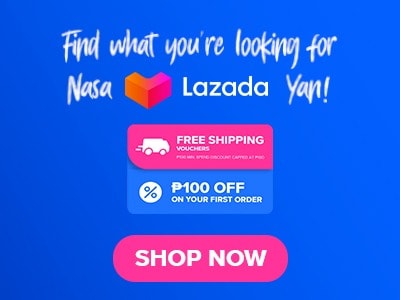 Menu Items
Prices (PHP)

Classics

Boneless chicken barbecue (quarter/half)
215/365
Pork barbecue (1pc/2pcs)
135/205
Chicken barbecue stick meal (1pc/2pcs)
135/205
Hamburger steak (1pc/2pcs)
120/190
Grilled liempo (1pc/2pcs)
250/395

Seafood

Grilled pusit
395
Grilled bangus (1pc/2pcs)
160/245
Grilled tuna (1pc/2pcs)
185/340
Pork barbecue and grilled Bangus
235
Pickled cucumber
25
Atchara
20

Barbecue Platter and Group Meals

Pancit luglog group meal A
1595
Pancit luglog group meal B
1395
Pancit luglog group meal C
1395

Sides

Sizzling pork sisig
250
1pc pork barbecue
85
Chicken gizzard
50
Chicken tail
65
Pork wrapped chicken liver
110
Arroz caldo
75
Chicken sotanghon soup
80
Molo soup
65
Chili cheese sticks (solo/sharing)
90/145

Noodles

Pansit luglog solo
150
Pansit luglog with regular drinks
190
Pansit luglog with 1pc pork barbecue
235
Pansit luglog with 1pc pork barbecue with 12oz drinks
275
Pansit luglog large
515

Drinks

Iced tea
40
Lemonade
40
Soda
40
Pitcher
160
Black gulaman
70

Desserts

Turones caramel
70
Macapuno langka
70
About Reyes Barbecue
Reyes Barbecue was founded years in 2002 by Francisco Reyes. His family has had culinary expertise for 140 years. His maternal grandmother is a highly skilled cook who is an expert when it comes to kare-kare, his maternal grandmother's daughter is the grandmother is Frank which is also the founder of the longest surviving restaurant in the country "The Aristocrat" located in Roxas boulevard.
Frank and his other cousins are required to work in his Lola's restaurant every summer, during his exposure to his Lola's cooking he learned how to cook delicious barbecues since he noticed that barbecue dishes are the best sellers in his Lola's restaurant. At that time in 2002, there was no food chain focusing on barbecue, Customers noticed how delicious their barbecues and other items and the restaurant is a click and the rest is history.
Reyes Barbecue Menu Best Seller
We listed their best-selling food items according to our research and here are the top 4 best sellers from the Reyes Barbecue menu.
Boneless Chicken Barbecue – Served as quartered size, their boneless chicken barbecue is really tasty, soft but cooked and definitely delicious. One of their best seller items that their customers are always asking about is this one. The taste to be quite fair is good I don't have any complaints about the dish itself and the serving size, you can also eat it with or without sauce because it's already tasty. Deboning the chicken is a plus, it's Easy to eat and seasoned very well.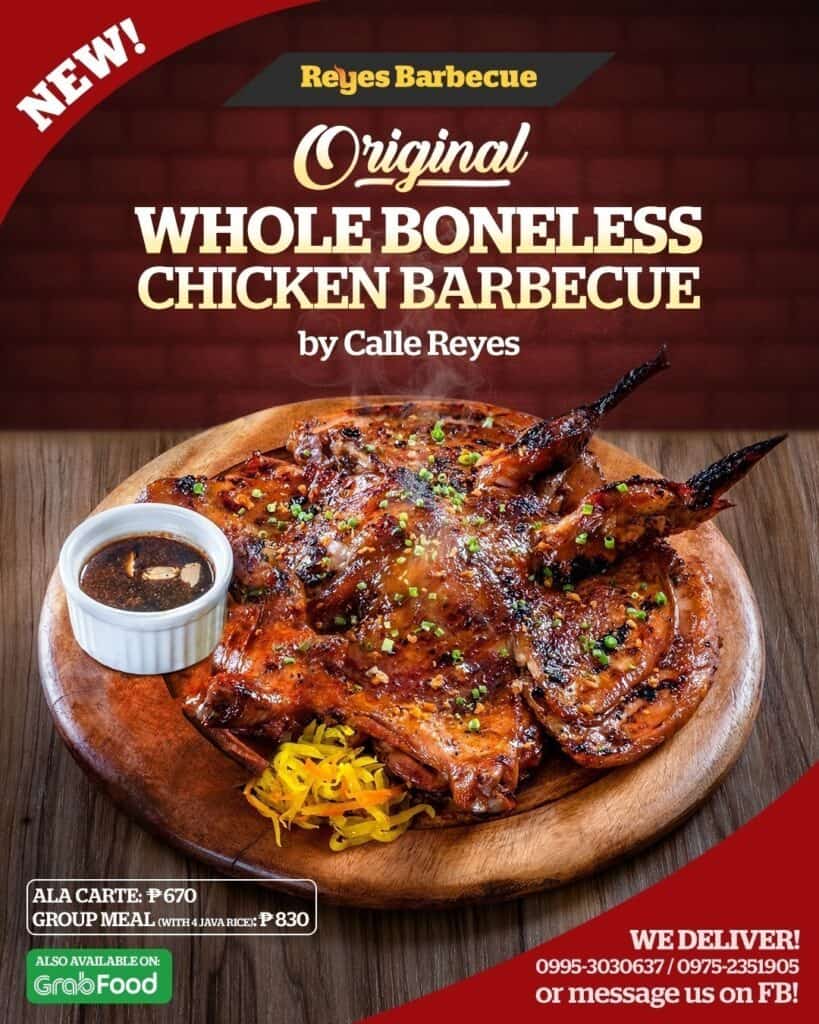 Pork Barbecue – Who wouldn't want a delicious pork barbecue right? This is already a Filipino favorite among barbecues, Reyes Barbecue's version of pork barbecue is very tender and it tastes a combination of a little sweet and salty at the same time. I enjoy this without the sauce, but with sauce is better. their sauce is good as well, it has peanuts to make the sauce thicker and tastier. This is a highly recommended menu from the Reyes Barbecue.
Grilled Pusit – One of the favorites on their menu is their grilled pusit. They serve it with rice and some veggies like tomato and onions. Their grilled pusit is cooked just right and not gummy or overcooked. They also serve this with a dipping sauce but without the sauce, it's already good. One of their item that we keep on ordering when we have time to visit their restaurant.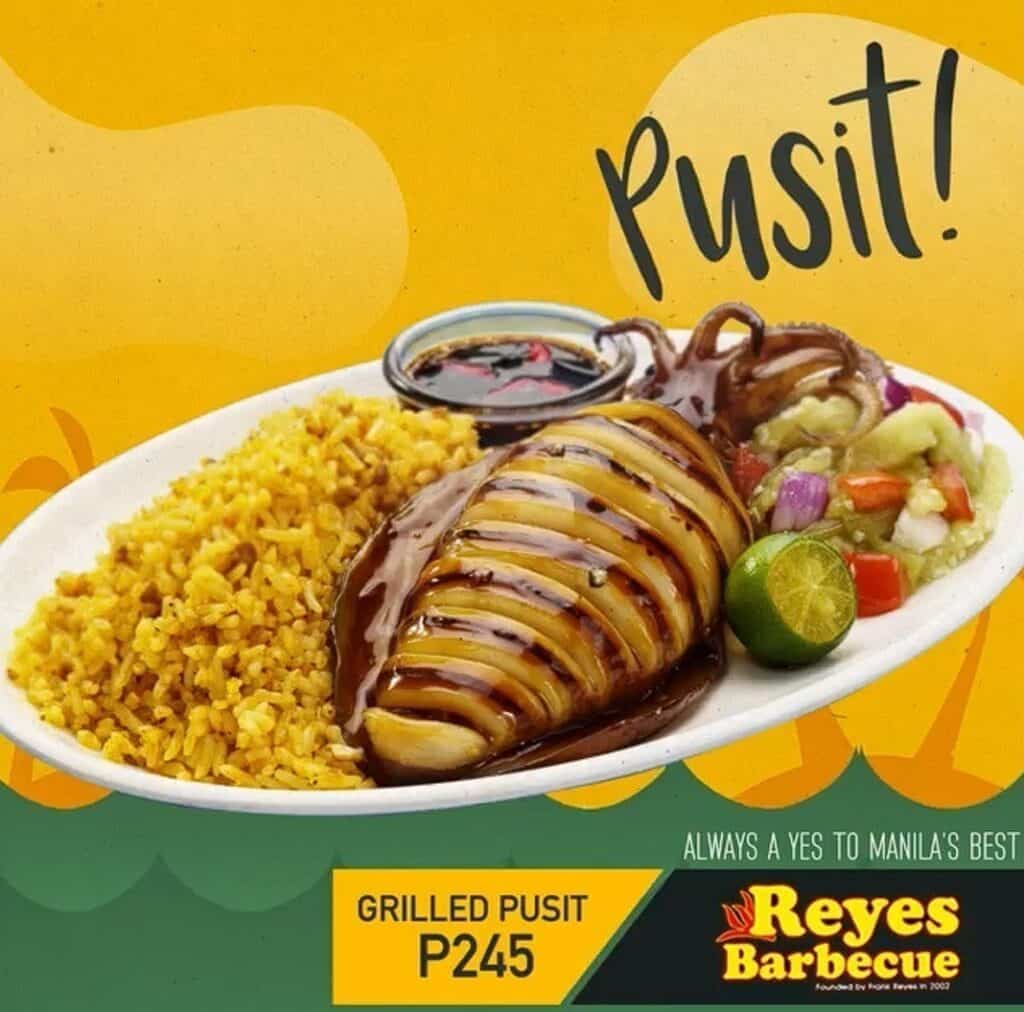 Grilled Hamburger – A delicious and simple meal, their grilled hamburger is made with 100% pure meat without extenders so you're sure that the food that you order is delicious and meaty. They also serve this with rice and some veggies as a side dish. 
Classics
On their classic menu, Reyes Barbecue has 5 items to choose from, they have a boneless chicken barbecue that you can order quarter or half, pork barbecue which you can order 1 pc or 2pc with rice and sides, chicken barbecue stick meal that you can also order 1pc or 2pcs with rice and sides, hamburger steak that is available 1pc and 2pcs and served with rice and sides as well and lastly their grilled liempo that you can order 1pc and 2pcs as well with some rice and sides.
Seafoods
Reyes barbecue seafood menu consists of 4 dishes, they have grilled pusit, grilled bangus, grilled tuna, and pork barbecue with grilled bangus, all items are served with rice, sides, and dipping sauce. You can also buy their add-ons like pickled cucumber for only 25php and our Filipino version of pickled atchara which will cost you 20php.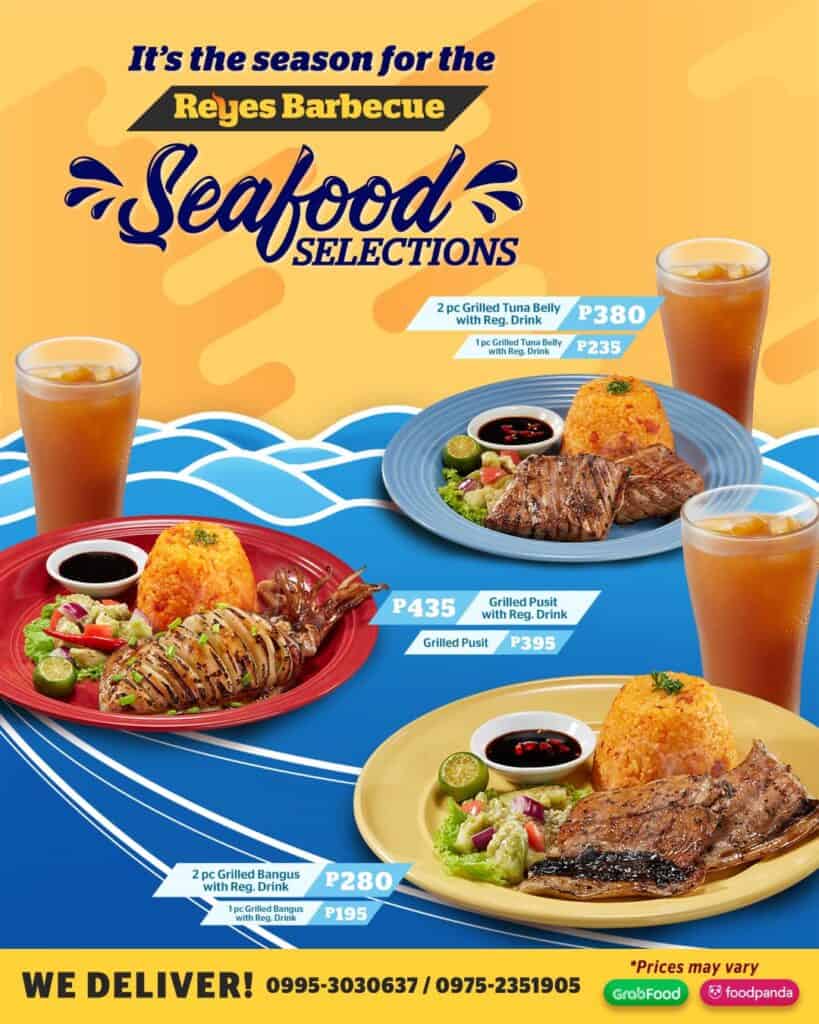 Whole Boneless Chicken Barbecue
Reyes barbecue offers a dish that is great for sharing, their whole boneless chicken barbecue is big enough to feed 4-5 people, they serve it with some dipping sauce and atchara as well, and will cost you 875php. This delicious whole boneless chicken barbecue is one of their newest addition to their delicious menu.
Reyes Barbecue Menu Delivery
Some of Reyes barbecue branches offer delivery service. I am going to list down the branches that offer delivery. On the list are branches in NCR only.
Here's the list of their branches along with their contact number:
Reyes Barbecue Pasig: 09266448334
Reyes Barbecue Quezon City: 09266448282
Reyes Barbecue Manila: 09266448350
Reyes Barbecue Pasay: 09266448716
Reyes Barbecue Las Piñas: 02-88940304
Reyes Barbecue San Juan: 02-77445902
If you are not residing near those areas above? No worries you can still order by using food delivery services like food panda and Grab Foods or any delivery service that is available at your location.
Social Media Pages
Reyes Barbecue also has social media pages that you should follow or like to be more updated on their latest product selections and discount promotions. Be sure to check them out
Facebook: https://facebook.com/ReyesBarbecue/
Instagram: https://www.instagram.com/reyes.barbecue/
Conclusion
One of the best barbecues that you can find in the market these days. Reyes Barbecue has already mastered the art of making barbecue, all of their menu are delicious at reasonable prices, and the serving and presentations are quite good as well. Their restaurant is very well maintained, spacious, clean, and comfortable. Their crews are well-trained, polite, and fast. I highly recommend Reyes Barbecue for those who are looking for a good place to go to eat out with friends and family and for foodies like me who are willing to try different restaurants to know which is the best place to be when craving.