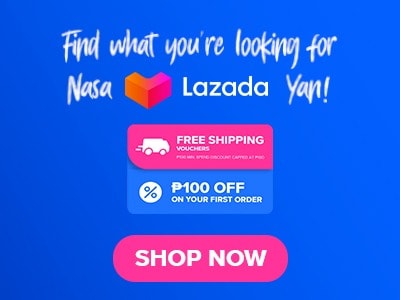 Milk teas and other beverages are not new in our market these days since a lot of establishments are mushrooming around the country offering the same products but have you ever wondered where to get the most authentic possible milk tea just like what you will get in Taiwan? I know where and I have a recommendation for you guys. The Milk Fridge menu offers Taiwanese bubble tea and other drinks that are not just affordable but very enjoyable and delicious. This shop is one of the best you should go to if you're looking for authentic Taiwanese milk tea. If you're interested in Milk Fridge stay with me in this article and let's get to know them more. Let's begin!
Below, you'll find the updated list of Milk Fridge menu prices.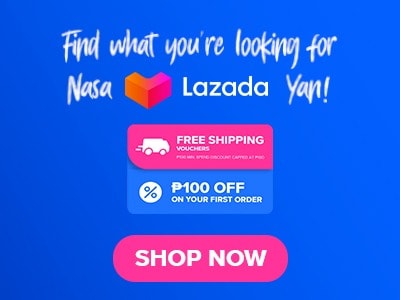 Menu Items
Price (PHP)

Fruit teas

Iced Passion Fruit Black Tea
145
Iced Honey Peach Black Tea with Nata
145

Hot Classic

Freshly Brewed Coffee
120
Hot Milktea Latte
155
Matcha Green Latte
155
Signature Hot Chocolate
155

Taiwan Classics

Classic Milk Tea
110
Wintermelon Milk Tea
120
Okinawa Bubble Tea with Tapioca pearls
130

Premium drinks

Milo Cheese Milk Tea
145
Oats Milk Tea
130
Oreo Milk Tea
130
Speculoos Milk Tea with Milk Foam
145
Oreo Cheese Milk Tea with Milk Foam
145
Skimmed Cheese Milk Tea with Milk foam
145
Matcha Cream Puff
145
Milk Fridge Premium with Milk Foam and cream puff
145

Caffeine Free drinks

Okinawa Milk Foam
130
Wintermelon Milk Foam
130
Dark Chocolate Milk Foam
145
Tiger Boba Latte with Tapioca Pearls
145
Butterbeer (Alcohol Free)
130

Milky series

Milky Strawberry with Milk Foam
145
Milky Matcha Latte with Milk Foam
145
Milky Chocolate with Milk Foam
145

Coffee series

Iced Dark Mocha (Medium)
155
Iced Caramel Macchiato (Medium)
155
Signature Iced Latte (Medium)
145
Iced Americano (Medium)
120

Merry holiday edition

Iced Gingerbread Cafe Latte(16oz only)
180
Campfire S'mores Hot Cocoa(16oz only)
180

Honeycomb limited edition

Honey Comb Crunch Tea latte(160z)
180
Honey Comb Crunch Cafe latte (160z)
180
Iced Pink Milk Latte (220z)
160
Iced Pink Milk Latte (16oz)
150
About Milk Fridge
In the year 2018 Milk Fridge is developed and conceptualized in Taiwan. Milk Fridge opened its first location in San Fernando, Pampanga in the year 2019. After their opening, their customers begin to appreciate their products and they gained a lot of repeat customers. They became the most preferred brand of milk tea and the most popular within their area although they have existing competitors. The drinks that they offer become the crowd favorite simply because they only use premium quality and highest quality ingredients imported from Taiwan.
They make sure that the products that they will serve are brewed fresh every day with high quality and care. Because of their high-quality ingredients and products, Milk Fridge has gained popularity in different places in our country in just a short period of time. Customers from different cities are visiting their first location just to try their best sellers. Since their business is a success Milk Fridge started to open for franchising to expand their business and to serve delicious and high-quality beverages throughout the country.
Milk Fridge Menu Best Seller
Here, we present a delightful selection of Milk Fridge's best-selling creations, allowing you to explore their most popular offerings.
Milk Fridge Premium – If you want to have a better experience with milk tea then this is what you should order. The premium milk fridge is one of the most delicious items that you can find on their menu plus this one is a game changer as well. one of the best-selling items in their shop. It also has the right balance of taste in every sip.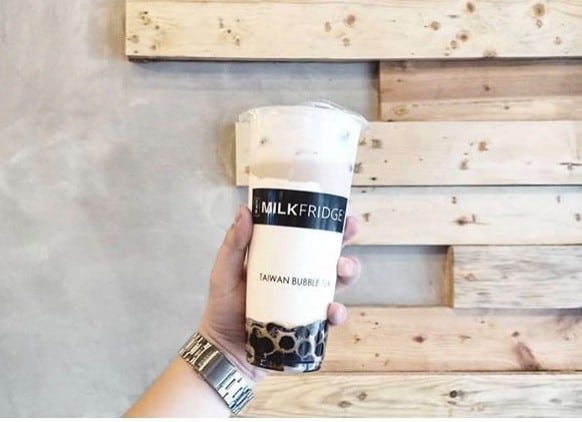 Oreo Cheese Milk Tea – The amount of cheese in this drink is insane. This is one of their top-selling items and I am not surprised since it became my favorite as well after trying it for the first time. The Milk Fridge version of Oreo cheese milk tea is cheesy with a strong Oreo taste. This has just the right amount of sweetness as well but is very creamy and chocolate because of the Oreo and cream cheese.
Matcha Cream Puff – This Milk Fridge menu is what I can recommend for those who love matcha. Their version of matcha cream puff is creamy, sweet, and has a strong green tea taste but is definitely delicious. Also one of their top-selling products and very irresistible. It has exquisite flavor that I think is distinct from their product and you can only get it from the Milk Fridge. Must try I may say. 
Tiger Boba Latte – This one is made with caramelized boba that is really chewy plus milk. Milk Fridge's version of the tiger boba latte is exactly just like what I used to buy when I was still living in Taiwan. This tiger boba latte has a great boba and delicious flavor. It might look simple but if you're asking me about the taste this one is outstanding.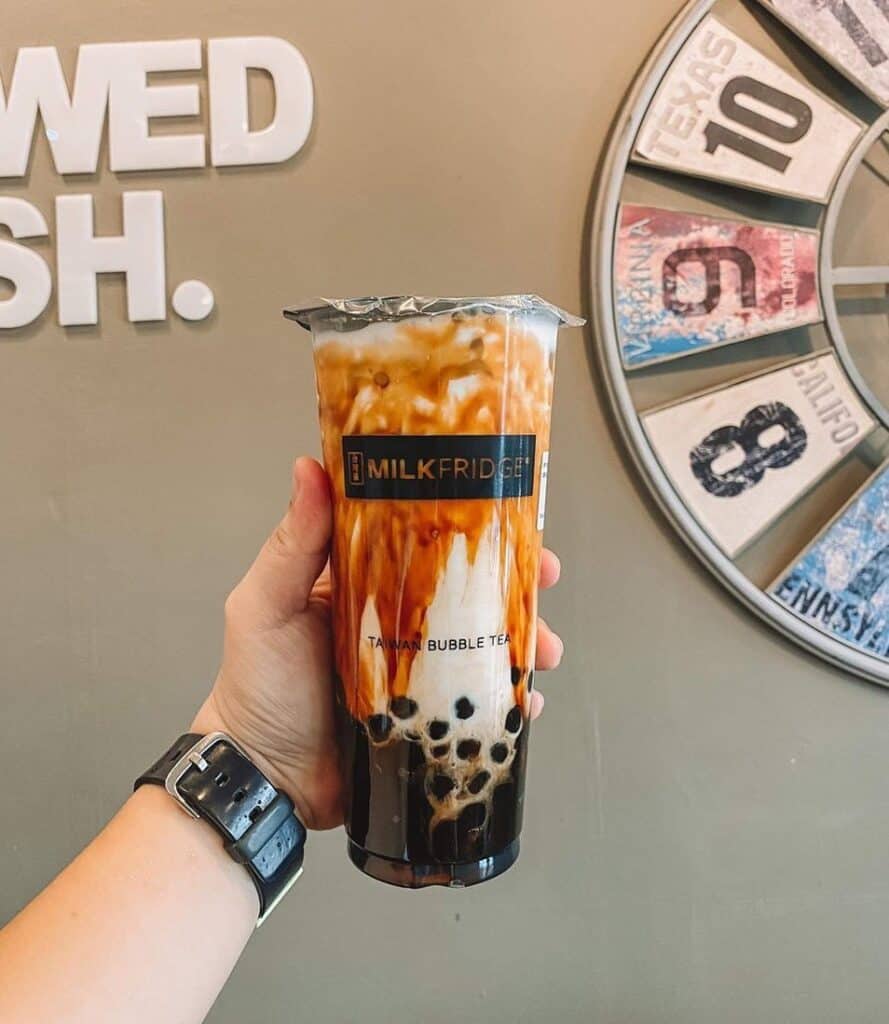 Milk Fridge Menu Hot Classic
The hot classic menu boasts an impressive selection of four tempting hot beverages. For those seeking a touch of sweetness, they offer freshly brewed coffee with a standard sugar option. Additionally, their menu features a comforting hot milk tea latte, available in a medium-sized serving. Furthermore, they present a delightful matcha green latte, also available in a medium-sized portion, and a truly indulgent treat awaits with their signature hot chocolate, known for its rich and chocolatey goodness, available in medium size only.
Milk Fridge Taiwan Classics Menu
Taiwan classics are the drinks that are commonly served in Taiwan. On this menu, they have 3 items. The first one is classic milk tea this one has standard sugar only and is really simple but delicious. They also have Wintermelon milk tea, this one is the most common favorite as I remember when I was in Taiwan (but I love mine with yeco and pudding) last item is their Okinawa Bubble Tea with Tapioca pearls this one uses standard sugar as well as is really good.
Milky Series
Milky series menu of milk fridge has 3 delicious items that everyone loves. The first on the list is their Milky Strawberry with Milk Foam, this one is very creamy and delicious in every sip. They also have Milky Matcha Latte with Milk Foam, just like the strawberry with milk foam this one is really good as well and recommended for green tea lovers. Last but definitely not least is their Milky Chocolate with Milk Foam, this one is so chocolatey and delicious and recommended for kids.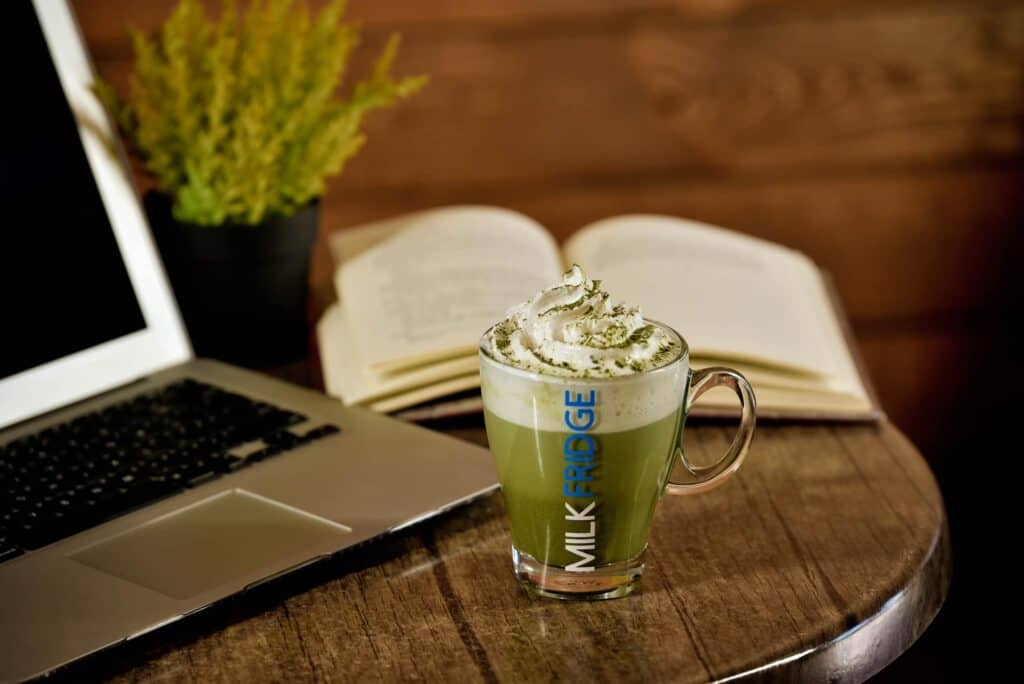 Milk Fridge Menu Delivery
If you're living in the Pampanga area, the process of ordering your favorite meals becomes incredibly convenient with the help of Mangan, a dedicated food courier service designed to swiftly deliver your food orders to your doorstep. Additionally, you can also rely on trusted platforms like FoodPanda or Grab to place your orders. It's worth noting that availing of the services of this specialized food courier may entail delivery fees and charges.
Milk Fridge Social Media Pages
Show off your favorite Milk Fridge treats by tagging them in your photos and using dedicated hashtags. Be part of the conversation and get a behind-the-scenes look at their innovative milk-based creations. Connect with them on social media and let your taste buds explore the creamy wonderland of Milk Fridge.
Facebook: https://www.facebook.com/milkfridge/
Instagram: https://www.instagram.com/milkfridgeph
Twitter: https://twitter.com/milkfridge_qc
FAQs
What is Milk Fridge and where is it located?
Milk Fridge is a Taiwanese milk tea shop that offers delicious beverages like milk tea, boba tea, and other premium flavored drinks. Their first location is in San Fernando Pampanga but can now be found in other places of the Philippines like Bulacan, Baguio, manila, and many more.
What are the popular milk tea flavors offered at Milk Fridge?
Popular milk tea flavors that milk fridge offers are Oreo cheese milk tea, Milk Fridge premium, Tiger boba latte, butter beer, and many more.
Are there any special promotions or loyalty programs available at Milk Fridge?
Yes, milk fridge gave promotions once in a while however promotions might change depending on the season so to be more updated about their latest promotions and discounts just like and follow their social media platforms.
Are there any seasonal or limited-time flavors available at Milk Fridge?
Yes, actually upon checking on their menu they have this merry holiday edition where they serve Iced Gingerbread Cafe Latte and Campfire S'mores Hot Cocoa.,
Conclusion
A great place to go if you're looking for a good beverage to try. The Milk Fridge menu has a lot of delicious options for you so and I'm sure after checking and scrolling through their menu you'll find what's your favorite. The place is not that spacious but it is clean and well maintained, comfortable I may say since we are lucky enough to experience sitting at their designated tables though there are a lot of people at that time. The quality of the drinks that they offer is outstanding and their crews are okay. highly recommended shop for everyone that wants to try delicious drinks.