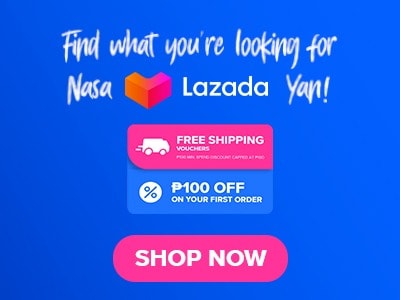 There's a recent craze of people especially those younger ones claiming their love for Milk Tea, yes and I am actually surprised about it at first since I live overseas for 6 years before going back to the Philippines. This sweet beverage with tea flavor is now the favorite of the crowd, though I'm not into milk teas I tried a place that I think I can recommend to all of you since their beverages are delicious and affordable. Have you heard about Mang Cha-a or have you tried their products already? Mang Cha-a menu offers a huge variety of drinks that will surely tickle the sweet tooth in you. They have product developments to provide the best for their customers, so if you're already interested in this topic then let's talk about Mang Cha-a a place that offers delicious milk tea and beverages that might suit your milk tea needs. Let's go.
Below, you'll find the updated list of Mang Cha-a menu prices.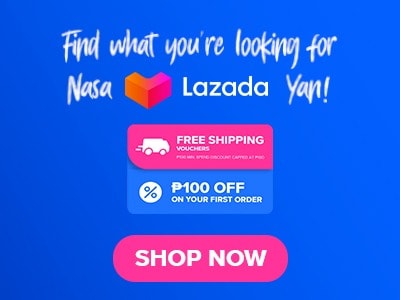 Menu Items
Price (PHP)

Milk tea

Watermelon milk tea with pearl
90
Pearl Milk Tea
83
Coffee Jelly Milk Tea
83
Nata Milk Tea
83
Grass Jelly Milk Tea
83
Banana Milk Tea
83
Okinawa Milk Tea With Pearl
90
Thai Milk Tea With Pearl
90
Mango Milk Tea With Pearl
90
Lychee Milk Tea With Nata
90
Blueberry Milk Tea With Pearl
90
Wintermelon Milk Tea With Pearl
90
Wintermelon Grass Jelly Milk Tea
96
Strawberry Milk Tea With Pearl
90
Strawberry Apollo Milk Tea
90
Strawberry Banana Milk Tea
90
Strawberry Oreo Milk Tea
96
Tiramisu Milk Tea
96
Cookies And Cream Milk Tea
103
Hokkaido Milk Tea With Pearl
109
Hazelnut Milk Tea
96

Taro

Taro Milk Tea With Pearl
83
Taro Pudding Milk Tea
96
Taro Redbean Milk Tea
96

Chocolate

Chocolate Milk Tea With Pearl
90
Choco Banana Milk Tea
90
Choco Mango Milk Tea
90
Chocolate Oreo Milk Tea
96
Choco Caramel Milk Tea
103

Cream puff

Chocomalt Creampuff
121
Salted Caramel Creampuff With Pearl
121
Strawberry Oreo Creampuff
121

Matcha mucho

Matcha Choco Milk Tea
90
Matcha Berry Milk Tea
96
Matcha Redbean Milk Tea
103
Matcha Rock Salt And Cheese
110

Miniterrific

Dynamint Milk Tea
90
Dynamint Choco
96
Dynamint Oreo
103

Rock Salt & Cheese

Wintermelon Rock Salt & Cheese
103
Chocolate Rack Salt& Cheese
103
Mango Rocksalt & Cheese
103
Blueberry Rocksalt & Cheese
103
Strawberry Rocksalt & Cheese
103
Tiramisu Rock Salt & Cheese
110

Iced tea

Dragon Fruit Iced Tea
55
Blueberry Iced Tea
55
Peach Iced Tea
55
Grapes Iced Tea
55
Green Apple Iced Tea
55
Lemon Iced Tea
55
Lemon Grass Iced Tea
55
Lychee Iced Tea
55
Mango Iced Tea
55
Strawberry Iced Tea
55
Blueberry Iced Tea
55
Wintermelon Iced Tea
55

Yakult tea

Green Apple Yakult
70
Peach Yakult
70
Blueberry Yakult
70
Grapes Yakult
70
Lychee Yakult
70
Mango Yakult
70
Strawberry Yakult
70
Passion Fruit Yakult
70

Coffee

Mocha Coffee
83
Iced coffee
76
Hazelnut coffee
76
Caramel macchiato coffee
76

Hot milk tea

Hot Milk Tea
76
Brown sugar milk tea
76
Green tea latte
76
Goats milk tea
76

Fries

Fries Sour & Cream
80
Fries cheese
80
Fries BBQ
80
Fries plain
80

Rice Meal

Sharksfin with rice
76
Gyoza dumplings with rice
76
Pork siomai with rice
76
Chicken nuggets with rice
76
Lumpiang Shanghai with rice
76

Noodles

SEAFOODS Large bowl
145
SPICY Large bowl
130
MILD SPICY Large bowl
130
SEAFOODS regular bowl
90
SPICY regular bowl
76
MILD SPICY regular bowl
76
About Mang Cha-a
Mang Cha-a is founded in 2000 by Ivan and Itish Ong and since then their business continues to grow and become part of the beverage industry in our country. Their products are made with organic ingredients imported from Taiwan that's the reason why their products taste authentic with great quality. Since their products have nutritional benefits they used them to provide delicious and healthy products for their customers. They have developed and improved their products for years to make them the best and to serve healthier options possible. Their products are Pearl Milk Tea, Taro Milk Tea, Chocolate Oreo Milk Tea, and many more.
They also serve coffees like caramel macchiato, hazelnut, iced coffee, and many other coffee options and since they wanted to serve healthier products they have customizable levels of sugar on their products such as no sugar, slight sugar with 33 percent sugar level, less sugar with 66 percent sugar level, regular sugar for 99 percent sugar level and sugar overload which means 100 percent sugar level on your drinks. They are also open to franchising.
Mang Cha-a Menu Best Seller
Here are some samples of Mang Cha-a's best sellers.
Choco Oreo – This is one of the most popular and best-selling items on their menu, this frappe is something that you will surely enjoy especially if you love Oreo cookies. The sweetness will depend on your preference as you can always customize the sugar level on your drink. A very refreshing drink that is perfect in any situation whether it's hot or you just want to enjoy the deliciousness of their choco Oreo.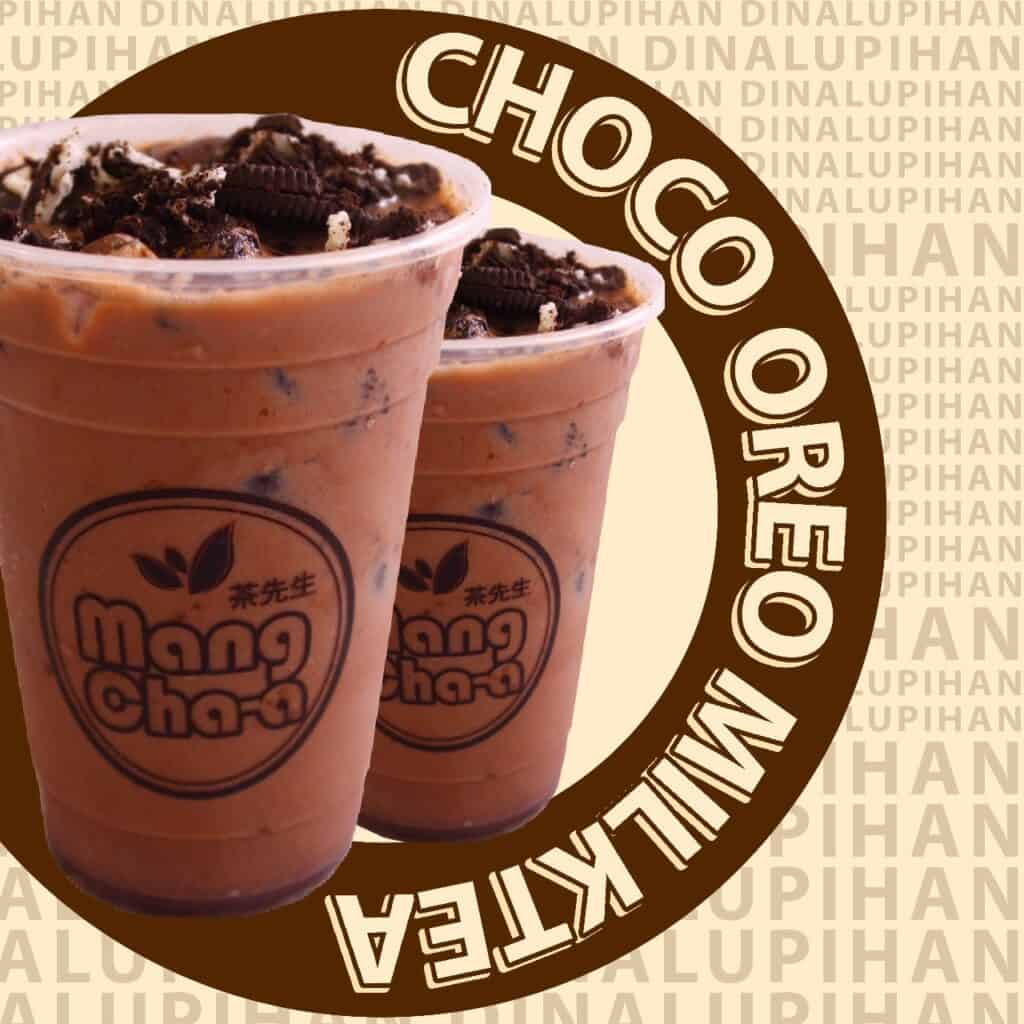 Tiramisu Milk Tea – This one really captures the attention of me and my friend since this is the first time that we tried this kind of milk tea flavor and as a Tiramisu fan, I approve of this one. The taste is good it's amazing how delicious this drink is and I really like this one with a regular sugar level since im a sweet tooth, the coffee flavor is still in the flavor but not overpowering the creaminess. This one is a must-try.
Chocolate Caramel Milk Tea – This Mang Cha-a menu is a drink that is suitable for people who prefer sweets. The chocolate and caramel combination is really good, this delicious treat is also one of the most popular items on their menu. If you love sweet drinks then this is the one that you should order. The taste is definitely delicious and not just your typical sweet drink.
Coffee Jelly Milk Tea – Mang Cha-a version of coffee jelly milk tea is milky and at the same time creamy. The addition of jelly made this one so good. This one is just like your coffee jelly dessert but in the form of milk tea. This is also One of their must-try drinks.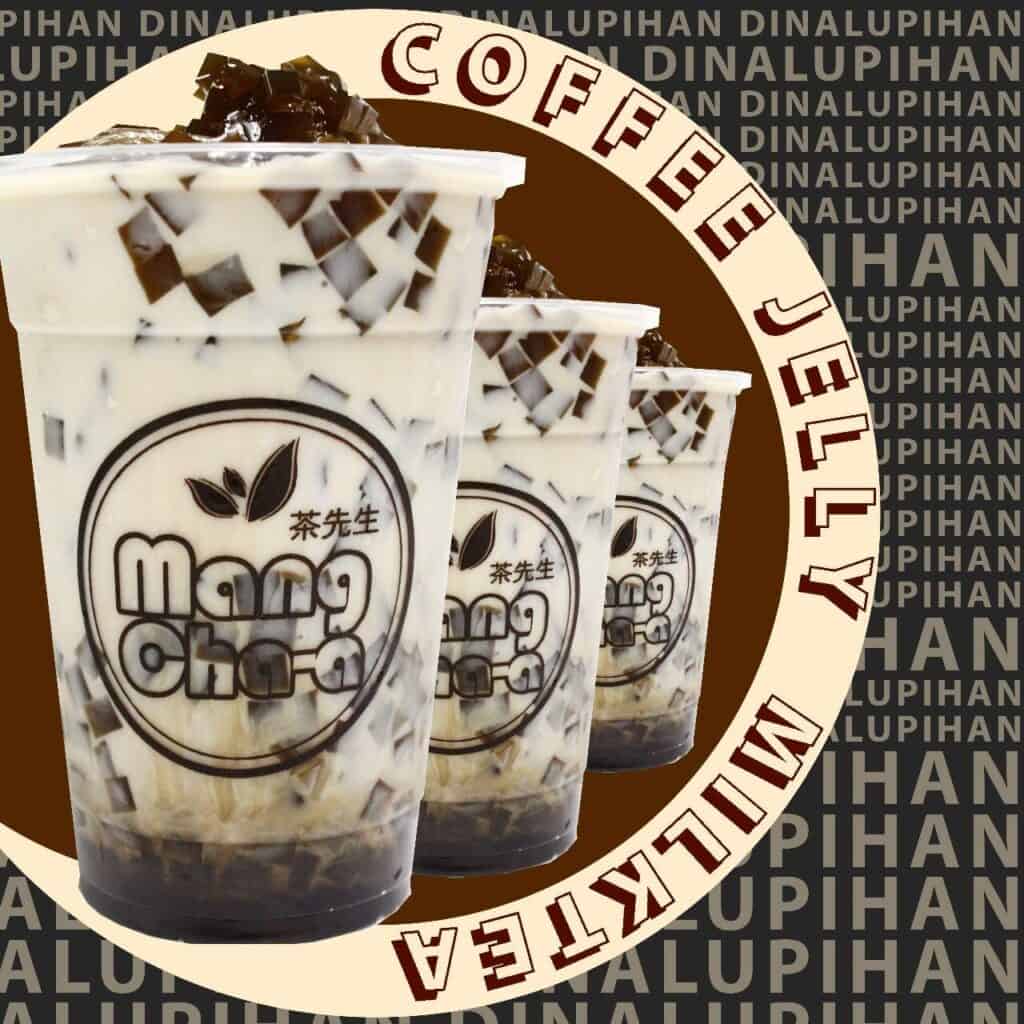 Mang Cha-a Menu Taro
Taro is also a delicious choice if you're looking for a good drink and Mang Cha-a also offers a taro menu. On this menu, they have 3 delicious taro drinks flavors to try. The first one is their Taro Milk Tea With Pearl this one is the most classic of the 3 flavors but this is definitely good. They also have Taro Pudding Milk Tea and for me, this one is better and actually my favorite in their taro series. The last item is their Taro Redbean Milk Tea this one is also a great choice of a drink.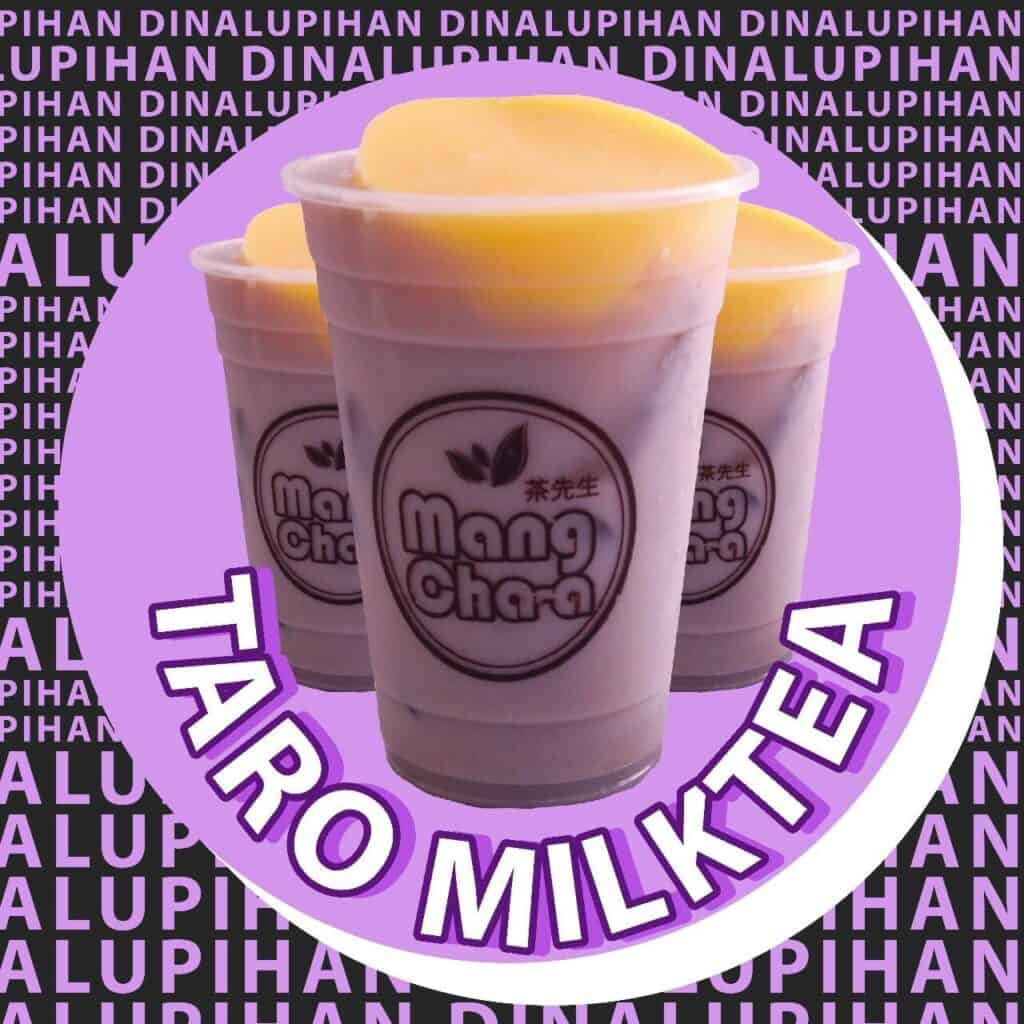 Mang Cha-a Menu Chocolate
Mang Cha-a's chocolate menu has 5 delicious drinks to try. The first item on this menu is their Chocolate Milk Tea With Pearl, this one is delicious and the pearl gives more flavor to this drink. They also have Choco Banana Milk Tea, which tastes good and actually, is my favorite. As weird for some as it gets they also have Choco Mango Milk Tea, this is unusual but the taste is so good. Chocolate Oreo Milk Tea can also be found on this menu and lastly their Choco Caramel Milk Tea.
CreamPuff
When it comes to treats creampuff will always be a choice and Mang Cha-a offers a creampuff menu where you can find some of their most delicious flavors. On this menu they have 3 drinks to offer, the first one is their Chocomalt Creampuff which is perfect for chocolate lovers then the Salted Caramel Creampuff With Pearl for sweet tooth who loves sweet treats and lastly, their Strawberry Oreo Creampuff, this wholesome drink is also delicious.
Rock Salt & Cheese
Rock Salt & Cheese has 6 delicious drinks to offer. The first drink on this menu is their Wintermelon Rock Salt & Cheese. Aside from that they also have Chocolate Rack Salt& Cheese. If you love fruity flavors you can choose from Mango Rocksalt & Cheese, Blueberry Rocksalt & Cheese, and Strawberry Rocksalt & Cheese. They also have their delicious Tiramisu Rock Salt & Cheese included on this menu.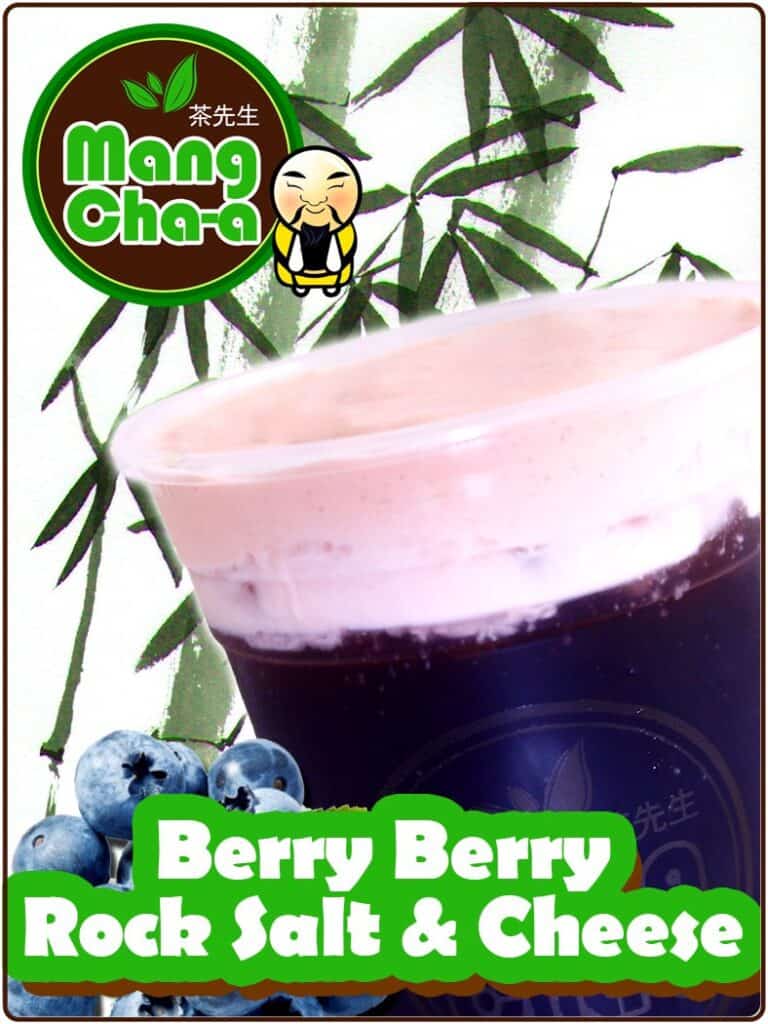 Mang Cha-a Menu Delivery
Your favorite mang cha-a drinks can now be easily enjoyed through GrabFood and Foodpanda, as Mang Cha-a currently does not have its own dedicated delivery website. It's important to note that availing of delivery services may incur additional charges and fees. Embrace the convenience of these popular food delivery platforms and indulge in the refreshing flavors of Mang Cha-a's signature drinks without leaving the comfort of your home.
Social Media Pages
Follow them to stay updated and treat yourself to a daily infusion of tea-infused delights, rejuvenating beverages, and delectable snacks that will appease your yearnings. Stay ahead of the curve by being the first to discover their latest additions to the menu, seasonal specials, and captivating promotions that are sure to elevate your experience. Indulge in the joy of anticipation as you embark on a flavorful journey with their ever-evolving offerings.
Facebook: https://www.facebook.com/MangChaAFoodServices/
Website: https://www.mangcha-a.com.ph/contact.html
TikTok: https://www.tiktok.com/@mangchaatarlaccity
FAQs
What is Mang Cha-a Philippines?
Mang Cha-a Philippines is an establishment that serves beverages like milk tea, frappes, coffee, and many more.
What are some popular drinks offered by Mang Cha-a?
Some popular drinks offered by mang chaa are iced coffee, chocolate caramel milk tea, caramel macchiato, and many other drinks that are delicious and affordable.
Can I customize my drinks at Mang Cha-a?
Yes, and actually you can control the sugar level in your drinks. You can choose the sugar level and just inform the crew about it.
Does Mang Cha-a offer loyalty or rewards programs?
As per checking, they don't have promos and rewards at the moment however they do discounts but depends on the season. All you have to do is to follow and like their social media accounts to be updated.
Conclusion
The Mang Cha-a menu has a wide variety of choices for you to try and their beverages offer great flavors that are refreshing and of course delicious. The price of their items is affordable. Their shop is clean and their service crews are nice and approachable. They also serve fast. Highly recommended place if you want to try affordable and delicious drinks at the same time. Great quality as well.