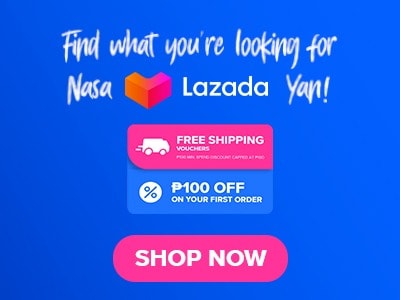 Looking for the perfect place with the best European vibe and a view of the Manila sunset? I just discovered a place that a friend introduced to me: La Cathedral Cafe. They offer a variety of delicious items that you will surely enjoy, and they also provide affordable meals perfect for sharing. This cafe has a romantic ambiance that I'm pretty sure no one can resist. Interested? If our topic piques your curiosity, maybe give me a bit of your time, and let's find out what La Cathedral Cafe has to offer. We'll take a look at their menu, prices, and, of course, their best sellers.
Menu Items
Price (PHP)

Breakfast

Champorado W/ Dangit
185
Beef Tapa
280
Longganisa Hamonado
245
Tocino
250
Bacon And Eggs
255
Spam And Eggs
250
Bangus
260

Pastries

Brownies
95
Smores Brownies
110
Cinnamon Roll
95
New York Cookies
125
Banana Loaf Bread Slice
115
Muffin
85

Cakes

Ube Macapuno
195
Chocolate Tablea
155
Strawberry Tablea
190
Burnt Cheesecake (Blueberry, Strawberry, Mango, Matcha, Biscoff)
190
Strawberry Shortcake
180
Chocolate 24k Gold
170
Black Velvet
190
Red Velvet
190
Choco Moist
180
Oreo Cake
165
Carrot Cake
190
Mocha Cake
190

Mains (Solo/Share)

Beef Mechado
395/765
Pork Adobo
310/630
Bistek Tagalog
370/725
Korean Bbq
295/560
Crispy Bicol Express
350/695
Pinakbet
320/615
Kare Kare With Patatim
395/775
Chicken Curry
295/615
Pork Steak
315/625
Prawns In Aligue
430/850
Chili Garlic Prawns
410/805

Starters

Beef Nachos
285
Chorizo And Gambas
355
Crispy Sisig
295
Mozzarella Sticks
275
Fries Overlord
260
Chicken Wings
290

Pasta (Solo/Share)

Carbonara
290/615
Classic Spaghetti
280/610
Shrimp Aligue
345/640
Chicken Alfredo
280/610
Seafood In Olive Oil
320/630
Spanish Sardines
280/610

Sandwiches

Blt
265
Tuna Melt
255
Chicken Sandwich
255
Egg Sandwich
175
Salmon Sandwich
265

Salad

Grilled Chicken Caesar
325
House Salad
290

Espresso And More (Grande/Holy)

Espresso (Single/Double)
105/135
Cafe Americano
125/135
Cafe Latte
140/150
Cappuccino
140/150
Cafe Mocha
150/160
Caramel Macchiato
155/165
Butterscotch Mocha
155/165
Salted Caramel Mocha
155/165
White Chocolate Mocha
155/165
Vanilla Cafe Latte
155/165
Hazelnut Cafe Latte
155/165
Spanish Latte
160/165
Matcha Latte
155/165
Red Velvet Latte
155/165
Signature Chocolate
150/160

Teas (Hot/Iced)

Chamomile
145/—
Green Tea
140/—
Hibiscus
145/160
Butterfly Pea
140/145
Red Rasberry
145/150
Spearmint
135/—
Roobois Blend
155/160
Lemon And Ginger
150/—

Smoothies

Blueberry Dream
195
Avocado Graham
190
Strawberry Yoggie
195
Mixed Berries
195

Frappes (Grande/Holy)

Mocha Frappe
160/165
White Mocha
160/165
Butterscotch
160/165
Chocolate Chip
170/175
Double Chocolate
160/165
Choco Hazelnut
160/165
??Matcha
170/175
??Red Velvet
165/170
??Peanut Caramel
170/175
??Salted Caramel
165/170
??Cookies And Cream
170/175
??Dirty Matcha
170/175
??Butter Cookies
170/175
??Strawberries & Cream
170/175
??Smores
170/175
About La Cathedral Cafe
Located right behind the Manila Cathedral, La Cathedral Cafe will provide you with a great and stunning view of the historical Manila Cathedral when you dine on the roof deck of this restaurant. The place is decorated with some stunning Capiz lanterns making this place gorgeous and has a very nice ambiance great for date night with your loved ones or family and friends night out. The whole place is picture-perfect too and their food is as well.
This place offers a lot of delicious items from light meals to delicious desserts they have it so it's like a stop place for all that you need. The best time to visit La Cathedral Cafe is probably 5:00 pm when the sun is starting to set, expect the place to have a lot of customers since many appreciate their food and setting so better go earlier since they have a first come first serve basis.
La Cathedral Cafe Menu Best Sellers
Here are La Cathedral Cafe's samples of best-selling items on their menu.
Kare Kare with Pata Tim – Kare kare with Pata Tim version of La Cathedral Cafe is made with peanut stew that has thick sauce, some vegetables like eggplant, string beans, and petchay or bokchoy, and of course pata tim that is incredibly soft and has that fatty good texture. They also serve this with their homemade bagoong which is a shrimp paste that they already cooked with some vinegar, sugar, onion, garlic, and other ingredients.
Kare kare is quite popular in our country since this is one of the classics that our ancestors used to make and La Cathedral Cafe gives justice to the famous kare kare by serving it the classic way and preserving the authenticity of the dish. This one is a must-try.
Beef Tapa – The beef tapa version of La Cathedral Cafe is one of the best breakfast items that you can find on their menu. Their beef tapa is made with beef sirloin that they marinated with their special marinade sauce before frying and served with a cup of garlic rice and one sunny-side-up egg.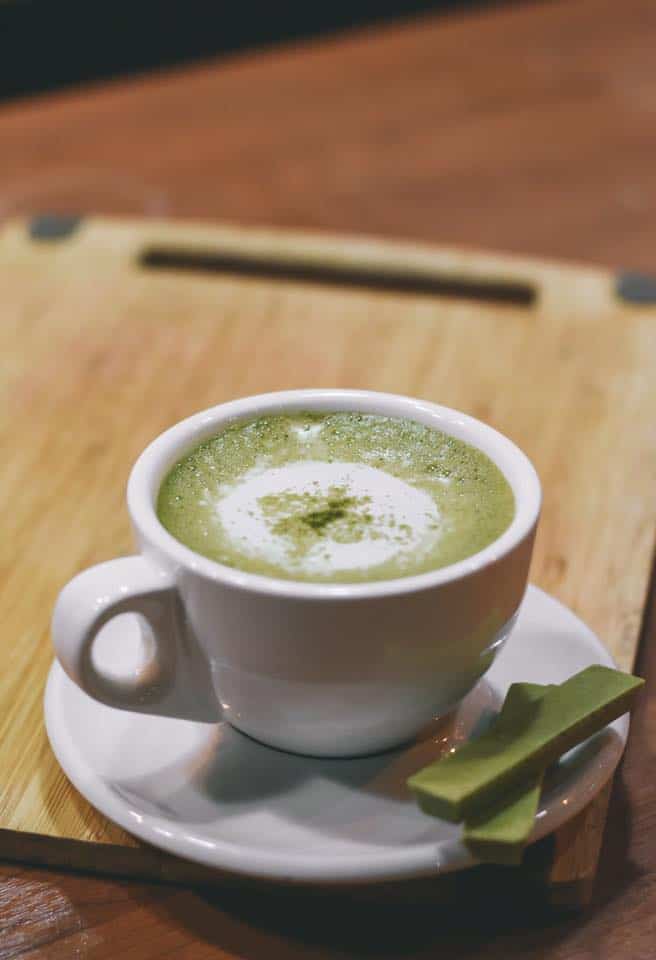 This is one of the most famous breakfast items not only in La Cathedral Cafe but actually in our country and also one of the classic favorites. The beef tapa itself is tender I don't have to put a lot of effort into chewing it, it is flavorful and at the same time super good. This is also included on their best sellers and a must-try item as well.
Carbonara – Carbonara could be the second most popular pasta dish in our country next to spaghetti and La Cathedral Cafe's version of carbonara is one of the best carbonara that i tried so far. This one is made with fettuccine pasta, cream, bacon, and Parmesan cheese, and yes La Cathedral Cafe's version of carbonara is not the authentic version because of the ingredients that are used.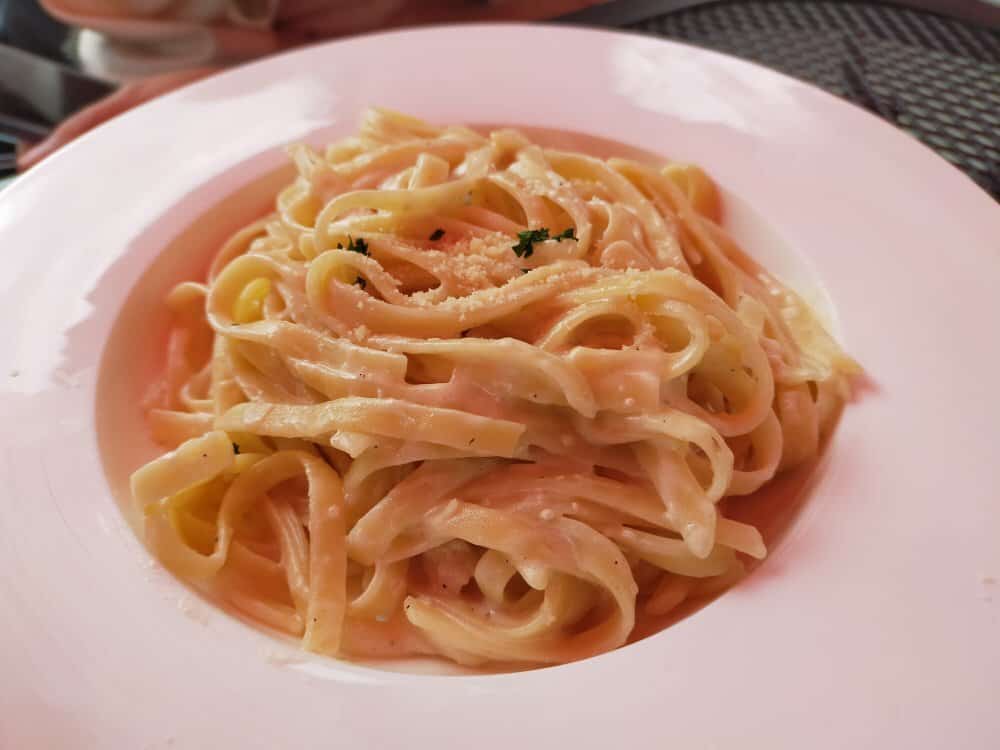 It is actually the Filipino version but can still satisfy your tastebuds once you try it. Pasta is al dente while it has a generous amount of bacon that gave their carbonara a strong flavor, cream helps balance the taste. This is also one of their best-selling items.
Crispy Sisig – La Cathedral Cafe also offers this famous dish called sisig and their version tastes good. Made with pork belly that they fry until golden and crispy before cutting it into small pieces, lots of onions, some green pepper, bits of chicharon then topped with raw egg. They also serve this on a sizzling plate.
Sandwiches
The sandwich menu of La Cathedral Cafe comes with 5 delicious sandwich options. First is their BLT which is my favorite. Then they also have tuna melt which is made with tuna, cheddar cheese, and mayo. The chicken sandwich is also a great option if you're looking for a great sandwich this one is made with chicken, lettuce, mayonnaise, and potato chips. Egg sandwich and salmon sandwich are other options on this menu.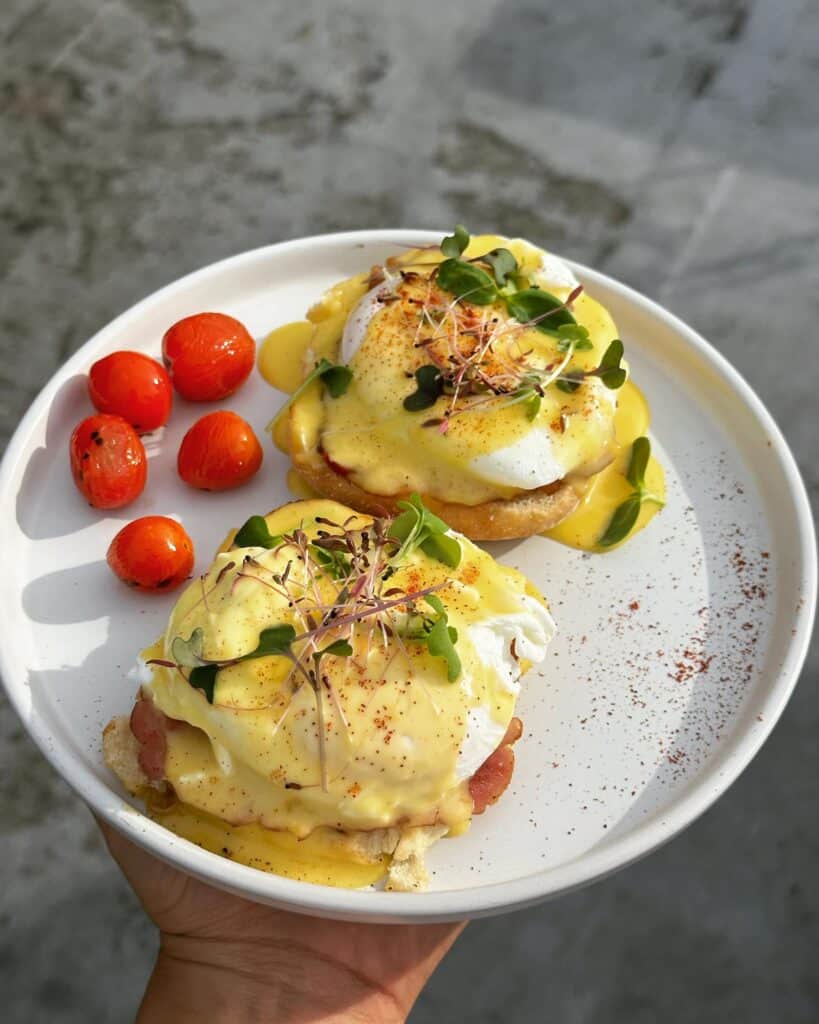 Pasta
The pasta menu of La Cathedral Cafe offers a variety of delicious pasta dishes that you can order solo or share options. The first item on this menu is their delicious carbonara which is made from fettuccine pasta. They also have classic spaghetti which we really enjoy, this one is made with ground beef, tomato sauce, and some onions.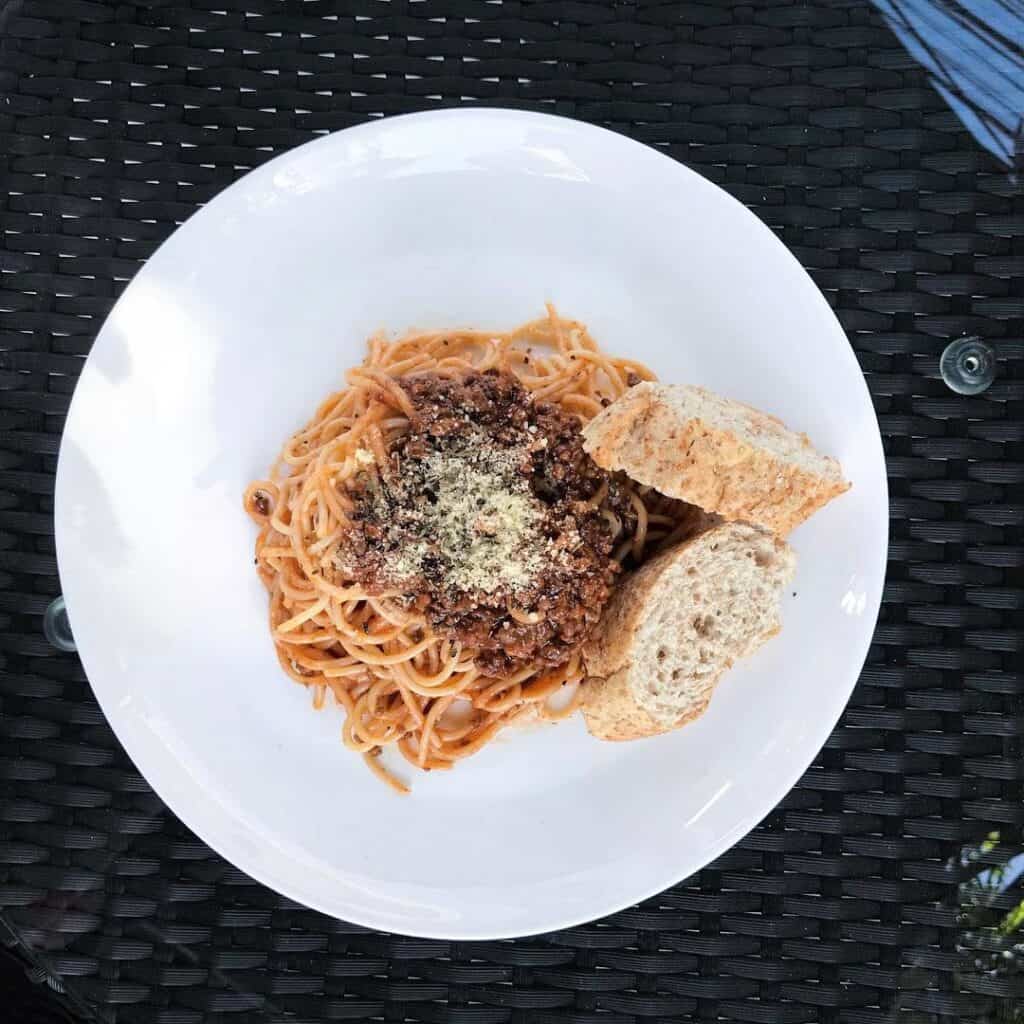 You can also find shrimp aligue on this menu, this one really tastes fantastic, and if you're looking for another seafood pasta dish you can try their seafood in olive oil. Chicken Alfredo and Spanish sardines pasta are also available on their pasta menu.
How to Order from La Cathedral Cafe? 
Ordering your favorite La Cathedral Cafe mouthwatering menu is made easier simply by calling them directly at 09155123317 or you can also use other delivery platforms available such as Foodpanda or any delivery services that are available in your location. 
Social Media Pages
La Cathedral Cafe is more than just a café; it's a hub of creativity. We frequently host art exhibitions, live music events, and cultural performances. By following them, you'll always be in the know about the latest happenings.
Facebook: https://www.facebook.com/lacathedralcafe
Instagram: https://www.instagram.com/lacathedralcafe
FAQs
Where is La Cathedral Cafe located?
La Cathedral Cafe is located at 636 Cabildo Street Intramuros, Manila.
What are the operating hours of La Cathedral Cafe?
This cafe is open from Monday to Saturday ay 8:00 a.m. until 9:00 p.m. and on Sunday from 8:00 a.m. until 10:00 p.m. 
What is La Cathedral Cafe's contact number?
La Cathedral café's contact number is 09155123317.
Does La Cathedral Cafe have social media pages?
Yes, La Cathedral Cafe's social media pages are listed on the social media pages of this article.
What are the services that are offered at La Cathedral Cafe?
They offer Dine-in, Takeout, and Delivery. 
Conclusion
A nice place to go to enjoy different kinds of delicious foods while enjoying the great atmosphere at the same time. The La Cathedral Cafe menu offers a variety of great-tasting meals for you and your loved ones or family. This place has that European romantic vibe that you will surely appreciate once you visit their place. The foods that they serve are delicious and amazing in how they plate things. Picture perfect whether it's the food or the view. Their service personnel are also nice and will give the best customer service they can provide. Overall experience with this place is great and highly recommend this restaurant if you're looking for a romantic place for a date night.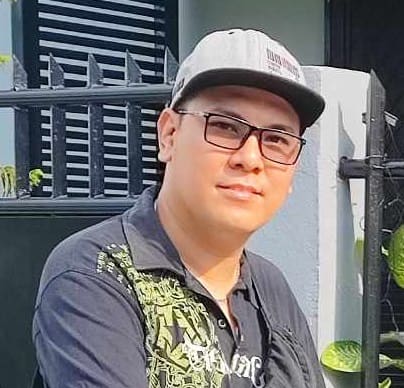 Hi! I'm Nivek Strife, the person who made MenuPH. I'm the one who added most of the popular menus you see on this website, and I really hope you enjoy them! Feel free to check them all out.
Growing up, I was surrounded by lots of tasty foods, like the classic Adobo and the sweet Leche Flan. That love for the many flavors of the Philippines is what got me excited about adding to MenuPH. When I learned how to make websites, I saw the need for a place to show off all the amazing Filipino dishes, and that's how MenuPH started.
MenuPH isn't just a website; it's like a fun journey into food. I've teamed up with famous chefs and found great places all over the Philippines to bring you a bunch of menus that show off the best of Filipino cuisine. Whether you're into the usual dishes or new twists, MenuPH is here to guide you through the rich world of Filipino flavors.
With MenuPH, my aim is to help local businesses, talk about good food choices, and make a group of friends who love food. No matter if you like fancy restaurants or street food, MenuPH has something for you. Come join me on this food adventure as we find great places, taste real flavors, and enjoy the unique food traditions that make the Philippines awesome.