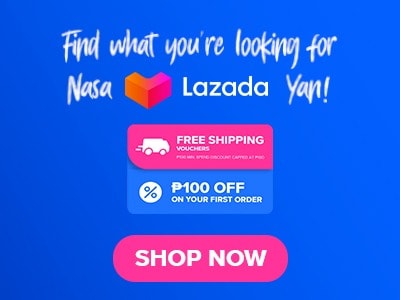 Are you in search of a place where you can find the best-tasting cakes and pastries? Look no further; I've got you covered. I've found the perfect place for you. Have you heard about Sweet Claire? If not, this is your chance to get to know this patisserie. The Sweet Claire menu offers a wide variety of cakes in different sizes. In addition to those, they also have other products to try, such as French macarons and cream puffs. Want to know more about Sweet Claire? Then stay with me in this article, and let's take a look at their foods, the prices of their products, their best sellers, and anything else you need to know about them. Ready? Then let's start!
Below, you'll find the updated list of Sweet Claire menu prices.
Menu Items
Price (PHP)

Creampuffs

Creampuff Original
46
Creampuff (Assorted)
455

French Macaroons

French Macarons
46

Solo Cake

Solo Java
182
Solo Hazelnut
182
Solo Sansrival
182
Solo Sweet Claire
182
Solo Trianon
182
Solo Choco Craze
182
Solo Blueberry
182
Solo Crumble Caramel
182
Solo Mango Creme
182
Solo Fragaria
182

Small Cake

Crumble Caramel (Small 4x2)
429
Mango Creme (Small 4x2)
455
Hazelnut (Small 4x2)
455
Java (Small 4x2)
455
Sansrival (Small 4x2)
455

Medium Cake

Sweet Claire (Medium 7×2)
182
Pure Delight (Medium 7x2)
182
Trianon (Medium 7×2)
182
Choco Craze (Medium 7×2)
182

Large Cake

Mango Creme (Large7X4)
1169
Hazelnut (Large 7×4)
1242
Java (Large 7×4)
1242
Fragaria (Large 7×4)
1242
About Sweet Claire
Located on Silang Street Batangas City, Sweet Claire is a French restaurant that serves delicious and mouthwatering cakes and pastries. They are also known as a gourmet place in Batangas city. A lot of customers love their products especially their baked goods because of the taste and not only that it's because of how beautiful they present their products. One of their most popular items is their French macaroons and cream puffs that you can buy per piece or box.
They have branches in Laguna and Batangas and soon maybe in the other parts of the country, most of their customers are regulars since after tasting their products they became their favorites. Sweet Claire is where elegance and sweetness meet, owned by Chef Laurence this shop started in 2016 and has evolved into a bigger business.
Sweet Claire Bestselling Menu
Here are some samples of Sweet Claire's best sellers.
Cream Puff Original (Choux a la creme) – Cream Puffs Original or Choux a la creme version of Sweet Claire tastes amazingly good. To be honest, the cream puffs don't have much flavor, they taste buttery though, and very light because of the ingredients used butter and egg. Pastry cream filling inside the creme puff has a light texture with just the right amount of sweetness on it. It has a creamy, milky, like custardy taste. No wonder cream puff is included on the best sellers list, this one tastes amazingly delicious.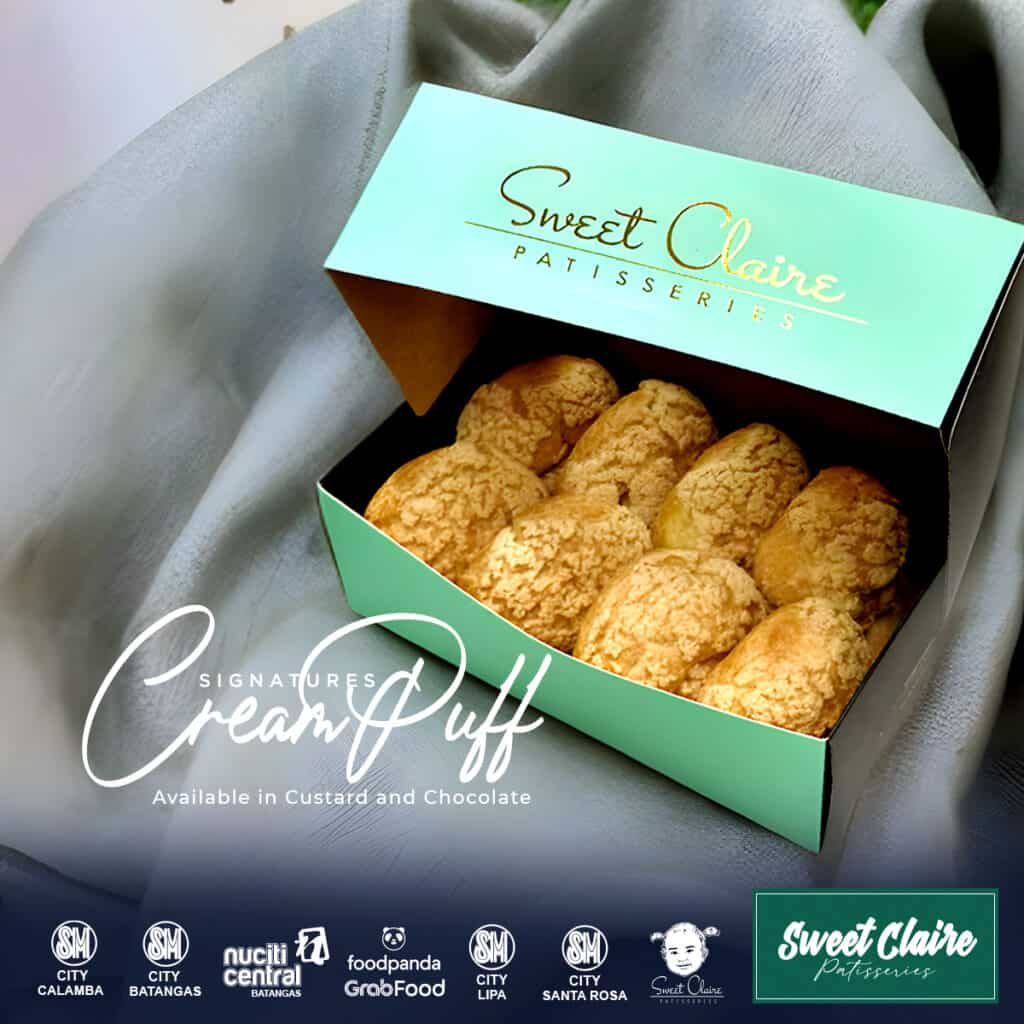 Cream Puff Choco (Choix a la choco) – Just like the cream puff original the cream puff itself doesn't have lots of flavors but this one has a mild flavor of chocolate but is not sweet, it is also buttery and fluffy at the same time. The filling inside of their cream puff choco is chocolatey but doesn't have a very strong chocolate flavor, just right. Cream puff choco is also included in Sweet Claire's best-selling item since this one is also good. To be honest this one is my personal favorite on all of their products.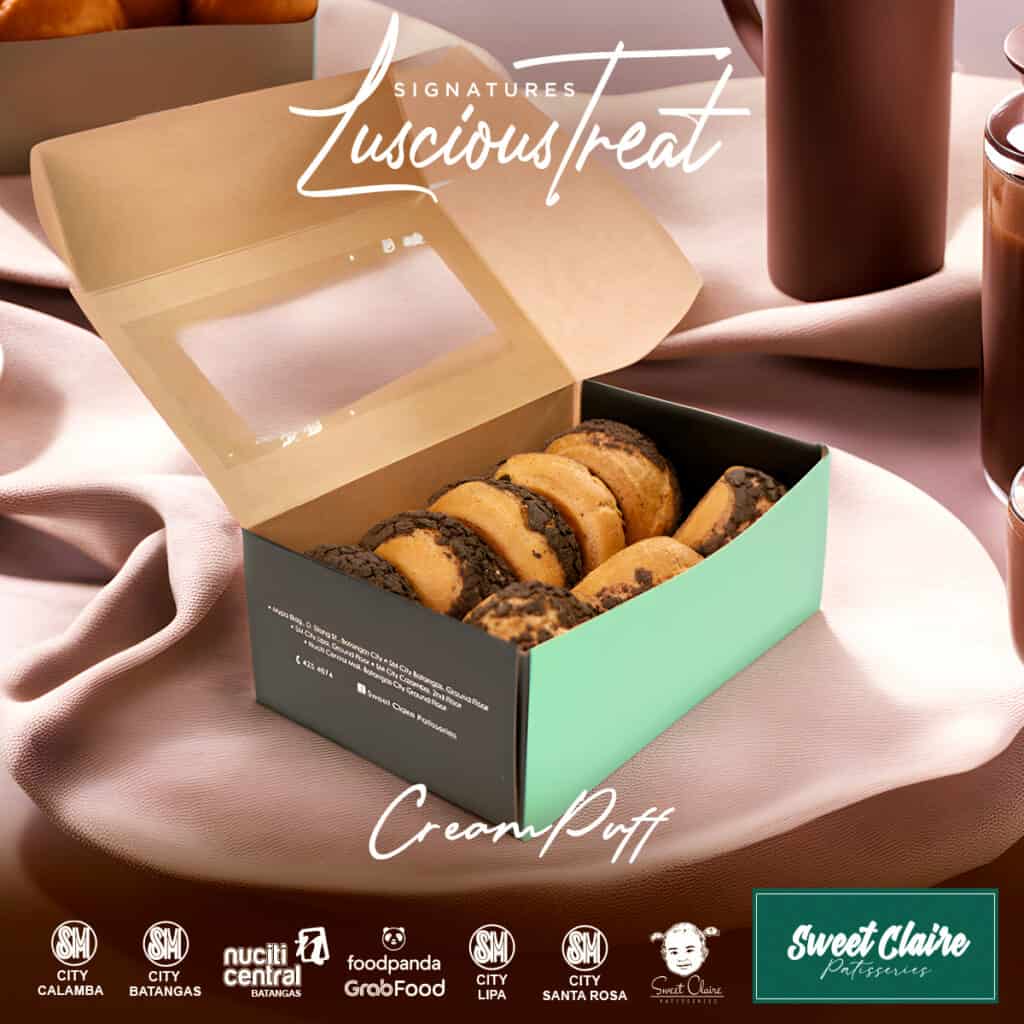 French Macarons – The French macaroons version of Sweet Claire is like a sweet meringue that transforms into a cookie, the shells of these macaroons are soft inside but crispy on the outside it has that melt in your mouth actually. Sweet Claire's French macaroons are also included on their best sellers list. These macaroons taste great especially when partnered with any drinks hot or cold. This is also a must-try item on their menu so if you don't want to miss out then try it for yourself.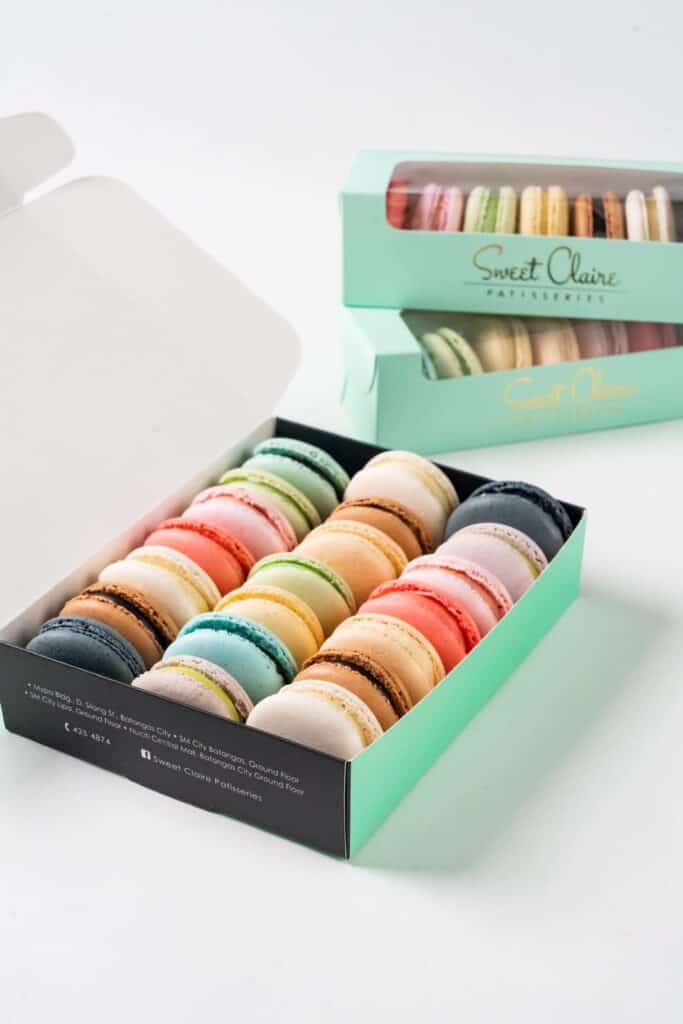 Creampuffs
Sweet Claire offers other items aside from cakes and those are creampuffs. On their creampuff menu, they actually have 3 options. The first item is their Creampuff Original (Choux ala creme) this one is a small pastry with a bit of crispy top, it has a filling inside that is creamy and milky and reminds me of classic Bavarian creme but Sweet Claire's version is way better.
They also have a chocolate version of the creampuff original (Choux ala choco) this one just like the creme version has a bit crispy top with chocolate creme filling it also has a chocolate-colored top. Lastly, they have Creampuff (Assorted) this one is a combination of choux ala creme and choux ala choco in one box.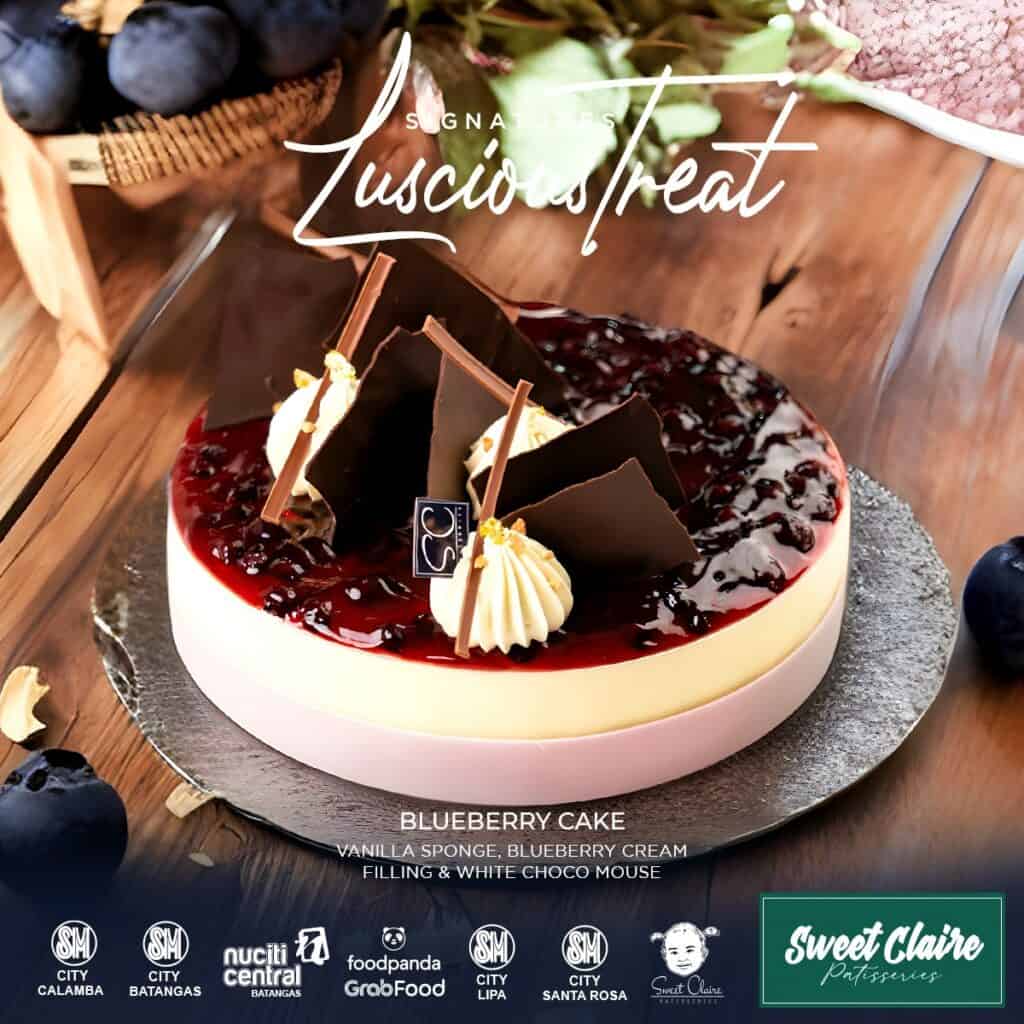 French Macaroons
Sweet Claire also has some French macaroons menu, these macaroons are cookie sandwiches with a crispy outside and chewy inside. The cookie is known as a macaroon shell. French macaroons at Sweet Claire are filled with flavored ganache in the center, one of the best pasalubong to buy at Sweet Claire is their French macaroons. 
French macarons are delicate sandwich cookies with a crisp exterior. Each individual cookie is known as a macaron shell. The shells are made without any chemical leaveners and get all of their lift from properly beaten egg whites. If you follow the recipe carefully, the cookies have a unique nougat-like, chewy texture.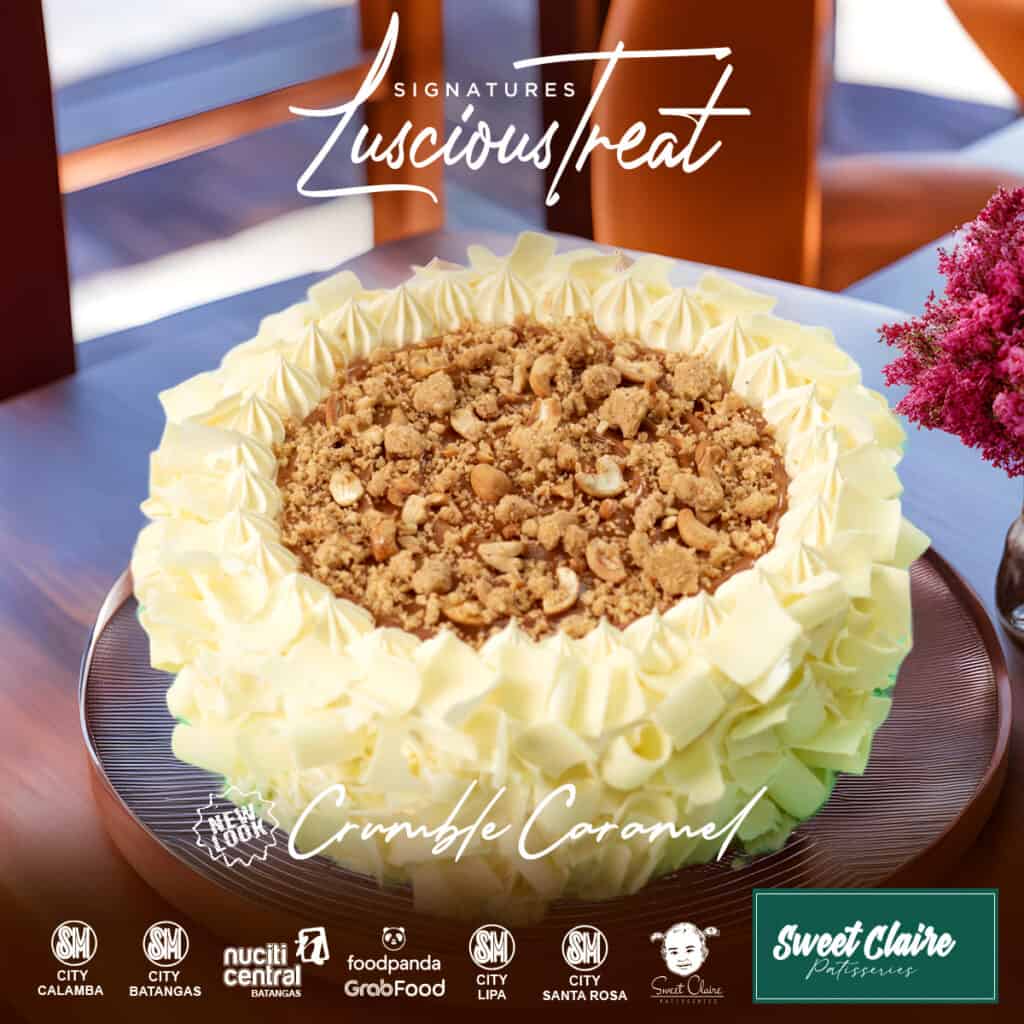 Sweet Claire Menu Delivery
Craving for something sweet and you just remember Sweet Claire but can't go outside because you're busy? No worries since ordering your favorite Sweet Claire cakes is made easier simply by using third-party delivery services that are available in the market these days just as Foodpanda and many more. Please take note that using third-party delivery services will charge you for delivery fees depending upon your location.
Social Media Pages
Enjoy exclusive access to their limited-time desserts, secret recipes, and sweet giveaways that'll make your heart flutter. Celebrate your special day with them. Follow their social media, and you might just win a grand birthday cake to make your day even sweeter!
Facebook: https://www.facebook.com/sweetclairepatisseries
Instagram: https://www.instagram.com/sweetclairepatisseries
Frequently Asked Questions
Where is Sweet Claire located?
Sweet Claire is located on D Silang Street Batangas City.
Does Sweet Claire have a website?
Yes actually Sweet Claire doesn't have a website but you can check out their social media pages.
What are the Opening and closing hours of Sweet Claire?
Sweet Claire is open from 8:00 in the morning until 9:00 in the evening from Monday to Sunday.
How to contact Sweet Claire?
You can contact Sweet Claire simply by calling them on their phone number at +63434254874.
Does Sweet Claire offer other items aside from cake?
Yes. Sweet Claire offers other items such as cream puffs and French macaroons.
Conclusion
This place is one of the best especially if we are going to talk about cakes and other pastry products. The Sweet Claire menu has a wide selection of cakes in different flavors and sizes to choose from plus they are one of the most popular cake makers because of how delicious their cakes are. Whenever I have the chance I buy their cakes because it's not just cake it's full of craftsmanship, to be honest. The cakes look good every time and picture-perfect too. If you want your cake on your bday or any occasion to be different try Sweet Claire to see the difference. Highly recommended for everyone especially sweet lovers out there. Must try place. Overall experience with Sweet Claire is amazing.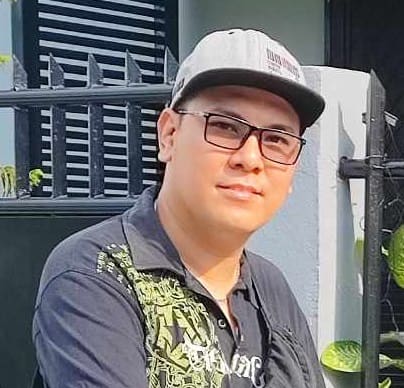 Hi! I'm Nivek Strife, the person who made MenuPH. I'm the one who added most of the popular menus you see on this website, and I really hope you enjoy them! Feel free to check them all out.
Growing up, I was surrounded by lots of tasty foods, like the classic Adobo and the sweet Leche Flan. That love for the many flavors of the Philippines is what got me excited about adding to MenuPH. When I learned how to make websites, I saw the need for a place to show off all the amazing Filipino dishes, and that's how MenuPH started.
MenuPH isn't just a website; it's like a fun journey into food. I've teamed up with famous chefs and found great places all over the Philippines to bring you a bunch of menus that show off the best of Filipino cuisine. Whether you're into the usual dishes or new twists, MenuPH is here to guide you through the rich world of Filipino flavors.
With MenuPH, my aim is to help local businesses, talk about good food choices, and make a group of friends who love food. No matter if you like fancy restaurants or street food, MenuPH has something for you. Come join me on this food adventure as we find great places, taste real flavors, and enjoy the unique food traditions that make the Philippines awesome.