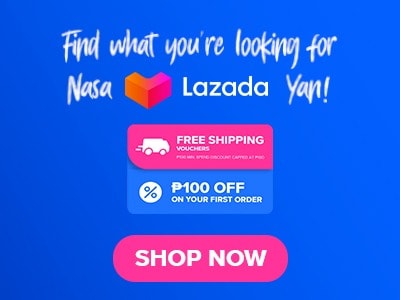 The King Chef menu features a wide range of dishes, including both classic and modern Chinese cuisine. They are well-known and respected for using high-quality ingredients to ensure that their dishes are both delicious and healthy. In addition to their specialties, which are dim sum and noodles, they also offer a variety of seafood, meat, and vegetable dishes as their main dishes and a wide selection of desserts, such as mango sago, egg tarts, and puddings.
Below, you'll find the updated list of King Chef menu prices.
Menu Items
Price (PHP)

Cantonese Dimsum

Hakaw
170
Pork and Shrimp Siomai
125
Chicken Feet
125
Taosi Spareribs
150
Sharksfin Dumpling
125
Asado Siopao
125
Bola Bola
135
Steamed mantao
100
Beancurd Roll
155
Xiao Long Bao
140
Bird's eye dumpling
180
Japanese Siomai
150
X.O. Siomai
170
STeamed Seafood Bundle
160
Soyed Wanton
170
Buchi
110
Ham Soy Kok
120
Crispy Spring Rolls
140
Dynamite
170
Radish Cake
145

Congee

Bola Bola Congee
185
Pork Century Egg Congee
190
Fish Fillet Congee
200
Plain Congee
100
Century Egg
85
Sliced Abalone with 3 Treasures Congee
260
Sliced Beef Congee
190

Noodle Soups

Misua Ko
150
Beef Brisket Noodles
240
Soyed Chicken Noodles
240
White Chicken Noodles
240
Wanton Noodles
250
Beef Wanton Noodles
300
Porkchop Noodles
300
Lomi
330
Roasted Duck Noodles
340
Tender Pork Leg Noodle Soup
280
King's Special Crabroe Soup
420
Fish Lips Soup
410
Northern Style Chicken w Wanton Broth
440

Party Platter

Dimsum Platter 1
770
Dimsum Platter 2
770
Roasted Platter
800
Combi Platter
770
Big Dimsum Platter
1540
Big Dimsum Platter
1800
Sitr-Fried Noodles
Stir-Fried Beef Hofan
410
Stir0Fried Seafood Hofan
470
Birthday Noodles
400
Pancit Canton Guisado
395
Crispy Noodles with Seafood
440
Cha Misua
440
Crispy Noodles with Taosi
390
Satay Chami Guisaso
390
Braised Pork Leg Noodles
440

Rice Toppings

Soyed chicken Rice
240
White chicken Rice
240
Taosi Spareribs Rice
260
Fried Chicken Rice
240
Fried Five Spice Pork Rice
280
Barbecued Asado Rice
280
Breaded Fish Fillet Rice
280
Breaded Porkchop Rice
320
Curry Porkchop Rice
340
Roast Duck Rice
330
Yang Chow Fried Rice
395
Steamed Rice
60

HK Roasted items

Barbecued pork Asado
410
Roast Duck Whole
2400
Roast duck Half
1200
Roast duck 1/4
600
White chicken Whole
700
White chicken half
350
Soyed chicken whole
700
Soyed chicken Half
350
Peking duck 2 ways whole
3000
peking duck 2 ways half
1500
3 kinds cold cuts platter
650
crispy pork belly with jellyfish salad
680
About King Chef
King Chef is a Chinese restaurant that specializes in dim sum, noodles, and other Chinese dishes and is located in Quezon City, Metro Manila. The restaurant is popular among locals and tourists alike and is commonly flocked with a long line of people waiting to be seated during its peak hours. King Chef has several branches located in various parts of the Philippines, making it accessible to a wider audience. They also offer catering services for events and other functions.
King Chef Menu Best Seller
This menu is made up of the best-selling dishes, all of which are a must-try to completely enjoy your King Chef dining experience.
Chicken Feet – This is a unique dish that may not be for everyone. But for those who enjoy it, King Chef's chicken feet are an absolute must-try! The skin is made tender and gelatinous, while the sauce is sweet and savory.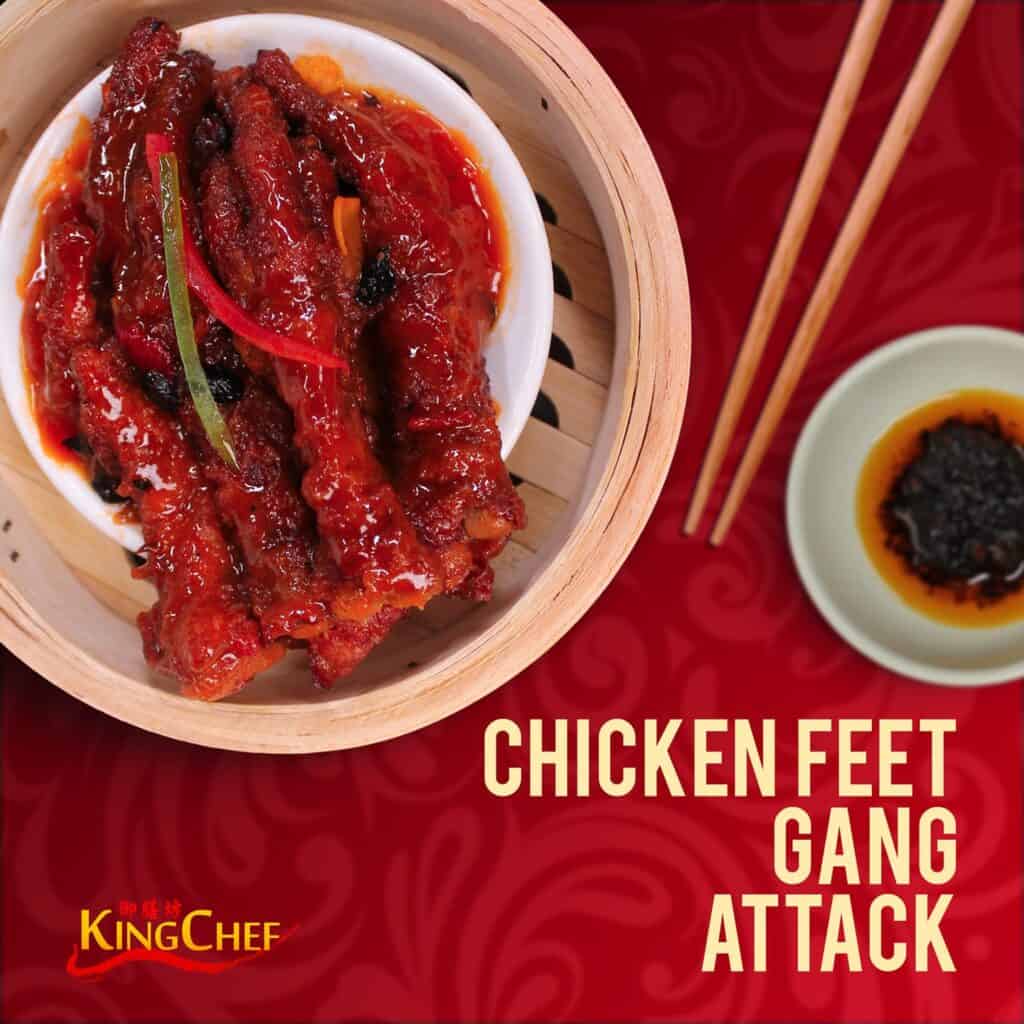 Sharksfin Dumplings – The main ingredients used in these dumplings are a mixture of ground pork, shrimp, and sharkfin. They are steamed until they become tender and are served with a tangy but slightly sweet sauce. The flavorful filling perfectly complements the soft texture of these dumplings.
Asado Siopao – These are steamed buns that are filled with sweet and savory asado pork. The filling is tender and bursting with flavors while the bun is soft and fluffy. It is a very comforting and satisfying dim sum dish.
Crispy Spring Rolls – This is a deep-fried dish that has a crispy texture and is packed with flavors! It uses chopped vegetables and well-seasoned meat for its fillings, making this dish both filling and satisfying. Paired with a sweet and sour sauce, the flavors are enhanced to new heights.
Cantonese Dimsum
This menu of King Chef is made up of dim sum dishes that are perfect for breakfast, lunch, and even snack time.
Pork and Shrimp Siomai – This dumpling uses a mixture of ground pork and juicy shrimp as its main ingredients. It uses a thin wrapper, making this dish slightly chewy but bursting with flavor!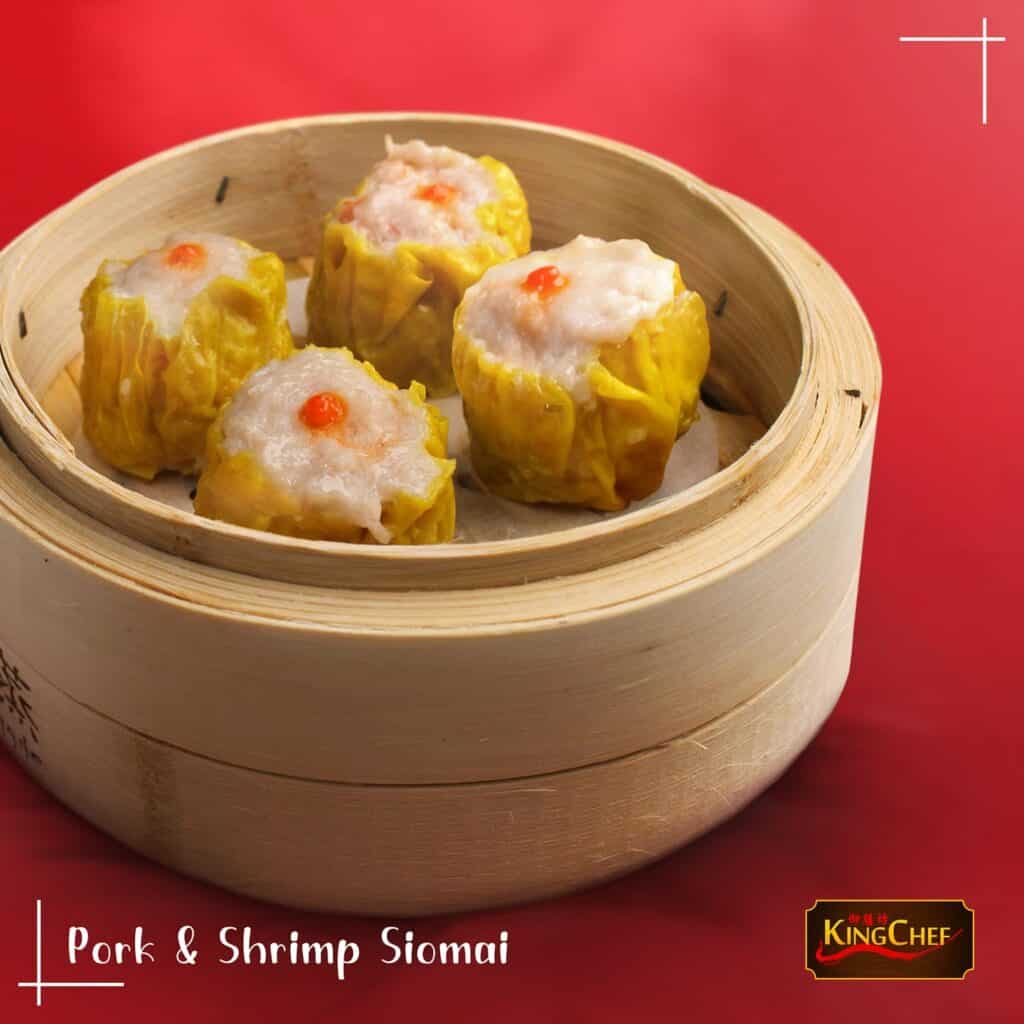 Beancurd Roll – It is a vegetarian-friendly option on King Chef's dim sum menu that is savory and light. The filling of this dish is made up of chopped vegetables and mushrooms and is wrapped with a thin layer of tofu skin and then steamed. It has a very soft and silky texture and a good balance of flavors.
Radish Cake – It is a classic dim sum dish that is made of grated radish and rice flour. These two ingredients are steamed and pan-fried until they become crispy. The cake itself has a savory and slightly sweet taste and a chewy texture, making this dish comforting and at the same time filling.
King Chef Congee Menu
This menu offers different varieties of comforting and flavorful rice porridge dishes that are perfect for a quick meal at any given time of the day.
Bola Bola Congee – This comforting rice porridge is flavorful and features savory meatballs made from ground pork and shrimp that are served in a warm bowl of congee. The congee itself is smooth and creamy, with a mild flavor that perfectly complements the flavors of the meatballs.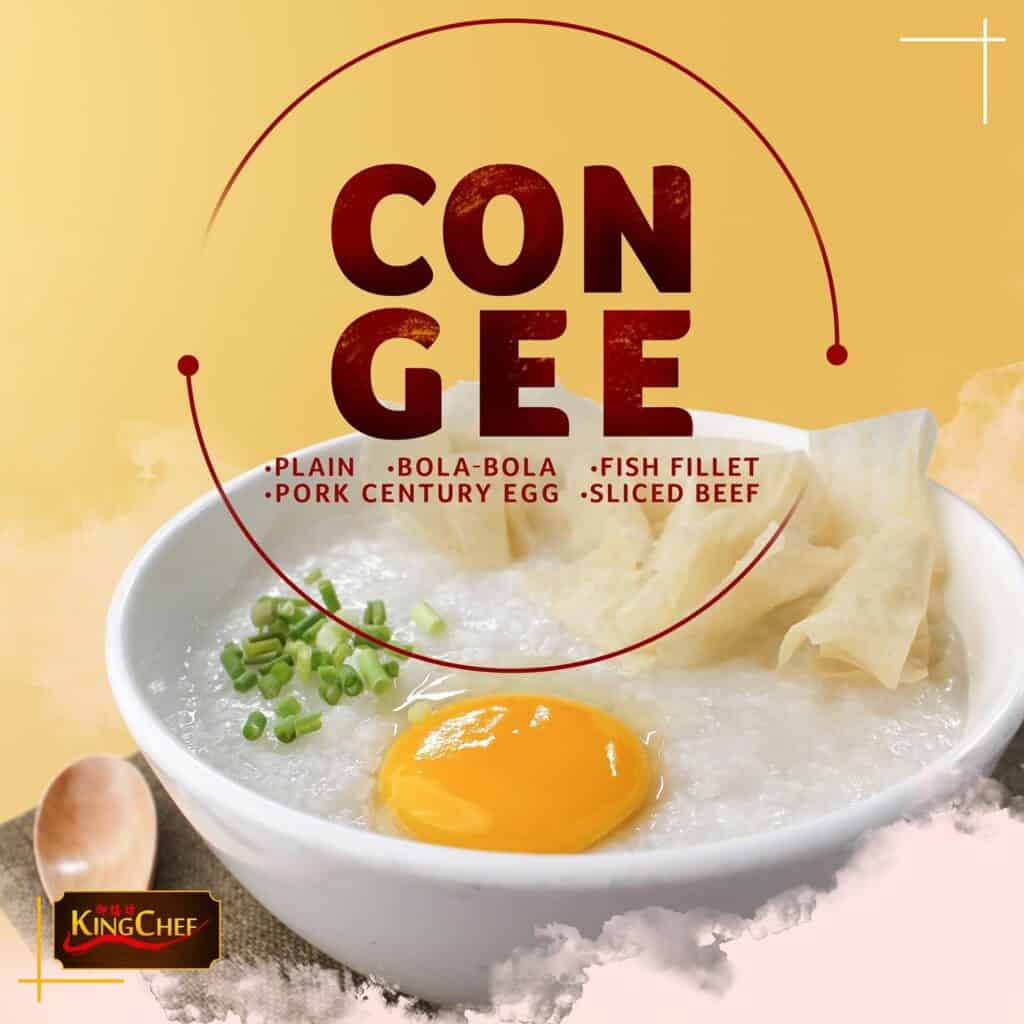 Fish Fillet Conge – This congee features a tender and flaky fish fillet that is served in a mild and creamy congee, making it light and refreshing. This dish is plain and simple but a satisfying one for a quick and healthy meal.
Plain Congee – This dish is the most simple dish on this menu. It features a creamy and comforting rice porridge that is flavored with just ginger and several condiments. It is a versatile dish that can be enjoyed on its own or as a base for other ingredients like eggs, pork, or beef.
Noodle Soup
This menu offers a selection of comforting and delicious noodle soup dishes that are perfect for any occasion and any time of the day.
Misua Ko – This is a hearty and flavorful soup that features thin but delicate misua noodles in a savory broth topped with shredded chicken and eggs. The comforting soup perfectly complements the soft texture of the noodles.
Beef Brisket Noodles- This is one of the many classic Cantonese dishes that features al dente noodles in a rich, flavorful broth with juicy and tender beef brisket. The two perfectly complement each other as the beef practically falls apart with every bite while the noodles add a chewiness to this dish.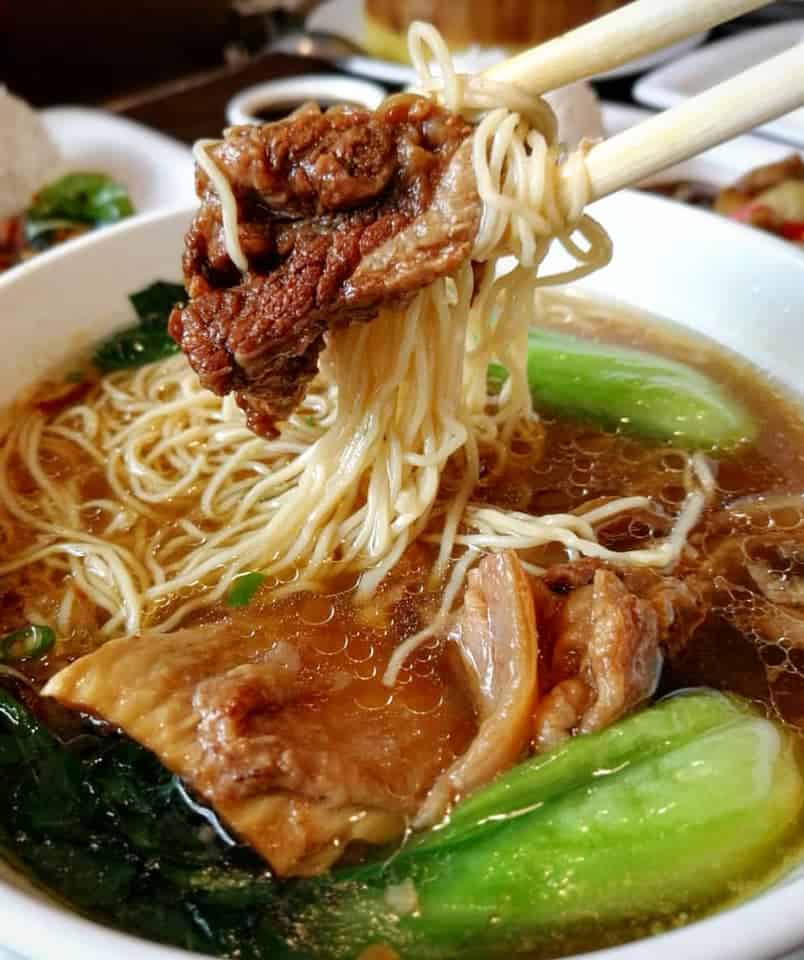 Soyed Chicken Noodles – This is a light and refreshing noodle dish that is perfect even for a hot day! It has a clear broth that is infused with the subtle flavor of soy sauce and is served with tender slices of chicken and thin noodles.
King Chef Party Platter Menu
This menu offers customers an excellent range of dishes that are perfect for sharing with family and friends. The food platters that make up this menu are ideal for large groups and feature a variety of classic Chinese dishes that are sure to satisfy everyone's taste buds.
Stir-fried Noodles
This menu is made up of stir-fried noodle dishes that are a must-try for every noodle lover that visits King Chef. From the classic Cantonese stir-fried noodles to the spicy Szechuan noodles, each dish is made with fresh ingredients that are bursting with flavor.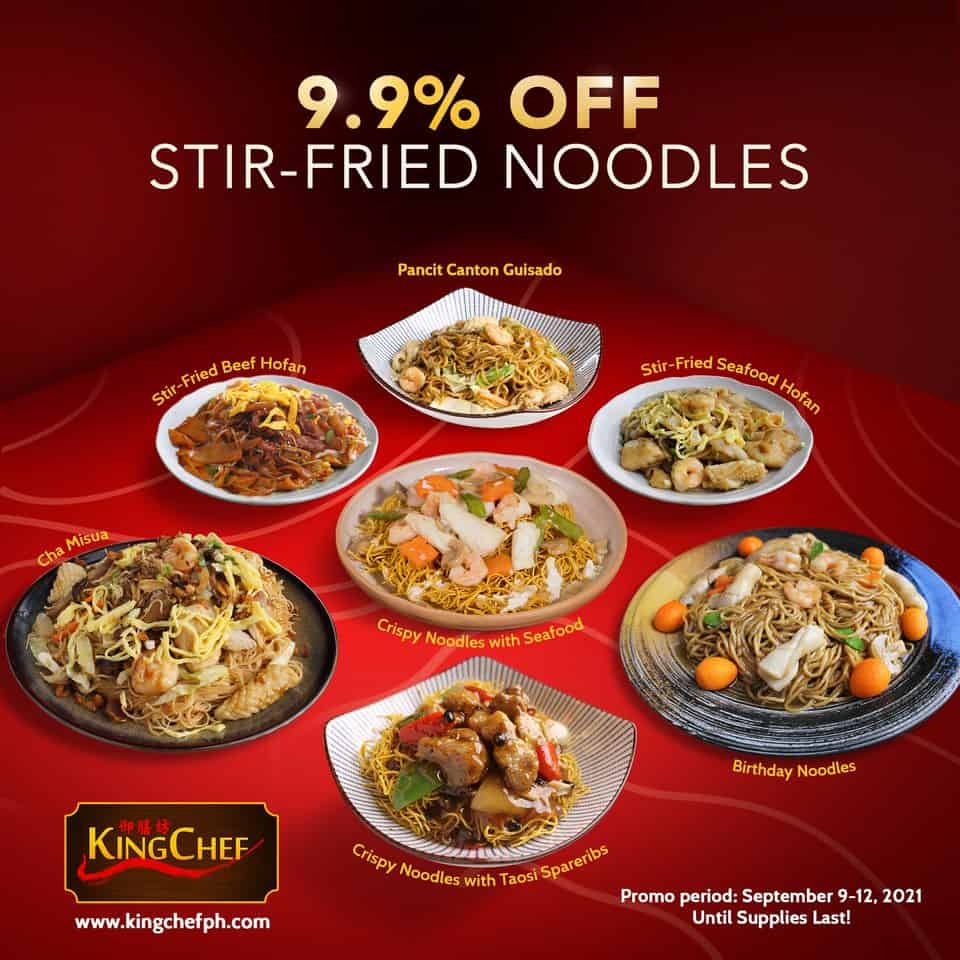 HK Style Roasted Items
This menu is ideal for those who love Hong Kong-style roasted items. The signature dishes on this menu include Crispy Pork Belly and Pork BBQ, which are both packed with bursting flavors! It is the perfect menu for those guests who want to try the flavors of authentic Hong Kong cuisine.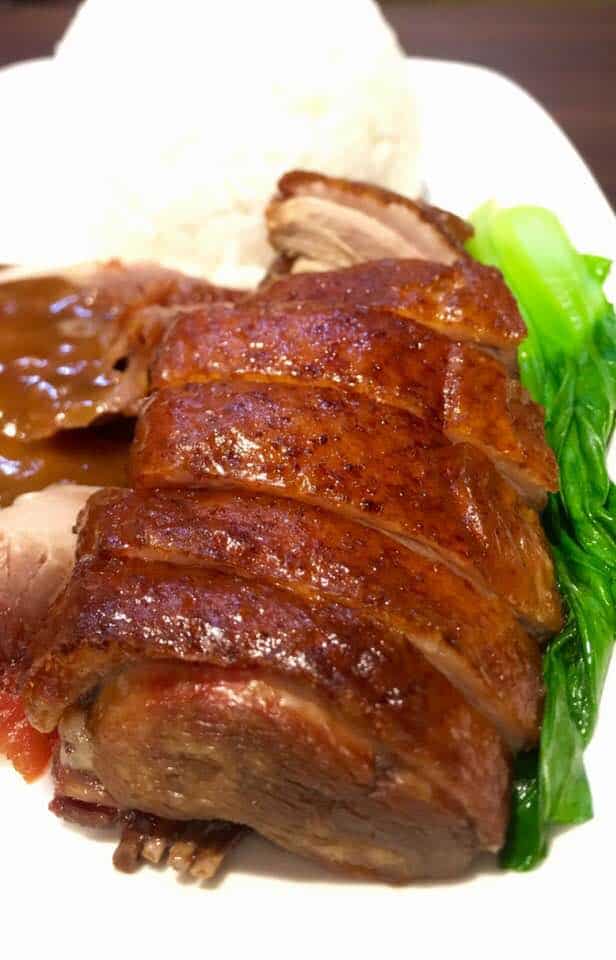 King Chef Menu Delivery
To order from King Chef's menu delivery, simply browse their menu from their website or search for their online store in delivery applications like the FoodPanda and GrabFood apps. Just add the dishes you want to order to your cart and then proceed to checkout.
Social Media Pages
If you're a fan of King Chef's delicious Chinese cuisine, you'll want to stay in the know about their latest promotions and discounts. Luckily, keeping up with all the latest news and deals has never been easier – simply visit and follow their social media pages.
By following King Chef on social media, you'll have access to exclusive information about their ongoing promotions and discounts. Whether you're looking for a great deal on your favorite dishes or a chance to try something new, their social media pages are the perfect place to start.
And there's more than just promotions and discounts on offer – by following King Chef on social media, you'll also be able to show your support for this beloved restaurant. So why wait? Click the links below to be redirected to King Chef's social media pages and start exploring all the great content they have to offer.

Facebook: https://facebook.com/kingchefph/
Instagram: https://www.instagram.com/kingchefph/
Twitter: https://twitter.com/kingchefph/
Conclusion
King Chef is an outstanding Chinese restaurant in the Philippines whose menu offers a wide variety of authentic and delicious dishes. Additionally, the restaurant also pays attention to the quality of its ingredients and cooking techniques, which are evident in every dish that they serve. Overall, King Chef provides a fantastic dining experience that combines exceptional food with an elegant but comfortable atmosphere that is ideal for a casual dinner with family or friends.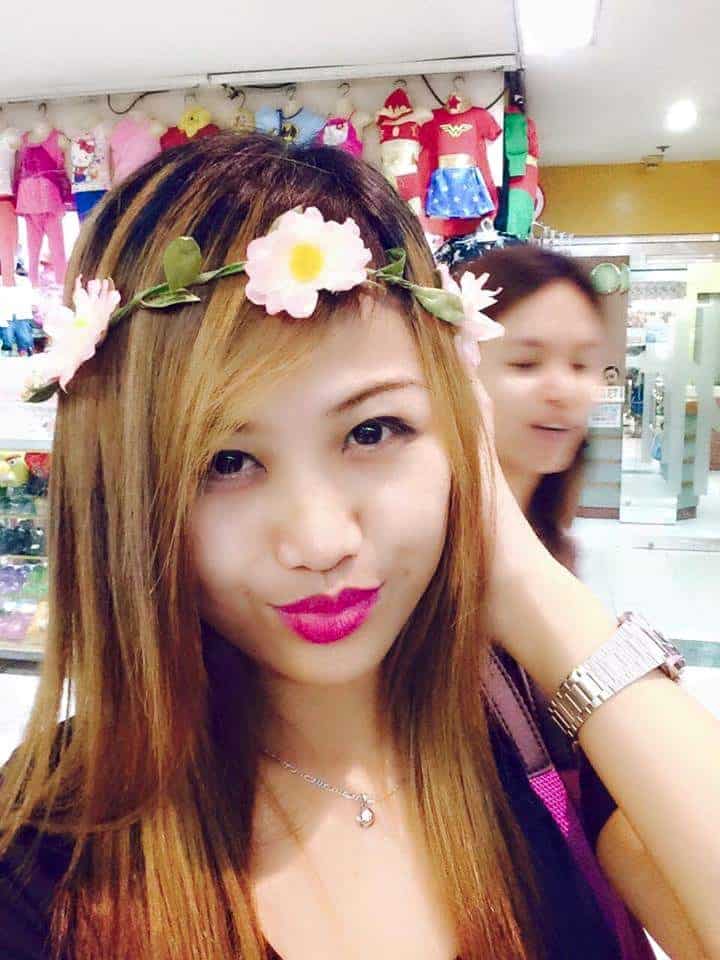 Hello! I'm Shaoyeu Cassandra, a mom who spends most of my time at home, and when I'm not busy, I enjoy writing blogs. I live in Cavite, and I really love talking about the menus of different restaurants.
So, I decided to share my thoughts on the menus of some fast-food places. I'm hoping my take on them can be like a helpful guide for you to decide what tasty treat to go for next. I hope you discover something you really enjoy! Thanks for stopping by!