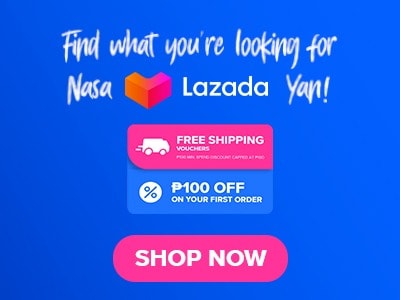 I am sure we can all agree that homemade cuisines have a special place in our hearts. We always love the aroma every time our Moms get to prepare the family lunch or dinner. The taste we can never trade for anything in life that offers a different level of comfort and warmth. And when it comes to homemade cuisines, I have a recommended restaurant that will surely hit the spot. introducing Hot Kitchen, a restaurant that will save you from homesickness and undying cravings for homemade cuisines. Here is their blazing Filipino flavor menu collection.
Menu Items
Price (PHP)

Merienda Favorites

HK PANCIT BAM-I
124

Main Entrée Pork

Bistek Tagalog
249
Pork Lumpiang Shanghai
189
Porkchop In-Brine
302
Pork Sinigang
299
Dinuguan
169
Pork Adobo
229
Menudo
189
Pork Nilaga
289
Bicol Express
239
Pork Sisig
209
Tokwa't Baboy Double
204
Bopis
149
Tokwa't Baboy
122

Main Entrée Chicken

Chicken Tinola
270
Sinampalukang Manok
273
Filipino Fried Chicken (3pcs)
179
Chicken N Pork Sisig
174
Chicken Nuggets
129
Chicken Sisig
179

Main Entrée Beef

Beef Caldereta
304
Beef Kare Kare
309
Beef Pares
239
Beef Nilaga
339

Vegetables

Pinakbet
140
Tortang Talong
149
Ginisang Sayote
124
Adobong Sitaw
119
Kangkong with Bagoong
74

Main Entrée Fish

Marinated Boneless Bangus
324
Sweet and Sour Fish
194
Fried Hito With Ensalada & Atsarang Gulay
239
Ginataang Hito
249

Dessert

Buko Pandan
64
Macaroni Salad
64
Coffee Jelly
64

Drinks

Coke In Can
65
Royal In Can
65
Pineapple In Can
65
Sprite In Can
65

Add Ons

Steam Veggies
35
Plain Rice
40
Steam Veggies
35
Egg
19
Fried Tokwa
49
Boiled Egg
19
About Hot Kitchen
Hot Kitchen is a home of Filipino authentic cuisines that offer bold and vibrant flavors. They offer Main entrees of various meats such as Pork, beef, and Chicken alongside their various collections of Vegetables, Seafood, and dessert. A flavorful journey as we take the finest crunch of Pork Lumpiang Shanghai and delightful slurp of Pork Sinigang. They have a very diverse collection that highlights the traditional Filipino cuisines that will surely bring exciting comfort to your table.
Hot Kitchen Menu Best Seller
Start the journey with these authentic and best-selling dishes from Hot Kitchen which is known to be famous for its flavor, texture, and mouthwatering visuals.
Chicken Tinola – savor the indulging sip of this classic chicken tinola that offers you a sumptuous ginger stew with a flavorful bite of chicken with sayote.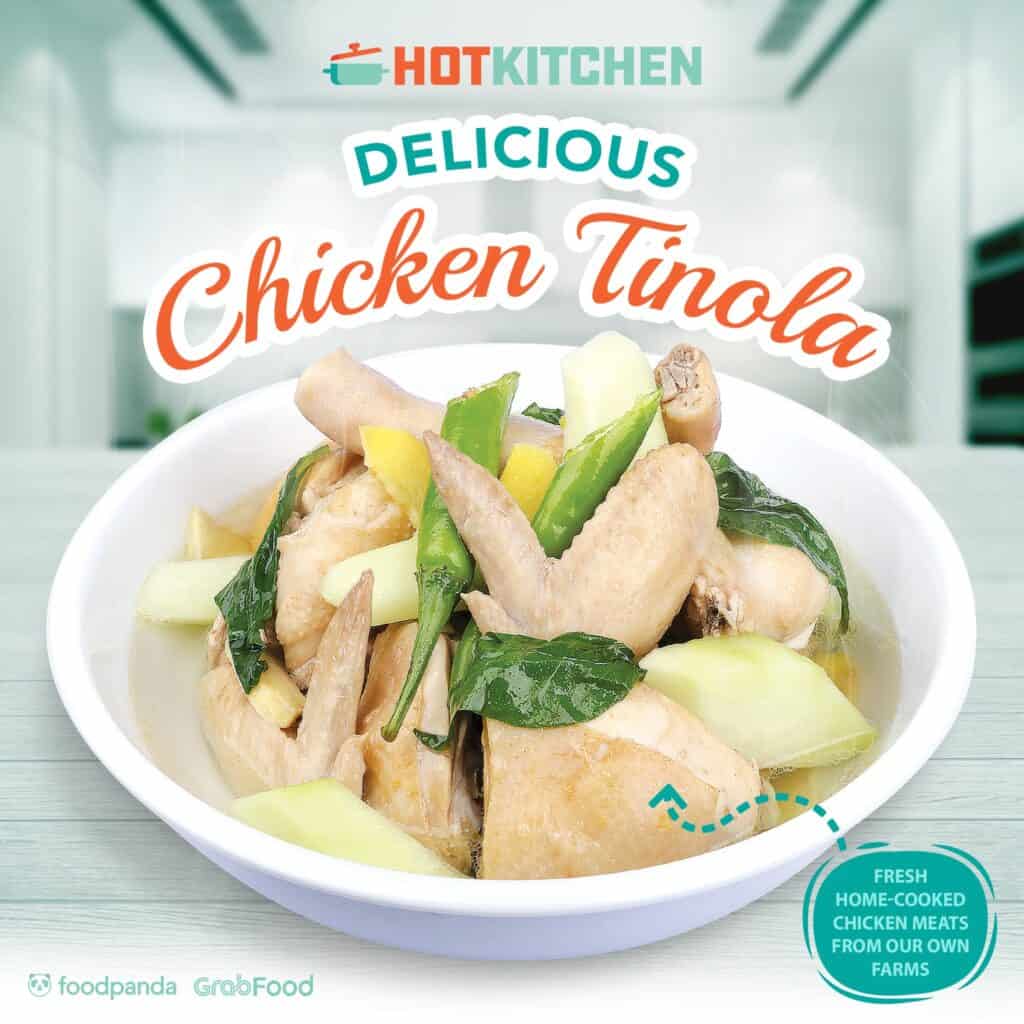 Pinakbet – This well-known dish is known for its vibrant colors that feature various vegetables such as string beans, squash, ampalaya, and more that are sauteed in bagoong.
Pork Adobo – This savory dish features a classic flavor of Filipino stew highlighting the flavor of pork meat that is braised to perfection in a tangy and filled with spices and savory sauce.
Menudo – Another favorite ay Hot Kitchen that is famous for its flavorful stew that features pork, liver, and various vegetables in flavorful tomato sauce.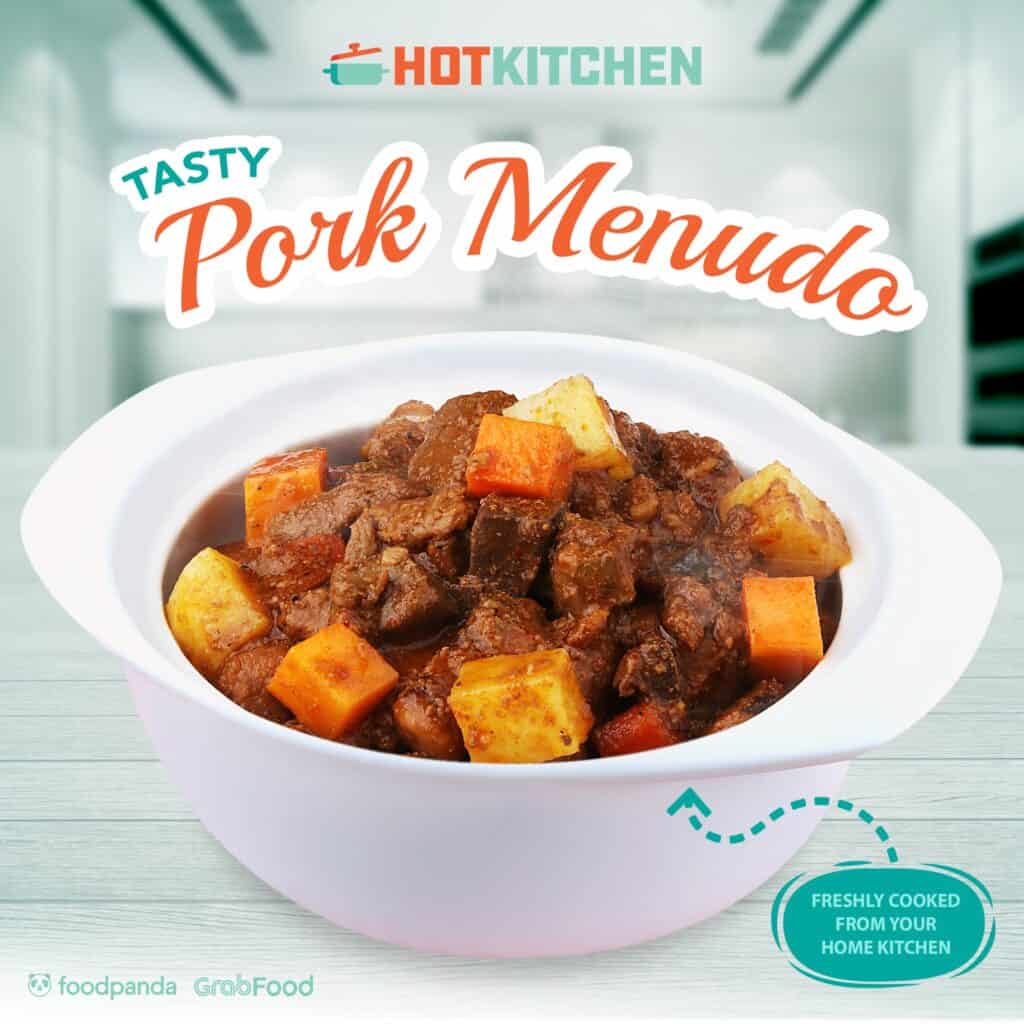 Bistek Tagalog – You don't want to miss this hearty meal that features spork slices in a flavorful combination of citrus flavor that highlights sweet and savory flavor.
Main Entrees Pork
Make your meaty adventure more spiced up with these main entrees of pork that highlight the tender and juicy bites of pork meat that are cooked in various Filipino styles.
Porchop In-Brine – A perfectly fired pork chop is here to give you a delightful bite you would not want to trade for anything. It features a marinated to-perfection soy sauce along with other flavorful ingredients.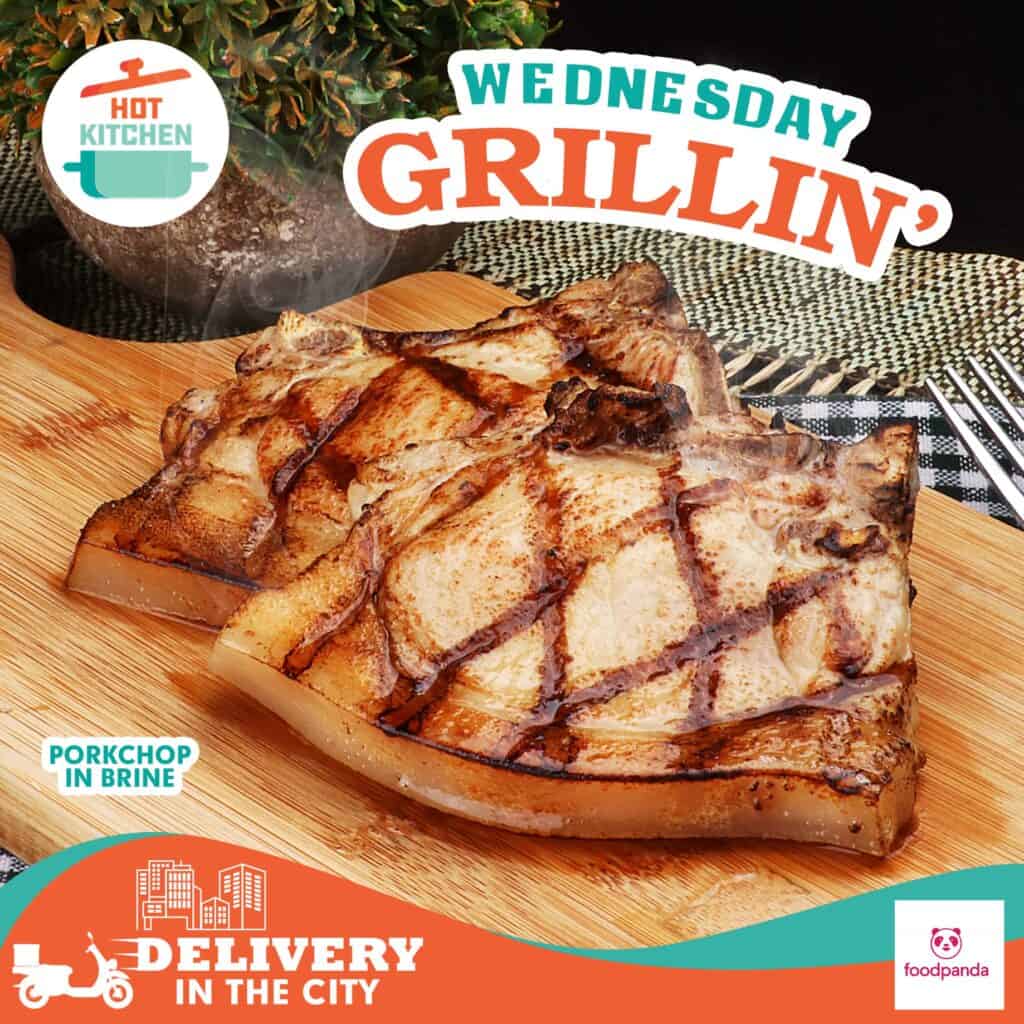 Pork Lumpiang Shanghai – An all-star to every Filipino handaan is this pork Lumpiang Shanghai. It is also a recommended menu from Hot Kitchen that showcases a crispy roll infused with ground pork along with various veggies.
Pork Sinigang – Sour, sweet, warm, and savory, these are the words that I can describe this Sinigang. It features a chunk of flavorful pork that is served with various vegetables in a soup flavored with tamarind.
Bicol Express – A dish that is close to my heart and is also considered a popular dish at Hot Kitchen. This Bicol Express is famous for its chunky pork bites which are cooked in delightful coconut milk with chili peppers.
Silog All day Breakfast
Start your morning with a filling meal and a happy tummy with the Silog All Day Breakfast collection that highlights the iconic Tapsilog, Longsilog, and Tocilog.
Longsilog (Ilocos Longganisa) – Starting with this long silog menu of Hot Kitchen that features a fried egg and rice which offers you a sweet and savory flavor with this iconic Iloco Longganisa.
Tapsilog – Prepare yourself for another mouthwatering dish with this Tapsilog It highlights tender and marinated beef strips which are known to be the tapa and paired with a delightful garlic rice.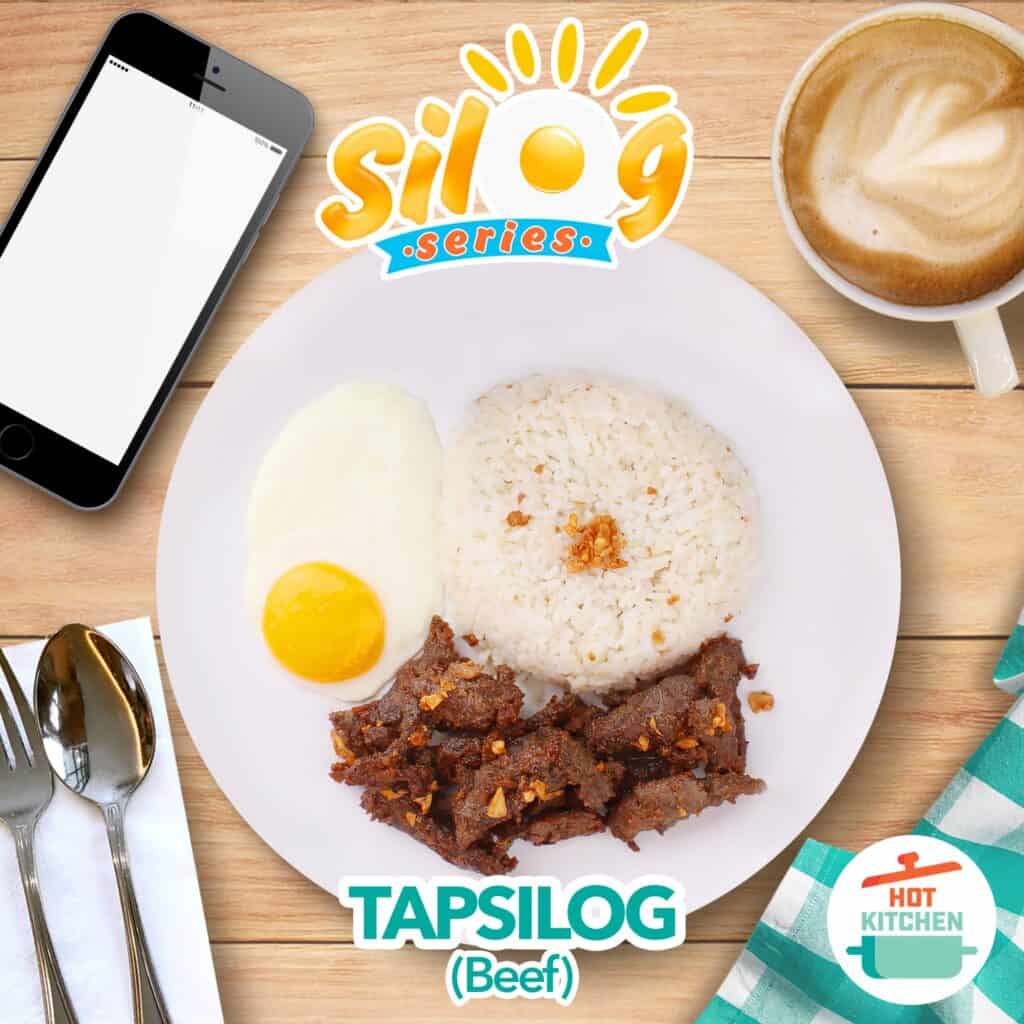 Tocilog – Take a wonderful dive into this Tocilog that features a sweet cured pork that bursts in the mouth-watering flavor. It is sweet because of the classic Kapampangan way of making the tocino which is known to be sweet as well as savory.
Porksilog – A perfect breakfast for every meat lover because it highlights a succulent and well-seasoned pork chop cooked to magnifying perfection and paired with their flavorful sinangag.
Hot Kitchen Menu Delivery
Experience the most satisfying way of savoring the finest flavors of Filipino cuisine if you order online and have it delivered right to your doorstep. Hot Kitchen offers a food delivery service that delivers your favorite dishes and savory meals right to your front door. You can order through Foodpanda or Grab Food PH for hassle-free and smooth transactions.
Social Media Pages
Your support on social media unlocks a world of exclusive benefits. Enjoy spicy discounts, secret menu items, and events that will set your taste buds ablaze.
Facebook: https://www.facebook.com/hotkitchenph
Instagram: https://www.instagram.com/hotkitchenph
Frequently Asked Questions  
What type of cuisine does the Hot Kitchen offer?
Hot Kitchen offers a delightful take on your favorite Filipino cuisines that are made with flavorful and special dishes such as Sinigang and menudo alongside various meat entrees.
What is the Hot Kitchen known for?
It is known for its various meat entrees such as Menudo, pork Adobo, and Bistek Tagalog.
What are the operating hours of Hot Kitchen?
Hot Kitchen offers its magnifying collection of Filipino cuisines from 10 AM until 9 PM from Monday to Sunday.
Where is the Hot Kitchen located in the Philippines?
You can visit them on the Ground Floor, Mezza Residences, Aurora Boulevard Corner Araneta Avenue- Doña Imelda, 4th District, 1016 Quezon City. There are also other branches of Hit Kitchen available for you in various areas in the Philippines.
Conclusion
In conclusion, Hot Kitchen is not just merely a restaurant that offers your favorite Filipino cuisines, It is a home filled with nostalgia and memories that remind us how life can be delightful in the most little way. From the Hot Kitchen menu that features my favorite Menudo, I can't help but be delighted how they remained authentic where you can feel the homemade vibes it gives while savoring it. That I think is already a great thing that proves this restaurant is committed to delivering your classic Filipino favorite in the most satisfying way that you will surely love. I also love how they're so active on their Facebook page which is a great tool to leverage social media marketing. I am fully satisfied with the experience and I can't ask for more. I am just sure that this won't be my last visit and I will surely come back every time I miss my Mom's best-tasting menudo. Join me again for an extra satisfying adventure as we savor the finest and most recommended restaurant in the Philippines.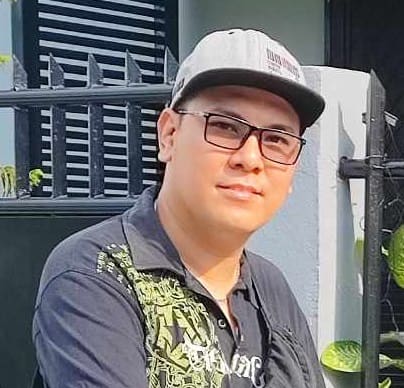 Hi! I'm Nivek Strife, the person who made MenuPH. I'm the one who added most of the popular menus you see on this website, and I really hope you enjoy them! Feel free to check them all out.
Growing up, I was surrounded by lots of tasty foods, like the classic Adobo and the sweet Leche Flan. That love for the many flavors of the Philippines is what got me excited about adding to MenuPH. When I learned how to make websites, I saw the need for a place to show off all the amazing Filipino dishes, and that's how MenuPH started.
MenuPH isn't just a website; it's like a fun journey into food. I've teamed up with famous chefs and found great places all over the Philippines to bring you a bunch of menus that show off the best of Filipino cuisine. Whether you're into the usual dishes or new twists, MenuPH is here to guide you through the rich world of Filipino flavors.
With MenuPH, my aim is to help local businesses, talk about good food choices, and make a group of friends who love food. No matter if you like fancy restaurants or street food, MenuPH has something for you. Come join me on this food adventure as we find great places, taste real flavors, and enjoy the unique food traditions that make the Philippines awesome.