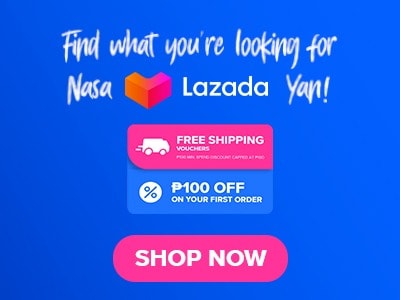 A step into the world of Korean Sweet Bliss is all we have here in the restaurant that we are going to talk about today. Introducing Hobing Korean Dessert. A restaurant that offers a wide range of Korean Desserts such as the iconic Bingsu will surely satisfy your sweet cravings. They take pride in utilizing the freshest and the highest quality ingredients in every Korean indulgence they offer for you. Here is the updated menu of Hobing Korean Dessert Cafe and their prices.
Menu Items
Price (PHP)

Noodles

Egg Ramyeon
150
Tteokbokki
220
Rabokki
245
Add On: Mozzarella
60

Toasts & Breads

Injeolme Toast
160
Cheese Injeolme Toast
180
Choco Toast
190
Honey Butter Toast
190
Add On: Cheese
30

Bingsu

Kiwi Bingsu
240
Mango Bingsu
195
Mango Cheese Bingsu
260
Matcha Bingsu
250
Milk Kiwi Red Bean Bingsu
195
Mix Berries Bingsu
290
Injeolme Bingsu
195
Cheese Bingsu
230
Caramel Coffee Bingsu
290
Cookies and Creme Bingsu
260
Chocolate Cookie Bingsu
230
Chocolate Brownie Bingsu
250
Chocolate Banana Bingsu
290
Chocolate Choco Pie Bingsu
230
Black Sesame Bingsu
260
Banana Mango Bingsu
280
Blue Berry Bingsu
250
Banana Bingsu
190
Blue Berry Banana Bingsu
290
Banana Berry Bingsu
270
Berry Berry Cheese Bingsu
290
Strawberry Bingsu
260
Strawberry Cheese Bingsu
280

Ice Blended

Cookies and Cream Ccino
140
Mocha Ccino
140
Caramel Ccino
140
Plain Yogurt Ccino
140

Yogurt Smoothies

Mango Smoothie
140
Strawberry Smoothie
140
Blueberry Smoothie
140
Plain Yogurt
140

Hot Beverages

Yalmu Tea
120
Honey Citron Tea
120
Peppermint Tea
100
Green Tea Jasmine
100
Black Tea Sunny Lemon
100
Black Tea Forest Fruit
100

Iced Beverages

Brown Sugar Milk Tea
140
Iced Tea
120
Lemonade
100

Others

Sikhye
80
Rice Juice
80
Choco Pie
40
About Hobing
Hobing Korean Dessert Cafe is a casual dining restaurant that allows you to have a flavorful escape to the sweet world of Korea. It transports you to the wide array of Korean delicacies and desserts such as Korea's favorite Bingsu and other Ice Blended Drinks and Yogurt Smoothies. Aside from the delightful desserts, they also offer a savory bowl of Noodles and delightful breakfast toast and bread. I am sure every visit is a visit of pleasurable dining and enactments so add this now to your list of must-visit restaurants and I will give you more of these reasons with the menu best sellers that I will provide next.
Hobing Korean Dessert Menu Best Sellers
Savor the coolest and freshest collection of Hobing Korean Dessert Cafe highlighting their iconic bestseller from their delightful collections.
Mango Bingsu – Enjoy this delightful treat featuring a mango bingsu that allows you to enjoy shaved ice fresh mango cubes and mango syrup that is packed with richness and sweetness.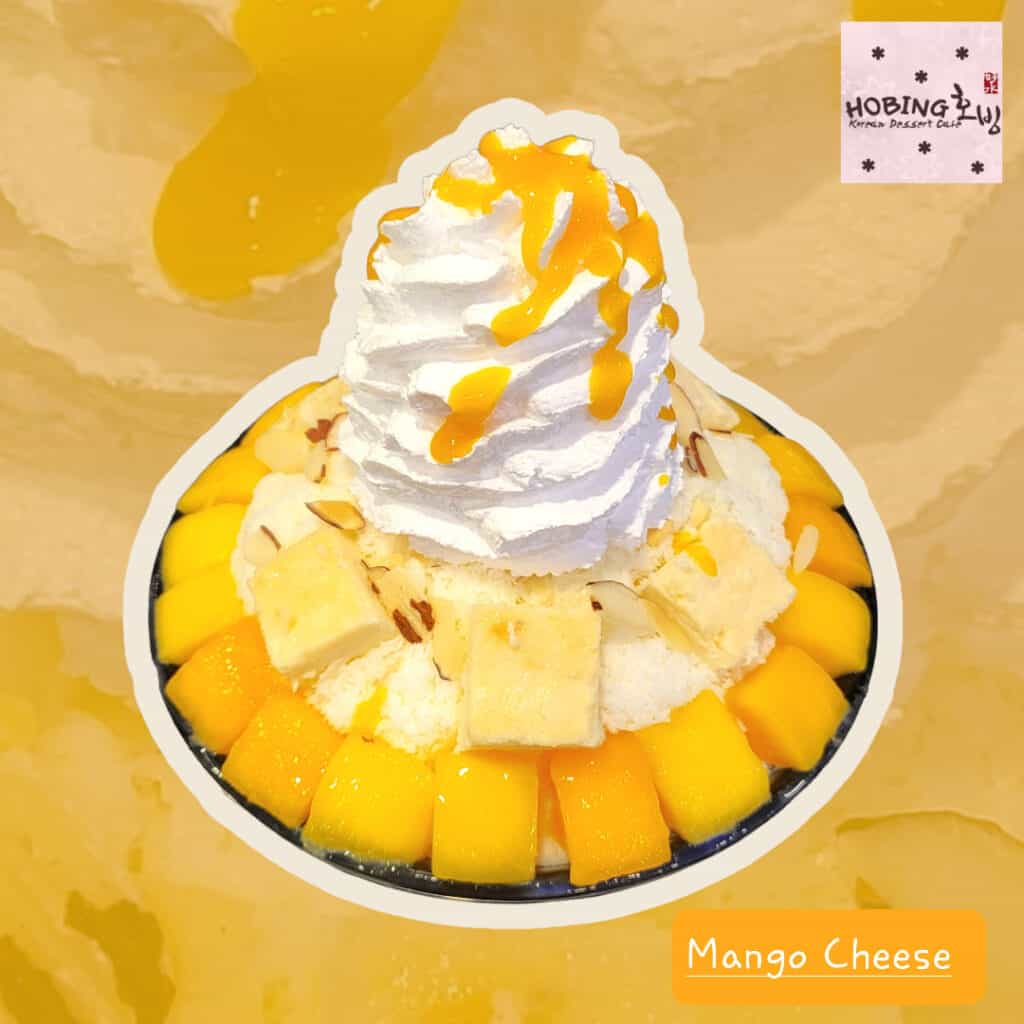 Mix Berries Bingsu – This delightful Mix Berries Bingsu will transport you to a heavenly combination of various berries such as strawberries, blueberries, raspberries, and more deliciously assorted over shaved ice and syrups.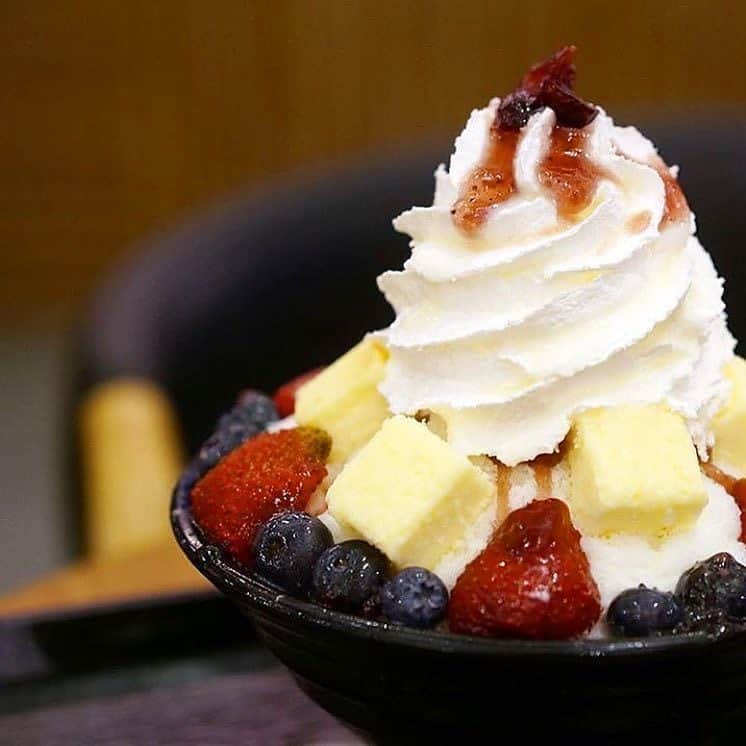 Cookies and Creme Bingsu – A fusion of classics and favorites is here in their best-seller cookies and creme bingsu. It allows you to enjoy a delicious combination of crushed cooked and cream that is served in bed with shaved ice.
Caramel Coffee Bingsu – Next on the list of Hobing Korean Dessert Cafe is this iconic Caramel Coffee Bingsu menu. It is a combination of rich and aromatic flavors of coffee and a sweet caramel that is generously coated on shaved ice.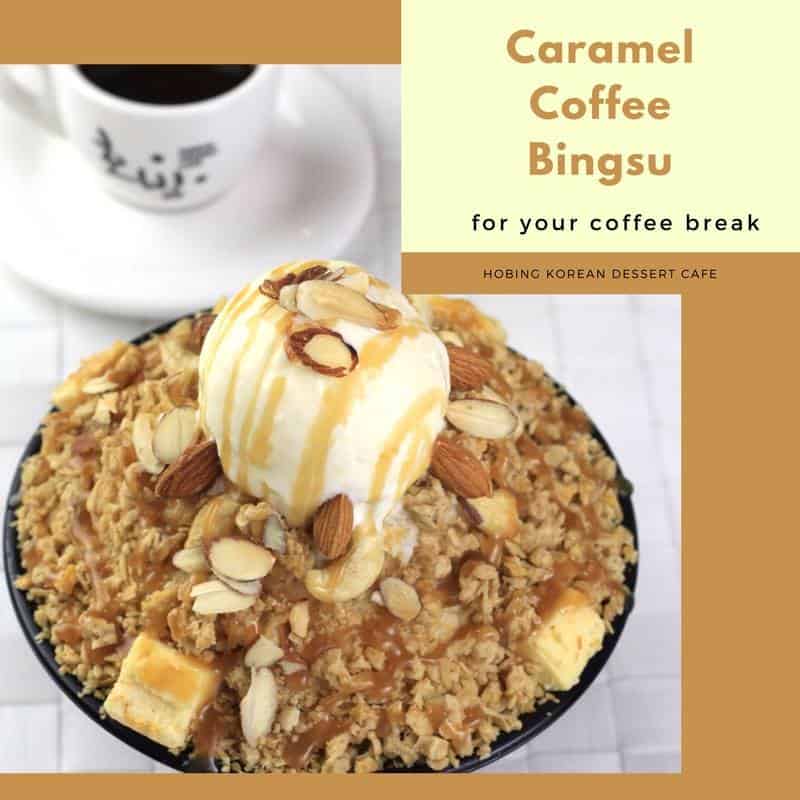 Blueberry Smoothie – This bingsu features a harmonious balance of blueberry flavors featuring its natural flavors. It is topped with flavored shaved ice that is definitely a must-try at Hobing Korean Dessert Cafe.
Bingsu
Still, haven't found the one? Well, I got you because you can savor the finest flavors of Bingus here in the list that I also curated for you.
Kiwi Bingsu – Fan of kiwi? Well, I got you! This kiwi bingsu menu of Hobing Korean Dessert Cafe allows you to transport yourself to a flavorful tangy kiwi fruit. It has layers of shaved ice that are delightful accompanied with kiwi syrup.
Matcha Bingsu – For matcha lovers! enjoy this earthy and slightly bitter bingsu with a real essence of matcha with a sweet hint of BIngsu. It is the perfect choice for every Matcha lover out there!
Chocolate Cookie Bingsu – Enjoy this iconic Chocolate Cookie Bingsu. It features the rich chocolate goodness of crushed cookies that is elevated with chocolate sauce and ice cream.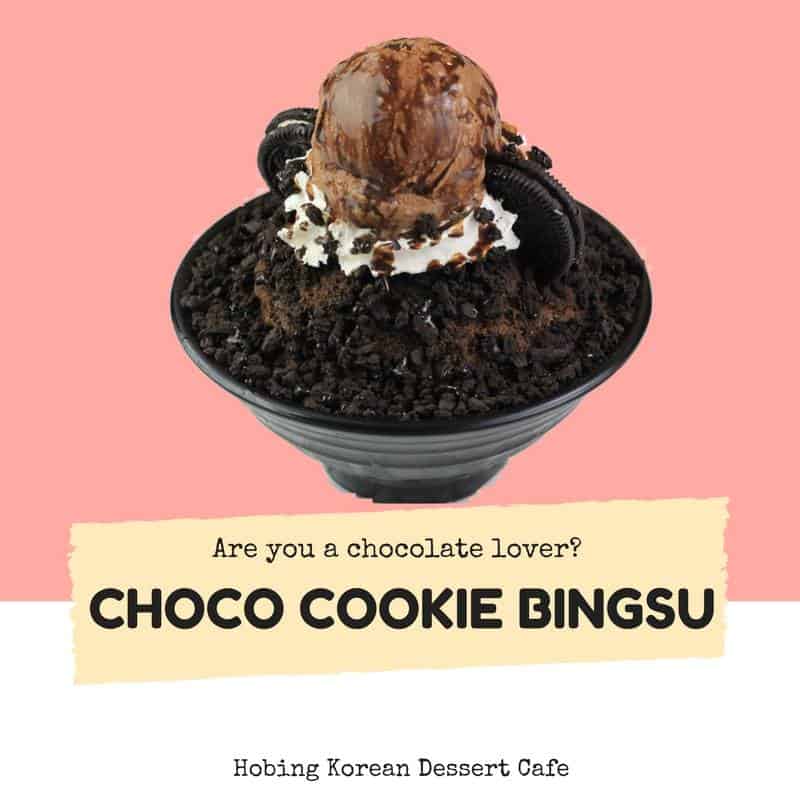 Chocolate Brownie Bingsu – A combination of decadent flavors is here in their other must-try bingsu. It is a sweet and indulgent treat for everyone who is a fan of chocolate and brownies and indulges in the cooling goodness of Bingsu.
Noodles
Aside from dessert, Hobing Korean Dessert Cafe has also a savory collection menu that allows you to enjoy delightful flavors of Noodles featuring the iconic Egg Ramyeon and Tteokbokki.
Egg Ramyeon – This Egg ramyeon is fulfilling to the core with its Korean spices and authentic flavor. It features an egg that is garnished and poached to this iconic egg Ramyeon noodles.
Tteokbokki – Next on our list is this classic and popular Korean street food that is known for its chewy texture. This Tteokbokki allows you to indulge in savory fish cakes and spicy flavors.
Rabokki – This Rabokki is a fusion of tteokbokki and ramyeon. It is a delightful combination of chewy rice cakes that feature spicy sauce and ramen noodles.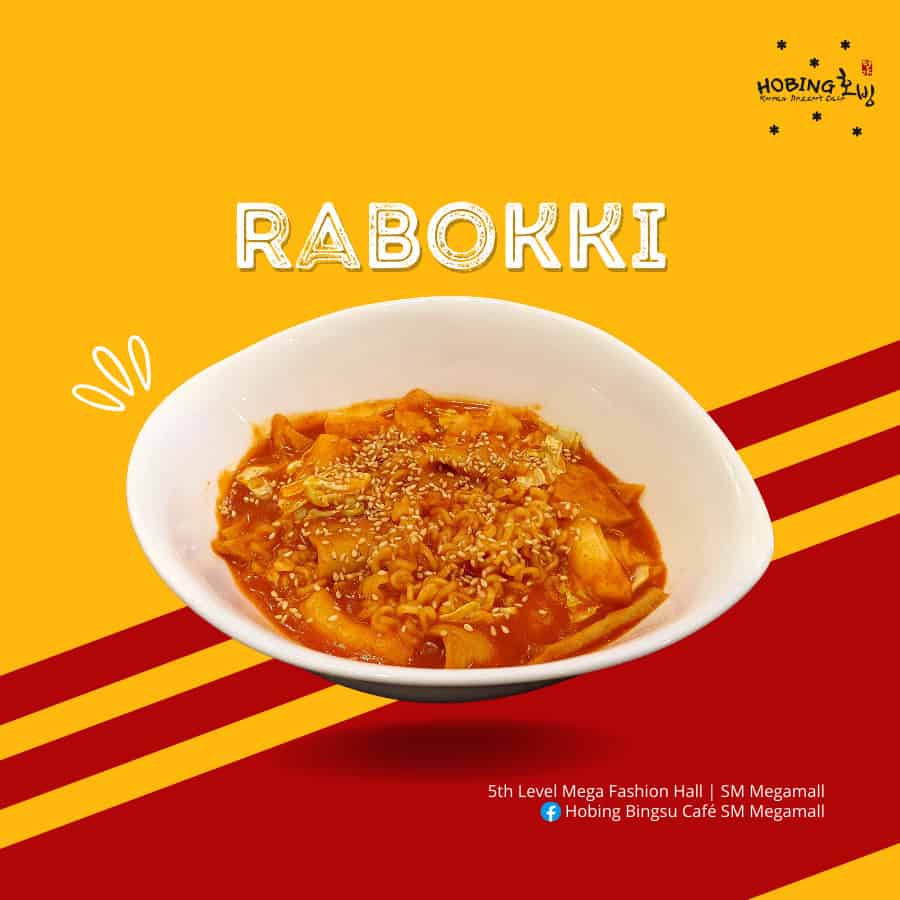 Hobing Korean Dessert Cafe Menu Delivery
I am sure you are now craving for these amazing delights from Hobing Cafe. However, I understand that sometimes we don't have the energy or the time to go out and visit them to have their delightful collections at their store. That is why I am here to let you know that they are also available for food delivery services such as Foodpanda or GrabFood. Treat yourself to something refreshing and great with their collection of Bingsu and smoothies!
Social Media Pages
For a closer look at their delectable creations, exclusive promos, and exciting updates. Be sure to tag them in your photos and share your Hobing experiences with the world!
Facebook: https://www.facebook.com/hobingkoreandessertcafe
Instagram: https://www.instagram.com/hobingkoreandessertcafe
Twitter / X: https://twitter.com/HobingSANLAZARO
FAQs
What type of cuisine does Hobing Korean Dessert Cafe offer? 
Hobing Korean Dessert Cafe allows you to savor the ultimate flavors of Korea with its iconic collections of savory dishes and delightful Bingsu.
What is Hobing Korean Dessert Cafe known for?
It is famous for its well-known Bingsu which are served in a variety of flavors and delightful styles.
What are the operating hours of Hobing Korean Dessert Cafe?
Hobing Korean Dessert Cafe welcomes you every day with operating hours that start from 10 AM until 6 PM.
Where is Hobing Korean Dessert Cafe located in the Philippines?
There are several branches of Hobing Cafe available in various areas in the Philippines. However, you can also check them out at LG/F, 30 Meralco Ave, Ayala Malls The 30th, Ugong, Pasig, Metro Manila.
How can I reach Hobing Korean Dessert Staff?
You can reach out by hopping a call or sending your inquiry through SMS with the provided contact number below:
Contact Number : (02) 7958-3871 (0995) 660-8300
Conclusion
Hobing Korean Dessert Cafe is a fusion of Korean flavors and sweet indulgence. It is a restaurant that will certainly transport you to the magnifying taste bus of a world filled with culinary delight. Their heavenly Bingsu menu will bring a range of special freshness from their iconic Mango Bingsu to the rich decadence of Chocolate Bingsu. Their mouthwatering dishes such as their Ttekokkia and Rabooki are another must-try in their Noodles selections which is a perfect way to savor with your choice of Bingsu. I love how they pay attention to every bingsu they serve which offers beauty and magnifying flavors that are waiting for you to unveil in every scoop of it.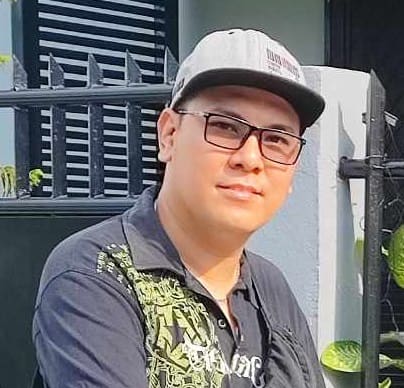 Hi! I'm Nivek Strife, the person who made MenuPH. I'm the one who added most of the popular menus you see on this website, and I really hope you enjoy them! Feel free to check them all out.
Growing up, I was surrounded by lots of tasty foods, like the classic Adobo and the sweet Leche Flan. That love for the many flavors of the Philippines is what got me excited about adding to MenuPH. When I learned how to make websites, I saw the need for a place to show off all the amazing Filipino dishes, and that's how MenuPH started.
MenuPH isn't just a website; it's like a fun journey into food. I've teamed up with famous chefs and found great places all over the Philippines to bring you a bunch of menus that show off the best of Filipino cuisine. Whether you're into the usual dishes or new twists, MenuPH is here to guide you through the rich world of Filipino flavors.
With MenuPH, my aim is to help local businesses, talk about good food choices, and make a group of friends who love food. No matter if you like fancy restaurants or street food, MenuPH has something for you. Come join me on this food adventure as we find great places, taste real flavors, and enjoy the unique food traditions that make the Philippines awesome.