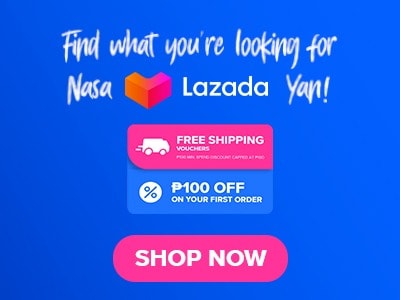 There is a new well, not that new restaurant in our county and it's becoming quite popular among locals because of the unlimited chicken that they offer. Yes unlimited so that's really sulit, right? So I decided to make a write-up for them to spread the news to those that are not informed yet. Have you heard about Chickings? If not I'm sure you'll be quite interested in this one since their chickens are really good plus you don't have to spend too much. Chickings menu offers a variety of chicken wings flavors plus if you're not into chicken wings no need to worry since they also have pasta and pizza. I am really excited about this topic, I already tried their restaurant that's why I'm bragging about them this much. Let's get to know them more, let's check about their products and services and of course their prices. Let's go!
Below, you'll find the updated list of Chickings menu prices.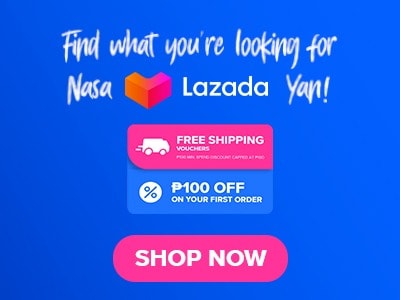 Menu Items
Price (PHP)

Wings All You Can

Unlimited Wings With Rice, Soup And Bottomless Iced Tea
499

Glazed With Glory

1 Dozen
459
Half Dozen
259

Soup

Mushroom Soup
55

Salad (Solo/Sharing)

Chicken Peanut Salad
225/365
Kani Salad
225/365
Chickings Cesar Salad
225/365

Sides

Chickins
195
Dirty Fries
195
Crispy Salted Fries
195
Crispy Tofu
195

Extras

Rice
39
Dipping Sauce
35
Dressing
35

Pasta-Rrrific (Solo/Sharing)

Truffle Pasta
280/430
Carbonara Locale
280/430
Charlie's Pasta
240/390
Chicken Pesto
240/390
Ocean's Marinara
280/430
Chicken Pomodoro
240/390

Pizza

Truffle Pizza
469
Chickings Special
465
Hawaiian
390
Garlic And Shrimp
489
Pepperoni
375
Four Cheese
459

Drinks

House Blend Iced Tea
60
Bottomless Iced Tea
110
Iced Tea Carafe (Il)
169
Coke, Coke Zero
60
Sprite, Sarsi, Royal
60
San Miguel Light
75
San Miguel Pale Pilsen
75
About Chickings
Chickings was established in January 2020, this restaurant is known for its chicken wings with 11 different flavors. They have those classic flavors such as new york style buffalo wings, and honey mustard up to the new flavors that customers usually ask like salted egg and Diablo sriracha. They even have a Filipino-styled flavor which is their crunchy adobo which is a big yes to Filipino cuisine. Aside from their chicken wings they also have pasta dishes like Truffle Pasta, Chicken Pesto, Chicken Pomodoro, and other pasta dishes.
There are a lot of food items on their menu and they even serve mains and deserts so basically they are a one-stop store for your cravings. Chickings are open daily from 11:00 AM until 10:30 PM, they have several branches across the Metro and they are easy to find. Their prices are very reasonable actually very affordable plus the service is excellent. This new place is starting to grow and becoming a favorite among customers.
Chickings Menu Best Seller
Here are some samples of Chickings' best-selling items.
Salted Egg – The Salted egg chicken wings version of Chickings is Crunchy and fried until golden in color they marinated the chicken wings with a mixture of spices before frying making it crispy and flavorful already by itself. It is then tossed into a mixture of salted egg yolk and butter mixture sauce. Their salted egg chicken wings are amazingly delicious and I may say very addictive. This is for sure a perfect treat for a snack or even lunch and dinner. Salted egg wings of Chickings are also one of the most ordered items on their menu and have gained popularity with customers.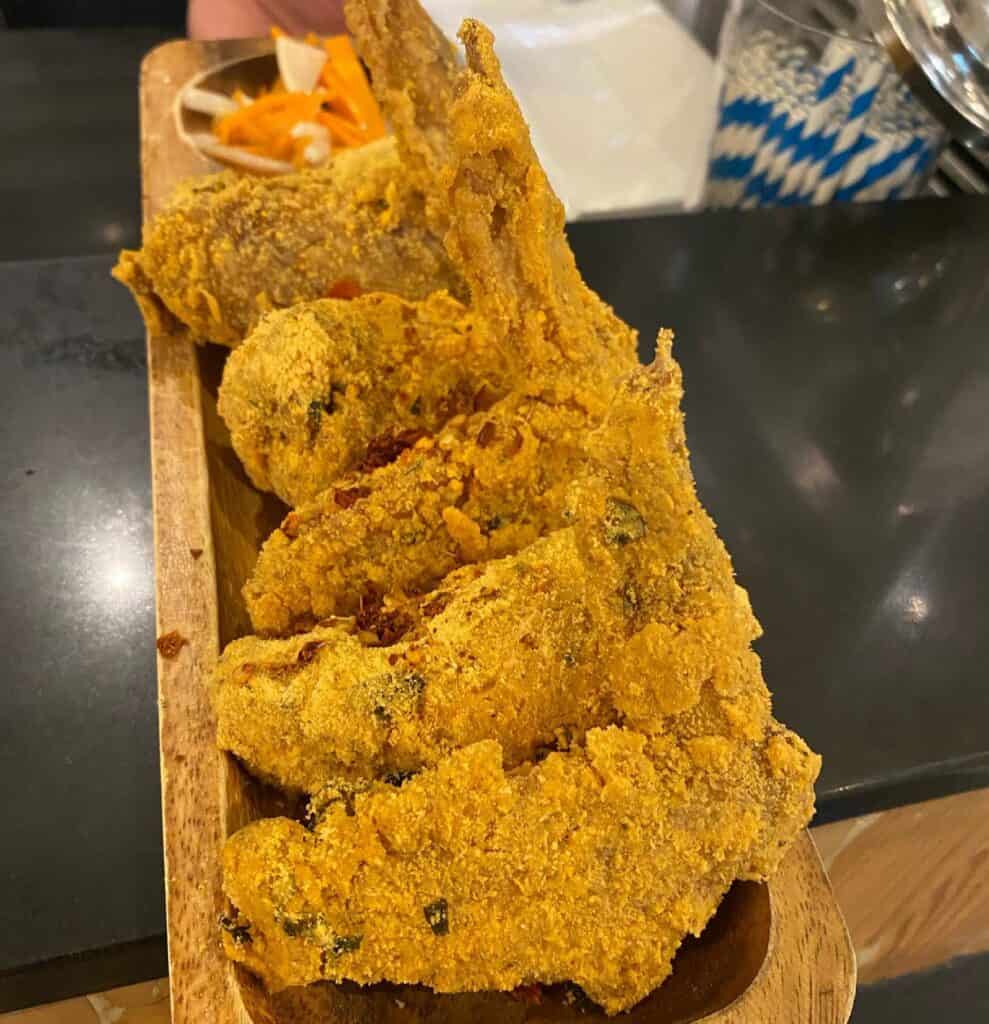 Diablo Sriracha – This Chickings menu is one is the perfect flavor for those who love their wings to be spicy. Diablo sriracha version of Chickings is made with crispy fried chicken wings and then tossed with their spicy sriracha sauce. I noticed how good this chicken was when I first tasted this one, for me, it's not that spicy, or maybe because my level of spiciness is in Samyang level lol. Diablo sriracha is also one of their most popular and best-selling flavors. The chicken is good it is not dry the level of saltiness is just right. This one is perfect with beer.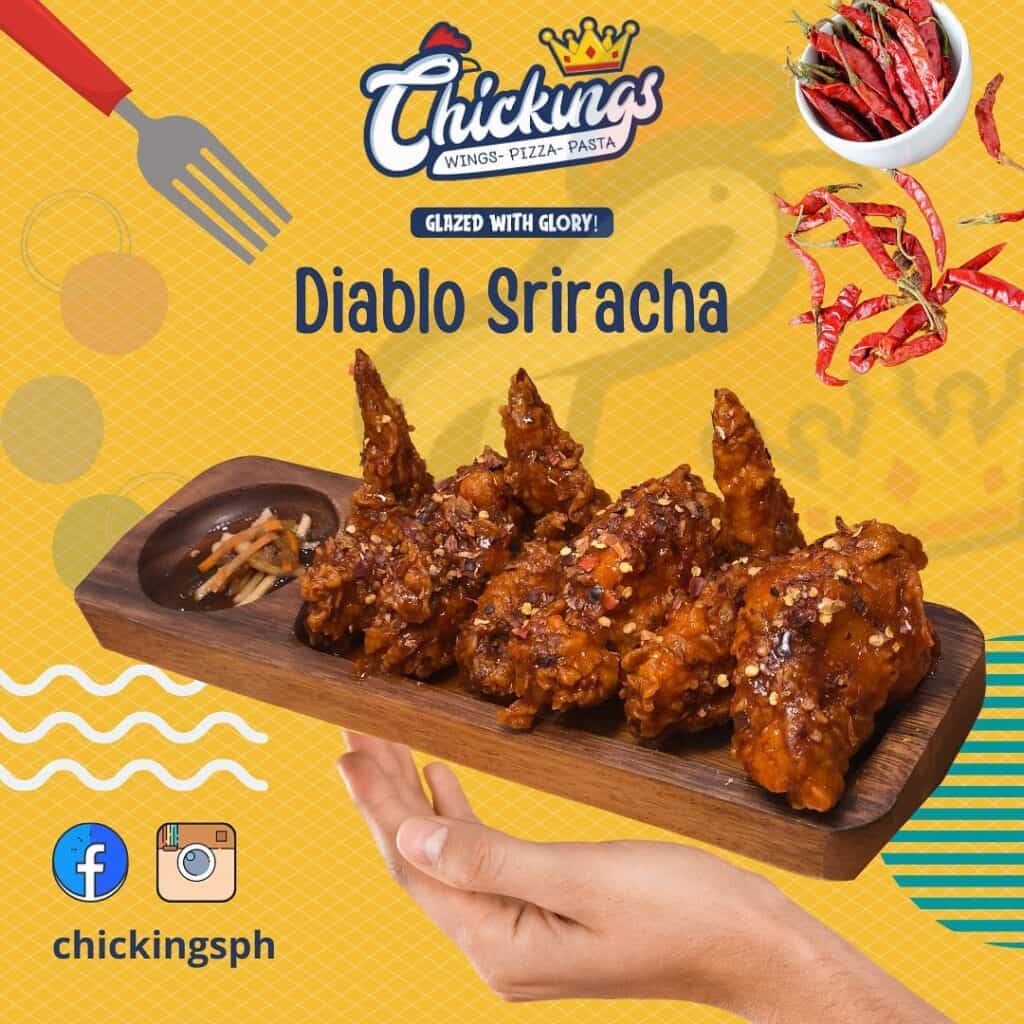 Hawaiian Pizza – As we all know Filipinos are born with a sweet tooth well maybe not all but mostly that's why Hawaiian Pizza being one of their best sellers is not surprising anymore. Made with a crust that is not so thick but not too thin, marinara sauce is then topped with pineapple bits, ham, and cheese. The pizza is sweet because of the pineapple bits but no one is complaining and still, this is their bestseller when it comes to their pizza menu.
Ocean's Marinara – Ocean's marinara pasta is literally ocean at first look. It has calamari, mussels with the shell, and shrimp as I can remember. Very flavorful and serve with a slice of garlic bread. Their ocean's marinara is highly recommended for seafood lovers out there who are looking for a seafood-loaded meal. The taste is amazing I don't have anything to complain about, the only problem is I didn't enjoy it that much because I'm allergic to seafood and I'm afraid it'll trigger my allergy but at least I tried a spoonful.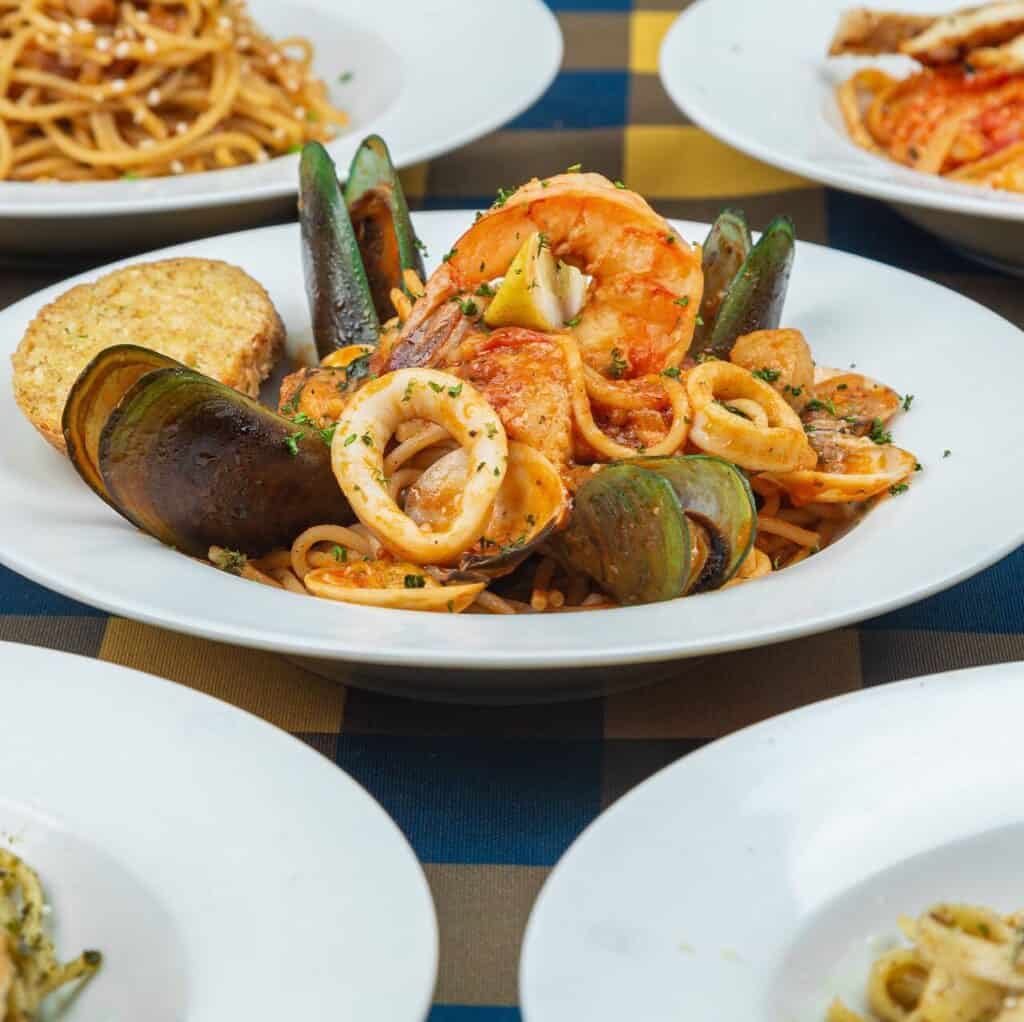 Salad
At The Chickings, you'll find a salad menu with options to enjoy by yourself or share with friends and family. They have three tasty salad choices for you! First up is the chicken peanut salad, which is super refreshing and has a nutty flavor. Another option is the Kani salad, and lastly, they have Chickings Caesar salad. So, if you're in the mood for some healthy and delicious greens, check out The Chickings' salad menu and pick your favorite. Enjoy the refreshing and yummy flavors of their salads!
Chickings Menu Mains
Aside from pizza, pasta, and chicken Wings Chickings also serves various food choices. On this menu they have 8 main's choices, those are wings & waffles, ribeye steak, and Chicken Mushroom Sandwich. They also have buffalo tacos and seafood rumble. If you're into burgers they also serve burger supreme. Fish and chips are also present on this menu and as well as burger steak.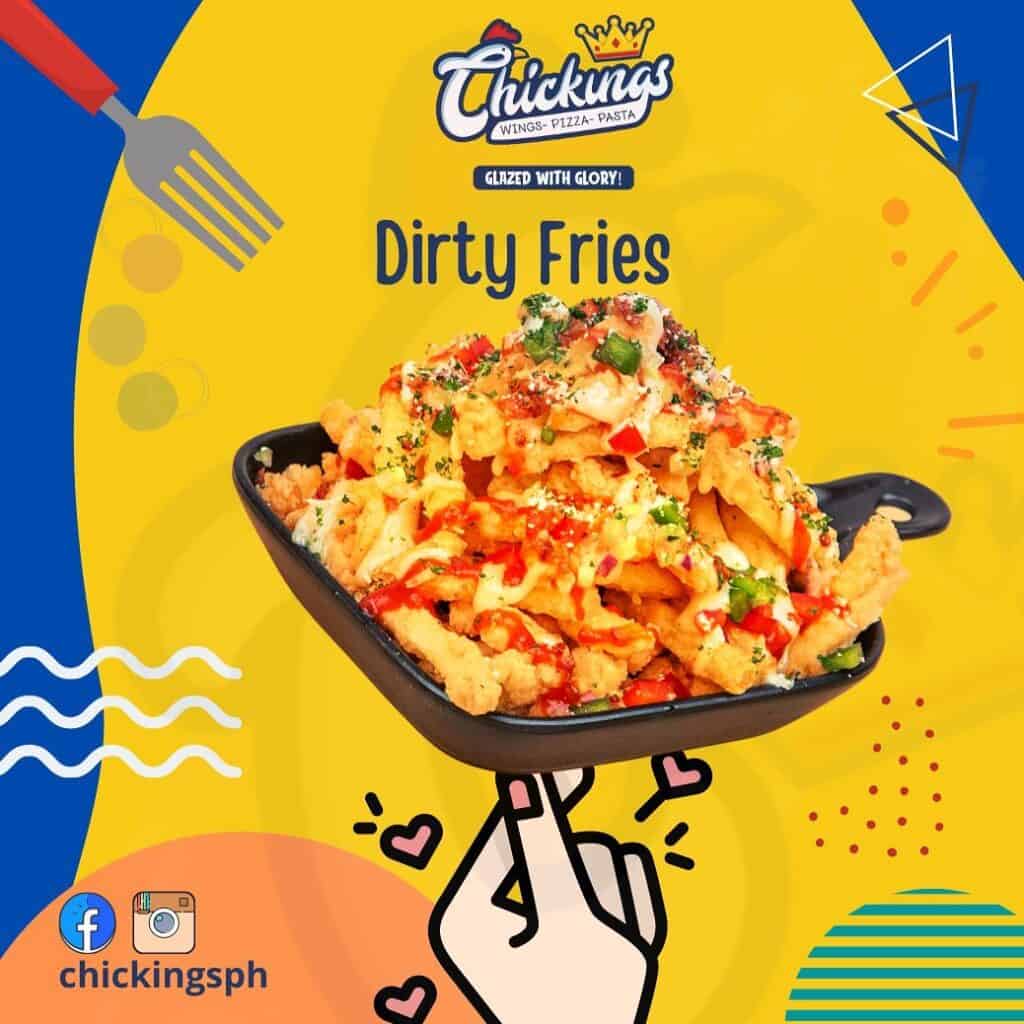 Chickings Menu Delivery
Since we have a lot of food delivery services available nowadays ordering is made easier simply by booking your favorite courier and waiting till your order is delivered. You can choose from food panda, Grabfood, or any delivery service that is available in your location. Simply check the app of FoodPanda, or GrabFood.
Social Media Pages
Engage with them on social media and share your Chickings experience with the world. Tag them in your photos, and let the world know about your favorite chicken combo or mouthwatering sides. Follow them now, visit their store, and experience the clucking good time that awaits you.
Facebook: https://www.facebook.com/chickingsph/
Instagram: https://www.instagram.com/chickingsph/
TikTok: https://www.tiktok.com/@chickings.ph
FAQs
Where is Chickings located in the Philippines?
Chickings is located in Ayala malls Manila Bay and Parañaque.
What types of cuisine do Chickings specialize in?
Chickings specializes in chicken wings, pasta, and pizza.
What is the signature chicken wings flavor of Chickings?
Signature chicken wings flavor of Chickings are salted egg and devils sriracha. These are their best sellers as well.
Does Chickings provide delivery services?
Upon checking they don't have a delivery website at the moment however you can order thru grab foods or any food delivery services that are available in your location.
Conclusion
Their chicken is really good and their sauces are as well. I also like their pasta the only thing that I will complain about is their iced tea but it's fine, not bad. The crews are accommodating, friendly and fast. Their place is a bit small but comfortable I hope they expand into a bigger place soon. Chickings menu has a wide variety of dishes that will surely satisfy you, especially their unlimited chicken wings with a variety of flavors. The chicken wings itself is really great with the sauce and they have a variety of sauces to try. For their price, Chickings is a great place to go and highly recommendable. Overall a great experience trying their place.