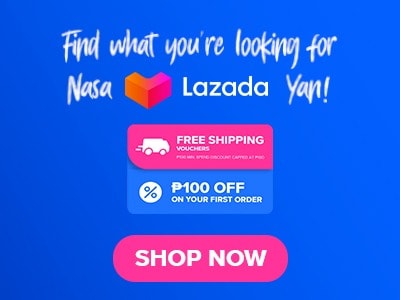 Auntie Anne's menu is filled with a wide variety of freshly baked, hand-rolled soft pretzels. With a wide variety of flavors and styles. This bakeshop offers a unique twist on this beloved snack, creating a satisfying and irresistible experience for pretzel lovers of all different ages from all over the country. Their menu highlights the warm, aromatic, and delicious goodness of their treats that only a few bakeshops can provide. So whether you are craving a sweet or savory treat, Auntie Anne's will always have something to satisfy you and your cravings.
Below, you'll find the updated list of Auntie Anne's menu prices.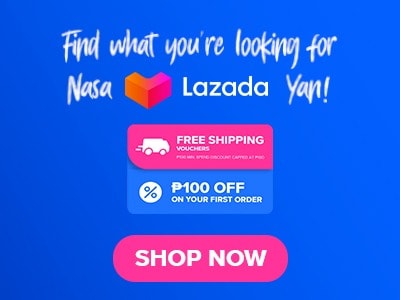 Menu Items
Price (PHP)

Pretzel Takeaway

Mix of 6
740
Fresh Box
410
Stix Box
460
Pretzel Box
590

Fresh Combo

Pretzel Combo
180
Nuggets Combo
195
Stix Combo
205
Savory Combo
220

Pretzels

Original Pretzel
100
Cinnamon Sugar Pretzel
110
Choco Chip Pretzel
110
Sour Cream and Onion Pretzels
110
Almond Pretzel
115

Nuggets

Original Nuggets
110
Cinnamon Sugar Nuggets
125
Sour Cream and Onion Nuggets
120
Almond Nuggets
130
Two Cheese Pepperoni Nuggets
135

Stix

Sour Cream Cream Cheese Stix
135
Original Cream Cheese Stix
135
Cinnamon Sugar Cream Cheese Stix
135
Almond Cream Cheese Stix
135
Original Choco Chip Cream Cheese Stix
140
Cinnamon Sugar Choco Chip Cream Cheese Stix
140
Almond Choco Chip Cream Cheese Stix
140

Pretzel Dog

Pretzel Dog
150
Cheese Pretzel Dog
155

Dips

Caramel Dip
35
Chocolate Dip
35
Cream Cheese Dip
35

Cold Beverages

Bottled Water
45
1L Lemonade
265
Large Lemonade
135
Large Iced Tea
110
Hot Beverages
Belgian Choco
100
Brewed Coffee
105
About Auntie Anne's
Auntie Anne's is a popular international chain of pretzel shops known for its freshly baked, hand-rolled soft pretzels. The brand was founded by Anne Beiler in 1988 at a Pennsylvania farmer's market, and it has since grown into a global brand with numerous locations across the world. Auntie Anne's menu primarily revolves around its signature soft pretzels, which come in various flavors and styles. In addition to classic pretzels, Auntie Anne's offers a variety of pretzel-based products, including pretzel nuggets, pretzel dogs, and pretzel bites.
Auntie Anne's Menu Best Seller
Feast your eyes on a menu bursting with an array of delightful sweet and savory treats, available at both Auntie Anne's online shop and physical stores.
Pretzel Combo – The pretzel in this item is a golden brown treat with a slightly crisp exterior and a soft, fluffy interior, sprinkled with just the right amount of salt. This pretzel is has the perfect balance of being savory and satisfying which is why it is the favorite treat among many locals and touriss that visit. The combo drink complements the pretzel perfectly, creating a wonderful snack experience at Auntie Anne's.
Nuggets Combo – These soft nuggets are generously coated in butter and sprinkled with salt, providing a satisfying crunch with every bite. Customers can also dip them in the included sauce for an added burst of flavor, and have a sip on the drink which makes this combo item completely filling and satisfying.
Stix Combo –  If you're looking for a more elongated pretzel option, then the Stix Combo of Auntie Anne's menu is perfect for you. These pretzel sticks are slightly crisp on the outside and soft on the inside, making them ideal for dipping into your favorite sauce. The beverage included in this combo completes the experience, making it a great choice for a quick and delicious snack.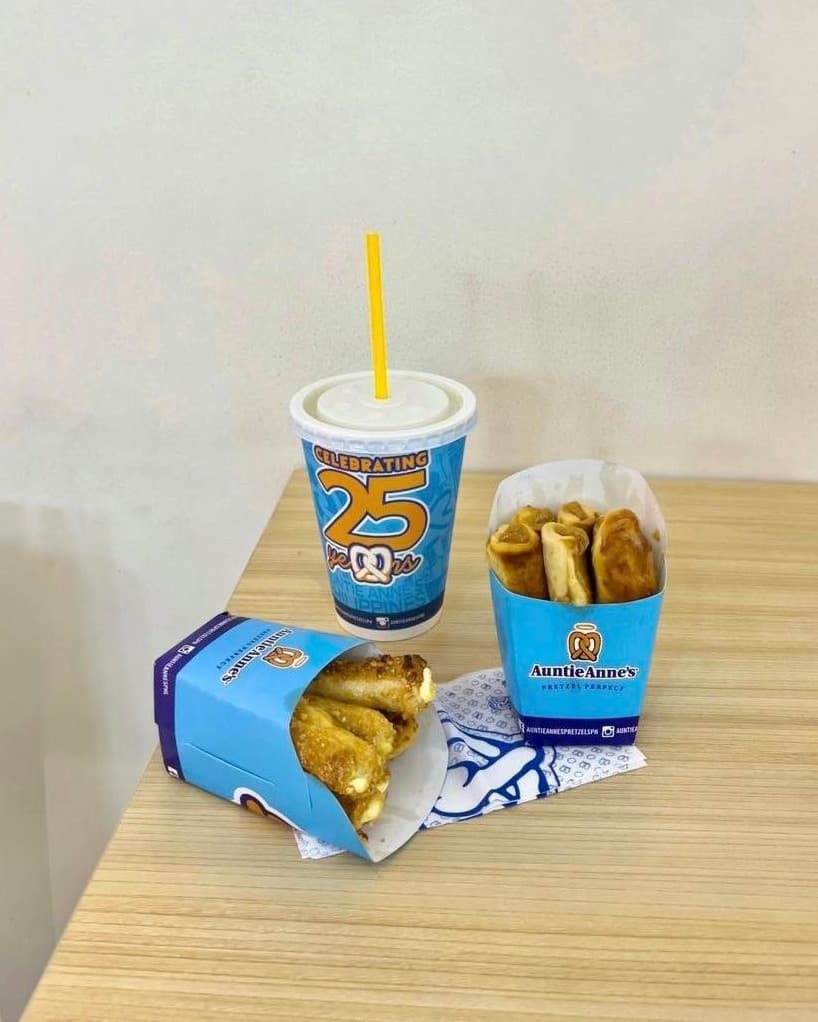 Pretzel Box – It is a delicious option for those who want to enjoy Auntie Anne's pretzels on the go or share with friends and family. It offers a variety of pretzels, each with its own unique flavor profile that ranges from the classic original pretzel to sweet cinnamon-sugar and savory jalapeno.
Pretzel Dog – It is a creative twist on the classic pretzel that combines the best of a soft pretzel with a juicy hot dog resulting in a savory and satisfying treat that is perfect for when you are craving something sweet and filling.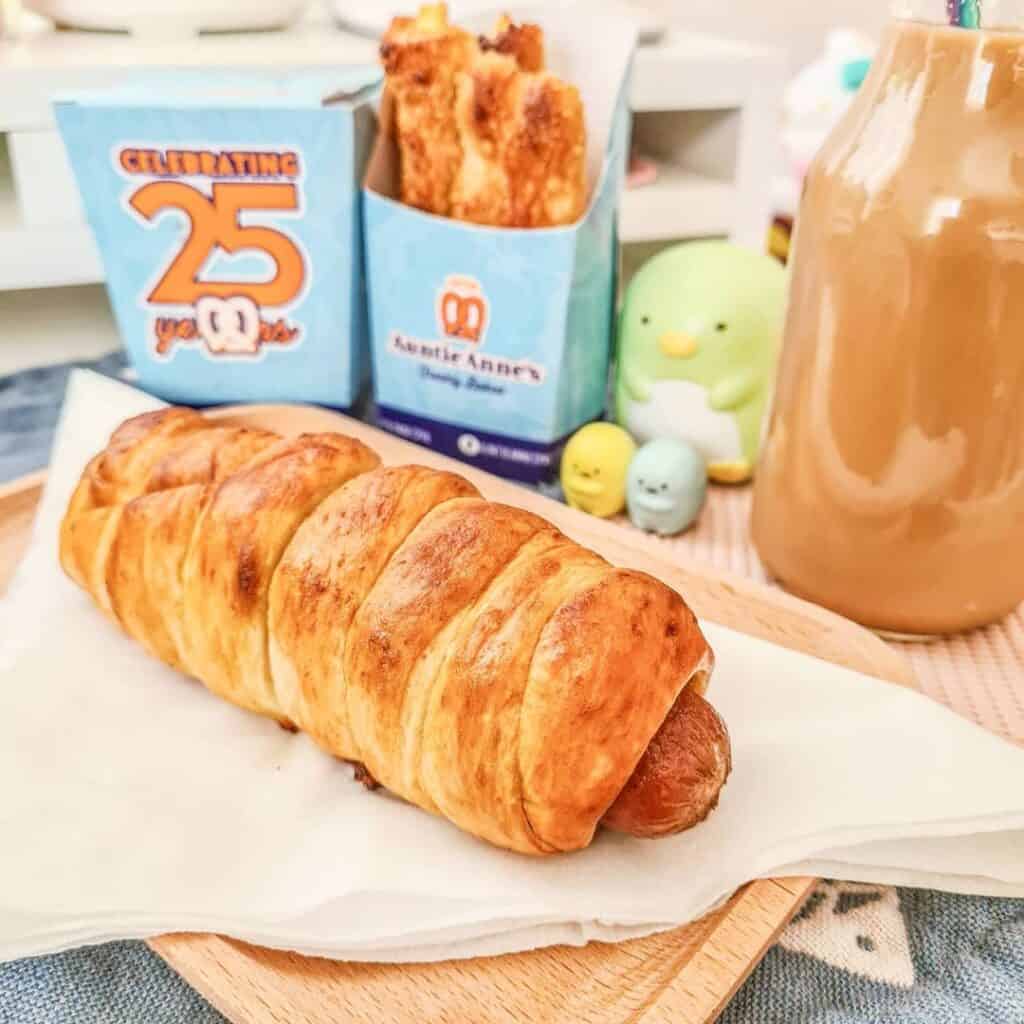 Auntie Anne's Pretzels Menu
Original Pretzel – The original pretzel from Auntie Anne's is a classic that will never fail to satisfy any pretzel lover. This golden-brown pretzel is perfectly salted, enhancing the overall flavor profile and making it more satisfying.
Choco Chip Pretzel – This pretzel is generously sprinkled with chocolate chips which adds a burst of sweetness and satisfaction to every bite. The combination of the slightly salty pretzel and the rich chocolate chips creates a perfect contrast of flavors that is both unique and exciting.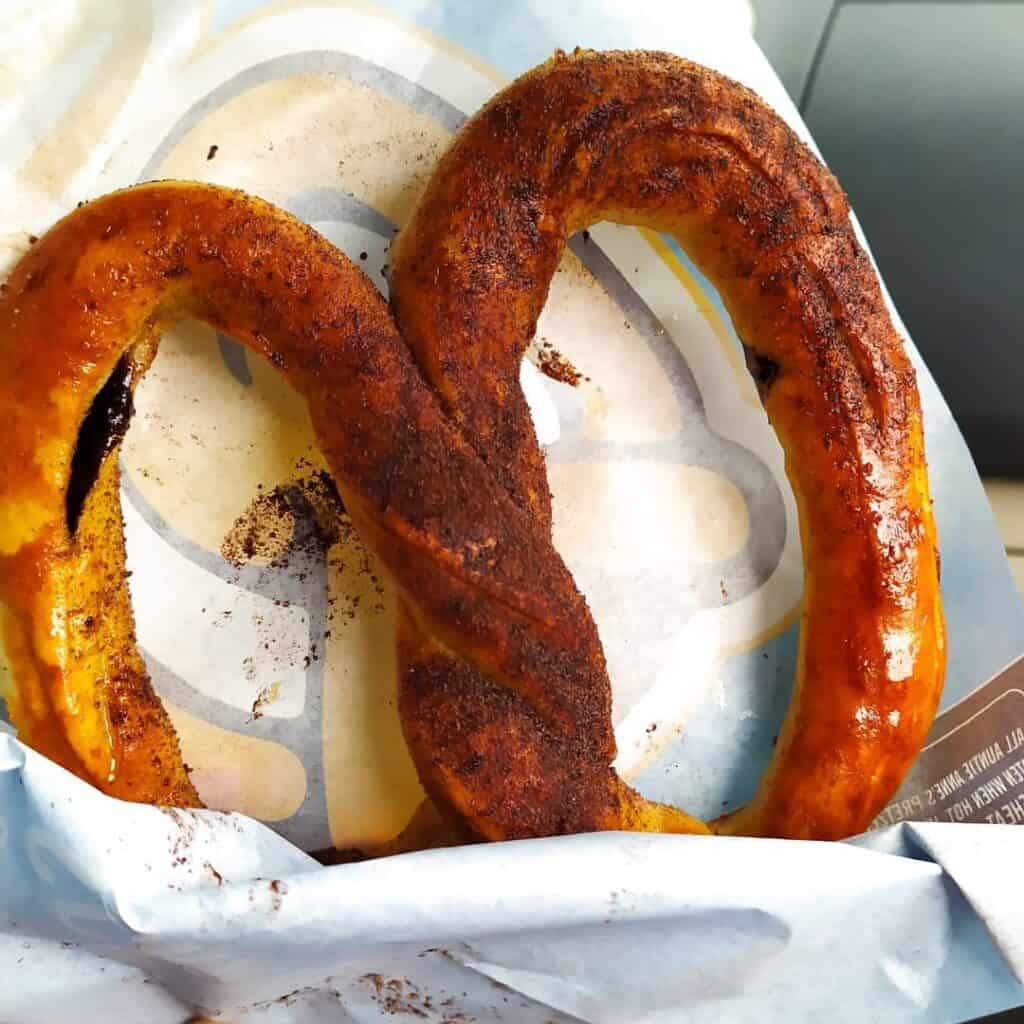 Almond Pretzel – This pretzel variety is decorated with toasted almond slices, adding a satisfying crunch to each bite. The almond's nutty flavor perfectly complements the doughy taste of the pretzels which makes them great for snacking or dipping them in sauce.
Nuggets
This menu is filled with different variety of crispy and delicious nuggets that are considered to be Auntie Anne's specialty items.
Original Nuggets – These nuggets capture the essence of the classic Auntie Anne's pretzel, with a slightly crispy exterior and a soft, doughy interior. The nuggets are salted lightly to provide customers with a satisfying flavor that makes them perfect for a quick snack or dipped in flavorful sauces.
Cinnamon Sugar Nuggets – These bite-sized treats are coated in a generous layers of cinnamon and sugar which in turn create an excellent combination of a sweet and warm treat. The sugary coating adds a delightful crunch to the nuggets, making them a delicious treat for any time of day.
Sour Cream and Onion Nuggets – These savory nuggets are coated in a tangy and savory seasoning that reminisces the classic sour cream and onion flavors. The seasoning adds a burst of zesty and creamy taste to the nuggets, making them a savory snack option.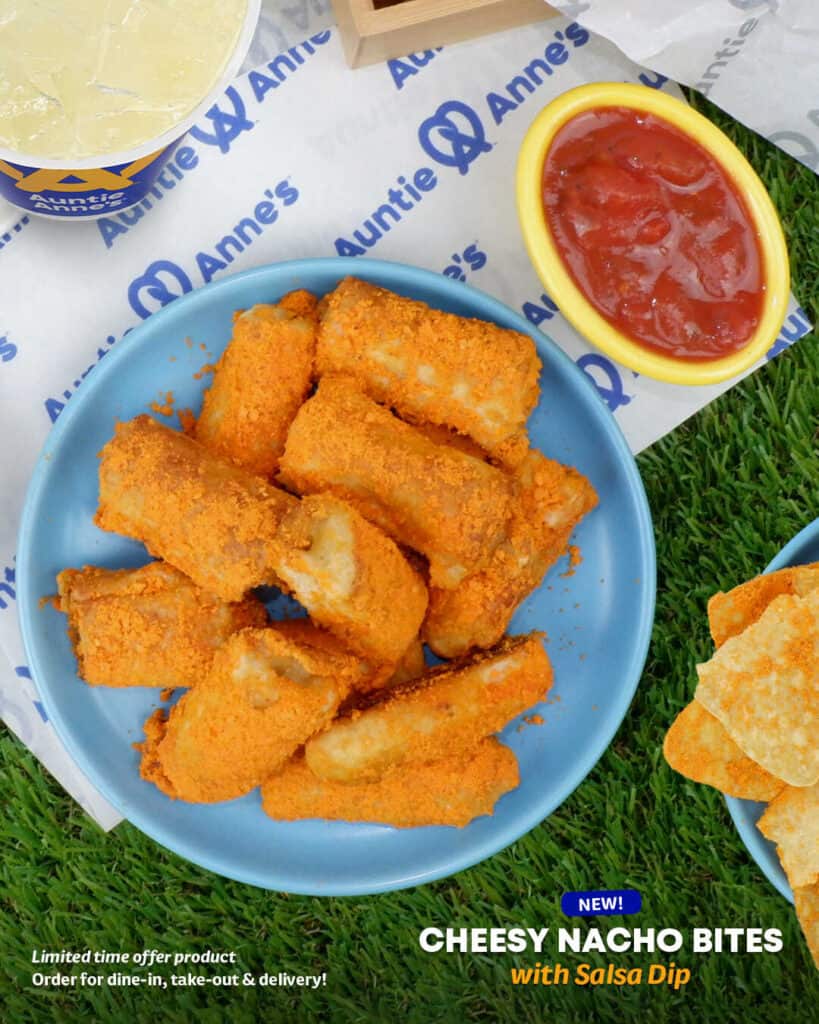 Stix
Stix from Auntie Anne's menu presents an array of delectable cream cheese-filled pretzel treats that beautifully blend the tenderness of pretzel dough with luscious cream cheese. Indulge in choices like the zesty Sour Cream Cream Cheese Stix, classic Original Cream Cheese Stix, and the sweet delight of Cinnamon Sugar Cream Cheese Stix. For a nutty twist, savor the Almond Cream Cheese Stix, or relish the timeless goodness of Original Choco Chip Cream Cheese Stix. If you crave an extra touch of sweetness, the Cinnamon Sugar Choco Chip Cream Cheese Stix and Almond Choco Chip Cream Cheese Stix are perfect temptations. With each bite, experience the irresistible union of soft, doughy perfection and the creamy allure of cream cheese.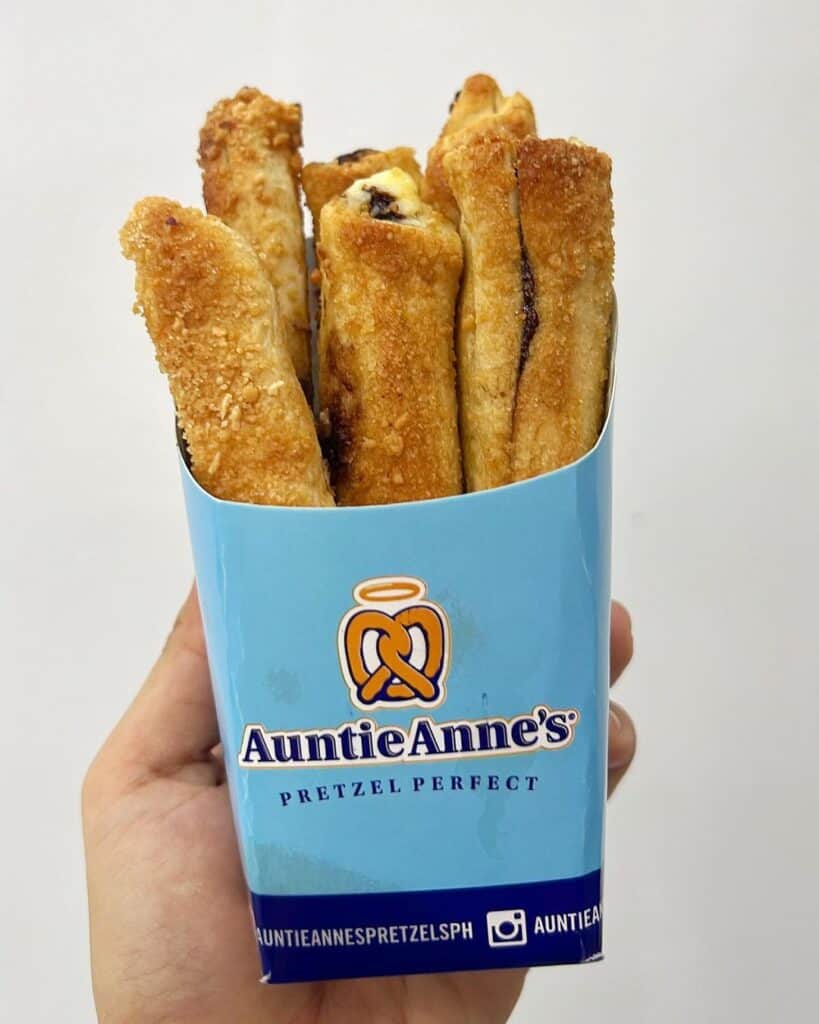 Pretzel Dog
Pretzel Dog introduces a delightful selection of comfort-filled, innovative snack treats crafted from reimagined classic pretzel indulgences. Embrace the nostalgia with the original Pretzel Dog, where a warm, soft pretzel exterior lovingly hugs a savory hot dog center. For a cheesy twist, relish the gooey goodness of the Cheese Pretzel Dog, marrying the timeless joy of a pretzel with the satisfying allure of melted cheese.
Dips
The Dips consists of a selection of tasty choices that make your regular pretzel taste even better. They're like special sauces that add extra deliciousness to your pretzel treats. Imagine dipping your pretzel into a sweet Caramel Dip, a rich Chocolate Dip, or a creamy Cream Cheese Dip. These dips transform your pretzel moments at Auntie Anne's into something truly delightful and satisfying.
Auntie Anne's Menu Delivery
Auntie Anne's menu delivery brings ultimate convenience to its customers. This makes it super easy for you to enjoy your beloved treats right from your own cozy home. You can order all your favorites using delivery services like FoodPanda or GrabFood, making snack time a breeze.
Social Media Pages
Follow and like their social media pages as your backstage pass to savoring moments of pure joy. From classic pretzels that warm your heart to innovative flavors that ignite your taste buds, Auntie Anne's is a symphony of flavors and a celebration of smiles.
Facebook: https://www.facebook.com/AUNTIEANNESPH
Instagram: https://www.instagram.com/auntieannesph
TikTok: https://www.tiktok.com/@auntieannesph
Twitter: https://twitter.com/AuntieAnnesPh
FAQs
Who owns and runs Auntie Anne's?
Auntie Anne's restaurant is founded and run by Anne F. Beiler and her husband.
What is Auntie Anne's?
Auntie Anne's is a popular international chain of bakery and snack shops known for its delicious and freshly baked pretzels.
What types of items does Auntie Anne offer?
Auntie Anne's offers a variety of delicious baked goods, with a primary focus on pretzels.
Is Auntie Anne's family-friendly?
Auntie Anne's is one of the best places for families to go for delicious treats.
Does Auntie Anne's host any special events or activities?
Auntie Anne's does provide multiple events and activities over periods of time to keep their customers engaged.
Conclusion
Auntie Anne's is a go-to place for pretzel lovers in the Philippines as it offers a diverse and mouthwatering menu of freshly baked, hand-rolled soft pretzels. Auntie Anne's brings a unique and satisfying twist to this timeless snack with a blend of classic flavors and creative variations. So whether or not you are already a pretzel lover or a casual who are looking to try sweet and delicious treats, Auntie Anne's is the best place to visit for these kinds of experience.