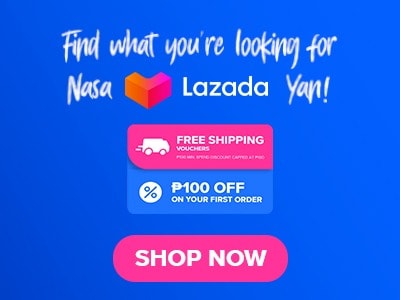 Another day, another food kiosk to review! Are you curious about what restaurant or food stall did I visit today? Hmm, I'd like you to guess which restaurant I visit. It has a water-fall-like structure exterior design. You won't believe it was a coffee shop unless you enter its glamorous door. If the image that I'm trying to create is still blurry. Then I'll cut this short because I would like to formally introduce to you the Kandle Café and its menu. 
The Kandle Café offers a variety of foods which you would certainly be enticed to. It has a wide selection of side dishes, appetizers, and drinks that you can choose from. I swear you will never lose food combinations in this Café!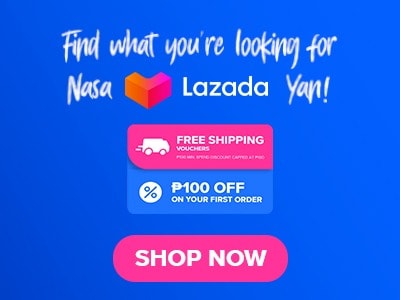 Huh? You don't have any idea what and where Kandle Café is located, buddy? Then I would be your perfect guide in accomplishing your journey toward the great and vibrant vibe at Kandle Café. I suggest that you should continue reading buddy to learn about their offers and food.
Menu
Price (PHP)

Beer

Brainstorm Ipa
195
Magma Bock
185
Pinatubo Craft Beer
195
Sunrise Wheat
195
Sunset Wheat
195

Breads

Cheese Ensaymada
70
Ube Ensaymada
80

Chocolate

Cheesy Hot Choco
160
Hot Choco
150
Iced Choco
160

Coffee (Blended)

Chocolate Truffle
160
Dark Mocha
200
Earl Grey
160
Hot Milk
90
Iced Matcha Latte
170
Iced Milk
100
Java Chip
160
Salted Caramel
160
Toffee Latte
200
White Mocha
200

Coffee (Hot)

Americano
120
Café Latte
145
Capuccino
135
Caramel Latte
150
Dark Mocha
160
Espresso
95
Flat Black
150
Flat White
145
Pour Over
130
Toffee Latte
160
White Mocha
160

Coffee (Iced)

Affogato
160
Cold Brew
160
Iced Americano
140
Iced Café Latte
150
Iced Dark Mocha
170
Iced Flat Black
160
Iced Salted Caramel Latte
150
Iced Toffee Latte
170
Iced White Mocha
170

Coffee-based

Americano
140
Cold Brew
140
Hazelnut Latte
140
Latte
140
Matcha Latte
140
Peppermint Latte
140
Salted Caramel Latte
140
Toffee Nut Latte
140
Vanilla Latte
140

Food menu

Beef Caldereta
350
Chicken Adobo
300
Chicken Curry
350
Kalderetang Kambing
380
Kare-Kare
300
Pork Adobo
300
Pork Humba
320

Fruit

Apple Juice
170
Carrot Apple
155
Dalandan Juice
110
Fruit Juice
125
Fruit Shake
140

Grill

Beef Sirloin
280
Lamb Chop
315
Porkbelly
235
Porkchop
215

House blend teas

Blue Pea (3) bottles
110
Mango Earl Grey
145
Peachee Rose
145
Raspberry Earl Grey
145

Meats and Seafood

BBQ Chicken
325
Pork Tonkatsu
370
Porter House
520
Salisbury Steak
360
Salmon
450
Stuffed Chicken
360

Milkshakes

Avocado
210
Chocolate
170
Matcha
180
Matcha Kitkat
190
Oreo
180
Strawberry
170
Vanilla
170

Pasta

Chilean Mussel
380
Fried Chicken Adobo
310
Mr. Egoy and Ms. Eggy Pasta
310
Palabok
440
Pampano
390
Seafood Marinara
440
Soba
350

Salads

Fresh Salad
335
Pomelo and Shrimp Salad
360
Spicy Squid Salad
360

Sandwiches and Wraps

Bulgogi Sandwich
270
Cheesy Piggy
270
Kandle Burger
325
Kani Tortilla Wrap
225
Kimchi Tortilla
225

Sides

Butter Corn
60
Kamote Fries
90
Mixed Green Salad
90
Picnic Fries
100
Plain Rice
35
Potato Wedges
120

Soups

Arrozcaldo
170
Monngo
175
Prawn Soup
185
Pumpkin
165
Seafood Chowder
180

Starters

Black Calamares
390
Cheezy QC Maki
295
Paella Croquettes
290

Tea (Da.u.de)

Chamomile
150
Kape Rice
150
Lemon Ginger
150
Mangga
150
Minty Lemon
150
Pina Rose
150

Tea (Latte)

Ceylon
160
English Breakfast
160
Matcha Latte
160
Moroccan Mint
160

Tea (TWG)

Chocolate Earl Grey (Hot)
195
Chocolate Earl Grey (Iced)
210
Festive Night (Hot)
195
Festive Night (Iced)
210
Pink Flamingo (Hot)
195
Pink Flamingo (Iced)
210

Wine

Montrogue Cabernet Sauvignon
870
Montrouge Chardonnay
920
Montrouge Merlot
870
Montrouge Sauvignon Blanc
920
Queen Adelaide Moscato
870
About Kandle Café
Kandle Café was established recently but already attracted the eyes of Filipino residents. Due to the comfortable and pleasant ambiance that Kandle Café radiates, I cannot agree more that it is the best third-wave destination coffee shop that is worth visiting.
It is founded by four siblings namely: Khryss, Don King, Leslie, and Eli. Their initials already speak the idea behind the name of the said café. This café is a hidden gem that can be found at the heart of Quezon City. The exact address of Kandle Café is: 113 Mother Ignacia Avenue, Diliman, Quezon City, 1101 Metro Manila. You can actually visit their Facebook Page to have a more detailed address and how to visit them.
This coffee chain isn't your typical coffee shop, as you walk on its isle where water seems to fall over you, a glimpse of perfect nature can be felt the moment you step foot in its vicinity. Kandle Café is indeed a place where comfort and relaxation can be found, I believe it is the perfect place for those individuals who want to have a little escape from their exhausting life.
Kandle Café Menu Best Seller
I have enlisted different menus which I sought and thought to be the best-selling dish at Kandle Café. Below is your best guide in knowing, what are the best-of-the-best dishes that I have tasted and can be purchased at Kandle Café.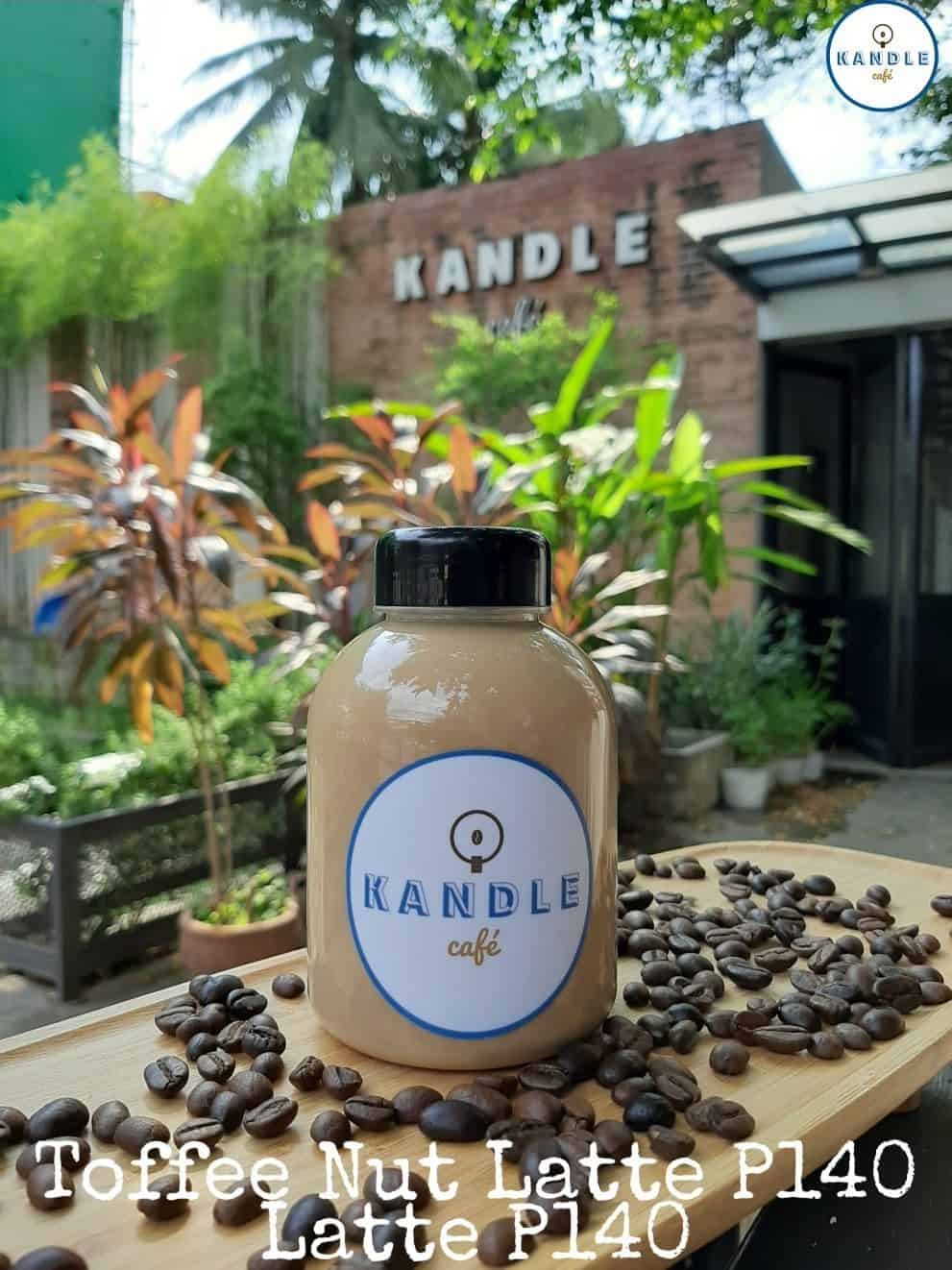 Toffee Nut Latte – What I enjoy about this latte is the idea of putting a nutty flavor in every sip in the Kandle café cup. I can literally feel the nutty taste of this cup of coffee combined with the creamy flavor of organic milk. Be wary that you should not buy this cup of latte if you have allergens over nuts, but above all, it is indeed a perfect coffee for rainy weather.
Cheese Ensaymada – The fluffy and creamy cheese ensaymada still lingers in my mouth while doing this review. My taste buds can still feel the fluffy texture of the bread topped with creamy cheese!
Ube Ensaymada – Together with cheese ensaymada, ube ensaymada can literally overwhelm your taste buds due to its strong winged yam (ube yam) flavor. Ube ensaymada is best with Toffee Nut Latte because of its combination of rich flavors.
Kandle Café Menu Best Coffee
Many of us don't crave something specific, we just want to eat what is the best food or the best meal that every restaurant can serve. Kandle Café as a majestic coffee shop who don't want to lose to its competitor also had the best and most popular dishes that customers made fond of them. Below is the list of popular dishes that I have personally tried and I literally recommend that you should try them too!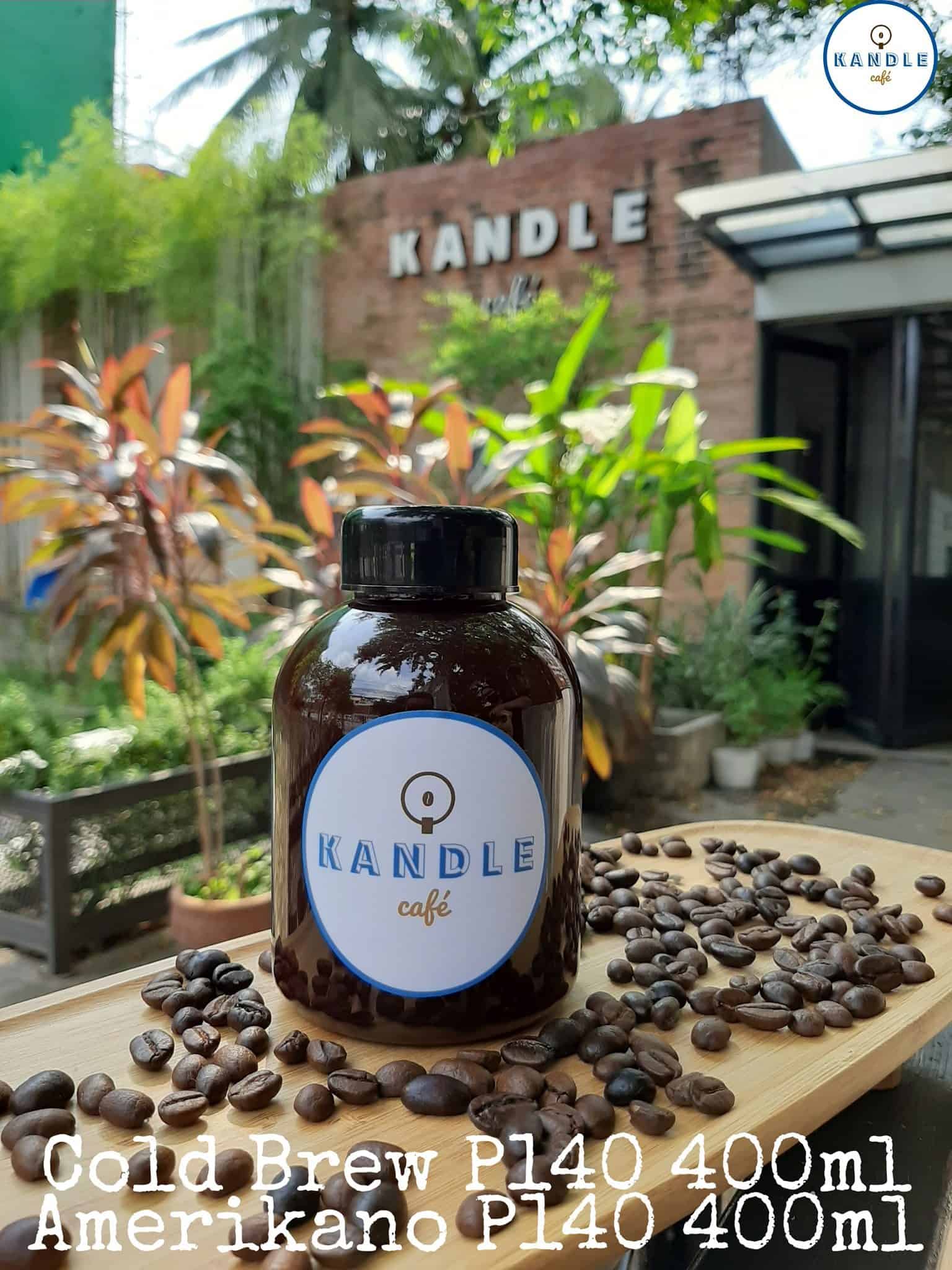 Amerikano – If you love to level up your coffee experience and wanted to taste something strong, then the classic Amerikano is still your best cup! Combined with the freshly brewed shots of espresso that are made into perfection, Kandle Cafe Amerikano can go beyond what the standard Americano tastes like.
Peppermint Latte – With the strong taste of peppermint pulped into a cup of drink, Kandle Café offered us their Peppermint Latte as a tribute to those individuals who love to have a different coffee experience. The kick of peppermint on your palate is definitely soothing if you love the taste of minty and creamy drinks.
Cold Brew – Of course, we always don't find hot coffee attractive, the idea of Cold Brew is indeed helpful to our buddies out there who love cold coffee.
Kandle Café Menu Dessert
Since there are individuals who crave something sweet and salty, Kandle Café made a special set of desserts that you may find amusing. Why? Because there is no dessert menu at all! There is just a set of cheesecake, strawberry leches, and a lot more. If you are confused, then below is a list of desserts that you can order at Kandle Café.
| | |
| --- | --- |
| Dessert | Price |
| Cheesecake (Blueberry, Mocha, Caramel, Crème Brulee, Ube, Oreo, and Mango) | Servings: Whole: 2,250 | Slice: 225 |
| Choco (Choco fudge, Salted Caramel, Matcha Boston, Bonfire) | Servings: Whole: 1,800 Slice: 180 |
| Mousse (Praline) | Servings: Whole: 2,250 | Slice: 225 |
| Mousse (Matcha Oreo) | Servings: Whole: 1,900 Slice: 190 |
| Mousse (Pink Lemonade) | Servings: Whole: 1,900 Slice: 190 |
| Mousse (Tiramisu) | Servings: Whole: 1,900 Slice: 190 |
| Tres Leches | Servings: Whole: 1,800 Slice: 180 |
| Strawberry Leches | Servings: Whole: 1,800 Slice: 180 |
| Strawberry Shortcake | Servings: Whole: 1,900 Slice: 190 |
Kandle Café Wedding
The idea of having a wedding inside a cafe is indeed out of the ordinary. The combination of dark and brown themes can make your special day more memorable, here at Kandle Cafe your extraordinary wedding can be extra if you wish to celebrate it with us. Wedding sceneries at Kandle Cafe started in the year 2018 when Sue and Vinci decided to choose Kandle Cafe as their reception.
At Kandle Cafe, the management already provides the venue, the viand and snacks, and the wedding cake. The intimate celebration is indeed worth celebrating at Kandle Cafe. If you wish to set up a celebration at Kandle Cafe, you can just dial their number and set your reservations with them.
Kandle Café Menu Delivery
The idea of menu delivery has become rampant due to the threat of Covid-19 and other diseases. Since Kandle Café blossomed at the heart of Quezon City, most Filipino loved to try their set menu, however, they don't have immediate access to their place.
With that, food service emerged and Kandle Café hopped on the trend of delivering food at the convenience of our own customers. They enlisted Kandle Café at food panda and Grab food. This action which has been done by the management is indeed helpful to both parties. So, if you would like to taste the set menu that Kandle Café offers, then I practically advised you to just order through online platforms.
FAQs
Who Owns Kandle Cafe?
Kandle Café is owned by four gorgeous ladies namely: Khryss, Don King, Leslie, and Eli. Two of the said ladies are chefs that's why I cannot argue that their meals are indeed on a different level. The mastery of these two ladies can be seen in every dish that Kandle Café presents.
Does Kandle Cafe Offer Takeout?
Just like any other food stall, Kandle Café also offers a takeout meal. If you don't feel to dine in their peaceful place and want to enjoy your ordered meal on your own comfortable dining, then you can practically have your take-home meal.
On the counter, you should state that you will be having your takeout meal and they will be the ones who will pack it for you. If you don't like to come and visit their location because it is far from your home, then you can just order online. You can download food panda or grab food, place your order and wait for your purchased order to arrive. Happy eating buddy!
Social Media Pages
If you like the Kandle Cafe menu and would like to check them for more updates, you can visit their social media pages. We highly encourage you that you start following them so that you will always get the latest news about their current trends, promos, and pricing. If you have no idea where to look, don't worry because you can simply click the following links below and you will be redirected to their official social media pages.
Facebook: https://www.facebook.com/kandlecafe/
Instagram: https://www.instagram.com/kandlecafe/
Conclusion
The scenery, the ambiance, and the overall experience at Kandle Cafe are indeed worth it. I had fun with their set of meals which I found amusing; since they offer a wide variety of meals, I can make my own combination of platters which I found enticing. Having this freedom to choose your own combination is rare due to the idea of marketing specialists that most restaurants applied.
In a nutshell, Kandle Café is a hidden paradise that sits in the heart of Quezon City. This paradise of joy with a waterfall-like isle is not your typical cafe as it can be a reception for any occasion. Kandle Cafe is here to serve every age, every gender, and every people; with the idea of great innovations, I believe that this cafe will become one of the best cafes someday. The aforementioned Kandle Café menu is indeed mouthwatering. So if you like to experience one-of-a-kind coffee dining, then visit Kandle Cafe before you lose your chance.