One of the most popular items if you're going to the tourist destination Tagaytay is bulalo. Bulalo Capital menu has a lot to offer, they have all the Filipino favorite dishes that are quite popular in the country, their specialty is bulalo which is really good, and if you're looking for a place to enjoy your meal while enjoying the view Bulalo Capital is the place to be. Have you heard about this restaurant? Or are you planning to visit Tagaytay soon? In this article, we are going to get to know about this restaurant, the best sellers, prices, and many more. Let's start! 
Menu Items
Prices (PHP)

Kadalasang Order

Home style bulalo
580
Pang masa bulalo
380
Sinampalukang bulalo
555
Sinigang na bulalo
480
Red bulalo
380
Fried bulalo
510
Kare kare bulalo
580
Kalderetang bulalo
580
Adobong bulalo
550
Bulalo steak
520
Ginataang bulalo
520
Bulalo express
520
Ilocano bulalo
520
Binestikang bulalo
520

Signature Bulalo

Bulalong tagaytay
580
Kimchi bulalo
400
Sizzling bulalo
580
Dragon bulalo
715

Fried Capital

Fried chicken whole
420
Fried chicken half
220
Fried boneless bangus
420
Fried tawilis
250
Fried kangkong
115
Fried lapulapu
450
Breaded porkchop
240
Crispy pata
580
Calamares
240
Lumpiang shanghai
240

Inihaw Capital

Inihaw/fried tanigue
320
Inihaw pusit
370
Barbecue
260
Grilled boneless bangus
350
Inihaw tilapya
260

Sabaw Capital

Sinigang na tanigue
480
Sinigang na hipon
350
Sinigang na bangus
260
Sinigang na boneless bangus
330
Native tinolang manok
410
Tinolang manok
310
Sinigang na baboy
340
Sinigang na baka
340

Sisig Capital

Picnic grove sisig
220
People's park sisig
220
Taal volcano
220

Kinilaw Capital

Kinilawing tanigue
380
Kinilawing blue marlin
320
Kinilawing pusit
270
Kinilawing bangus
280

Favorites

Tokwat baboy
115
Buffalo wings
255
Kare kare baka
400
Lechon kawali
240
Sizzling chicken
240
Beef tapa
240
Calderetang baka
385

Steak Capital

T-bone steak
315
Porkchop steak
305
Liempo steak
240
Bistek tagalog
240
Tanigue steak
290

Panciteria Capital

Pancit canton
235
Pancit bihon
235
Pancit bam-i
235
Pancit sotanghon
235

Adobo Capital

Adobong manok
260
Pork adobo
260
Adobong puti
280
Adobong tilapia
240

Seafood Capital

Sweet and sour lapu lapu
520
Paksiw na boneless bangus
280
Halabos na hipon
270
Sweet and sour shrimp
280

Enselada Capital

Enseladang ampalaya
150
Enseladang manga
150
Enseladang talong
170

Ginata Capital

Ginataang sitaw with hipon
270
Ginataang manok
410
Ginataang hipon
260
Ginataang pusit
380
Ginataang tilapia
240

Vegetable Capital

Seafood chopsuey
280
Bicol express
240
Tagaytay express
215
Pakbet/chopsuey
240
Kare kareng gulay
190
Ampalaya con carne
260
Pakbet
240
Ginataang sitaw with kalabasa
200
Chopsuey
240

Rice Capital

Plain rice (cup)
35
Plain rice platter
140
Fried rice platter
165

Barkada and Pamilya Package

Set A
850
Set B
1600
Set C-1
3530
Set C-2
3530
Set D
5990

Beverages Capital

Soda 1.5L (pepsi,mountain dew,7up,rootbeer,pepsi max, 7up light)
150
Soda can (pepsi,mountain dew,7up,rootbeer,pepsi max, 7up light)
75

Hot and Cold Beverages

Calamansi
65
Hot choco
65
Coffee
65
Brewed coffee
95

Juices

Iced tea house blend
75
Mango juice
75
Pineapple juice
75
Orange juice
75
Four season
75

Beer

SML
75
RH
75
Pilsen
85
Flavored beer
85

Whiskey (Shot/Bottle)

Jack daniels
250/2500
Jose cuervo
250/1800
Black label
250/2500
Bacardi
250/1800
About Bulalo Capital
Bulalo capital is a restaurant in Tagaytay that offers bulalo as their specialty and other Filipino favorites, they are also open 24 hours. If you're looking for the heartiest dish like bulalo, bulalo capital is the place to go if you're going to visit the city of Tagaytay anytime soon.
They offer 30 different varieties of bulalo, they have innovative dishes like kimchi bulalo and others that you should try if you want to try a different bulalo style. Founded on December 22, 2013, customers started to notice bulalo capital because their food items are really good and affordable. 
Bulalo Capital Menu Best Seller
We interviewed one of their crews in bulalo Capital to know their best sellers. I made a list of their most popular items and best sellers that you should try if you visit bulalo Capital on your next Tagaytay trip.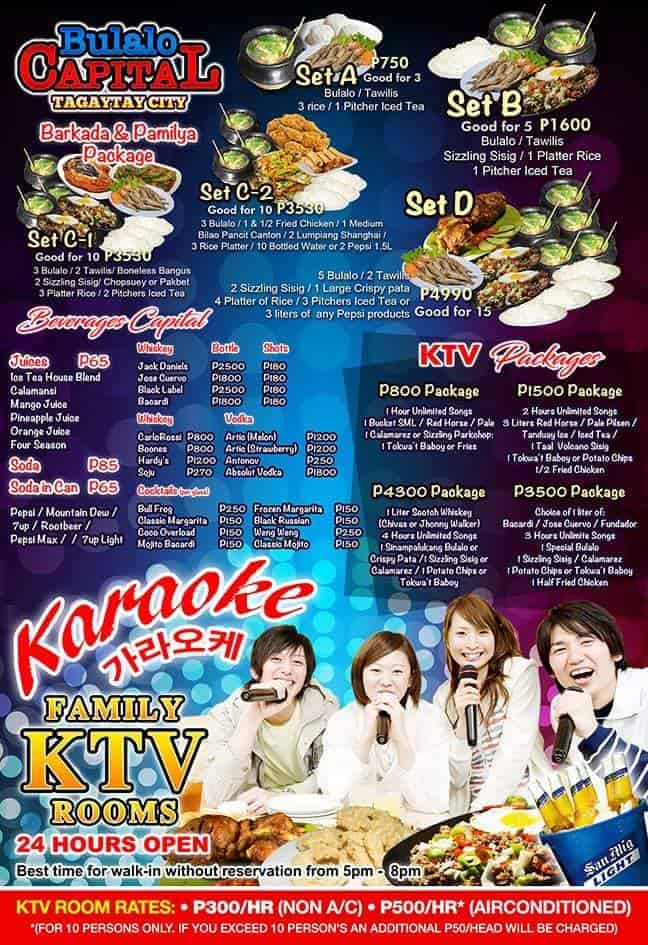 Bulalo Special – The meat on their bulalo is very tender. The meat is actually already separating on the bone, very comfortable to eat, and you can cut the meat using your pork without hassle. Aside from that meat, the soup is very delicious as well. The flavor is balanced it's not too salty and not too bland. This classic southern Tagalog-style soup is perfect for the cold weather of Tagaytay. Good to eat with fish sauce with chili and calamansi as well. You should definitely order this Bulalo Capital menu.
Crispy Tawilis – The fish tawilis is cooked very well, it's not too oily or greasy and that actually surprises me. It is actually crispy and you can also eat the fishbone for their crispy tawilis. Best dip with vinegar for an upgraded taste. Their crispy tawilis is one of the most ordered dishes along with bulalo. 
Pansit Bam-i – Pansit Bam-i is a kind of pancit where canton noodles and sotanghon noodles are combined. They cooked this noodle dish in guisado style which made their Pancit bam-i produce a garlicky taste and aroma. The garlicky taste is a nice treat blended with all of the ingredients and mixed with the combination of canton and sotanghon noodles. One of the most popular items on their menu especially if we are going to talk about pansit.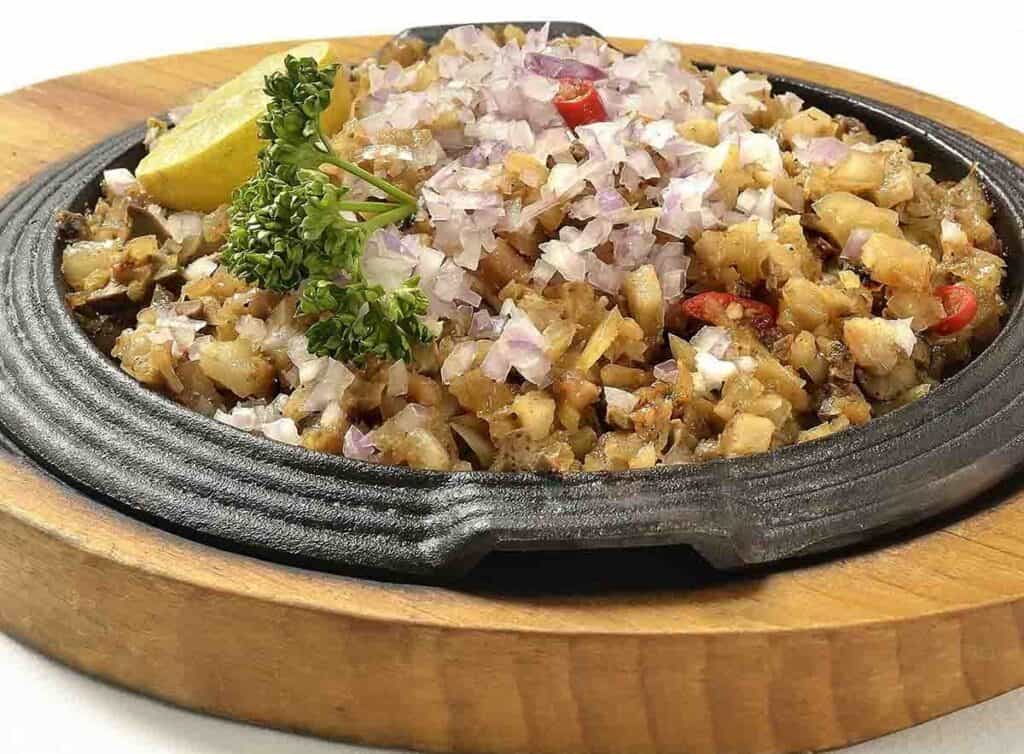 Sizzling Sisig – I ask one of their crews and she told me that aside from bulalo and crispy tawilis their sisig is one of their most popular dishes and best seller. They have two options for their sisig, first one is Iloko the traditional way and the other way is Ilongo which serves their sisig with mayonnaise. The sisig is still crispy though it's a bit oily. Serving it on a sizzling plate made their sisig even more delicious. The ingredients that they used on this Bulalo Capital menu have just the right flavor, plus you can add calamansi and soy sauce to adjust the taste to your liking. 
Bulalo Capital Breakfast Bilao
Bulalo capital breakfast bilao is good for 6-7 pax for the small order that cost 875php and 10-11 pax for the large order that will cost you 1485php. Breakfast bilao includes java rice, ham, talong, beef tapa, salted eggs, daing na bangus, sibuyas, kamatis, scrambled eggs, and tinapa. 
Signature Bulalo
Bulalo Capital is known for its signature bulalo which is rich tender and delicious but they actually have 30 bulalo dishes to choose from. Bulalo Capital signature menu is made with beef shanks that they cooked for hours some greens, Japanese corn, and other fine ingredients to make this hearty dish.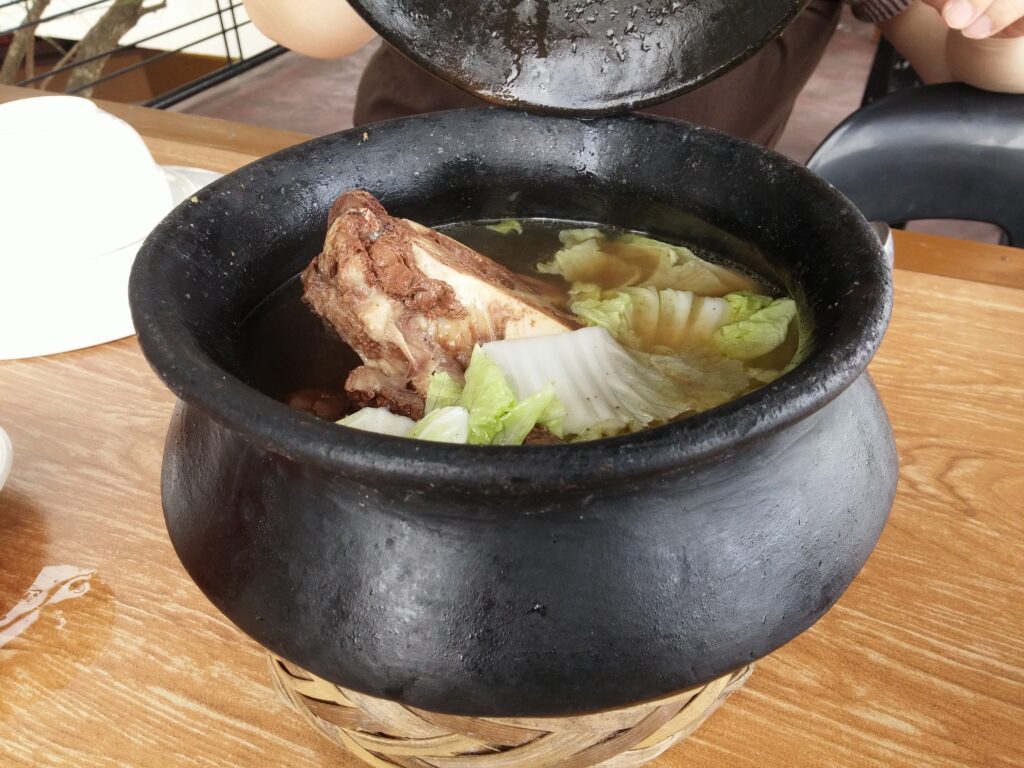 Kadalasang Order
Bulalo Capital kadalasang order are those whos already popular among their customers. Their kadalasang order includes home style bulalo, pang masa bulalo, sinampalukang bulalo, sinigang na bulalo, red bulalo, fried bulalo, kare kare bulalo, kalderetang bulalo and lastly their adobong bulalo. Those items are the usual orders among their customers, it can also consider as their best sellers. 
Fried Capital
Fried capital is the item on the menu of Bulalo Capital which is fried. The fried capital menu includes fried chicken whole or half, fried boneless bangus, fried tawilis, fried kang kong, fried lapu lapu, breaded pork chop, crispy pata, calamares, and Lumpiang shanghai. 
Bulalo Capital Menu Delivery
If you are craving your favorite bulalo capital food items no worries because you can just order your cravings if you don't have time to go outside. You may call 0930-2241414 or message them on their Facebook page to order. If this is too complicated for you, you can use services like Food panda and such that are available in your area. 
Social Media Pages
If you want to know their latest discounts, promos, and dishes you should follow their social media pages. In this way, you won't miss any posts from them especially the important ones such as discounts or limited offers. To follow them, open the link below:
Facebook: https://facebook.com/Bulalo-Capital-Main-473887102715454/
Instagram: https://www.instagram.com/bulalocapital/ 
Conclusion
Let's talk about the view first, excellent view as always. When it comes to their service it's fine though we have to wait for I guess 30 minutes it's understandable because it's lunchtime. Friendly staff, they are nice and will give you recommendations if you ask them. The food menu from the Bulalo Capital is great to be fair, affordable, and delicious. Though we can find a lot of restaurants that serve bulalo in Tagaytay I like them because it is like hitting two birds with one stone, you'll enjoy a delicious and affordable bulalo then you'll get to enjoy a great view of Tagaytay. Comfortable place, the customer a friendly ambiance, and a great place to go if you want to enjoy a great view while enjoying your bulalo and other Filipino favorite dishes. Highly recommended.