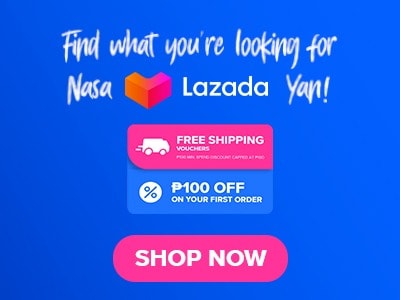 One of the most popular spots in Tagaytay nowadays. The Ribchon menu offers delicious Filipino dishes and local comfort food that you're already familiar with. They also offer a wide selection of beverages that their customer will surely enjoy. Located in Tagaytay Philippines this restaurant already made its name famous because of the delicious foods that they offer, Local tourists and foreigners are recommending this restaurant, and best to go with someone special or with barkada and family.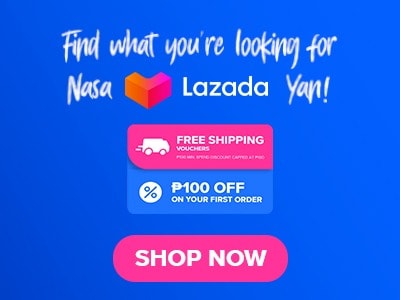 Menu Items
Price (PHP)

Baby Back Baboy

Full rack
1950
Half rack
975

All Day Breakfast

Ribsilog
385
Sisigsilog
330
Crispy corned beef hash
330
Tinapang bangus belly
350
Bulaklaksilog
330
Crispy bangus
330
Tenderloin tapsilog
350
Lechon ribs adobo
330
Ribchongganisa
330
Tocilog
330
Ribchon bacon
330
Chopsilog
330

All Day Waffles

Bacon and waffles
385
Mango and waffles
375
Ribs and waffles
385
Bulaklak and waffles
375

Ulam Snacks

Potato wedges
200
Ribchon okoy bites
280
Gambas
395
Shrimp tempura
395
Calamares
320
Chicken wings
420
Crispy shrimp
290
Crispy tawilis
295
Sisig
330
Ribchon kawali
395
Balat brittle basket
280
Bulaklak brittle basket
310
Rinchon lomi
285
Crispy dinakdakan
330
Krispy tadyang
380
Lumpiang shanghai
310
Pancit canton
375

For the Bulalo Lovers

Bulalo steak
950
Batangas bulalo
890
Bulalo paella
895
Bulalo kansi
820

Daily Dagat

Bangus belly stuffed laing
450
Skewered six pack sugpo
630
Sizzling stuffed squid
440
Crispy bangus
650
Grilling tuna belly
435

Sinong Manok Mo?

Grilled boneless manok 2 skewers
400
Grilled boneless manok 4 skewers
790
Fried chicken half
400
Fried chicken whole
790

Baboys Best

Crispy pata
850
Lechon belly half kilo
650
Lechon belly 1 kilo
1200
Pork binagoongan
420
Ribchon paksiw
365

Baka Naman

Crispy beef ribs kare kare
650
Beef caldereta
395
Beef nilaga
520
Traditional karekare
650
Beef and mushroom salpicao
495

Salad and Veggies

Okoy salad
295
Mango salad
250
Ribchon caesar
280
Buttered corn
185
Fresh lumpia
350
Sizzling laing
320
Monggo with tinapa
220
Ampalaya with salmon belly
340
Gising gising
320
Tagaytay fresh vegetables
280

Sinigang

Sinigang na bangus sa bayabas
450
Sinigang na salmon belly sa miso
450
Beef brisket sinigang
520
Sinigang na hipon sa kamias at batwan
650

Desserts

New York cheesecake slice
175
New York cheesecake whole
1650
Espresso Cheesecake slice
175
Espresso Cheesecake whole
1650
Dayap cheesecake slice
175
Dayap cheesecake whole
1650
White chocolate cake slice
175
White chocolate cake whole
1650
Leche flan
175
Mango float
175
Halohalo
230
Buko pandan
175

Cold Drinks

Cucumber lemonade glass
100
Cucumber lemonade pitcher
380
House lemonade glass
100
House lemonade pitcher
380
House iced tea glass
100
House iced tea pitcher
380
Fruit shake mango/watermelon
120
Fruit shake guyabano/buko
150
Coke/cokezero/cokelight/sprite
85
A&W rootbeer float
195
Delmonte pineapple juice
95
Gulaman
150
San pellegrino sparkling water
250
Wilkins bottled water
85

Hot Drinks

Coffee
120
Cadburry hot chocolate
140
Twinnings hot chocolate
120

Alcoholic Beverages

Sanmig light/pilsen/superdry
95
Wine/bottle
About Ribchon
Ribchon is a Filipino restaurant that is located on the Mahogany avenue, Maharlika West. Tagaytay City is a street parallel to Tagaytay – Nasugbu highway. Founded by Ham and Lucy Katipunan with help of their business partner Chef Tristan Bayani. The restaurant has a capacity of 75 dinners and its al fresco area can accommodate 30 customers.
The restaurant is surrounded by plants and the cold weather of Tagaytay which makes this a great place to go on special occasions if you're just lurking in Tagaytay and don't know where to go. This restaurant is not only focused on ribchon but with a lot of Filipino dishes to offer. This Filipino restaurant specializes in not your typical baby back ribs.
The restaurant is well-lighted as well and the place is festive and lovely which can also add to the customer's appetite. Ribchon is open Mondays to Wednesdays from 10 in the morning until 10 at night and Thursday to Sunday from 8 in the morning until 10 in the evening. 
Ribchon Menu Best Seller
Here is the list are Ribchon menu best sellers that you should try if you're planning to go to their restaurant. Also, a good choice if you don't have any idea what to get on their menu.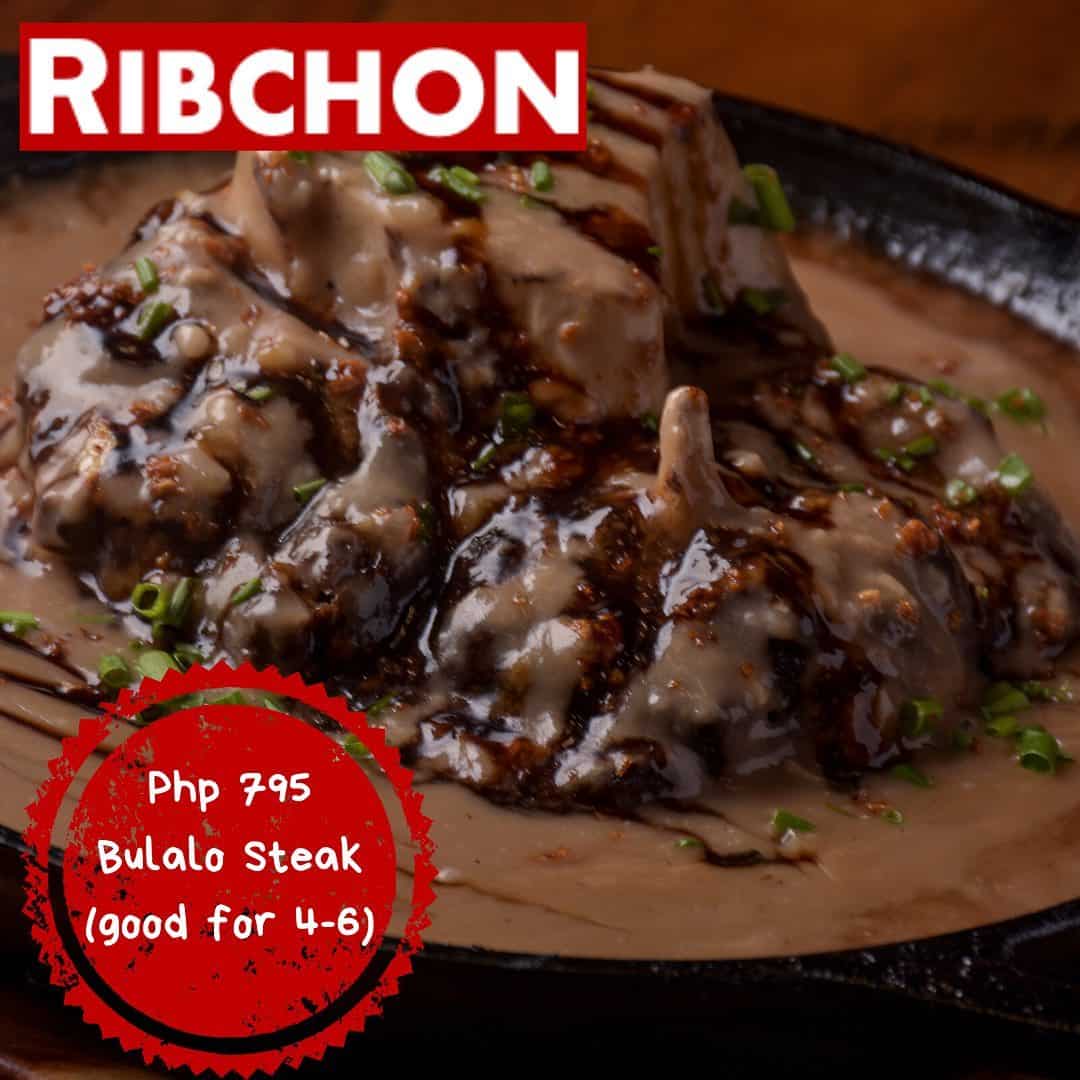 Photo Credit: Ribchon FB Page
Ribchon Bulalo Steak – The bulalo steak in ribchon will never disappoint you. For sure this would be your favorite after tasting it. The meat of the bulalo is very tender you can cut it with your spoon and the sauce was creamy and delicious. The marrow is the game changer with their bulalo steak you'll enjoy getting that marrow but eat moderately for those who have high blood pressure.
Ribchon Gambas – A great substitute for meat. If you are looking for a nonmeat appetizer this is the right one for you. Served with big shrimp so this one is also for sharing. What I like about this dish is the shrimp is not overcooked. Delicious in a much healthier way for those who are not allergic to seafood. Eat moderately for people with high blood pressure, their shrimps are fat. 
Krispy Ribs ng Lechon – I ordered a half rack of their Krispy ribs ng Lechon. The Krispy ribs ng Lechon has a crunchy texture and really perfect with or without vinegar. I like how flavorful their Lechon ribs are, they carefully cooked them as well. Not dry, juicy though fried. What's great about this Krispy ribs ng Lechon is the meat itself.
Original Ribs ng Lechon – This is actually my personal favorite even against Krispy ribs ng Lechon I will choose this one. Served with Kapeng Barako sauce for a more savory experience. I like how flavorful the ribs are with or without a sauce.  Their original ribs ng Lechon is perfectly paired with steamed rice.
Leche Flan – This Filipino favorite is also the best seller on the Ribchon menu. creamy and smooth and not too sweet. Ribchon's restaurant version is really delicious. Not to be biased but for me, their version is the best that I tasted when it comes to Leche flan.
Ribchongganisa – Served naked and perfectly paired with vinegar. Their Longganisa version is not too sweet. Very tasty and delicious. I love their Longganisa paired with rice and some vegetables.
Ribchon Baby Back Baboy Menu
Ribchon's signature "Ribs ng Lechon" is cooked slowly and never boiled. This dish is highly recommended to eat by hand as it is very savory. They offer a full rack which is served with soup salad and 4 rice and the Half rack menu of Ribchon is served with rice salad and 2 rice. You can also choose your ribs flavor from original, sweet barbecue to spicy.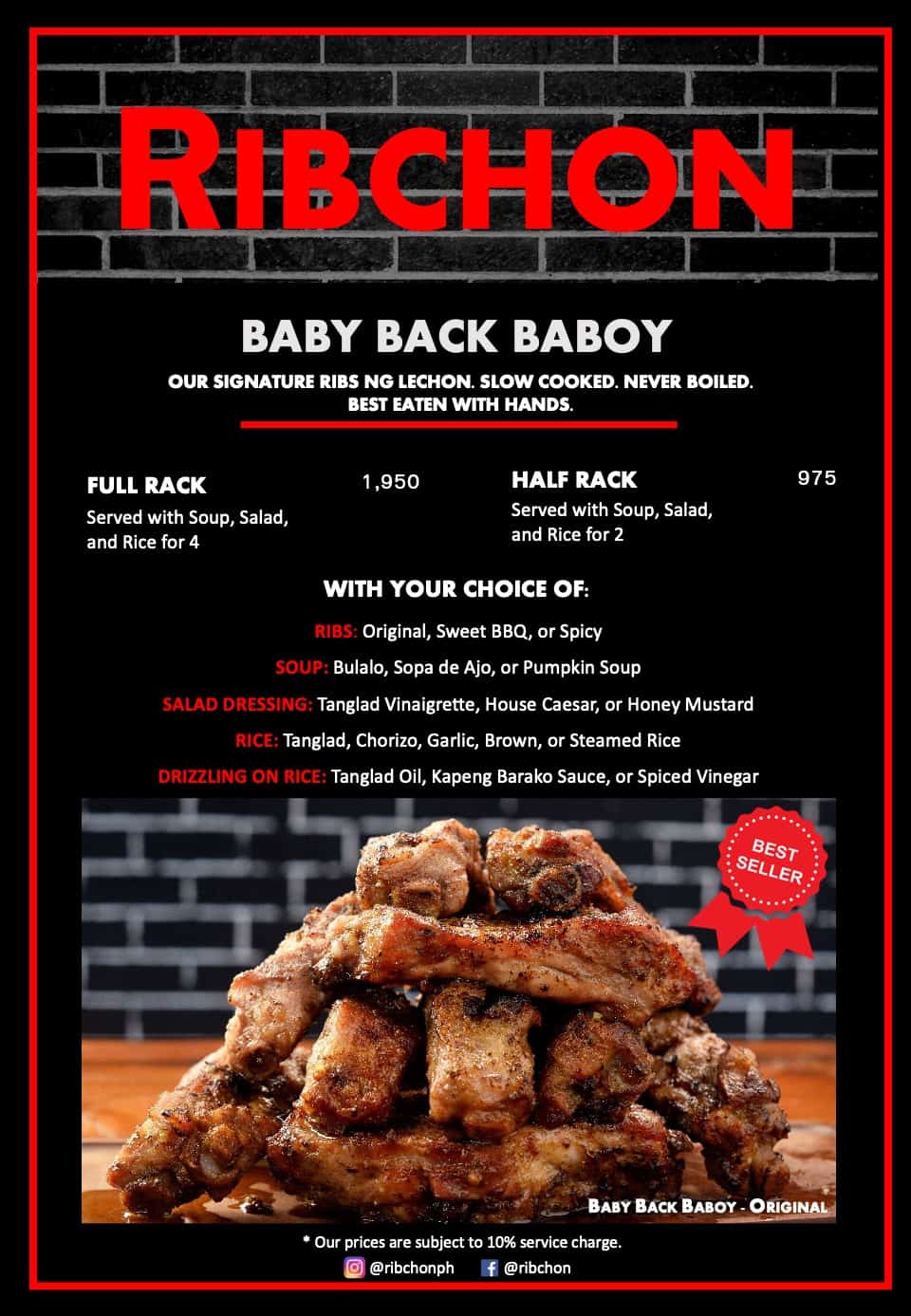 Photo Credit: Ribchon FB Page
Your rice options like steamed Rice, garlic brown rice, chorizo rice, and lemongrass rice. You also have an option for the soup it could be sopa de ajo, bulalo, or pumpkin soup. 
Breakfast Menu
Ribchon breakfast menu is served with sinangag, 2 eggs, sopa de ajo and dishes glazed with kapeng barako sauce. The breakfast menu includes four recommended dishes ribsilog, sisigsilog, crispy corned beef hash, and tinapang bangus belly. They also include bulaklak silog, crispy bangus, tenderloin tapsilog, lechon ribs adobo, ribchonlongganisa, tocilog, ribchon bacon, and chopsilog. 
Ribchon Baka Naman Menu
Ribchon Baka Naman menu is consist of beef dishes that are already popular in the country. This menu includes their best-seller crispy ribs kare kare kare, beef caldereta, beef nilaga, traditional karekare, and beef and mushroom salpicao. Everything on this menu is chefs recommended and surely delicious. 
Ribchon Menu Delivery
Upon checking on their website for delivery options sadly they don't offer delivery service. But no worries you can still use third-party delivery services for your Ribchon cravings. Please take note that delivery services may vary on your location and product availability. 
Talk to Ribchon Philippines Staff
If you have any concerns regarding the Ribchon menu or promos, you can send them a message on their official Facebook or Instagram accounts. While you also browse these social media pages, we highly encourage you to support them by following them.
Facebook: https://facebook.com/ribchon/
Instagram: https://www.instagram.com/ribchonph/
Conclusion
Upon dining in Ribchon I am honestly impressed by the quality and the taste of the food that they offer. Ribchon menu are consist of improved Filipino dishes that are truly delicious and of good quality. The restaurant is well-maintained, clean, and cozy the weather in Tagaytay adds to the nice atmosphere. Crews are polite and hospitable, they are very knowledgeable about the dishes that they serve you can actually ask them for their best seller. Kids friendly as well as they have kid's favorites on their menu. This restaurant is truly a great place to go with your family friends or significant other. Highly recommended for those who love to explore great Filipino foods with a great ambiance in Tagaytay.