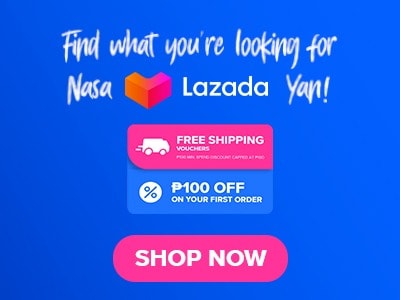 Nowadays consumers are not only looking for delicious food but a good place to eat with a cozy welcoming and friendly ambiance as well. And guess what I found? A perfect place for you to try for your food escapades. Craving some Filipino foods? Problem solved! Let's talk about Gerry's Grill, a restaurant that can solve your misery on your classic Filipino dishes cravings and pulutan as well. Without a hitch, let us start giving you Gerry's Menu as well as telling you about this restaurant.
Below, you'll find the updated list of Gerry's menu prices.
Menu Items
Price (PHP)

G-Cue

G-Cue Pork Barbecue
249
G-Cue Inihaw na Liempo
299
G-Cue Chicken Kebab
299

Appetizer

Chili Chicken Sticks
190
Garlic Adobo Shreds
265
Crunchy Squid Heads
205
Peanuts
95
Chichabits (Traded)
155
Lumpiang Shanghai
205
Tokwa't Lechon Kawali
265
Dinakdakan
335
Calamares
295
Crispy Kangkong
95

Soups

Sinigang na Boneless Bangus
345
Sinigang na Hipon
365
Sinigang na Baboy
345
Nilagang Bulalo
415

Seafood

Inihaw na bangus
345
Inihaw na pusit
450
Inihaw na baby pusit
405
Inihaw na tuna belly
345
Bangus ala pobre
345

Chicken

Gerry's Fried Chicken
299
Chicken Kebab
265
Inihaw na Manok
299
Spicy Garlic Fried Chicken
299
Chicken Barbecue
285
Gerry's Boneless Fried Chicken
299

Pork

Sizzling Sisig
255
Pork BBQ
195
Crispy Pata (Regular)
615
Crispy Pata (Family)
780
Lechon Kawali
375
Inihaw na Liempo
295

Beef

Beef Kare-kare
505
Prime Beef Caldereta
435

Rice

Plain Rice
46
Garlic Rice
49
Crab Rice
255
Special Binagoongan Rice
255
Pinakbet Rice
225

Vegetables

Pinakbet
225
Chopsuey
245
Sizzling Kangkong ala Pobre
185
Ampalaya Guisado
195
Stuffed Laing
245

Merienda

Lomi
195
Pancit Palabok
235
Pancit Canton
225
Special Pancit Bihon
235

Desserts

Halo-Halo
135
Mais Con Hielo
115
Leche Flan
115
Ice Cream
65

Juices

Gerry's Special Iced Tea
79
Gerry's Special Iced Tea (Pitcher)
275
Nestea Ice Tea Bottomless
90

Softdrinks

Pepsi
70
Pepsi Light
70
Pepsi Max
70
Mirinda
70
7Up
70
Mountain Dew
70
Mug Rootbeer
70
Pepsi 1.75L
150
Bottled Water
55
Americano Coffee
85

Alcoholic Drinks

SMB Pale Pilsen
75
San Mig Light
69
Heineken
85
About Gerry's Restaurant and Bar
Their former name was Gerry's Grill, a restaurant based in the Philippines. Their first branch opened way back in 1997 at Tomas Morato in Quezon City. The founder of this awesome restaurant is no other than Gerry Apolinario. He opened his restaurant with a soul purpose and that is for his customers to have a place to hang out after a hard day of work.
His restaurant became successful and years after he already opened 4 branches in the United States. He started opening other branches outside the Philippines since the restaurant is a hit because it is serving Filipino cuisine and he clearly understood that Filipinos are everywhere. As of today He already has 117 locations both local and international.
They are serving in different countries like Singapore, the United States, Qatar, and United Arab Emirates. Until now they are still striving to evolve and meet their customer's needs and expectations. They are also taking care of their worker's welfare as well and that is the reason for their success.
Want to try some cakes? Check the Goldilocks foods from here.
What Makes Gerry's Grill Menu Unique?
Gerry's Grill has a menu filled with fresh and savory dishes. From classic Filipino favorite dishes to exotic cuisine they have it. Gerry's Grill also prepares pulutan or beer match dishes included in their menu. What makes Gerry's Grill's menu unique is its presentation and the selection of dishes that they serve to their customers.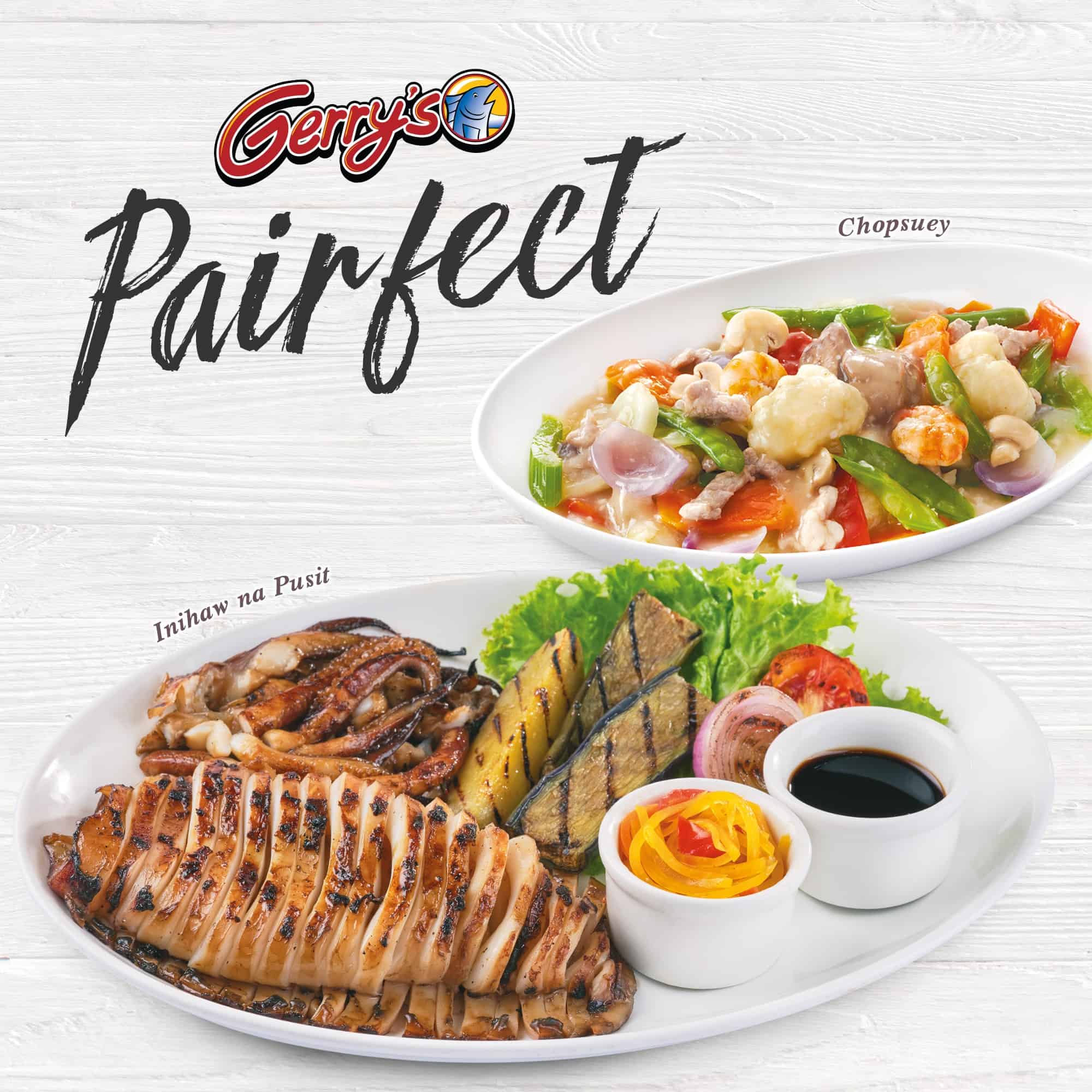 Photo Credit: Grerry's Grill FB Page
What is the Best Seller Food Menu in Gerry's Grill?
Gerry's Grill has a lot to offer but I have here listed some of their best and must-try items on their menu to serve as a guide for you if you are going to their restaurant for the first time.
Pork sisig – The pork on their sisig was soft and the sisig is saucy, the pig mask is crispy and they also put crushed chicharron on top to add flavor and crispness. Also, this dish is really good as pulutan or beer match. Who cant say no to this dish? It became people's favorite, Even foreigners love our sisig, right?
Crispy Pata – Crispy Pata with juicy, soft, and not dry texture and crispy skin on the outside. Warning this dish is not for people with hypertension, but a small bite won't hurt, right? This is perfect as a beer match as well. Just to be safe eat moderately.
Inihaw na Pusit – Tender fresh and flavorful! That's how to describe their grilled squid. This dish made it to the best-seller dishes list and it's not surprising. A must-try fresh and unique dish if you want to take a break from red meat. Also good for pulutan or Beer matches.
Pancit Palabok – This Filipino Noodle dish is a bomb when it comes to pancit. Based on my personal experience I really enjoyed their pancit, the freshness and savory taste of their pancit palabok will surely capture your taste buds. It has a lot of garnish and is very creamy. A must-try for noodle dishes lovers.
Gerry's Grill Menu Food Package
Gerry's Grill menu also offers Food Packages or group meals where you can enjoy their food while sharing with your family, friends, and colleagues at a lesser price here are the list of their Food package that you should try.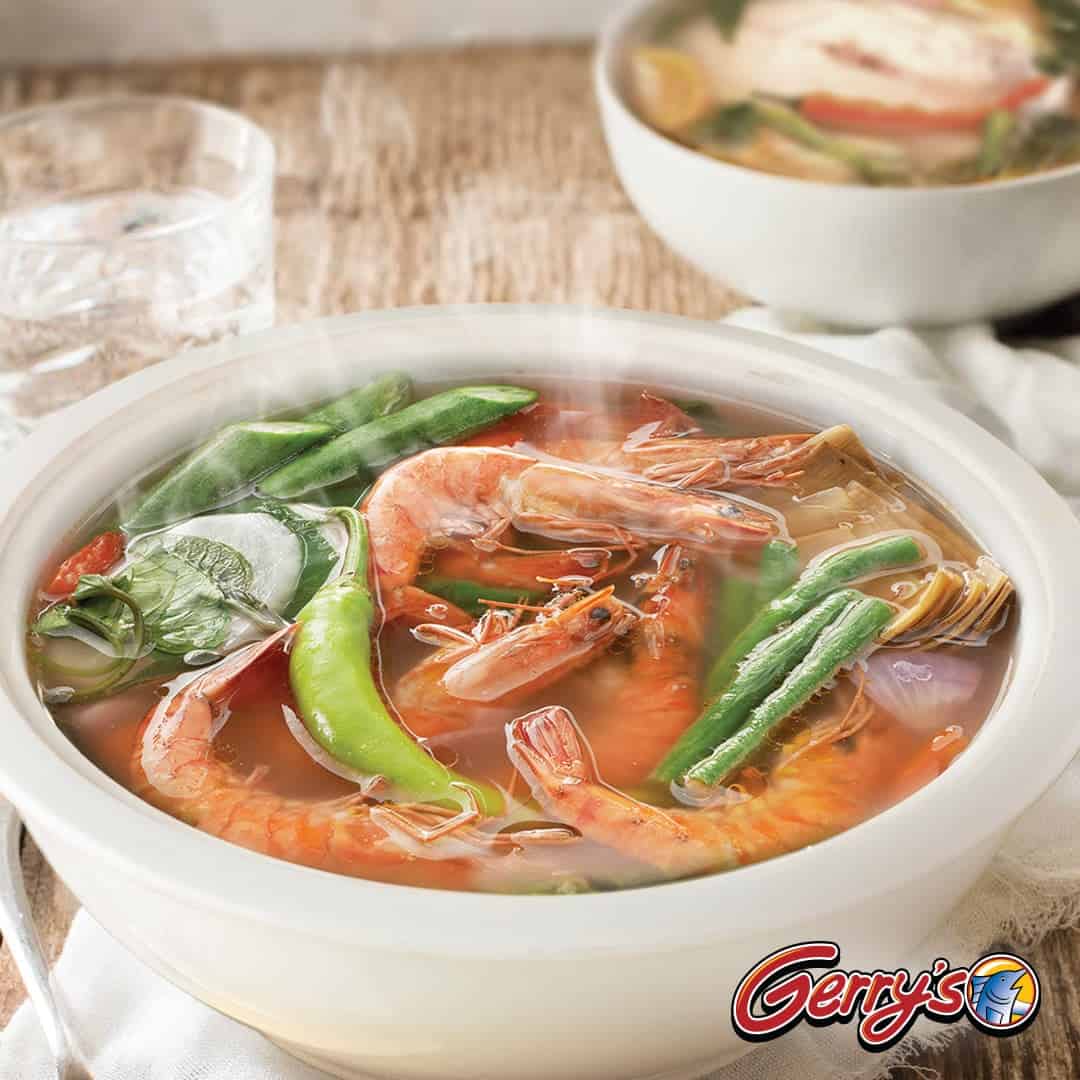 Photo Credit: Grerry's Grill FB Page
Package 1
Sinigang na bangus
Sugba Kilaw
Crispy Pata
Pinakbet
Inihaw na Pusit
Steamed Rice
Gerry's Iced Tea/Soda
Buko Pandan
Package 2
Sinigang na Hipon
Inihaw na Tuna Belly
Inihaw na Pusit
Chopsuey
Bangus Ala Pobre
Steamed Rice
Gerry's Iced Tea/Soda
Leche Flan
Package 3
Sinigang na Baboy
Pork Sisig
Spicy Garlic Fried Chicken
Pinakbet
Sizzling Gambas
Steamed Rice
Gerry's Iced Tea/Soda
Leche Flan
Package 4
Sinigang na Bangus
Sizzling Gambas
Lechon Kawali
Itlog maalat Enselada
Inihaw na Pusit
Steamed Rice
Gerry's Iced Tea/Soda
Buko Pandan
Package 5
Sinigang na Hipon
Sisig Kilaw
Crispy Pata
Chopsuey
Bangus Ala Pobre
Steamed Rice
Gerry's Iced Tea/Soda
Buko Pandan
Package 6
Nilagang Bulalo
Inihaw na Liempo
Beef Kaldereta
Inihaw na pusit
Pork Sisig
Steamed Rice
Gerry's Iced Tea/Soda
Leche Flan
Order at Gerry's Grill Online
You can now order your favorite Filipino dish and pulutan online, thank Goodness Gerry's Restaurant and Bar has this feature to solve your misery about your Filipino food cravings.
All you have to do is simply go to their website at gerrysgrill.com or you can call their delivery hotline at 8332-1111. Take note that their delivery hotline is not available nationwide since it is only available for selected locations.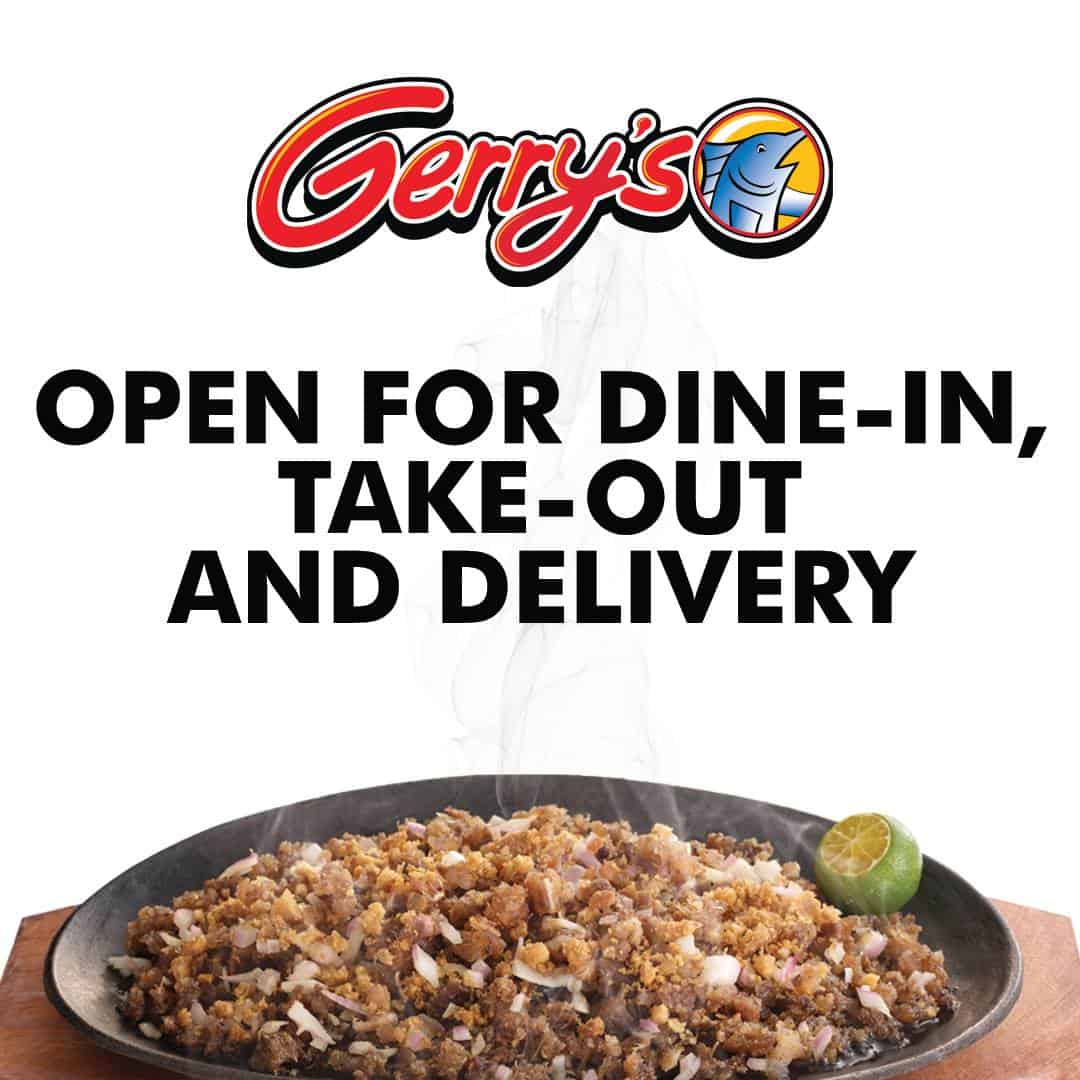 Photo Credit: Grerry's Grill FB Page
Another site that you can use to contact and order at Gerry's Grill online is the gerrysdelivery.com
You can also use some third-party food delivery services like Food Panda and Grab Food.
Talk to Gerry's Restaurant and Bar Staff
In case you have opinions and concerns about them, you can simply go to their website and then click the top left corner of your screen, choosing the three-layer options, and selecting contact us. Otherwise, you can also talk to them via social media.
Facebook Page: https://www.facebook.com/gerrysgrill.com.ph/
Instagram: https://www.instagram.com/gerrysrestaurant/
Conclusion
After we tackled everything that we needed to know about this restaurant we can easily consider them a perfect place to hang out whether you just wanted to eat out with the family or have a drink with colleagues and friends. Their selections of food are really satisfying for Filipino food lovers and for some that are willing to try our cuisine. A lovely, cozy, and welcoming atmosphere inside their restaurant and also clean and safe. The crews are polite and professional as well and they will surely make you feel that you are very welcome. Overall two thumbs up and highly recommend it to everyone. Kudos to this restaurant.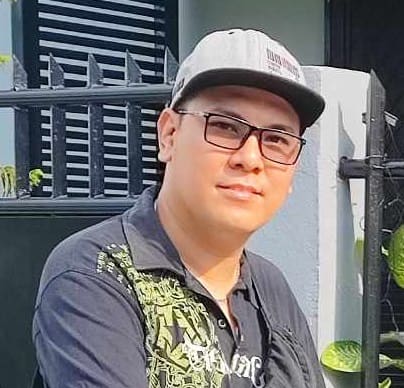 Hi! I'm Nivek Strife, the person who made MenuPH. I'm the one who added most of the popular menus you see on this website, and I really hope you enjoy them! Feel free to check them all out.
Growing up, I was surrounded by lots of tasty foods, like the classic Adobo and the sweet Leche Flan. That love for the many flavors of the Philippines is what got me excited about adding to MenuPH. When I learned how to make websites, I saw the need for a place to show off all the amazing Filipino dishes, and that's how MenuPH started.
MenuPH isn't just a website; it's like a fun journey into food. I've teamed up with famous chefs and found great places all over the Philippines to bring you a bunch of menus that show off the best of Filipino cuisine. Whether you're into the usual dishes or new twists, MenuPH is here to guide you through the rich world of Filipino flavors.
With MenuPH, my aim is to help local businesses, talk about good food choices, and make a group of friends who love food. No matter if you like fancy restaurants or street food, MenuPH has something for you. Come join me on this food adventure as we find great places, taste real flavors, and enjoy the unique food traditions that make the Philippines awesome.