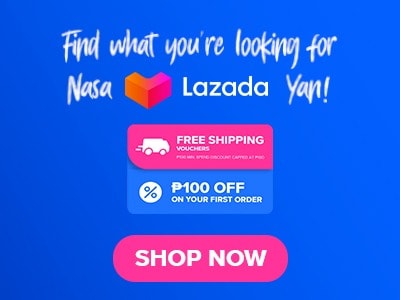 Have you ever tried gyoza? I am sure a lot of people are already familiar with this dish, especially those people who are into Japanese cuisine. If you're not yet familiar with these iconic hearty bites of Japan, this article will help you out as we discover the heart of Japan in this flavorful bite of gyoza. Hello! We are back today to introduce the hearty gyoza of Suki Gyouza! This establishment offers your favorite and authentic gyoza. Come and join me on this ride to Japanese flavor with their menu collection.
Below, you'll find the updated list of Suki Gyouza menu prices.
Menu Items
Price (PHP)

Gyoza

12 Pcs Gyoza
215
6 Pcs Gyoza
135
4 Pcs Gyoza
105

Extra Rice

Batta Rice
60

Rice Meals

6 Pcs Gyoza with Buttered Rice
165
4 Pcs Gyoza with Buttered Rice
135

Mains

Frozen Pack
420

Extra Sauce

Sauce
8
About Suki Gyouza
Suki Gyouza is a restaurant that specializes in this iconic hearty dumpling of Japan which is known as Gyoza. It is a very popular dish in Japan that is well-loved not just by the Japanese but by all of the people from foreign countries. Indeed the goodness of this Japanese dish is worthy of world recognition as it highlights mouthwatering goodness and outstanding qualities. What I love about their classic take on Gyoza is that it is not just flavorful but the delightful crunch that will meet you in every bite is already evident that they take their version of Gyoza to a level that everyone will surely love. So ready to embark on Japanese culinary adventures as venture this flavourful gyoza at Suki Gyouza, your next go-to destination for your Gyoza cravings.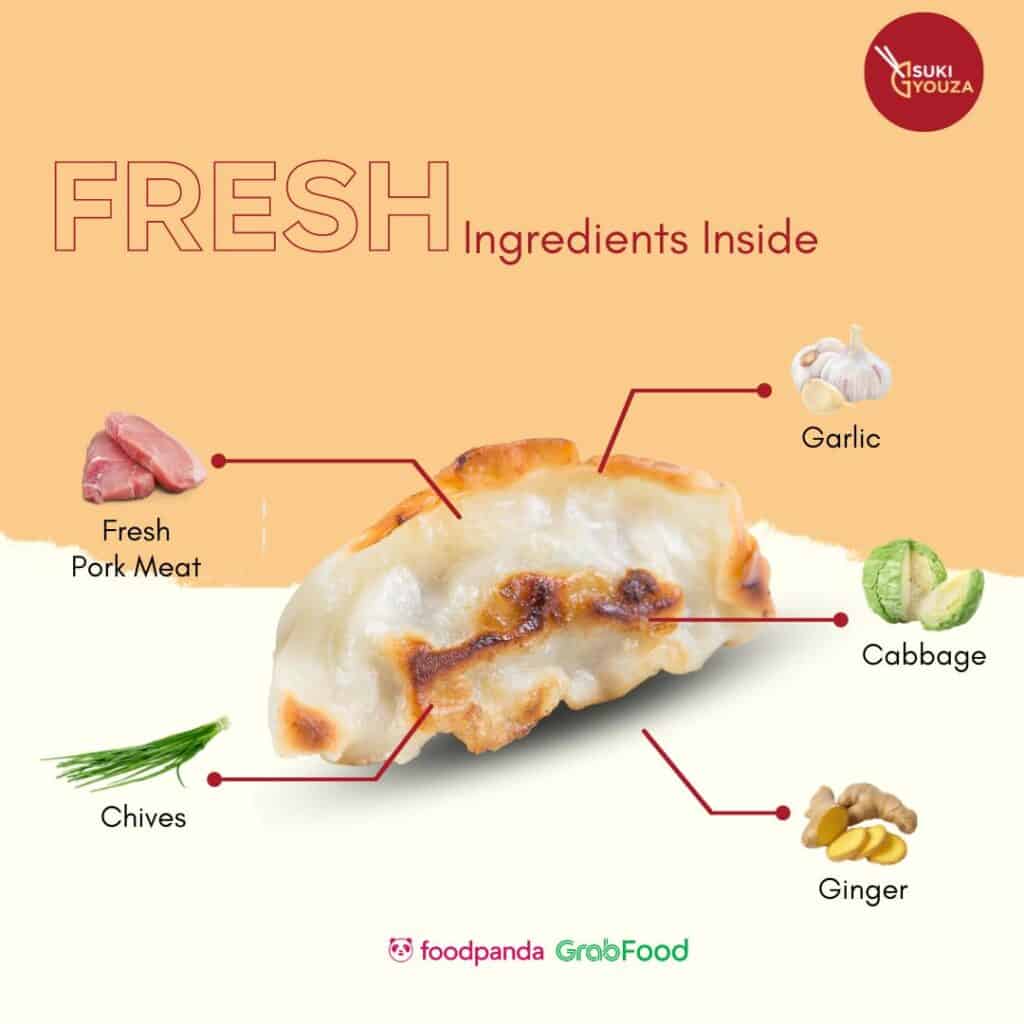 Suki Gyouza Menu Best Sellers
Join me to savor the crunch and the flavorful bite of Suki Gyouza's take on your favorite gyoza, experience an irresistible goodness that will surely hit the spot with their classic gyoza that is served in various pieces of the box along with their iconic rice and delicious sauce.
12 Pcs Gyoza – Let us dive into the world of delightful gyoza that offers tantalizing masterpieces with this 12 pcs gyoza that features a perfectly crispy exterior perfect for barkada dining or family dining, a true gem on the table that you will all surely love.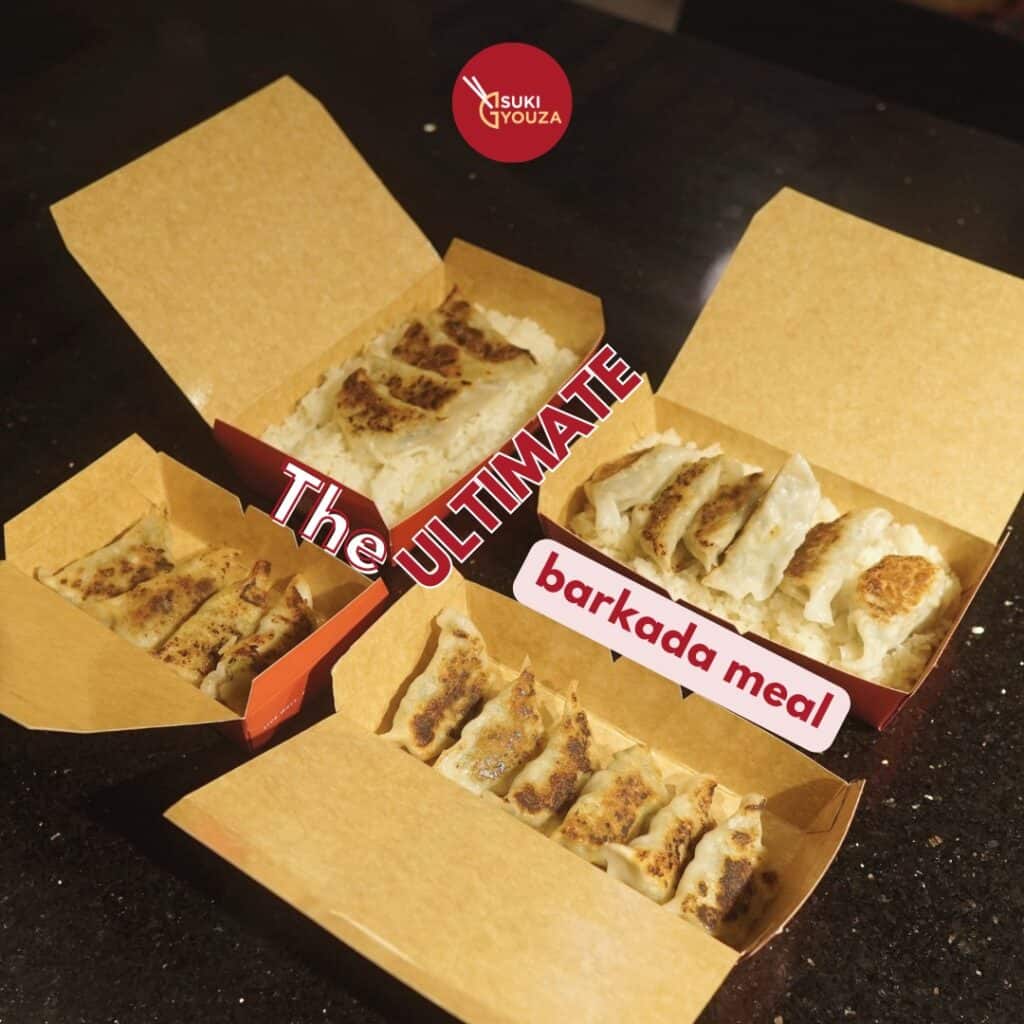 6 Pcs Gyoza – For those who are craving gyoza perfection, this 6 pieces of gyoza is perfect for your meal if 4 pieces feel like it won't suffice the entire meal. It offers you a pleasurable bite that you will definitely love and the burst of umami flavor is definitely to die for.
4 Pcs Gyoza – Sometimes 4 pieces of gyoza are perfectly enough for your meal, that is why you have this selection which offers 4 pieces of flavorful bite of their iconic gyoza perfect for an enticing lunch, you can partner this with their iconic sauce or with buttered rice that will surely hit the spot.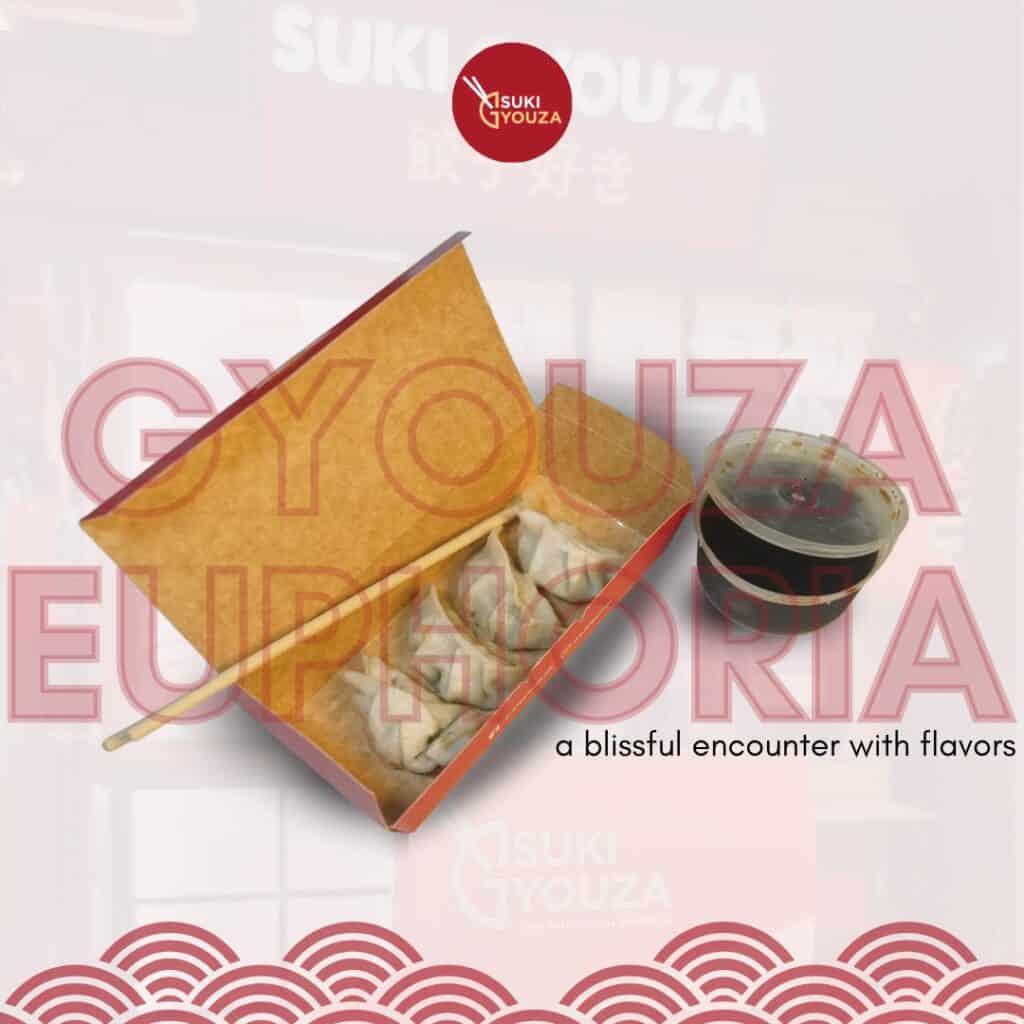 Batta Rice – Nothing can be as perfect but Batta Rice with a feast for gyoza, it is s partner accompaniment with your favorite gyoza. This rice menu of Suki Gyouza offers you an aroma with a fragrance that will surely entice you to indulge deeper in your meal. It offers a fluffy texture too that awaits you to be adorned. A true masterpiece from Suki Gyouza!
4 Pcs Gyoza with Buttered Rice – Let us take that gyoza experience to a higher level with these 4 pieces of gyoza that are perfectly accompanied by buttered rice. It is a harmonious plate that waits for you in this item which features a 4 heavenly bites of gyoza along with a touch of heaven-buttered rice, you will surely fall in love with this combo just like what it did to me.
6 Pcs Gyoza with Buttered Rice – For an extra satisfying meal, you surely don't want to miss the goodness of these 6 pieces of Gyoza partnered with aromatic buttered rice, a meal filled with love and the best flavor of Japan is here and waiting for you to be indulged.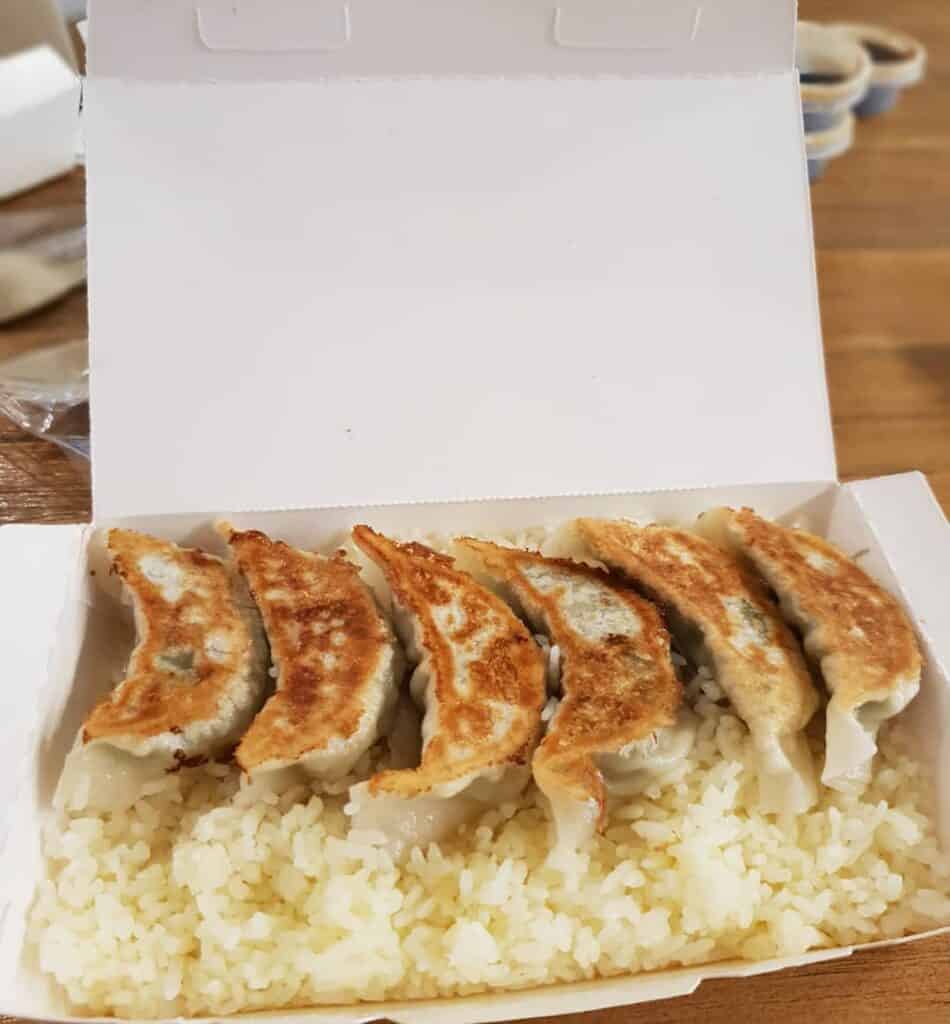 Frozen Pack – Take a flavorful leap at this heavenly gyoza that re now available in frozen packs, this pack contains 30 pieces of gyoza that are ready to cook, it features expertly crafted gyoza that are perfectly preserved with its flavors and the authentic flavor of Japan that you will definitely love.
Suki Gyouza Menu Delivery
Suki Gyouza offers a delivery service through third-party delivery channels. You can easily have your favorite gyoza meal right at your home and have it delivered smoothly to your front door. They are available at FoodPanda and Grabfood Ph. I recommend FoodPAnda for a much faster transaction and hassle-free service. However, you can order fat GrabFood PH if you are living in long-distance areas. treat yourself to something nice and crunchy with these lovely delights from Suki Gyouza!
Social Media Pages
Be the first to know about their special gyoza promotions and discounts. By following them, you'll stay in the loop about limited-time offers and events.
Facebook: https://www.facebook.com/sukigyouza.ph
Instagram: https://www.instagram.com/sukigyouza.ph
TikTok: https://www.tiktok.com/@sukigyouza.ph
Website: https://www.sukigyouza.com/contact
FAQs
What type of cuisine does the Suki Gyouza offer?
Suki Gyouza offers a delightful gyoza that is available in various pieces and boxes along with their available gyoza with buttered rice meals.
What is Suki Gyouza known for?
Suki Gyouza, just as it stands by its name, is a restaurant that is famous for its authentic flavor of Gyoza.
What are the operating hours of Suki Gyouza?
It has various operating hours which depend on every store location, you can check their official website. It entails all of their locations along with the operating hours of the specific branches.
Where is the Suki Gyouza located in the Philippines?
If you are planning to take a visit to this store you can first take a look at this link which entails all of the Suki Gyouza branches available in different areas of the Philippines.
Link: https://www.sukigyouza.com/locations/
Conclusion
In conclusion, Suki Gyouza is definitely something you can truly recommend to our friends, it is perfect after a meal, after work, or after your tiring day at school. It is more like a delicious treat after a very productive day. You will surely love the quality of gyoza they offer as well as their flavorful buttered rice that can be accompanied by your favorite gyoza, I love that they also offer their frozen packs which are great options if you want to have gyoza stock at your home so you can easily indulge with this flavorful gyoza at the utmost comfort of your home, Indeed, this food chain is worthy to be recognized by more people and I am recommending this restaurant if you want to indulge in the finest gyoza bites of Japan.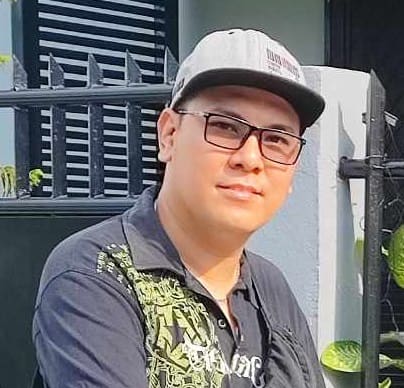 Hi! I'm Nivek Strife, the person who made MenuPH. I'm the one who added most of the popular menus you see on this website, and I really hope you enjoy them! Feel free to check them all out.
Growing up, I was surrounded by lots of tasty foods, like the classic Adobo and the sweet Leche Flan. That love for the many flavors of the Philippines is what got me excited about adding to MenuPH. When I learned how to make websites, I saw the need for a place to show off all the amazing Filipino dishes, and that's how MenuPH started.
MenuPH isn't just a website; it's like a fun journey into food. I've teamed up with famous chefs and found great places all over the Philippines to bring you a bunch of menus that show off the best of Filipino cuisine. Whether you're into the usual dishes or new twists, MenuPH is here to guide you through the rich world of Filipino flavors.
With MenuPH, my aim is to help local businesses, talk about good food choices, and make a group of friends who love food. No matter if you like fancy restaurants or street food, MenuPH has something for you. Come join me on this food adventure as we find great places, taste real flavors, and enjoy the unique food traditions that make the Philippines awesome.