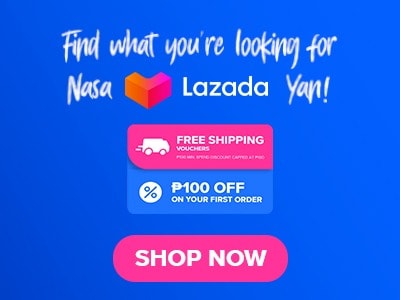 Since the pandemic period is somehow over and a lot of people are now going outside again restaurants are again packed with customers. If you're looking for a great place to go with your family I have a recommendation for you. Have you heard about Mad Cafe? They offer a variety of mouthwatering menu that will surely satisfy your appetite and fill your hunger. They have a lot of delicious offerings for you to try plus this place is somehow affordable so it's safe for those who are considering the price of the place before going. In this article we are going to get to know this restaurant more, their foods, prices, and things that you must know about them.
Below, you'll find the updated list of Mad Cafe menu prices.
Menu Items
Price (PHP)

Starters

Cheese Sticks
159
Onion Rings
159
Cheesy Fries Overload
199
Calamares
199
Cheesy Nachos Overload
199

Salad

Mad Salad
149
Kani & Mango Salad
169

Sandwiches

Clubhouse Sandwich
169
Classic Beef Burger
189
Crispy Chicken Sandwich
189
Cheesesteak Tapa Sandwich
199

Pasta

Creamy Carbonara
189
Chili Sardines Pasta
219
Meaty Spaghetti
189
Chicken Pesto Pasta
219
Cajun Chicken Pasta
219

Mad Wings (6pcs/12pcs)

Garlic Parmesan
199/349
Mango Habanero
199/349
Honey Garlic
199/349
Classic Bbq
199/349
Honey Sriracha
199/349

Filipino Favorites

Classic Tapsilog
199
Daing Na Bangus
219
Kare Kare
229
Beef Sinigang
239
Pares With Bone Marrow
299

Rice Bowls

Crispy Pork Sisig
229
Crispy Binagoongan
199
Bicol Express
199

Sizzling Series

Burger Steak
299
Sizzling Bulalo
399
Rib Eye Steak
399

Cakes & Pastries

Chocolate Cake
169
Red Velvet
169
Blueberry Cheesecake
189
Classic Ensaymada
149
Ube Ensaymada
149
Cinnamon Ensaymada
149

Fruit Tea With Yakult (Regular/Large)

Classic
99/109
Lychee
99/109
Strawberry
99/109
Blueberry
99/109
Green Apple
99/109
Mango
99/109
Lemon
99/109

Milk Tea Madness (Regular/Large)

Wintermelon Snow
109/129
Cocoa Snow
109/129
Matcha Snow
109/129
Cookie Dough
129/149
Cheesecake
129/149
Oreo Cheesecake
129/149
Strawberry Oreo
129/149

Milk Series (Regular/Large)

Chocolate
109/119
Matcha Latte
129/149
Pink Milk
109/119

Mad Coffee (Hot/Regular Iced/Large Iced)

Espresso Shot
99/—/—
Cafe Americano
99/129/149
Cappuccino
109/—/—
Cafe Latte
109/129/149
Cafe Mocha
109/149/169
Caramel Macchiato
109/149/189
Salted Caramel Latte
—/149/189
Oreo Espresso
139/169/189
Matcha Espresso
109/149/189

Frappe Delights (Regular/Large)

Choco Fudge
149/169
Java Chip
149/169
Oreo
149/169
Matcha
149/169
Strawberry Cream
149/169
About Mad Cafe
Mad Cafe is a place to go for everyone they aim to be the people's cafe encouraging families to spend time together. Everyone is welcome without the fear of being judged. The pandemic made them realize that family should stick together and grow together as one through good times and difficult days of their lives. This realization made them improve their services and products by simply redefining on how families should spend their hard-earned money and quality time together through their establishment while giving them great customer service and quality food products.
They also conducted professional development for their team members and employees to build customer relations. They are also the first homegrown cafe that successfully implemented their unique business model, they are also a safe place that encourages strong relationships for the family and also becomes a haven for kids to feel loved. Mad Cafe is not just your ordinary restaurant, every visit feels like visiting your family.
Mad Cafe Menu Best Sellers
Here on the list below are sample items of Mad Cafe's best sellers.
Creme Brulee Milk Tea – The Creme Brulee Milktea version of Mad Cafe is a Brown Sugar Milktea reinvented, it has a creamy base with rock salt, black tea, and cheese. It also has torched brown sugar on top just like creme brulee. The level of deliciousness in this drink is on a higher level.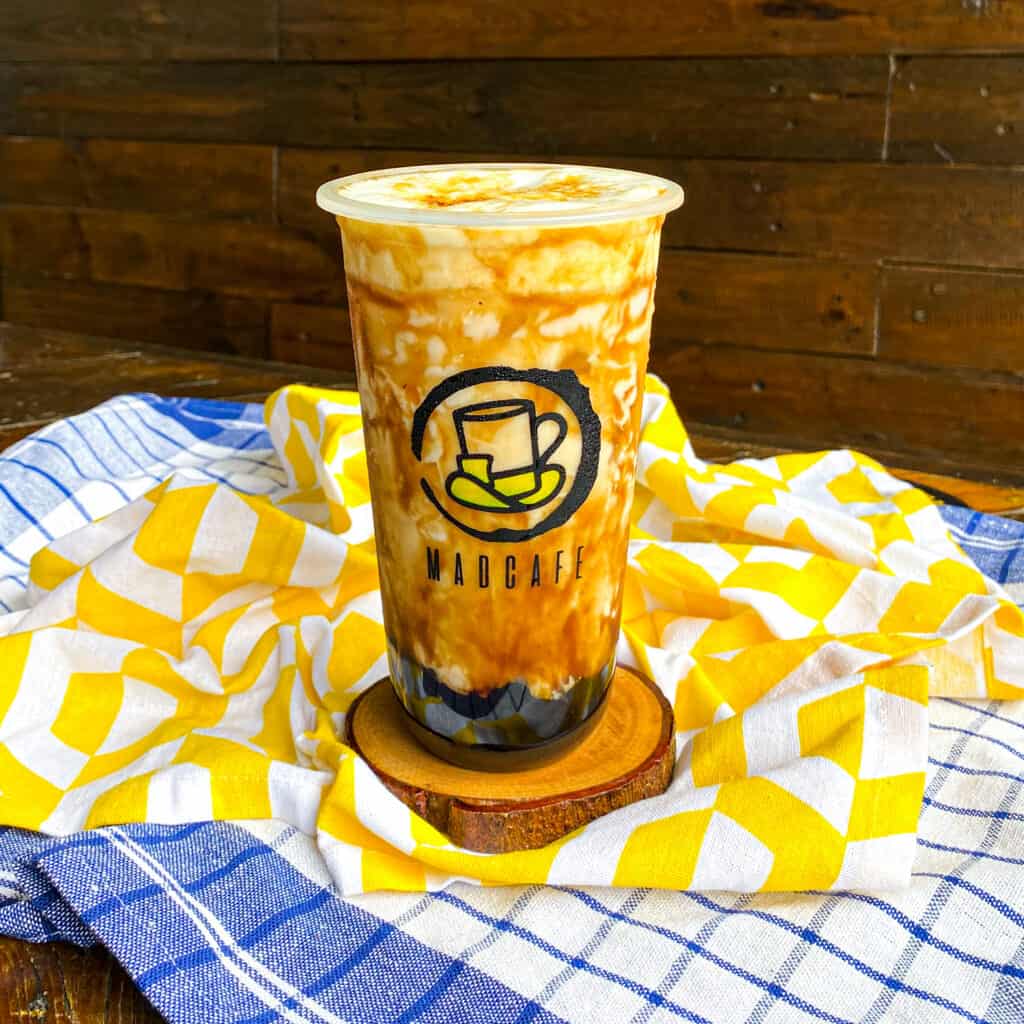 If you're into cheesy flavored drinks or creamy drinks then this is the perfect choice for you to try, this is also one of their best sellers. This drink has that just right sweetness in every sip, really creamy it's like a dessert drink to be honest. This is also what I usually order whenever I have the chance to. Very delicious and a must-try.
Cheese Sticks – The Mad Cafe version of cheese sticks menu is made for cheese lovers. This is made with cheese sticks that they coated with their special batter before cooking it deep fried until crispy and served with mayo. This one tastes so good, I used to have this along with their clubhouse sandwich or with their classic beef burger. Really good and not messy to eat. Not too salty but has a strong cheese flavor. Also included on the best-selling items on their menu and definitely a must-try.
Classic Beef Burger – The classic beef burger version of Mad Cafe is made from a grilled beef patty and then assembled into a soft bun with lettuce some sliced tomatoes, ketchup, mayo and to make it even more delicious, cheese sauce. The beef patty is really meaty and has that grilled flavor making it more delicious.
The vegetables used in making the classic beef burger are fresh, also the cheese sauce really compliments the beef patty, this is the definition of a good burger. Also included on their best sellers list and also a must try especially for those who love burgers just like me.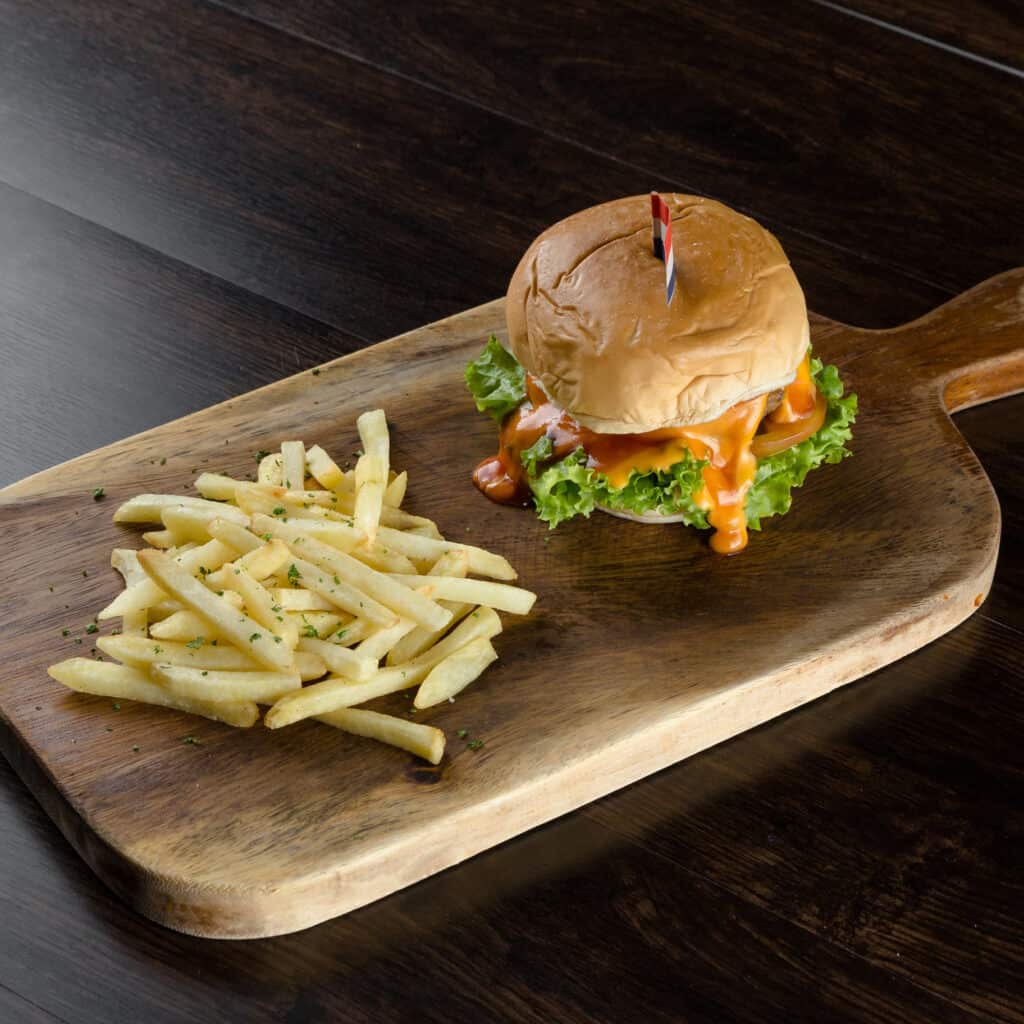 Creamy Carbonara – Creamy carbonara version of Mad Cafe menu is a creamy pasta dish in white sauce that they sauteed with some onions, mushrooms, and bacon. This one taste really good and the noodle on their creamy carbonara is impressively al dente. I like the texture and the flavors that are combined in this dish.
Though I am a red sauce pasta person this dish clearly gives another definition of a white sauce pasta dish for me. It has a strong bacony flavor plus the mushrooms go really well with it. This dish is also included in their best sellers and I highly recommend you guys to try this one if you are looking for a great pasta.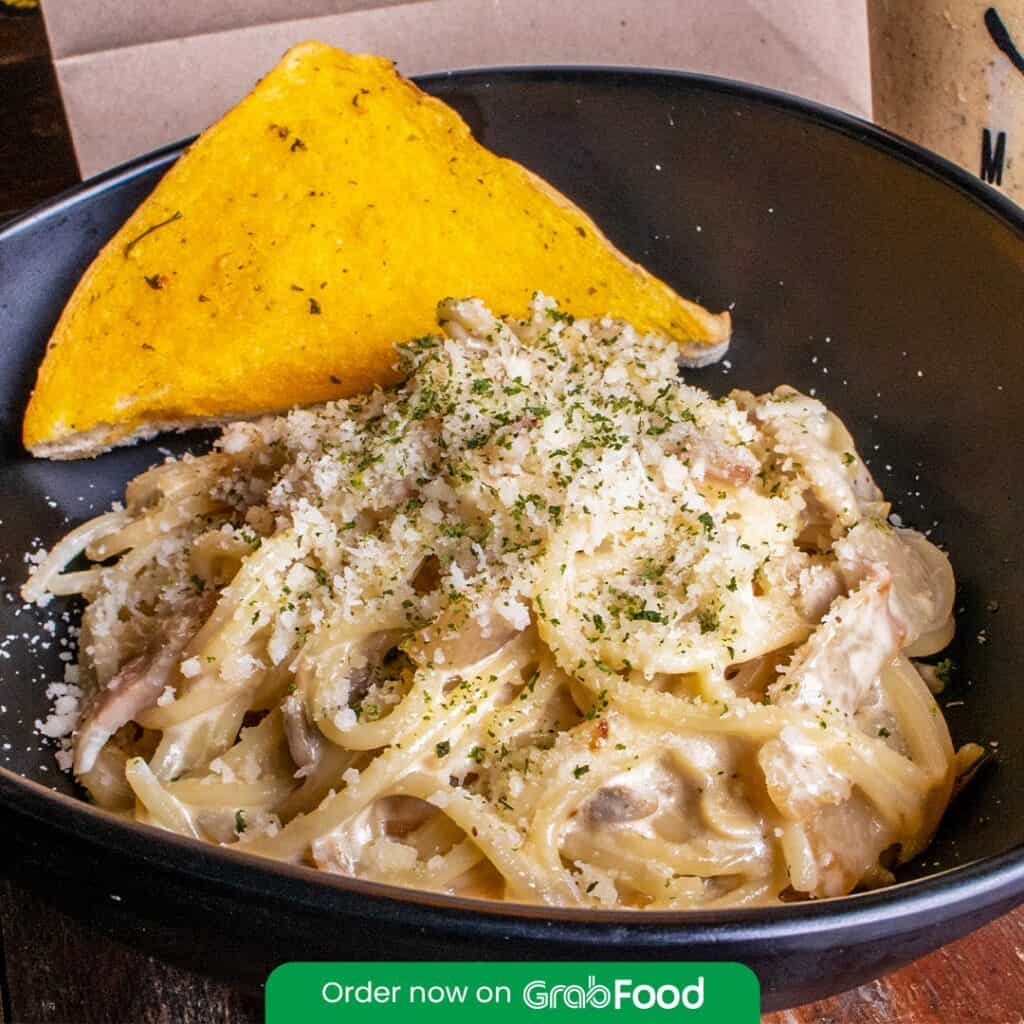 Rice Bowls
Mad Cafe's rice bowl menu consists of 3 hearty Filipino dishes which are actually Pinoy's favorite and quite popular in our country. The first item is their crispy pork sisig. This is made from a chopped pork belly with lots of onions, soy sauce, calamansi, and chili peppers then topped with white rice and a sunny-side-up egg.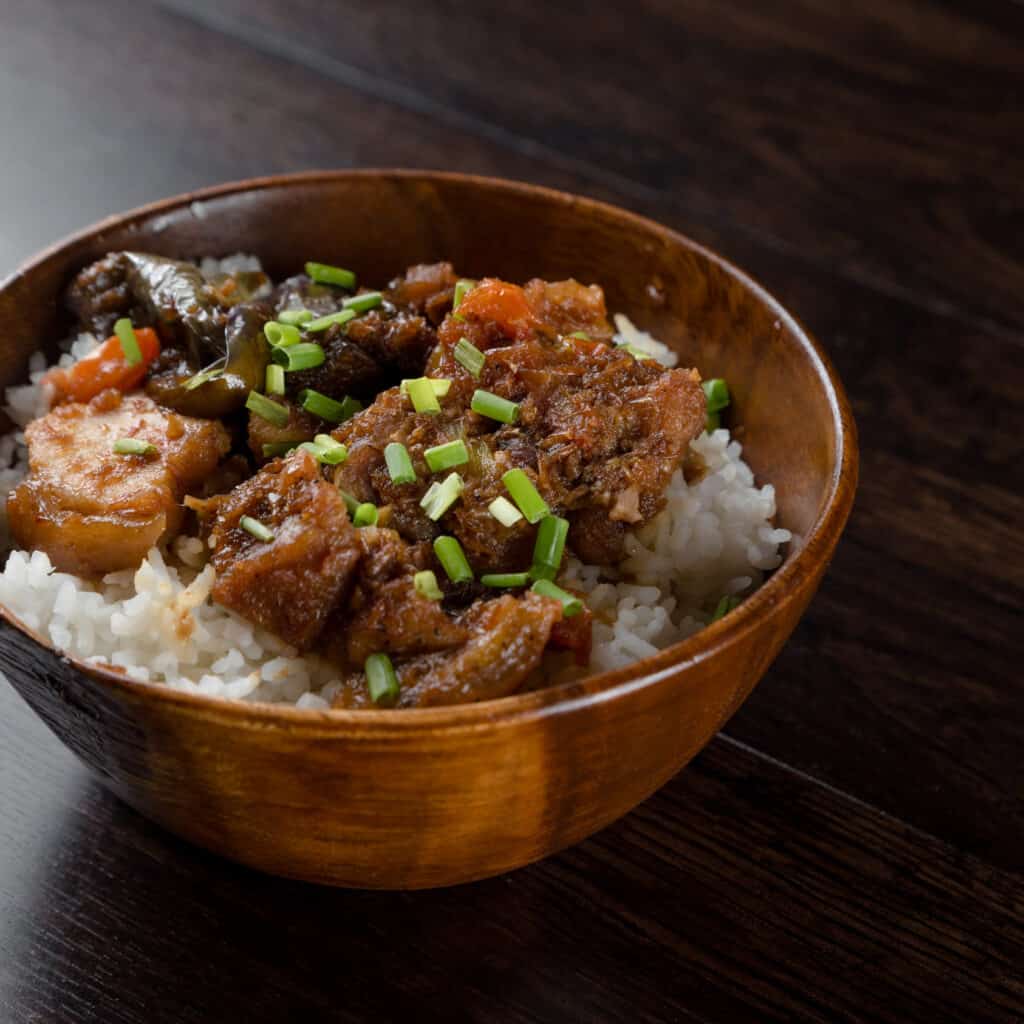 They also have crispy binagoongan, this one is made from pork that they sauteed on a shrimp paste and then topped over white rice with fried eggplants. Last but not least is their Bicol Express. This one is made from pork strips that they cooked with shrimp paste and chili peppers in coconut milk and then served on top of white rice.
Sandwiches
Mad Cafe's sandwich menu has 4 delicious options. The first item on this menu is their clubhouse sandwich, this one is made from lettuce, egg, tomatoes, cheese, and ham. They also have a classic beef burger, this one is made from a grilled beef patty with lettuce, tomato, mayonnaise, some cheese sauce, and ketchup. This is my personal favorite among all the items on their menu.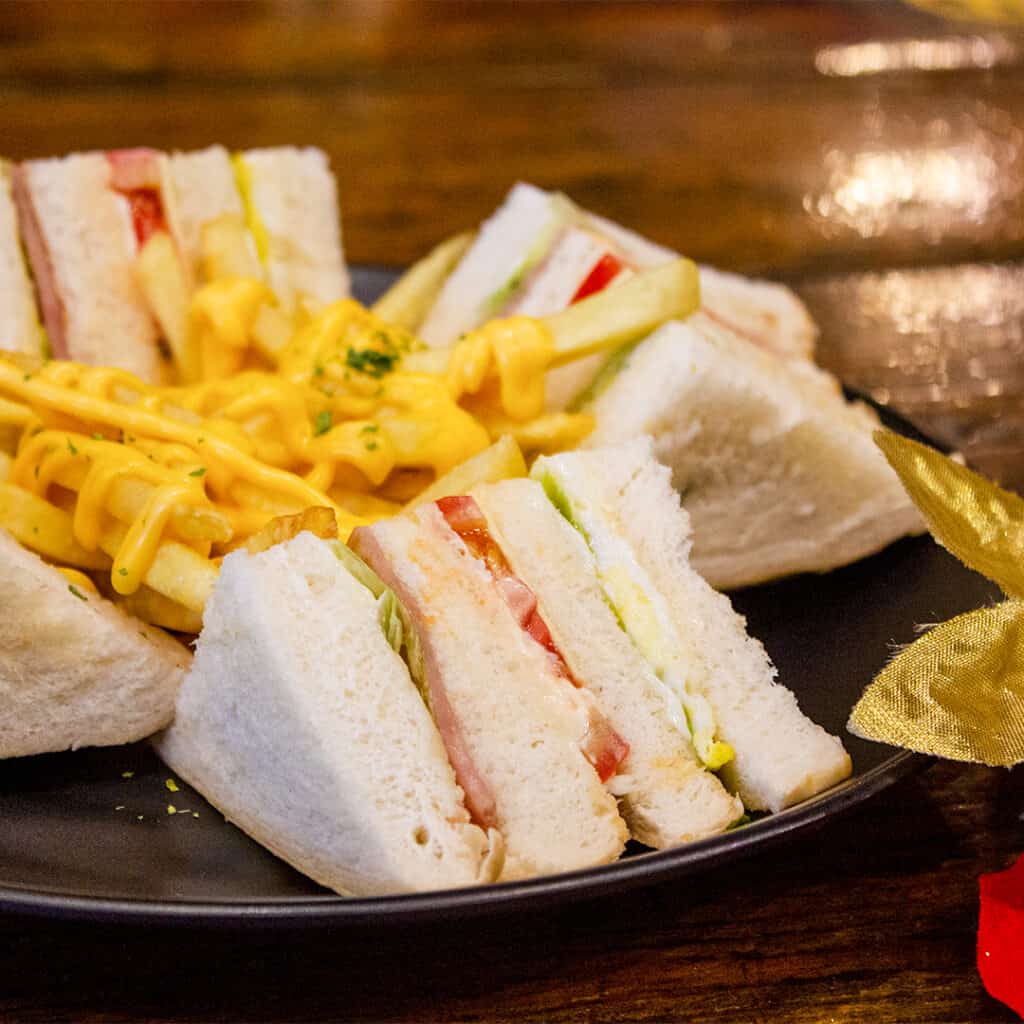 Another great option on their sandwich menu is their crispy chicken sandwich. This one is made from deep-fried chicken breast with lettuce and tomato. This is also served with garlic mayo or BBQ sauce depending on your preference. Lastly, their cheesesteak tapa sandwich, this one is basically just like the classic Philly cheesesteak but with a Filipino twist. This is a marinated beef strips that they seared until properly cooked and then topped with cheese sauce, this one is also a must-try.
Mad Cafe Menu Delivery
Missing Mad Cafe's food items? No worries they are now accepting online orders. All you have to do is to message them on their messenger account aside from that you can also use third-party delivery services like Foodpanda grabfoods and other courier that is available in your location.
Social Media Pages
Ready to add a dash of madness to your social media feed? Follow Mad Cafe's social media pages and embark on a gastronomic adventure with us. Share your Mad Cafe moments for a chance to win exclusive treats, because at Mad Cafe, every photo is a work of art.
Facebook: https://www.facebook.com/madcafeph
Instagram: https://www.instagram.com/madcafeph
TikTok: https://www.tiktok.com/@madcafeph
Website: https://madcafeph.com/contact-us
FAQs
Where is Mad Cafe located?
Mad Cafe is located at 19 Congressional Avenue, Quezon City.
What is the contact number of Mad Cafe and how to contact them?
Mad Cafe's contact number is +63281234567 or +639171234567. You can also reach them through Email address at [email protected]
What are Mad Cafe's business hours?
It depends on the location. Some of their branches are open from 11:00 in the morning until 9:00 in the evening and others are open from 10:00 in the morning until 9:00 in the evening.
Is Mad Cafe halal certified?
No. Mad Cafe is not a halal-certified place since they use ingredients that are not suitable for our Muslim friends or haram based on their traditions and beliefs.
Who is the owner of Mad Cafe?
Ms. Gila Salvador is the owner of Mad Cafe.
Conclusion
One of the best places to go if you're looking for a nice place to chill, relax, and enjoy the foods with your barkada and loved ones. The Mad Cafe menu has a lot of choices of great options that will surely satisfy your cravings and will make you full. This is not an expensive restaurant they offer affordable dishes with great taste and quality. Mad Cafe's service personnel are nice and fast to serve and that's one of the best things why I love this place. Cozy place and clean. Highly recommended for every foodie out there who loves to try different variety of dishes.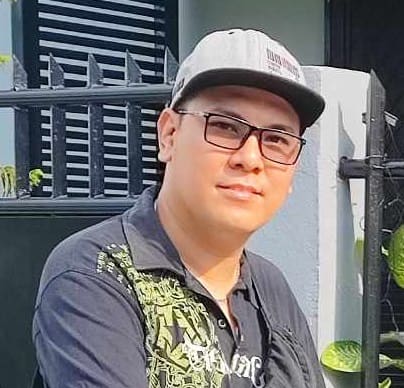 Hi! I'm Nivek Strife, the person who made MenuPH. I'm the one who added most of the popular menus you see on this website, and I really hope you enjoy them! Feel free to check them all out.
Growing up, I was surrounded by lots of tasty foods, like the classic Adobo and the sweet Leche Flan. That love for the many flavors of the Philippines is what got me excited about adding to MenuPH. When I learned how to make websites, I saw the need for a place to show off all the amazing Filipino dishes, and that's how MenuPH started.
MenuPH isn't just a website; it's like a fun journey into food. I've teamed up with famous chefs and found great places all over the Philippines to bring you a bunch of menus that show off the best of Filipino cuisine. Whether you're into the usual dishes or new twists, MenuPH is here to guide you through the rich world of Filipino flavors.
With MenuPH, my aim is to help local businesses, talk about good food choices, and make a group of friends who love food. No matter if you like fancy restaurants or street food, MenuPH has something for you. Come join me on this food adventure as we find great places, taste real flavors, and enjoy the unique food traditions that make the Philippines awesome.