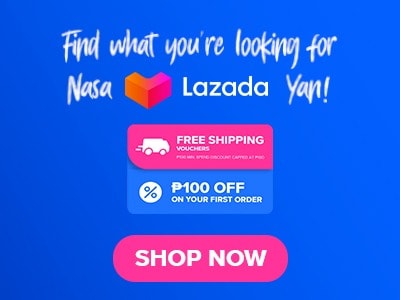 There is nothing more relaxing than being in a comfortable and neat environment while having a cup of tea. Angkan Coffee is a coffee shop in the Philippines that provides customers with both of these. This place offers a variety of coffee items and a pastry menu to pair with. Each item that is part of Angkan Coffee's menu, be it their signature items, their coffees, or other items such as pastries and other beverages, can expect that they are made with high-quality ingredients and prepared with passion and expertise.
Below, you'll find the updated list of Angkan Coffee menu prices.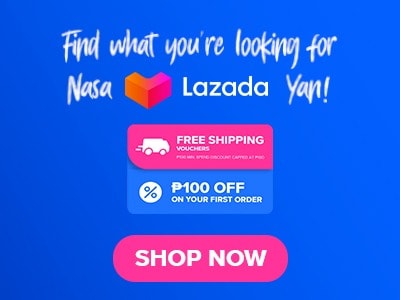 Menu Items
Price (PHP)

Espresso Based

Americano - Blend
132
Café Latte - Blend
178
Spanish Latte - Blend
201
Café Mocha - Blend
219
Salted Caramel - Single Origin
252
Salted Caramel - Blend
228

Espresso Based

Americano - Single Origin
155
Café Latte - Single Origin
201
Spanish Latte - Single Origin
224
Café Mocha - Single Origin
242

Other Drinks

Orange Juice Espresso
173
Orange Pomegranate Ade
173
Bottled Water
75
Kalamansi - Iced
192
Kalamansi - Hot
180

Pastries

HAM & CHEESE CROISSANT
197
BANANA CAKE WITH WALNUTS
115
DARK CHOCOLATE SALTED OATMEAL COOKIE
161
KOUIGN AMANN
175
CLASSIC UBE BAR
96
CHUNKY CHOCNUT COOKIE
180

Merchandise

Icicle Cold Brewer
2300
Hydro Flask
2645
Canister
3220
About Angkan Coffee
Angkan Coffee is a coffee shop with multiple branches in the Philippines including The Podium located in Mandaluyong and Bonifacio Global City in Taguig. Its menu features a range of specialty coffee drinks that could be paired up with its different pastries and light snack offerings. The coffee shop focuses on promoting local coffee beans and aspires to provide top-notch coffee drinks paired with a cozy and relaxing environment and polite service to create a cozy and relaxing environment and unforgettable experiences for customers.
Angkan Coffee Menu Best Seller
The menu is full of Angkan Coffee's most popular items, which are the things most people like to buy from the shop. These are the best-selling choices.
Ham and Cheese Croissant – Angkan Coffee's ham and cheese croissant menu is an enjoyable treat that combines the richness of ham and the gooeyness of melted cheese within a perfectly flaky croissant that pairs well with all of their coffee offerings.
Koihn Amann – This pastry is expertly baked to achieve a perfect balance between crispy and tender, and its caramelized sugar topping adds a sweet and slightly crunchy element that enhances the overall taste.
Chunky Chocnut Cookie – The combination of the rich, chocolatey flavors and the nutty goodness of Chocnut in this dish creates a unique and nostalgic taste experience. Each bite reveals chunks of Chocnut embedded within a soft and chewy cookie dough, providing a satisfying texture and a burst of chocolatey goodness.
Americano – Single Origin – Angkan Coffee takes pride in offering a Single Origin Americano, showcasing the distinct flavors of coffee sourced from specific regions or farms that ensure every cup of Americano has its unique characteristics and flavor profile.
Spanish Latte – Single Origin – Angkan Coffee's Spanish Latte, created with a single-origin espresso, brings together the rich and bold flavors of coffee with the creamy sweetness of condensed milk.
Angkan Coffee Espresso Based Menu
This menu is made up of a wide variety of espresso-based beverages that are sure to satisfy every coffee lover.
Americano – Blend – This Americano is made Angkan Coffee's signature blend and offers a delightful and straightforward coffee experience. The blend is carefully created to deliver a balanced and robust flavor profile that is perfect for those who are looking for a strong coffee drink.
Café Latte – Blend – The combination of espresso and milk in this beverage creates the perfect balance of flavors, with the sweetness of the milk beautifully complementing the boldness of the coffee making it a go-to choice for those looking for a balanced and satisfying coffee drink.
Spanish Latte – Blend – The blend used in this beverage is designed to enhance the sweet and creamy notes, while the espresso shot provides a robust and aromatic foundation to create a luscious and decadent drink that is perfect for those with a sweet tooth.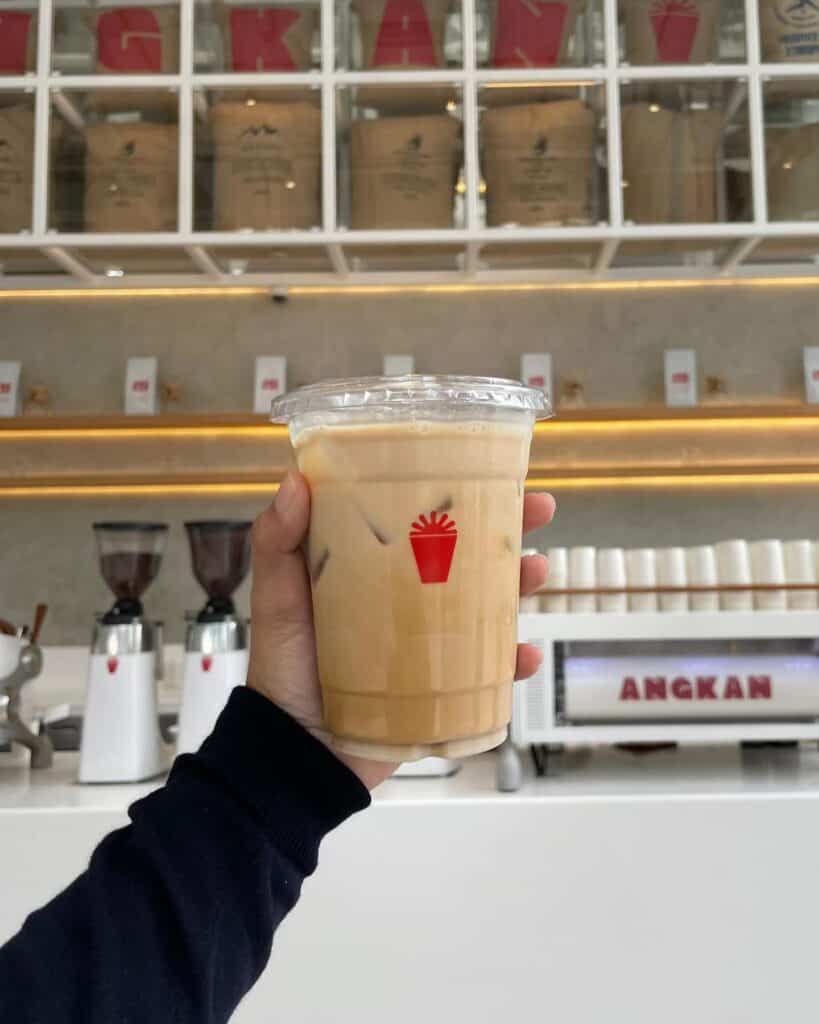 Angkan Coffee Menu Pastries
This menu is filled with a wide selection of pastry items that would make a great complementary item to their coffee items.
Banana Cake with Walnuts – This cake is a perfect balance of softness and texture, with each bite offering a burst of delightful flavors. The ripe bananas used in the cake lend a natural sweetness and moistness, while the walnuts add a delightful nutty flavor and a satisfying crunch.
Dark Chocolate Salted Oatmeal Cookie – This cookie combines the rich and indulgent flavors of dark chocolate with the wholesome goodness of oatmeal. The cookie has a soft and chewy texture, with a delightful balance of sweetness and a hint of saltiness while the dark chocolate chips throughout the cookie provide a burst of intense chocolate flavor,
Classic Ube Bar – This bar is made with a rich and velvety Ube base that has both natural and sweet flavors. It has a soft and dense texture, reminiscent of a brownie or fudge, and is topped with a luscious layer of ube frosting.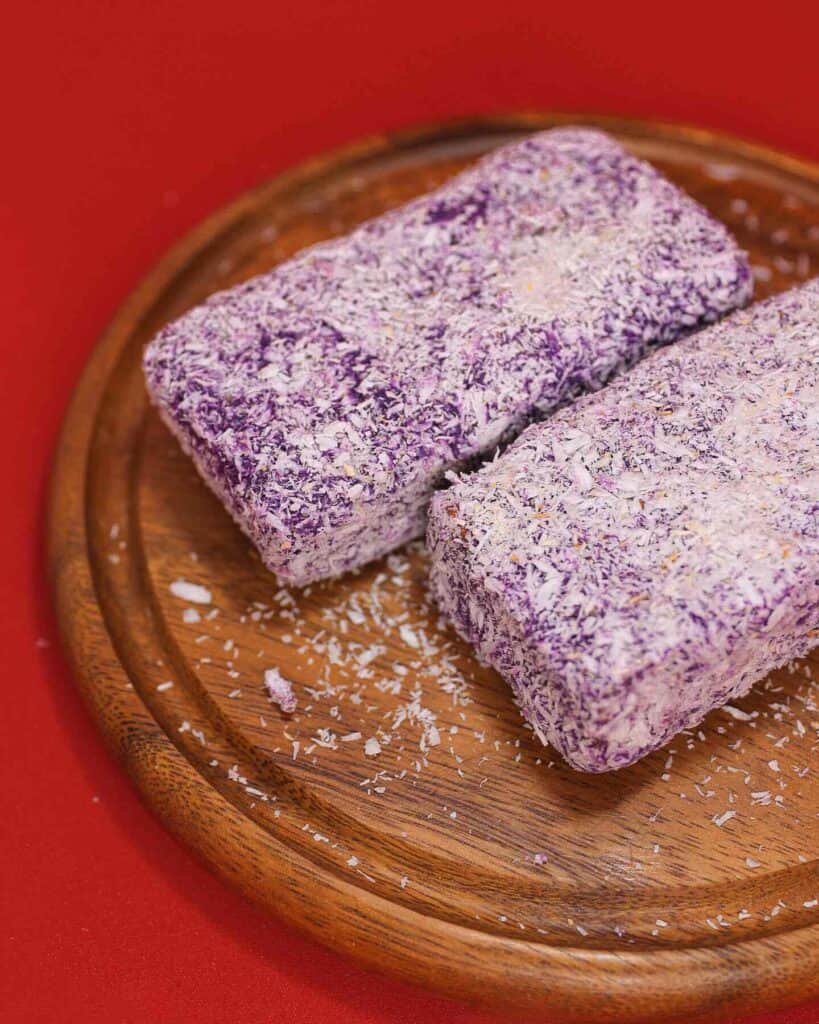 Other Drinks
At Angkan Coffee, you can pick from a variety of drinks menu, not only coffee. They have choices like calamansi juice, orange juice, and bottled water available. So, there's a lot to choose from when you're deciding what to drink at Angkan Coffee! Whether you like coffee or something else, they have options for everyone.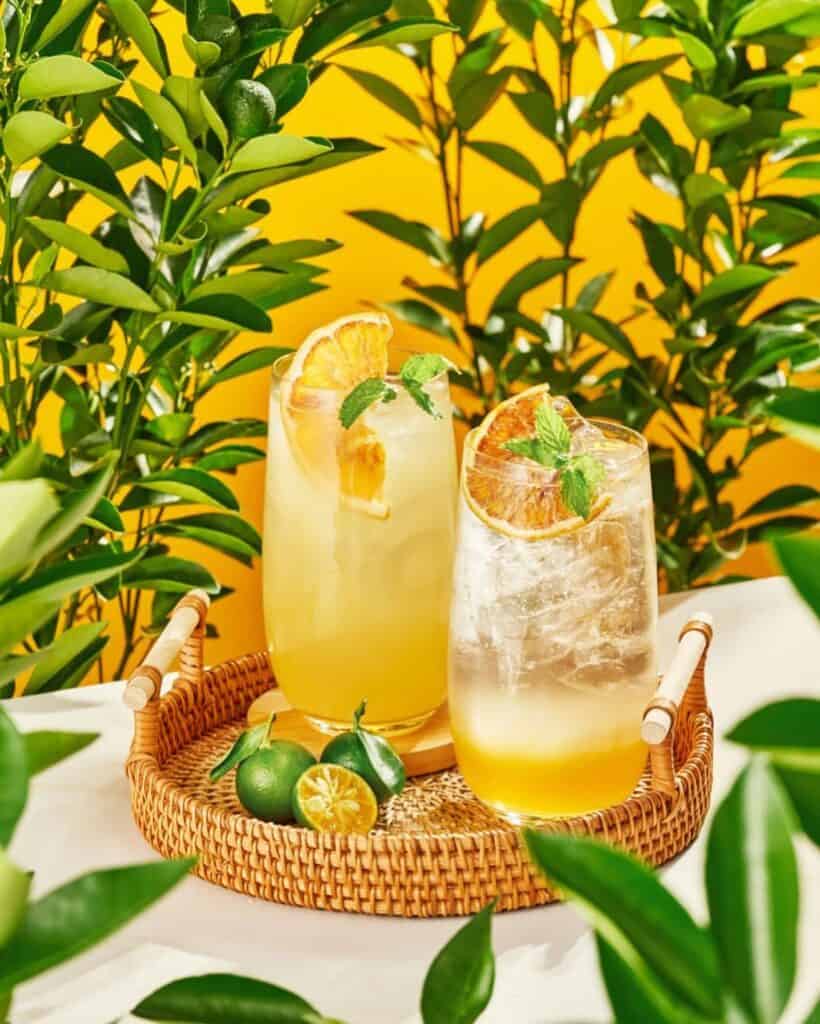 Merchandise
The menu at Angkan Coffee has more than just drinks. They also offer things like an icicle cold brewer, a hydro flask, and a canister. These items can be like souvenirs from the coffee shop, and they're useful, especially if you really love coffee. So, you can get something special to remember your visit to Angkan Coffee and use it for your coffee enjoyment at home!
Angkan Coffee Menu Delivery
Angkan Coffee has a special menu for delivery that their loyal customers can see online. This means you can order your favorite coffee items and other treats from Angkan Coffee without leaving your home. You don't have to go outside. They work with delivery apps like FoodPanda or GrabFood to bring the yummy food and drinks from Angkan Coffee straight to your doorstep. It's really convenient!
Social Media Pages
Follow them for a daily dose of coffee inspiration, educational content, and behind-the-scenes peeks into their coffee-making process. Join their online community and be the first to know about the latest coffee blends, seasonal specials, and exclusive promotions.
Facebook: https://www.facebook.com/angkancoffee/
Instagram: https://www.instagram.com/angkancoffee
FAQs
What is the specialty of Angkan Coffee?
The specialty of Angkan Coffee lies in its commitment to showcasing the diverse flavors and rich heritage of Philippine coffee.
Does Angkan Coffee offer food items?
Yes, Angkan Coffee offers a selection of food items to complement its specialty coffee offerings.
Does Angkan Coffee offer dairy-free options?
Yes, they have a number of options for those who prefer dairy-free beverages.
Does Angkan Coffee sell coffee beans?
Yes, Angkan Coffee often sells coffee beans for customers who want to enjoy their specialty coffee at home.
Conclusion
Angkan Coffee takes pride in its diverse menu filled with a variety of delectable beverages and treats. While the other items on their menu are also noteworthy, their coffee stands out as a true delight for many coffee lovers that visit cafe. In addition to its menu, this coffee shop is also filled with attentive staff with prompt serving times to cater to your needs. The restaurant itself has a warm and inviting ambiance that allows their guest to just relax and enjoy their cup of tea.